Fall Steelhead Fishing In Michigan: Techniques Guides Use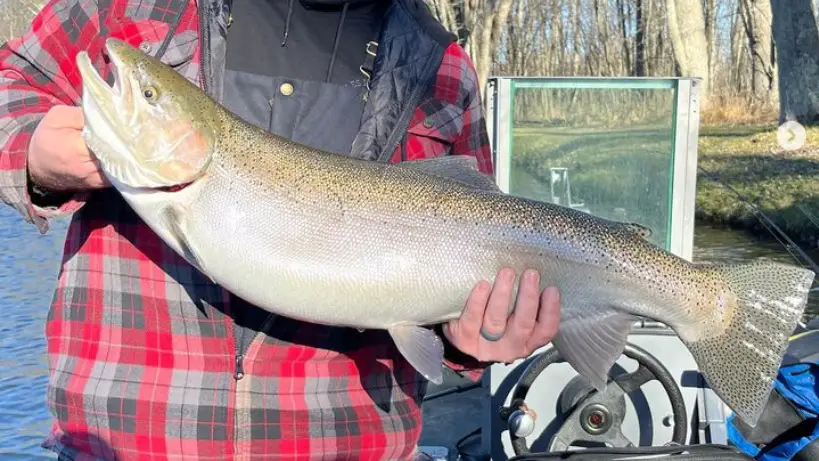 In this article, I have combined information, tactics, and tips provided by and used by some of the best Michigan steelhead guides to help you learn and understand fall steelhead fishing in Michigan.
Fall steelhead fishing in Michigan has three stages that correspond with water temperatures. Anglers should change tactics, baits, and locations if they want to catch more fall steelhead.
Michigan steelhead guides see how the fishing changes day to day and month to month and they will adjust as needed. Do you?
Fall Steelhead Fishing In Michigan
Michigan offers some of the best fall steelhead fishing around the great lakes and the catch numbers can often exceed the numbers seen on famous West Coast rivers.
Part of the reason is that thousands of steelhead will enter smaller-sized rivers where they concentrate and are easier to catch.
Michigan also has some of the largest rivers compared to other states and provinces around the great lake. See Best Great Lakes Best Rivers.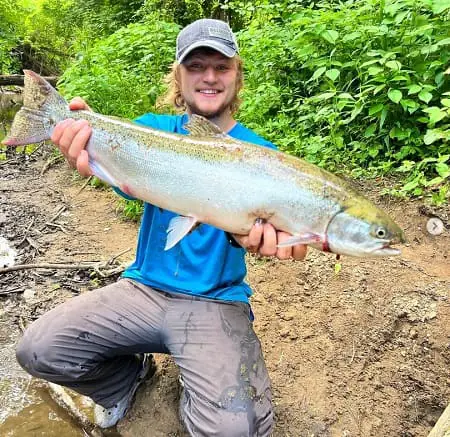 Michigan has what is known as summer run steelhead, and a strain of steelhead known as Skamania, which enter the rivers starting around June and continue into the fall.
These summer-run steelhead provide early fall steelhead fishing for many anglers.
These summer fish will also remain in the river until the spring which means at times, anglers will be able to catch summer, fall, and winter run steelhead in the same day.
For more on the summer run steelhead, check out:
For whatever reason, many winter-run steelhead will start entering the river in early fall.
Fall steelhead fishing in Michigan starts with a combination of summer run steelhead and these early winter run steelhead which can start showing up on some rivers in September and peaks in November.
Runs and good fishing can continue to be good into the winter.
River guides and anglers use productive methods like fly fishing, float fishing, and lure fishing. The most effective steelhead baits are flies, spawn sacs, worms, and jigs.
The truth is that Michigan steelhead can be caught in the rivers 12 months of the year, but the locations the fish hold and methods for catching fall steelhead fishing might differ from other times of the year.
Michigan Fall Steelhead Season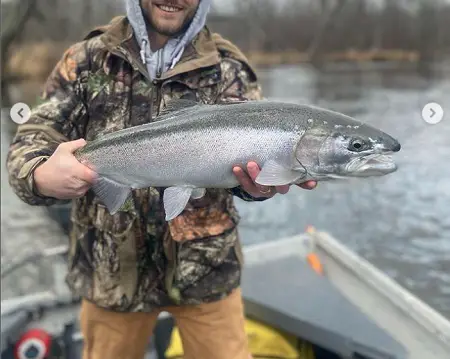 Autumn typically begins in September and this is often when anglers start to get excited about the salmon runs too.
Often, there is a small number of steelhead that will make their way into the rivers with the salmon in September.
There are also large Great Lakes migratory brown trout that will also be present most of the fall. See more at Great Lakes Brown Trout Fishing.
The best Michigan fall steelhead fishing starts in late October and continues to get better through November, and often even better in December. On most rivers, good steelhead fishing actually lasts until late May.
Steelhead will often hold behind large spawning Chinook and Coho salmon and they will feed on any eggs that drift down the river. At this time they feed heavily.
The key to fishing fall steelhead in Michigan is knowing how to adapt as the water temperatures gradually get colder.
3 Stages Of Fall Steelhead Fishing In Michigan
The reason I mention this is because a steelhead in September or October in warmer water will feed, hold, and migrate differently than a steelhead in the late fall in very cold water.
This means you need to adapt based on the conditions and understand why.
In early fall the steelhead will be anywhere in the river including fast rapids and shallow runs as well as deeper pools. They will even hold in different parts of the same pool in early fall compared to late fall.
They will also be more aggressive and feed on different baits and lures than they might later in the fall.
Lucky for me as a guide that is often on the water 7 days a week from late October until the rivers freeze slid in late December or January, I see how the steelhead change and I've learned how to change with them to catch them consistently. I share this knowlend on my page Fall Fishing For Steelhead.
As an example, late fall steelhead in cold water won't hold in rapids and faster water for long and instead can be found in slow to moderate water flows.
Even the time of day when they are active changes from early fall to late fall and then into the winter. In early fall the optimum time to go steelhead fishing is early morning and afternoon. But later in the fall I start fishing later and get off the water earlier because the best fishing times change.
When the cold fall weather starts in late November and early December, anglers will still continue catching steelhead using the winter steelhead methods I discuss in my article winter steelhead fishing.
Also, see Winter Steelhead Fishing In Michigan and Spring Steelhead Fishing In Michigan.
The Best Ways to Catch a Michigan Fall Steelhead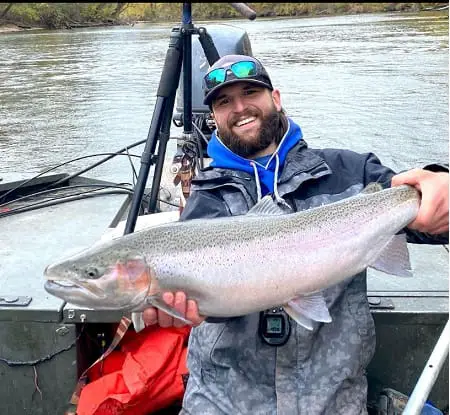 There are several techniques to try when it comes to fall steelhead fishing in Michigan.
Although weather and water conditions must be taken into account, the strategies stated below should tilt the scales in your favor.
Float Fishing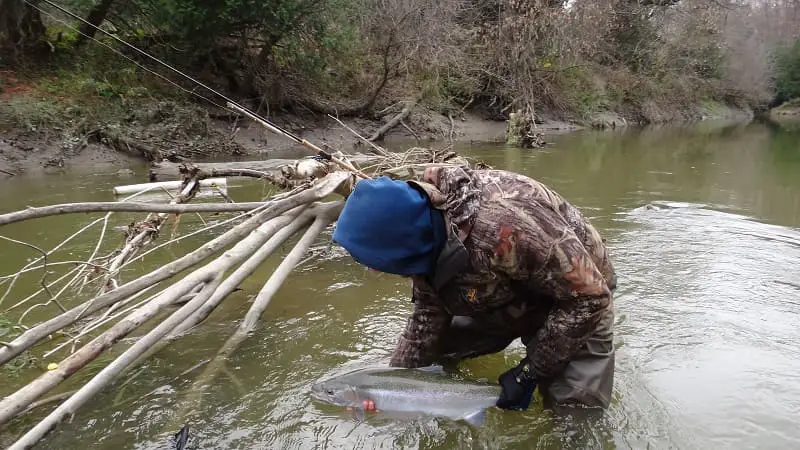 Float fishing allows anglers to fish in a variety of depths and conditions. The float is used to hang the bait at a specific depth.
And the depth may be adjusted by sliding the bead up or down the line. Float fishing for steelhead can be pretty easy if done correctly.
Fly Fishing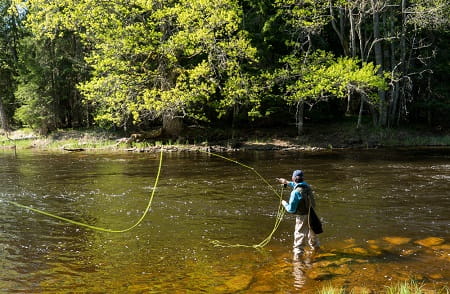 Fly fishing is popular and effective and used by a lot of steelhead and salmon river guides.
Artificial flies that imitate nymphs, baitfish, and eggs work the best. Some of the best steelhead flies to use include the worm fly, stonefly, and yarn egg fly.
Fly fishing for steelhead may be done in a variety of ways. Depending on the type of water or preference, this can range from nymphing to spey fishing to streamer fishing.
These tactics are usually excellent when it comes to fall steelhead fishing in Michigan.
Spin Fishing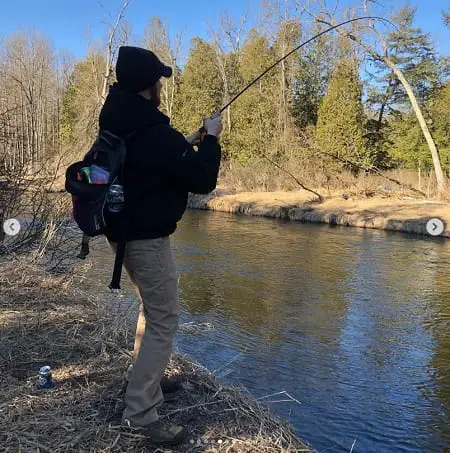 Some anglers are also starting to use the new method known as Bobber Doggin.
Rivers to Fish for a Michigan Fall Steelhead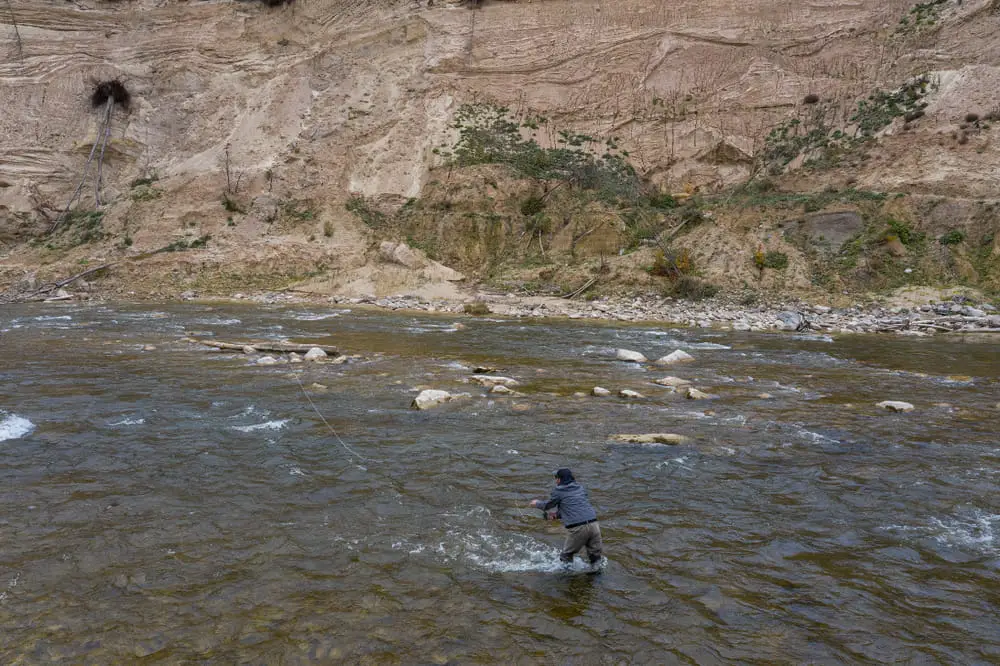 There are several rivers to explore when you want to fish for a steelhead and thankfully Michigan has lots to offer from tiny creeks that can get decent runs of steelhead to massive steelhead rivers that anglers will fish with motor boats.
Here are some of the top rivers to explore:
Pere Marquette
Muskegon River
Manistee River
Grand River
Betsie River
Au Sauble River
The Boardman River
White River
Just about all the tributaries flowing into Lake Michigan and Lake Huron will have some fall, winter, and spring steelhead running up them.
To avoid some of the crowds, anglers are encouraged to search out smaller lesser-known rivers where you might still catch just as many steelhead without the crowds.
Getting Ready for Fall Steelhead Fishing in Michigan
While autumn appears to be a quiet season, going fall steelhead fishing is a different story. There are a few things to consider to have a successful fishing trip.
Dress Appropriately for the Season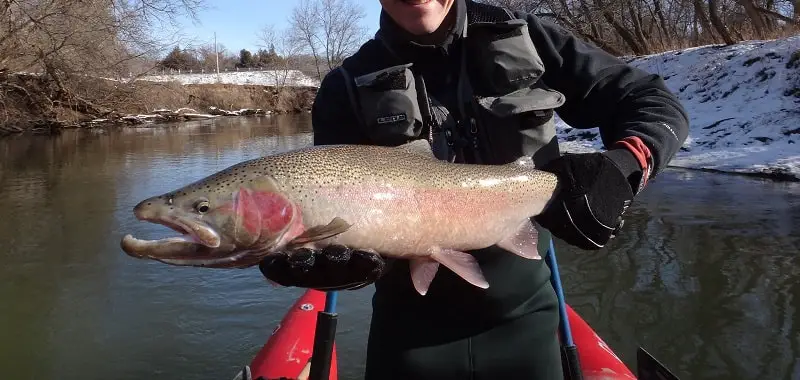 The trick is to dress in layers so that you can respond to changing situations throughout the day, especially late fall, which is late November and Early December, and is also when the river and air temps can get very cold.
If the water or air is cold, consider a polypropylene base layer to remain warm. Then add a fleece vest or jacket if necessary.
I discuss fishing steelhead in the winter, with tactics and tips for catching for steelhead as well as how to stay warmer and comfortable in my article Steelhead Fishing In The Winter and learn guide tricks and what guides wear to stay warm and dry at Winter Fishing: Stay Warm And Dry.
A quality fishing vest is also a good idea because it is functional. The correct footwear or waders are also essential when going fall steelhead fishing especially later in the fall when the water is cold. Check out Best Waders For Winter Fishing.
All The River Fishing Fishing Gear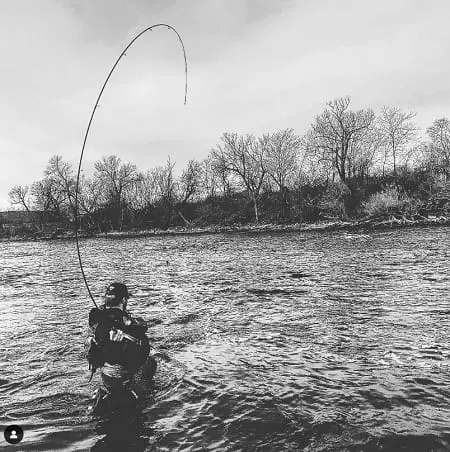 Regardless of the fishing method you prefer, it is crucial to have the necessary tools on hand.
Everything from a fishing rod and reel to fishing line, hooks, and lures is included.
I tell you what guides use and recommend to their clients on my page River Fishing Gear: Everything You Need To Succeed In 2023.
Baits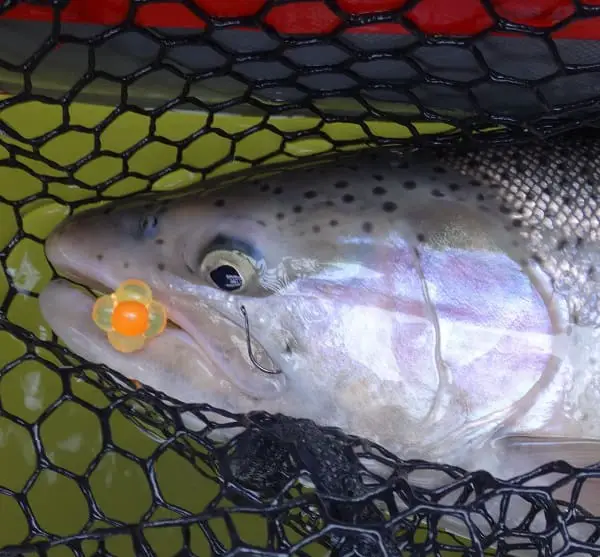 Does fall steelhead fishing in Michigan require special baits? Yes, and no.
Just about all good steelhead baits will work especially in early fall when they are very aggressive.
Later in the fall or when the river is gin clear, you might want to be more selective.
Some good steelhead baits worth trying are:
Lures For Steelhead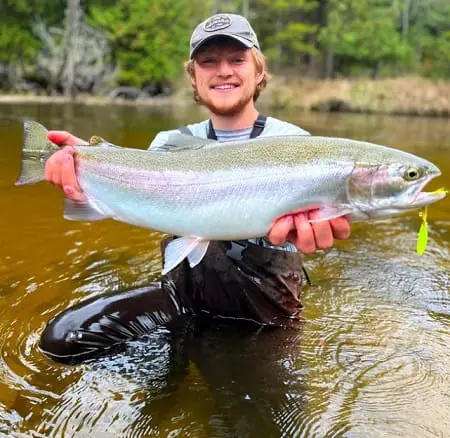 Lures can be great baits and normally all steelhead lures will work, especially early in the fall.
Later fall you may need to change lures, change sizes, and colors, and even change your retrieves just to get the steelhead to bite.
Watch the great fall fishing action with the guys from SBS Outdoor action on Youtube – HERE.
Good lures to try are:
Spinners: Mepps, Blue Fox Vibrax, Panter Martins
Spoons
Crankbaits
Plugs
To see more baits, the best colors, and sizes, and how to use them, check out Lure Fishing For Steelhead.
Michigan Steelhead Guides
Another way to learn how to lure fish for Michigan steelhead in rivers is to hire a guide. Check out our contributing guides John at Get Bent Guide Service and Alex at Fire Plug Charters.
Fall Steelhead Fishing In Michigan Q&A
If you have a question or some advice on fall steelhead fishing in Michigan, let us know in the comments section below.
Tight Lines,
Graham