Winter Steelhead Fishing Michigan
Winter steelhead fishing Michigan can be tough for many anglers which is why I and two other guides that catch a lot of steelhead in the winter have put this article together to share our advice on how you can catch more steelhead and how we stay warm.
Winter steelhead fishing Michigan can be very good and some of the biggest fish are in the river at this time with very few anglers around. Good anglers adapt and adjust where, when, and how they fish and this allows them to catch more winter steelhead in Michigan rivers.
Watch for our guide tips which might pay off with a lot more winter steelhead.
Winter Steelhead Fishing Michigan
Steelheads are an anadromous variety of rainbow trout and in Michigan, winter steelhead fishing is possible on many rivers.
The winter steelhead season begins when temperatures fall below a certain threshold, generally, that starts in early December, and can extend until early March.
Depending if you fish Michigan's Upper Peninsula or if you fish the Southern Michigan steelhead rivers, winter steelhead fishing in Michigan might start and end at different times.
Winter steelhead are steelhead that enter the rivers from late fall to early spring.
Michigan winter steelhead are typically larger steelhead than the summer run steelhead and early fall steelhead. Winter steelhead are more mature and have spent more time feeding and growing out in the big lake.
Winter steelhead are also normally close to sexual maturity at this time of year, and they may be ready to spawn as soon as they reach the headwaters of their spawning river.
Winter steelhead fishing in Michigan is not just winter steelhead. On many rivers summer run steelhead that enter the rivers in late summer or early fall will hold and mature all winter in the river. See Summer Run Steelhead.
Also, some rivers get a unique summer run steelhead known as a Skamania and they will start their migration up some rivers as early as June and throughout the fall. These Skamania steelhead will also be available during the winter since they won't actually spawn until February and March. Check out Skamania Steelhead Fishing: A Complete Guide.
This all means there are a lot of steelhead in the rivers during the winter and the fishing can be good if you know what you are doing and you know where to fish.
Understanding Winter Steelhead
As a guide who fishes for steelhead seven days a week from late September until the river freezes in late December or January, I get to see how the steelhead change, and how the fishing changes.
As a guide, if I don't adapt and change with the steelhead throughout the fall and winter runs my clients would rarely catch any fish.
I believe a lot of anglers don't change or adapt and this is why many of them disappear in the winter. It's also why I hear guys say stuff like winter steelhead fishing in Michigan sucks.
The truth is, most years I, my clients, and my friends will catch more and bigger steelhead in December than any other time.
You need to adapt because fall spots that held a lot of steelhead, and baits that worked great then, might not be good now. I discuss the 3 stages of fall fishing on my page Fall Fishing For Steelhead. Not knowing these stages leaves many guys skunked at the end of the day.
A couple of things you need to know when winter steelhead fishing in Michigan.
When To Fish?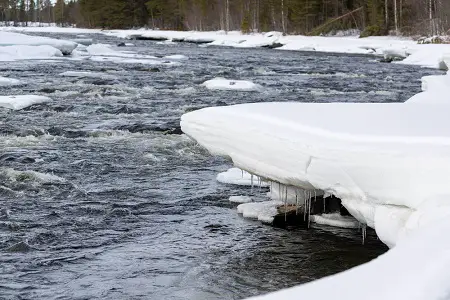 Winter steelhead are cold so they can become lethargic and inactive. When the temperature is dropping, they will become even more inactive.
Unfortunately, many angler fish for winter steelhead when they are the least active.
We all know that the best fishing is in the morning and just before dark, right? WRONG!!!
At night the air temperatures plummet, and so do the river temperatures, and that means early in the morning the river is at its coldest after many hours of darkness. This also means the steelhead are not going to be active.
Early in the fall, I might start my guide trips at 7 am. But in the winter, I'm happy getting on the water at 10 am, and this isn't because I'm lazy and like to sleep in, it's because I like to fish when the fish are most active. Let me explain.
In the winter, I'm often arriving on the river when other guys have already fished for two hours and are leaving. Often, as they leave they tell me how the fishing sucks. But, I already know that.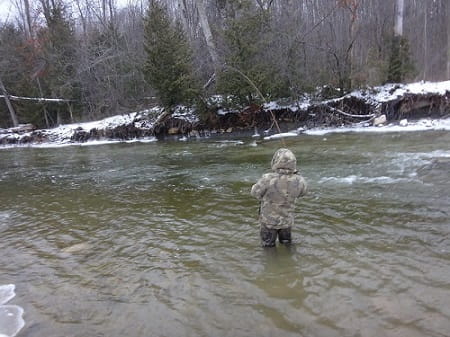 The best time of day for winter steelhead fishing is between 11 AM and 2 PM, especially on sunny days.
During this time, the steelhead will be more active since the sun has warmed up the river one or two degrees.
When the temperature drops again as the sun lowers around 4 pm the fishing will slow down because the water temps are getting colder.
GUIDE TIP: When winter fishing, remember that dropping water temps shut fish down, prolonged stable temps can be good, and rising temps can activate steelhead. Even a 1-degree temperature increase is all it takes. So, sleep in and fish later in the morning.
Where To Fish?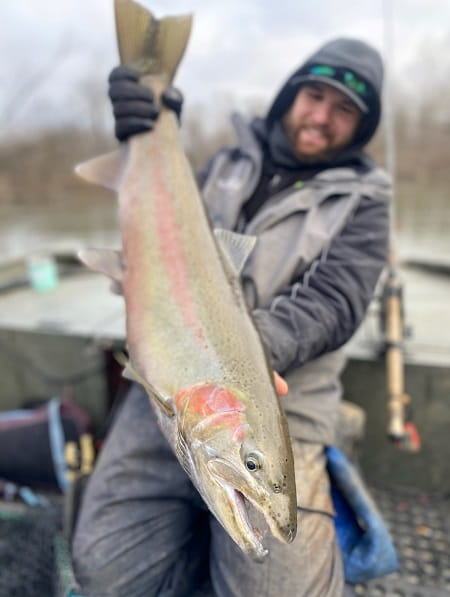 Where I catch a lot of fish early in the fall is not where I catch fish in the winter.
Winter steelhead start to congregate in deep and slow-moving water when the water gets around 40F.
Based on my experience, winter fishing tactics are required when I see ice forming on the edges of the rivers and this is when the steelhead are holding deep.
How To Fish?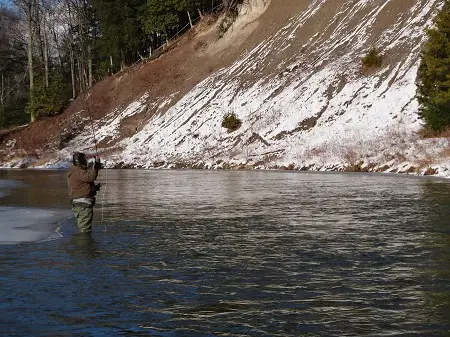 When it comes to winter steelhead fishing Michigan, the name of the game is slow and low!
The steelhead are in the slower deeper water and they will usually be belly-to-the-bottom.
These winter steelhead can be lethargic and less active so I fish my baits, my flies, and my lures as slowly and as deep as possible. My goal is to slow my baits down and get them as close to the steelhead as possible.
Baits, Flies, And Lures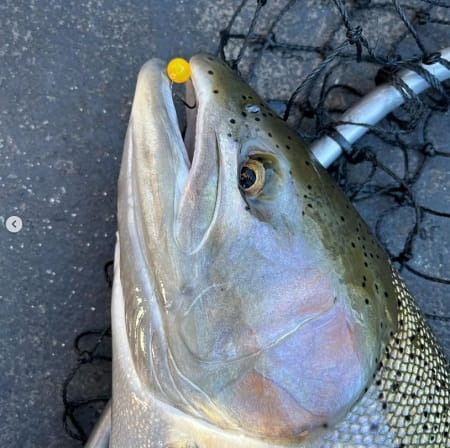 At this time of the year, often smaller less intrusive baits and lures are best. However, not always!
As I do at any time of the year I will rotate through baits, lures, flies, and colors and sizes to figure out what they want.
But, often, the rivers in the winter are very clear and that often means more subtle colors, and smaller baits will work best.
This is why I start with smaller baits and gradually get bigger and brighter in color if the small and subtle baits aren't working.
The top baits for winter steelhead fishing in Michigan are:
If you want more detailed information on methods, tactics, and baits check out Winter Steelhead Fishing: A Complete Guide.
Top Michigan Rivers for Winter Steelhead Fishing
Michigan boasts many rivers that are perfect for winter steelhead fishing. These rivers can be found all the way from the thumb to the upper peninsula.
Bigger rivers tend to be the better winter rivers to fish because they will stay ice-free longer. They are also deeper and the steelhead is like that.
Best Lake Huron Steelhead Rivers
Clinton River – In the southeast portions of Michigan, the Clinton River is great for winter steelhead fishing. It is home to a significant population of wild steelhead, giving anglers a good chance of catching one. Anglers can enjoy fishing in the upper reaches of the Clinton River's North Branch.
Huron River – The Huron River is another small eastern river with a good run of steelhead. For both the Clinton and Huron river and all other rivers listed here, check the state fishing regulations to be sure winter steelhead fishing is still permitted.
Au Sable River – The famous Au Sable River also gets good runs of steelhead and is one of the best winter steelhead river flowing into Lake Huron. The steelhead will make it about 11 miles up the river to the Foote Dam where their migration is stopped.
Thunder Bay River – The Thunder Bay River in Alpena has a mile-long stretch of river before the steelhead are stopped by the dam. But this river is known to stay ice-free when other rivers are frozen so it's worth checking out.
Rifle River – The Rifle River flows into northern Saginaw Bay and it gets runs of late-fall steelhead. The fishing can be good on this river until it freezes or during warm spells.
Au Gres River – The East Branch of the Au Gres is another smaller river that gets runs of fall steelhead. It can be good in early winter until it freezes.
Best Lake Michigan Steelhead Rivers
St Joseph River – One of the best southwestern rivers for winter steelhead fishing in Michigan is the St Joseph river. This is one of those rivers I mentioned that gets Skamania, summer run steelhead, and late fall and winter steelhead. At times this river is loaded with steelhead and winter fishing here can be excellent.
Kalamazoo River – The Kalamazoo River can fish well in early and late winter and is worth checking out. For guide trips here contact John at Get Bent Guide Service.
Muskegon River: The big Muskegon River can be great at any time of the year but it's an excellent river for winter steelhead fishing and it really freezes. Steelheads will most likely be drawn to the Muskegon River's plethora of baitfish species so lures, and streamers can be good. Therefore, a broad selection of lures is a good idea. Baits also work well here.
Manistee Rivers – The Big Manistee and Little Manistee Rivers are good rivers for winter steelhead fishing. While on the Manistee River, the lower parts near Lake Michigan are ideal for catching steelhead. These two large rivers generally never freeze during the winter, making them an excellent location for winter steelhead fishing in Michigan. For a guide on this river check out Fire Plug Charters.
Pere Marquette River – This river has deep pools and rapids that are ideal for winter steelhead fishing and holding areas. Gleason's Landing is a notable campsite on the river's banks and its stretch has extraordinary value, as it can provide anglers with up to a 15-pound winter steelhead.
Grand River – This river has the biggest yearly migration of Michigan's winter steelhead. Anglers can also have a terrific fishing experience since the river has a variety of species available anytime.
Preparing For Winter Steelhead Fishing in Michigan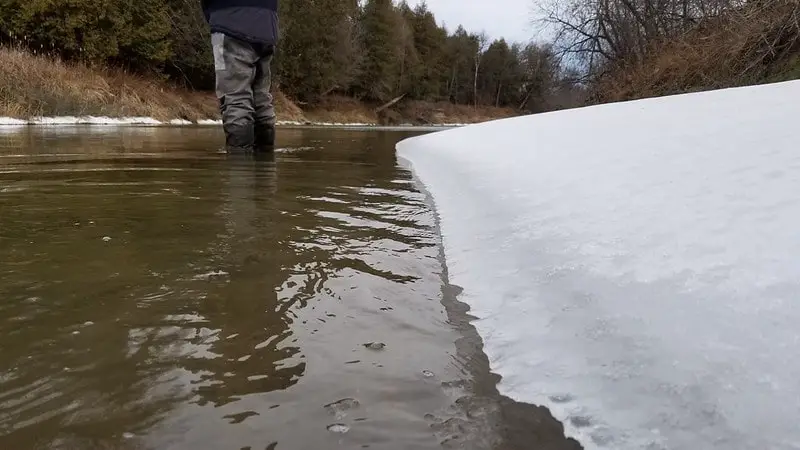 Winter has its own set of challenges for anglers. Hence, it's critical to plan ahead of time if you want to catch a steelhead.
Here are some things to keep in mind when going winter steelhead fishing in Michigan.
●     Appropriate Winter Gear – The main thing you need to do is to stay dry and warm. In most cases, layering your clothing is the best option. If you are fishing from a boat or wading in the river, try to bring an extra set of clothes in a waterproof bag in case you happen to fall in.
If you get wet, a quick change of clothes can make all the difference.
To stay warm and comfortable during the winter, make sure you have these items:
Base and Middle Layer of Clothing
Winter Fishing Gloves
Winter wader Pants
Insulated Socks
Waders – See Best Winter Waders
Winter Headwear
Hand and Feet Warmers
Jacket
●     Fishing Equipment – Necessary equipment for winter fishing includes everything from a fishing rod and fishing line, and reel, to hooks and lures.
Ever wonder how river guides keep themselves warm when they are on the water all day in freezing water and air temps. I'll tell you all our tips and tricks for staying warm on our page Fishing In The Winter – Stay Warm With These 10 Tips.
If you are new to steelhead fishing, check out our article River Fishing Gear: Everything You Need to see all the gear we recommend for river fishing.
Best Ways to Catch a Michigan Winter Steelhead
With so many fishing tactics available, going on a winter steelhead fishing in Michigan demands a few of the best.
The methods listed below are effective for catching one.
●     Fly Fishing – Fly fishing is an angling technique that includes using an artificial fly as bait. Anglers must prepare the best flies to catch a Michigan winter steelhead. It can be a stonefly, worm fly, or yarn egg fly. See Fly Fishing For Steelhead and Winter Fly Fishing For Steelhead if you want more detail on this method.
●     Float Fishing – Float fishing is dangling a bait in the middle of the water beneath a float. Anglers then keep a close eye on the bait until a fish bite it. If done right, float fishing for steelhead may be pretty straightforward.
●     Lure Fishing – Lure fishing employs an artificial bait constructed of inedible components. It usually has motions, strong reflections, or vivid colors to attract and lure fish into biting. Some of the best lures for steelhead are the spinner and the Kwikfish lure.
Winter Steelhead fishing in Michigan is recognized as one of the top winter activities available in the state. Year after year, the activity has grown, allowing this game to obtain momentum in Michigan's industry.
You May Also Like:
Break The Ice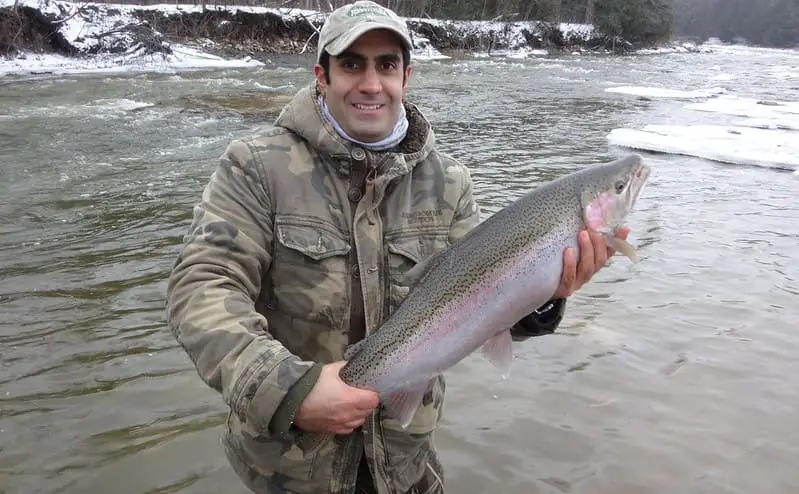 If the ice shelf extends out into the spot you are going to fish, break it out if you can, just do it safely.
Ice going out into the pool can prevent you from getting a good drift, and cause problems when retrieving your bait or lure when can get caught on the edges of the ice.
Shelf ice can also prevent you from landing the fish. It's pretty hard to get a fish up on the ice when the ice extends 10+ feet out.
You might think breaking ice will spook the fish, but it usually doesn't. I explain this in my article Winter Steelhead Fishing.
Winter Steelhead Fishing Michigan Q&A
If you have a question or comment regarding winter steelhead fishing Michigan let us know in the comments section below.
Tight Lines,
Graham