4 Best Waders For Winter Fishing: Guide Tested Waders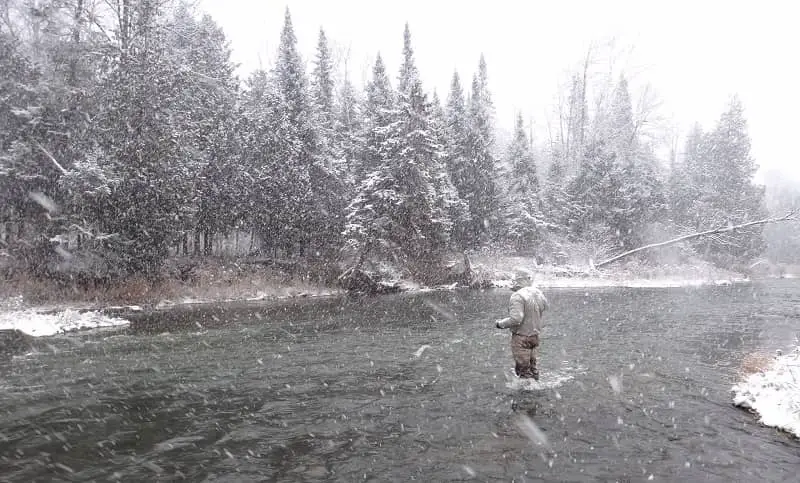 Best Waders For Winter Fishing – Guide Tips For Warmer Feet
The most common issue with fishing in the winter is trying to keep your feet warm. I have tested the 4 types of waders that anglers typically use in the coldest conditions, but there is only one type of wader that stands out as the best waders for winter fishing.
I'm a full time river fishing guide from Canada and you will find me standing in ice cold water daily for months. After having freezing feet day after day, and even having nerve damage in my toes from them freezing in waders, I decided I needed to find a solution to cold feet.
Unfortunately, none of the tips that I read about actually worked well. And they don't work well for others too becuase it was every one of my buddies, and every client that I guided had frozen feet in the winter. But, thanks to the advice of another local guide, thanks Mike Verheof, I found a solution which I will share with your here.
I'll also provide tips on socks, baselayers, and electric devices that can make most waders warmer. These are tips that actually work.
What Are The Best Waders For Winter Fishing?
The best waders for winter fishing and keeping your feet warm are breathable boot foot waders with an insulated boot. The second best waders are neoprene insulated bootfoot waders. After trying many waders, the Simms G3 boot foot waders are the best winter fishing waders.
The reason the Simms waders are the best is because they breathe which helps let moisture escape and the insulated boot foot part gives you extra space to trap air and allows for more socks. You can make stocking foot waders work too if you follow my tips below.
Our Top 3 Quick Picks
Your Feet Will Freeze In Some Types Of Waders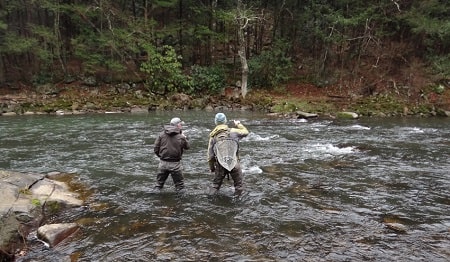 Keeping your feet warm is often the biggest problem for cold water wading.
One year my feet were so cold after guiding every single day in November and December that I lost feeling in the tips of my toes for over 3 months.
I was wearing stocking foot waders every day and I was trying all the different socks and all the tips that I heard online that were supposed to keep your feet warm. Nothing worked.
The problem with me was that I was on the water every day, 7 days a week for 30 days a month. Because most of my guide trips were in a drift boat, it meant that we would drift to a spot, get out and fish, then get back in the boat and repeat that all day.
There was almost no walking to warm up my feet between spots so my feet and my client's feet just kept getting colder and colder as the day went on.
After not being able to feel my toes for 3 months I went in to see the doctor and he told me that I might have permanent nerve damage in my toes and that if I keep doing this I could lose my toes. Damn!! I love guiding, but I like my toes too.
Thankfully the feeling in my toes returned but I couldn't keep doing this year after year.
I desperately needed to find a better solution before my next season started and that's when I started asking other river guides that also fished in cold weather how they were doing it. I ran into another guide at a fly tying symposium where him and I were demonstrating some of our top flies, and he gave me the advice I needed. And it was simple!
The most common solution that seemed to work for wading in the winter was to use insulated bootfoot waders.
As soon as the fall rivers started to get so cold again that my feet started freezing, I ordered a pair of breathable bootfoot waders from a local fly shop.
The day before my waders arrived my feet were like blocks of ice again, to the point that I knew my feet were there but I could barely feel them. They were freezing!
The next day I put on the same amount of socks but this time I used my brand new pair of boot foot waders and my feet were actually sweating all day. WOW.. What a different these waders made.
This is how much better a good set of boot foot waders can be when winter fishing and it's why I say they are the best waders for winter fishing.
However, not all boot foot waders will be the best waders for winter fishing becuase some have the wrong treads, are not insulated enough to keep your feet warm, and some I tried were just uncomforatble. Some also had felt soles…
Felt Soles Are Not Good In Snow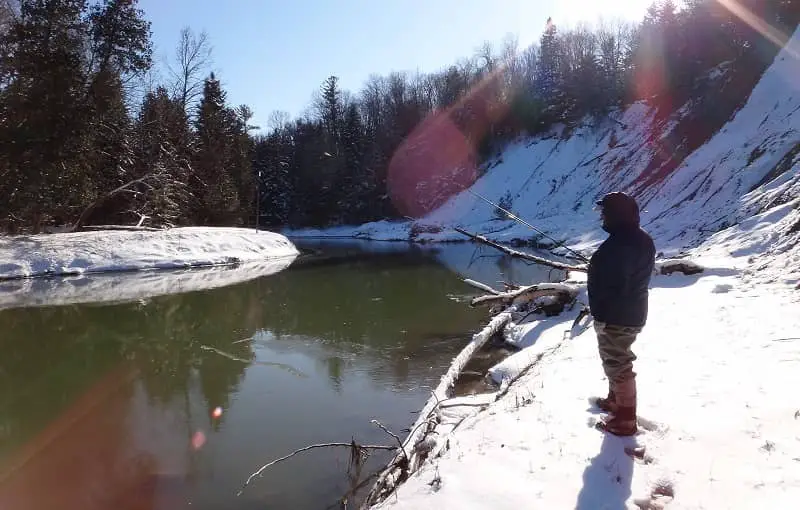 Think twice about boot foot waders that have felt soles. Ideally, you want rubber or rubber studded soles with a wide aggressive tread if you will be fishing in a lot of snow.
The reason for this is that wet snow will stick to and build up on the felt soles.
I've had the snow build up so much I was 4 inches taller in about 20 steps. That made walking tough and dangerous and twisting an ankle was always a big concern.
When the snow built up, I would need to stop and kick off some of the snow build up about every 50 feet which is very annoying. Traction also becomes poor with all that snow built up on the bottom of your boots.
The snow won't stick to rubber.
Breathable Waders Are Best For Winter Fishing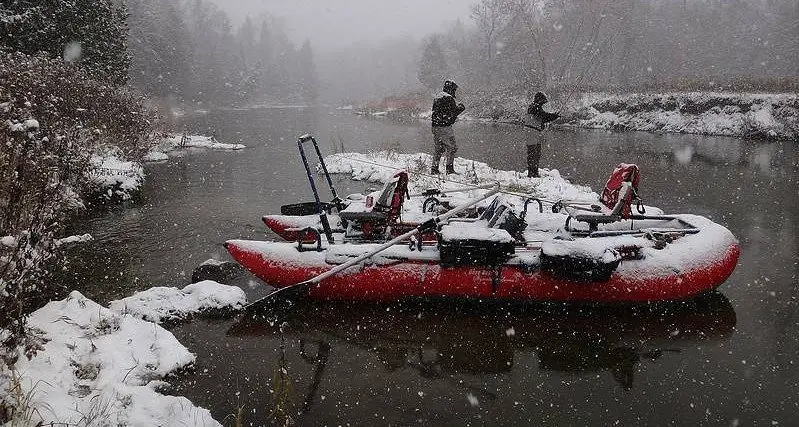 After my breathable boot foot wader wore out I decided to buy a good pair of Neoprene Bootfoot waders to try.
I quickly realized that in order for boot foot waders to be the best waders for winter fishing, they also need to be breathable waders.
Yes, breathable waders are thin and they don't offer much insulation but with proper base layers and enough pants, I found that breathable waders are better than neoprene boot foot waders in ice-cold water for a couple of reasons.
Neoprene waders hold in sweat and condensation and that can make you damp and cold. I have taken off my neoprene waders in the winter and my pants felt damp leaving me wondering if I had a leak, which I didn't. It was condensation or sweat or both.
I found that with the proper layering of pants, I can stand in ice-cold water and not have cold legs in breathable waders, and at the end of the day, my pants don't feel wet like they do in neoprene waders.
Buy Winter Waders One Size Up
Many guides like Gareth from Alley Grabs Guide Service in Ohio know that fishing in the winter is sometimes the best fishing.
It's always a better day when your feet and legs aren't freezing and there are ways to make any wader warmer.
Boot foot waders will only be the best waders for winter fishing if you buy them 1 or 2 sizes bigger than your normal shoe size. I wear a size ten shoe but I wear size 13 waders in the winter.
The reason I do this is that you want the extra room, which creates a little air pocket that helps insulate your feet better.
The extra room in your boots also allows you to add more socks if you need to without restricting blood circulation in your feet.
Restricted blood circulation can make your feet even colder, which is the big problem with stocking foot waders that guys wear year-round.
Guys use the same wader and boots that fit them perfectly in the summer months and then they add more socks which are supposed to keep your feet warmer but instead they just squish your feet which causes reduced blood circulation which then makes your feet colder.
All my clients that do this on winter guide trips have frozen feet so cold they can't feel them anymore.
Boot Foot Waders Can Be Good Cold Weather Waders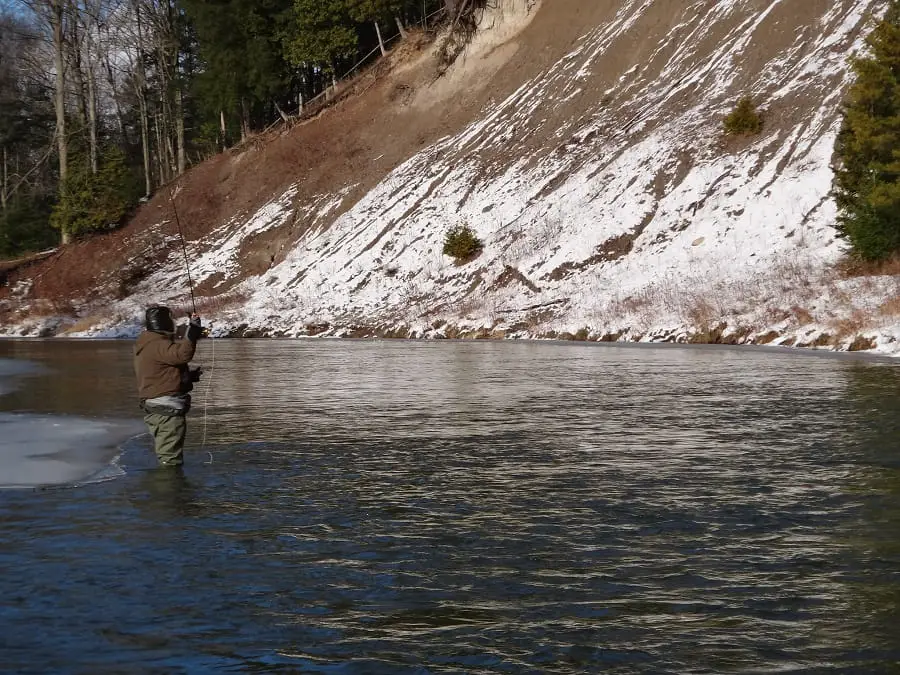 Not all anglers can afford a separate set of waders just for winter fishing and honestly, I prefer stocking foot waders for the comfort of them and for the ankle support that the boot provides.
I wish boot foot waders were also good cold weather waders and they can be with these 3 tips.
Although stocking foot waders are not the best waders for winter fishing there is one solution to fishing in the winter with them that actually works for me.
It's a solution that I used last fall and it kept my feet warm in stocking foot waders even in the coldest water.
Heated Insoles
That solution is to use electric heated insoles inside your stocking foot waders. You can use these in your boot foot waders too. The best-heated insoles that I have tried are the Thermrup Electric Heated Insole Foot Warmers Washable 5.5-12.5 from Amazon.
Move A lot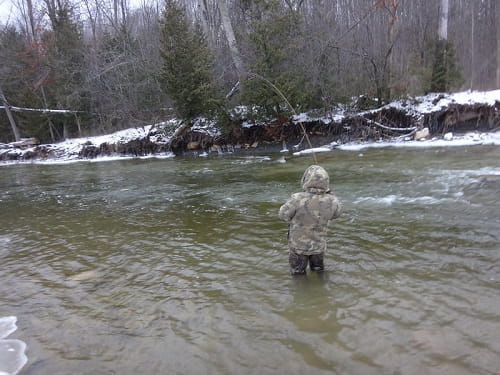 One of the best ways to keep your feet warm when winter fishing in waders and it's free, is to move a lot.
Guide Tip: Just Don't let yourself sweat.
When I do walk trips, as soon as my feet start to feel cold I will go for a brisk walk to another spot.
Walking increases blood flow and body temperature and this can be enough to keep your feet from freezing.
I will sometimes even walk past two or three pools just so I can get a long enough walk to warm up my body and my feet.
Another tip for winter fishing in stocking foot waders is to buy an extra set of wading boots that are two sizes bigger than you normally wear which allows you to use much thicker socks without squishing your feet as much.
This only works a little but combined with a walk and also combined with the heated insoles this is a great solution to keeping your feet warm.it's still not as good as the heated insoles or the boot foot waders.
Electric Heated Socks And Heated Insole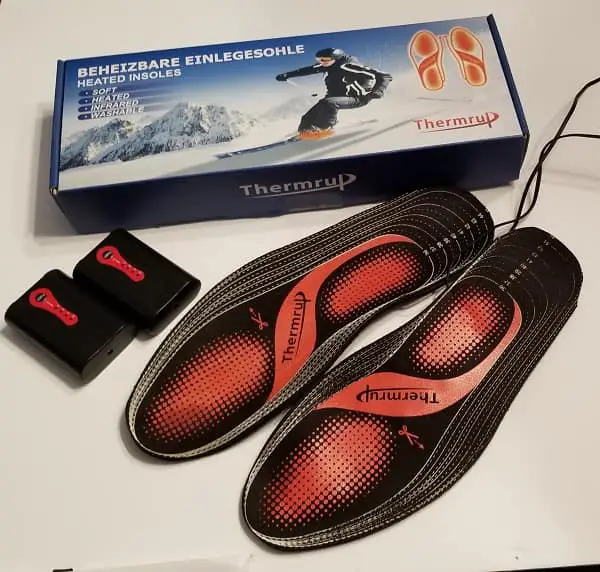 I have also tried heated socks and although some did work well, especially in the beginning I did find that some brands tended to wear out quickly which is why I like the heated insoles best.
Better than heated socks were the Thermrup Electric Heated Insoles. These were the best at keeping my feet warm.
If you would like to try the heated electric sock method I have a list of some of the best ones on my page Fishing In The Winter – Stay Warm With These 10 Tips
3 Best Waders For Winter Fishing
These are the three best cold weather waders that I have tested and used and also used by other guides and river anglers.
Simms G3 Boot Foot Waders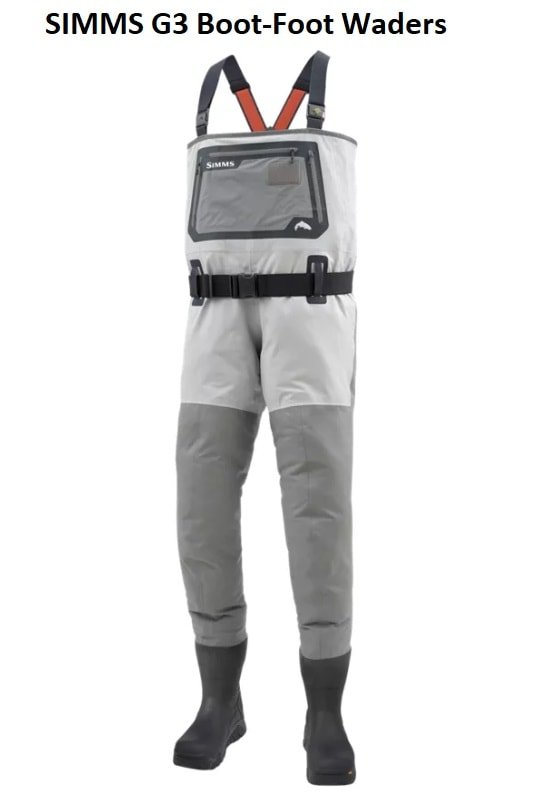 The SIMMS G3 guide boot foot waders are the best waders for winter fishing that you can buy.
I haven't found or tried better cold wader waders than these Simms G3 boot foot waders.
If they aren't wearing the Simms G3 stocking foot model, these Simms G3 boot foot waders are what most of the top cold water river guides will wear in the coldest water.
They come with great ratings but they also come with a big price tag.
With that price tag, you get quality long-lasting waders backed by a great warranty and great customer service.
These are more durable with a 4 ply breathable leg which means they will probably last you as long as 2 or 3 pairs of the cheaper brands on the market.
I know guys that have been in these waders for over 5 years and they are still going strong.
A lot of great features went into these waders to make them the absolute best on the market.
Key Benefits:
Built for comfort by the leading wader brand in the world.
4-layer breathable leg system for more durability
Triple-layer rubber boots that are lined with 7mm neoprene for maximum warmth
The boot is built to fit more comfortably than other boot foot waders on the market
Built-in plates in the bottom of the boots for added support and Vibram soles provide better traction than regular rubber boot foot waders
You can put on optional cleats
Cons
These are the most expensive boot foot waders on the market, but you get what you pay for, and these are worth it.
Orvis Clearwater BootFoot Waders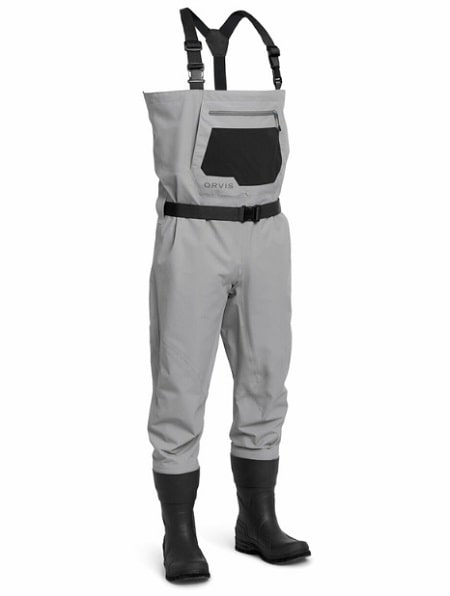 I spent a couple of winters testing these waders out and the results were pleasing. These waders are about 50% less expensive than the Simms waders that I used, they were durable and comfortable, however, I did find that they were a little less warm on the feet.
With that being said, they were still warmer than any stocking foot wader with extra socks. They were the second warmest wader I've used and becuase of the price I would highly recommend them.
The only donwside is these have felt soles which suck in wet sticky snow.
Which is only why I also recommend the waders below.
Frogg Toggs Steelheader Bootfoot Chest Waders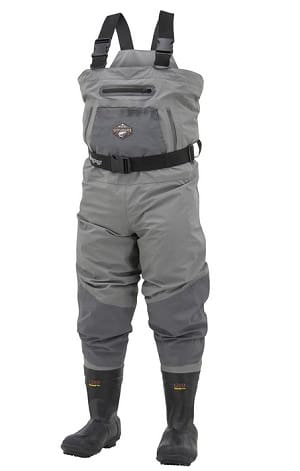 The Frogg Toggs Steelheader Bootfoot Chest Waders are one of the best waders for winter fishing if you are looking for mid-priced waders with lug soles.
These waders get good reviews online and are much cheaper than Simms G3 Waders and Orvis bootfoot waders.
I bought a pair of these in 2019 to test myself and as a loaner pair to see how well they worked for my clients.
I wanted to see if they were as warm as the Simms G3 waders and I found that they fit well, they were comfortable and they kept my feet warm.
They also worked well with and without the heated electric socks that I was testing at the time.
I have had a few of my clients come out with these waders and they all seam to like them.
Real users seem to like these waders and some anglers have compared these with the Simms G3 waders and were happy with them, especially for the price.
Users tend to say that they are warm and some even say they are the warmest wader they have owned.
The downsides to these waders are that the boots are heavy which is not uncommon for Thinsulate-made boots. Hopefully, heavy also means more durable but I'm not entirely convinced about that yet as I will need to test them more.
The Frogg Toggs Men's Steelheader Lug Sole Bootfoot Chest Waders get around a 4 to 4.5 out of 5-star rating on most websites that I have checked.
The Key Features Are:
They have a removable liner system to help keep you extra warm.
1200gm Thinsulate boot
Fleece-lined hand warmers
Can get a cleated version
Cons
I found the boot sole to be narrow and not great on rocky terrain
Boots are heavy
Cabela's Classic Series II Neoprene Boot-Foot Waders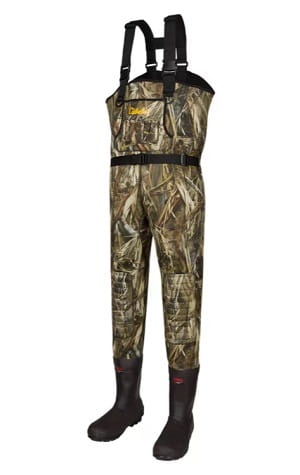 The Cabala's Neoprene Boot Foot waders are a good choice for the best waders for winter fishing if you are on a tighter budget.
I tried out a pair of these for 1 season and although they did the job, you get what you pay for.
For an average angler, they will probably last for a few years or more but for a guy like me that was on the water for about 60 days out of 70 days, these were not the best waders.
Unfortunately, I found that the boot treads were too narrow for my liking and I felt like I didn't have the traction that I needed as a guide. This was the main reasin I did not like them.
I also found that the neoprene left my pants damp at the end of the day which is only a minor issue because they did keep my feet much warmer than my stocking foot waders.
These waders get pretty good reviews with an average 4.1 rating from 63 reviews. You can't really expect too much out of a cheaper pair of waders, I just hope Cabelas fixes the narrow tread.
Waders For Kids, Women, And Big Guys
Finding waders for men is generally easy, but finding good-fitting waders for big and tall guys, for women, and for kids can sometimes be tough. Check out these articles.
Best Waders For Kids
Best Wader For Women
Got A Tip Or Question About The Best Waders For Winter Fishing
Let me and the readers know if you have a good tip that works for you or if you have any questions about the best waders for winter fishing in the comments below.
Tight Lines
Graham