Fishing In The Winter – Stay Warm With These 10 Tips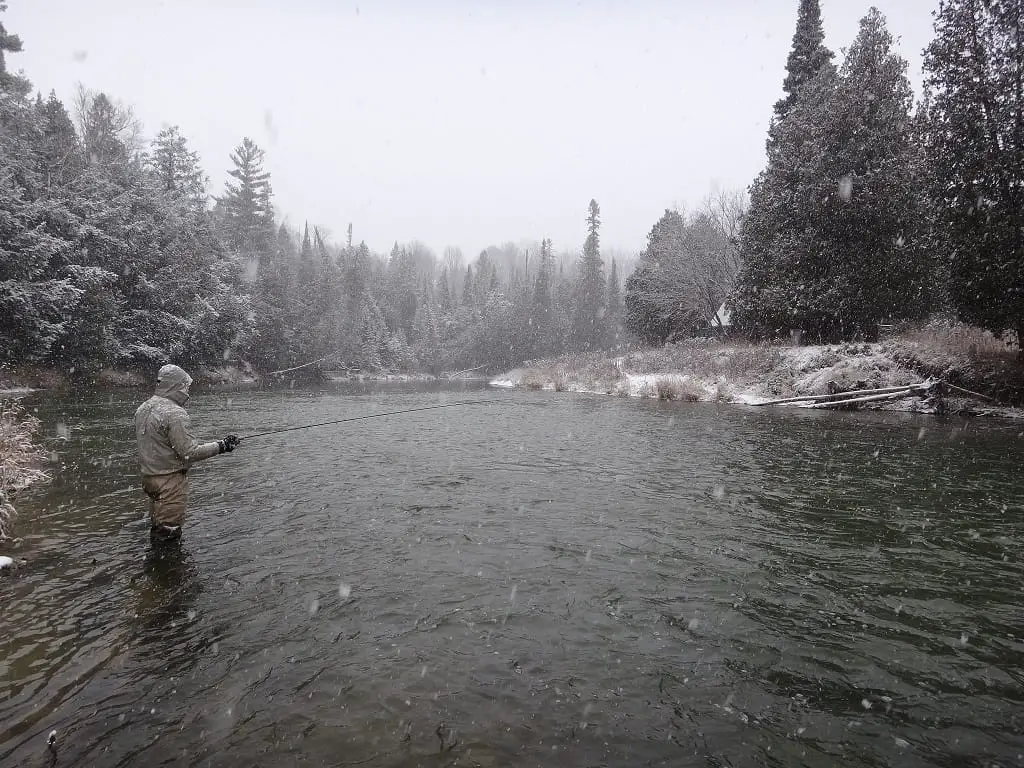 Keep Warm Fishing In The Winter
As a river fishing guide, I'm sometimes standing in ice-cold water every day for months, so when fishing in the winter I had to learn how to stay warm, dry, and comfortable. I also had to provide advice to my clients on how to dress. This article is what I tell my clients o help them stay warm on guide trips.
The key to keeping warm when fishing in the winter is to make sure you have the best base layer and proper outer layers to keep your body and legs warm. Winter fishing requires the right gloves, socks, and waders to keep your hands, feet, and legs warm. These guide tips will help.
I stand in ice-cold water for 7 to 9 hours a day and I do this sometimes over 100 days a year when I'm guiding for steelhead and trout. I have tried so many different tips and tricks and some worked and some didn't.
These tips will let you know what to wear and what I do to keep you as warm as possible from head to toe when you fish on the coldest winter days.
I even offer a bonus Guide Tip on how to keep the ice off your rod guides when fishing in the winter when it's well below freezing.
This page contains affiliate links. If you buy something through one of these links we may make a small commission which is at no cost to you. Commissions allow us to continue to bring you great content. Thank you for your support. Affiliate Policy
How to Keep Hands Warm When Fishing In Winter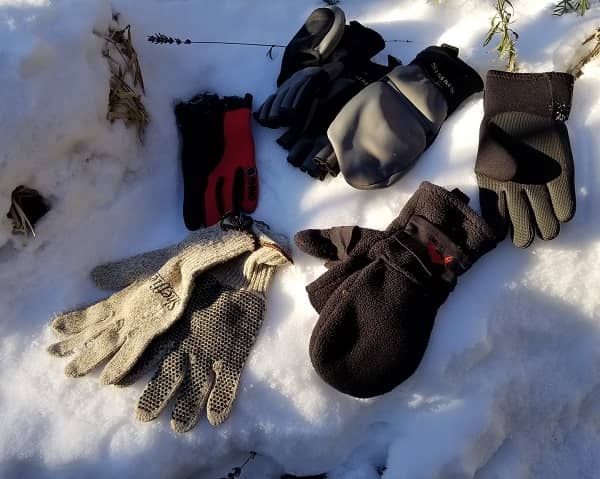 Your hands are one of the hardest parts of your body to keep warm when winter fishing because you're always holding onto a cold rod and reel, and thick gloves are tough to fish with.
Sometimes, if you're lucky, you're also putting your hands into ice-cold water to pick up your fish but this is how I do it.
Best Winter Fishing Gloves
Not any glove will do when fishing! You need gloves that allow you to grip the rod, hold the reel handle, and still be able to cast, which is why gloves meant for skiing or snowmobiling just won't cut it. My favorite gloves for cold weather fishing is the Simms Fold-Over Mitts.
Neoprene gloves just don't work for me to keep my hands warm, so what does?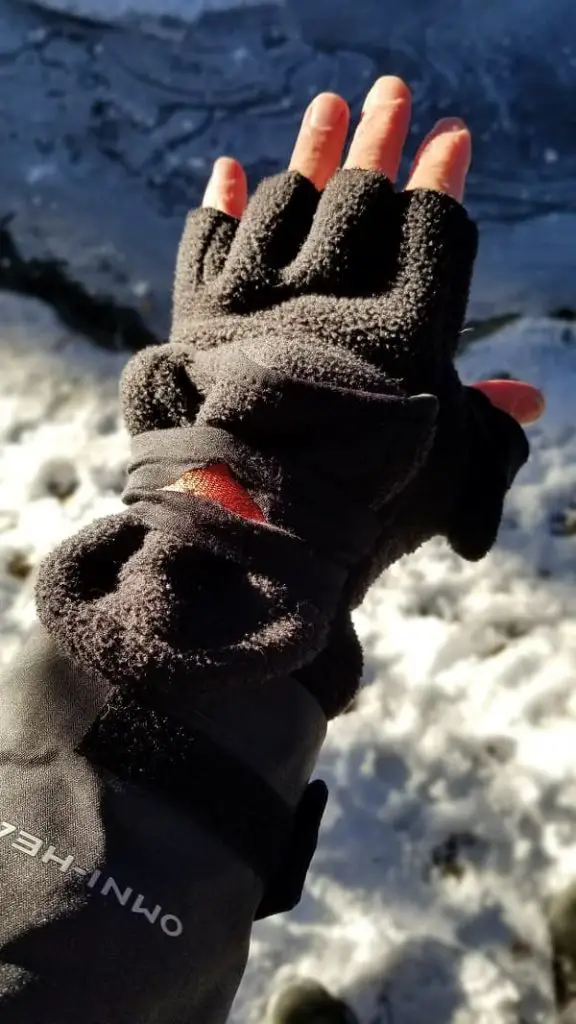 There are gloves made specifically for fishing and the ones I recommended are the finger-less gloves like the Simms Fold Over Mitt Gloves that you see in this picture. These are my favorite gloves.
With these gloves, I can flip the mitt part over and I can flip the thumb part back and lock them in. This exposes my fingers for better grip and dexterity as well as for better casting and also for tying knots. They are also made from wool so they are soft and warm.
If my fingers get too cold I just flip the mitt part back over to warm up my fingers. Sometimes I'll even put hand warmer packs in the mitt part of each hand so when I flip it over it warms my fingers fast.
You can check the price of these Simms Fold Over gloves.
Some anglers like wool gloves with no fingers or with part fingers. The Simms Ultra-Wool Core Three-Finger Liner Gloves are popular. Yo-+u can see them at FishUSA.com. Or check out the less expensive Fish Monkey Wool Half-Finger Gloves at Fish USA.com
Another great glove with the open finger concept is the Cabela's Guidewear GORE-TEX INFINIUM WINDSTOPPER Half-Finger Fishing Gloves. These gloves are meant for serious anglers but come in around $30.00. Check them out at Bass Pro Shops – HERE
If you are the kind of guy that likes full-fingered gloves you will want one that isn't too thick and offers good dexterity but still keeps your hands warm. Another tested and proven fishing glove is the Orvis Men's Softshell Convertible Mitt
Guide Tip: You are near water like you are when you fish, sometimes gloves get wet so I always recommend having an extra pair of gloves tucked away in a pocket as a back-up.
Guide Tip: The HotHands Hand Warmer packs also come in handy. I put them in my gloves on the back of my hands or near my wrist area to warm the blood going into my fingers and this seems to work for me – You can get them at Bass Pro Shops-HERE or at Amazon- HERE
How To Keep Your Feet Warm When Fishing In Winter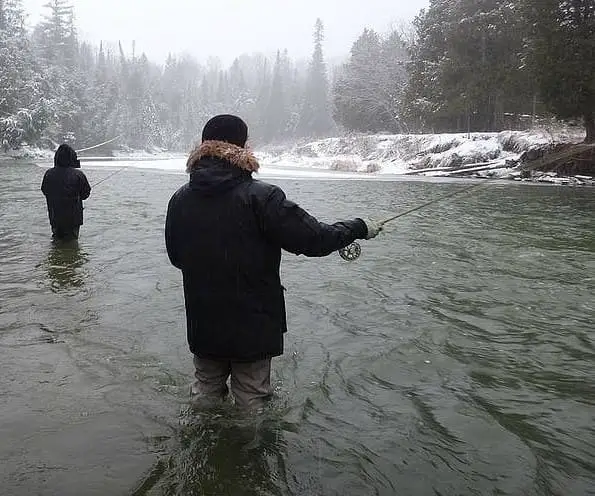 Cold feet can make winter fishing unbearable.
Keeping your feet warm is another one of those body parts that are very difficult to keep warm and I get asked all the time how I can stand in ice-cold water all day long.
The answer for keeping your feet warm isn't as simple as just putting on more socks because that usually doesn't work well. These are some of my best tips that I have gained through experimenting and from other guides.
The Best Waders For Fishing In The Winter?
You're probably wondering why I didn't start with socks first and the answer is simply that the waders you use for the winter can make a biggest difference, and different waders require a different amount of socks.
If you use the right waders you may not need super thick socks at all.
The best waders for winter are ones that will keep your feet the warmest even with minimal socks. The best winter waders will also help wick away moisture from condensation or sweat and they will have rubber soles. The best winter waders are breathable boot foot waders that are one or two sizes bigger than your normal shoe size.
When fishing in very cold climates, the first thing you need to consider is the type of waders you will be wearing. There are 4 types of waders that most anglers wear during the winter:
Stocking Foot waders – Coldest waders for legs and feet
Regular non-insulated Boot Foot waders – Also cold on feet
Breathable Insulated Boot Foot – Warmest on feet
Neoprene Insulated Boot Foot – Also Warm on feet and legs
Standard stocking foot waders, whether they are full neoprene waders or the typical breathable waders with the neoprene stocking feet will be the coldest waders for your feet in the winter and you will find it very difficult to keep your feet warm in stocking foot waders. These waders require heavier thick socks but that may still leave your feet cold. The problem is that the more socks you put on the tighter your boots will be which cuts off circulation to your feet and that keeps your feet colder and even uncomfortable. If these are the only waders you have, then see below for tips to keep your feet warm in these fishing waders.
Boot foot waders come in two different types, the ones I'm referring to here are the non-insulated or lightly insulated boot ones that guys wear in the spring, summer, and fall when the water is not that cold. These waders can also be cold on the feet during winter even if you wear heavy socks. If they are a couple of sizes too big you can add enough socks to make them warmer.
Breathable insulated boot foot waders are by far the best waders for cold weather fishing and I have tested these, and I recommend these for fishing in the winter when the water is ice cold. But there is a catch.
The reason that I prefer the breathable waders over the full neoprene waders is that the breathable part wicks away moisture so your legs stay dryer which I find keeps you warmer. With these waders, I layer on my legs so I do not feel the cold water at all.
The boot foot part of these waders is insulated which offers more wiggle room so you don't need as many socks and therefore you can maintain good circulation which helps keep those feet warmer. With heavy socks on you can keep your feet toasty warm in these waders even when fishing during the coldest days of winter while in ice-cold water.
While neoprene insulated boot foot waders are also good, especially for keeping your legs warm I found that my pants would often be damp from sweat or condensation more than they would in the breathable waders and this can lead to being colder. For this reason, I prefer the breathable stocking foot waders over all other waders when fishing in the winter.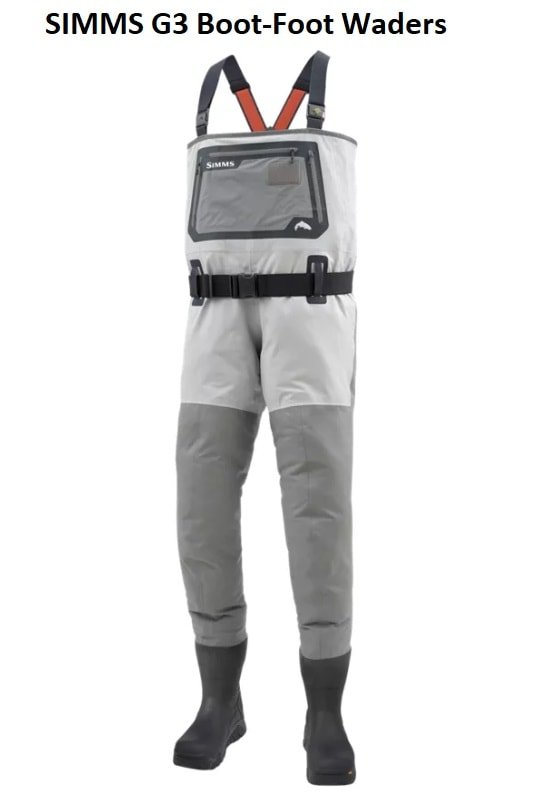 SIMMS Boot Foot waders are the best winter waders. Check the price at these two trusted retailers.
Guide Tip: if you are going to buy a pair of boot foot waders for just winter fishing it's best to go 1 or two sizes bigger than you would normally wear so that you have plenty of room for thick socks. Tight boots may cut off blood circulation to your feet and that may make your feet colder.
It's also important to get winter waders with rubber soles since wet snow sticks to felt and that makes walking tough and dangerous. I've seen many guys twist ankles and struggle with walking when they have 3 inches of snow built up on the bottom of their felt boots.
My 3 Winter Wader Recommendations
These waders are the best boot foot waders that I have used and are what other guides and anglers use for keeping my feet warm when winter fishing:
Best Overall – SIMMS G3 Guide Waders with Bootfoot with Vibram Sole – Check Price
Best Value – Frogg Toggs Steelheader Bootfoot Waders – Best Value Boot-Foot Waders – These are the best breathable winter waders under $200.00 Check the price at Amazon.com.
Economy – Cabela's Classic Series II Neoprene Boot-Foot Waders – Best Neoprene Boot-Foot Waders I tested these waders for one season and they are the best choice for anglers on a budget- Check The Price at Bass Pro Shops
Best Socks For Inside Waders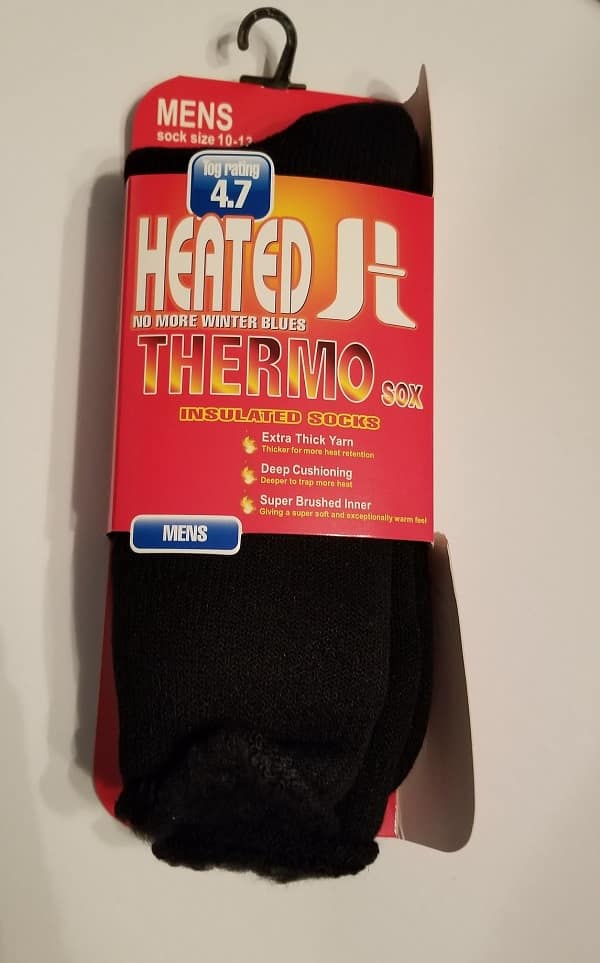 You will need a good pair of thermal socks to keep your feet as warm as possible when fishing in the winter.
Too many socks or socks that are too thick can squeeze your feet and limit blood circulation which can make your feet even colder.
I usually use a good base layer sock that will wick away moisture and then add one pair of thermal socks. I use the Under Armour Tactical Heatgear Socks as my base layer socks.
The good thing is that there are a number of companies that offer these types of base layers and thermal socks.
I tend to stick with socks made for people that work outdoors during the winter or ones meant for skiers, hikers, or other outdoor sports.
The Thermo Sox seen in the picture above is the latest brand that I have been using and testing and they have been one of the best socks I have used so far.
These are my top 3 thermal socks choices
Thermo Sox – Check the Price at Amazon
Cabela's Extreme Cold Socks – Check Price at Bass Pro Shops
Simms Men's Merino Thermal Socks – Check Price at FishUSA.com
If you want an inexpensive Merino wool sock, check out the DW Merino Socks at Amazon
Are Electric Insoles Good For Winter Fishing?
This is my preferred choice for any type of heating device for keeping my feet warm inside my waders, and I recommend these for anyone struggling to keep their feet warm inside their waders.
I use these heated insoles in both boot foot waders and in my breathable waders and they work better than anything else that I have tried before when it comes to keeping my feet warm when standing in ice cold water.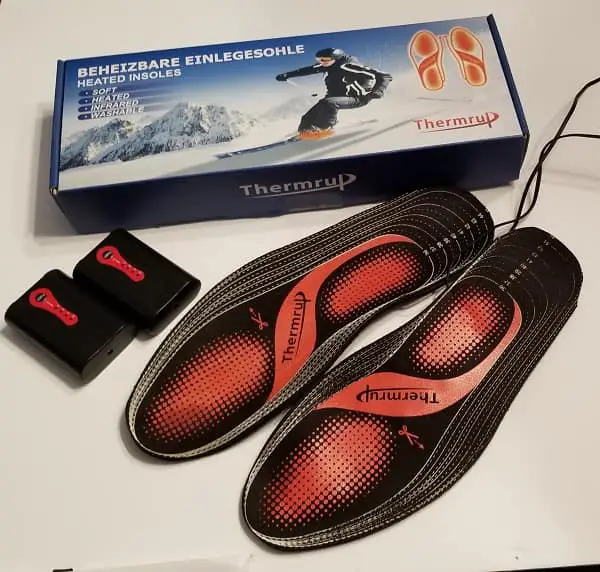 While my clients and other anglers have very cold feet I will turn on my heated insoles as soon as my feet start feeling cold and within 10 minutes, my feet are toasty warm inside my waders.
These work on the inside of stocking foot and boot foot waders too.
For stocking foot waders all I do is put on a base layer or thin sock and then put the heated insoles between my thin socks and a pair of thicker socks and then put on the waders. It's a bit tricky getting the heated insoles between the socks, but it's worth the effort.
I also add a kitchen garbage bag over my socks to prevent any moisture from reaching my heated insole or in case I have a leak in my waders. The bag also helps my feet slide in and out easier. This method works great for me and allows me to wear my stocking foot waders all winter.
The best-heated insoles that I have tried are the Thermrup Electric Heated Insole Foot Warmers Washable 5.5-12.5 from Amazon. These ones have four heat settings and even at the 50% setting my feet stay warm for 5 to 6 hours. I have never needed to go 100% full heat.
On a guide trip, I showed these heated inserts to Jake from FishHeadsCanada.ca so he picked up a pair and send me a message saying that he loves them. Jake is a hard-core steelhead angler from Ontario Canada, and it gets damn cold there.
Are Electric Socks For Winter Time Fishing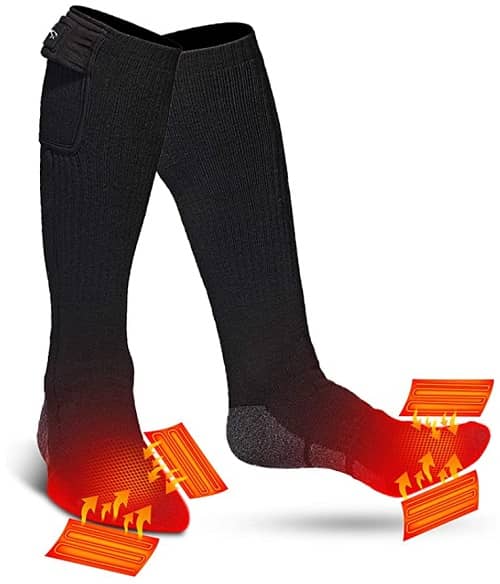 I have tried a few different brands of electric socks and found some worked OK but most didn't.
The ones that didn't work just didn't seem to get hot enough, or they fell apart faster than heated insoles. I also found that some of these electric socks stopped working after a month of being on the water five days a week.
However, I'm on the water wearing heated socks more in November and December than most anglers would be in 5 years so these same socks might last much longer for the average angler that might only fish one or two times a week in the winter.
I also know other guides and other anglers that have had some success with some brands of heated socks.
Heated socks are much easier to get on and off compared to heated insoles when used inside stocking foot waders.
One of the best electric heated socks on the market is the SNOW DEER 7.4v Heated Socks from Amazon which are also rated high on most review websites.
I have researched about 20 review websites on heated socks and these are the most recommended socks.
Caution: There are a lot of crappy China-made knock-off socks selling for cheap on Amazon and most are just garbage so be careful when buying electric socks.
Also, these are just socks, and like most socks electric or not, they get holes sometimes, and sometimes they wear thin, and sometimes the stitching goes along the seams, and sometimes the elements break or the batteries stop working, so don't expect these to last forever.
Even the ones in the $350.00 range can have issues which is why I do not recommend them. With all socks and electronics, it's buyer beware.
Guide Tip: Getting your waders on and off with all these extra socks can be tough. That's why I will put a plastic garbage bag or a plastic grocery bag over my socks before I slip them into the waders.
The plastic bag helps your foot slip in and out of your waders much easier and may even give your feet a little extra insulation. I'll even do this during the summer to help get the waders on and off easier for me and my clients.
Heated Foot Warmers For Ice Cold Water Fishing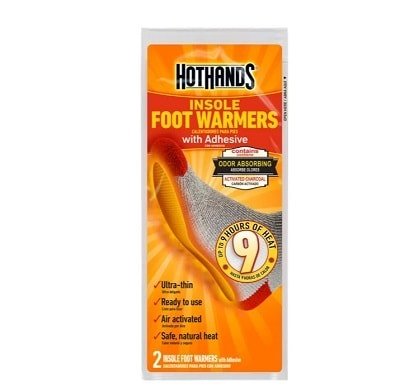 These disposable heated foot warmers are another idea that some anglers use with some success.
Unfortunately, I have had little success with these in ice-cold water with stocking foot waders on which is why I only recommend these if you are on a budget and can't afford the electric heated insoles.
I find these disposable insoles only marginally increase my foot warmth so my feet stay cold so I don't use them often. I often find that after 3 or 4 hours they lose too much of their heat and my feet start to get very cold again and they feel like I'm not using them at all.
Even at their maximum heat which is the first couple of hours, I don't find that they work as well as the electric-heated insoles do.
I have tried many different brands of these disposable heated soles and find most are about the same, but there are some cheap crappy ones too, so buyers beware.
If you are going to try these out, I recommend these brands:
How To Keep Your Legs Warm When Fishing In Winter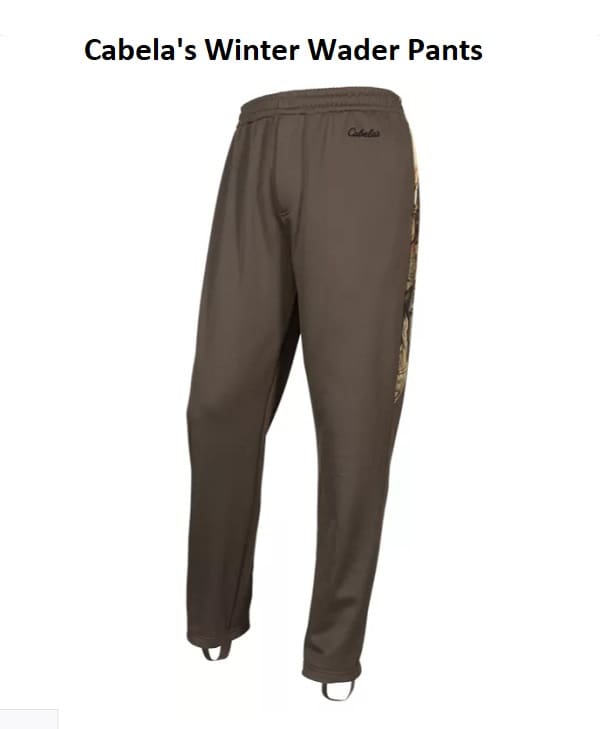 When I'm standing in ice-cold water all day in a pair of breathable waders, which I prefer over neoprene, I want layers on my legs so I don't feel that cold water on my legs.
My outermost layer are warm wader pants such as:
For my base layer, which is the layer under my winter wader pants I use the Simms Men's Heavyweight Baselayer Bottoms. These are by far the warmest base layer pants I have ever used.
Both of these pants are tested and proven to be effective for keeping your legs warm in the river and they both come with good reviews from other users.
If I find on the coldest of days that my legs are still feeling the cold water through all these pants, which happens sometimes, therefore I will add a base layer of pants which could be anything from a pair of long underwear to my Simms Men's Heavyweight Baselayer Bottoms or my Simms Men's Thermal Bottoms. These are good mid-layer pants.
How To Keep Your Body Warm When Winter Fishing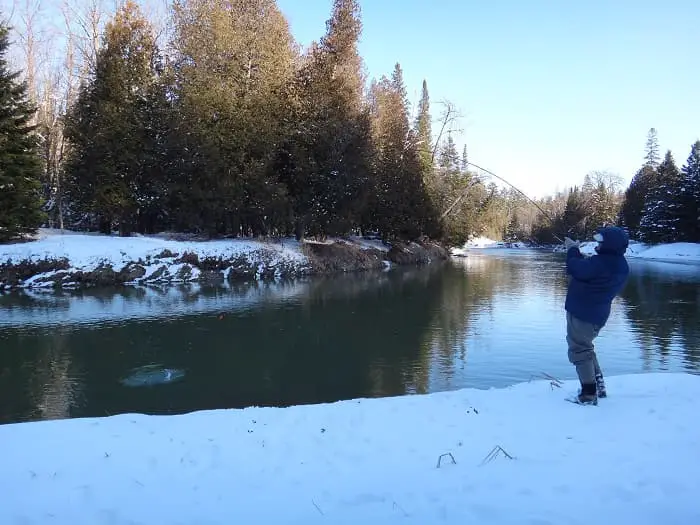 Just like your legs, layering is the key to keeping the upper body warm.
A warm upper body will help keep the extremities (feet and hands) warmer too.
Keeping your body warm when fishing in very cold weather requires special layering so I will tell you how I do it and what I wear.
Most wading jackets are not insulated so multiple layers of shirts and a hoodie sweater are required to keep you warm when when the temperatures are well below freezing.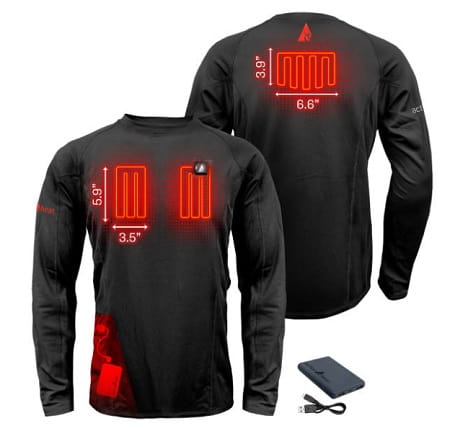 This electrically heated baselayer shirt gets a lot of great reviews and comes highly recommended for fishing and hunting.
This is about as warm as you are going to get in a shirt.
If you don't want to go with an electrically heated shirt then this is what I did before they were available.
In extremely cold conditions, I usually start with a good thin base layer full sleeve shirt like my Simms Men's Lightweight Baselayer Top.
Now I add a thermal hoodie sweatshirt like my Simms Men's Heavyweight Baselayer Hoody
For serious warmth, you can also get yourself an electric heated Puffer Jacket. ActionHeat 5V Tri-Zone Battery-Heated Insulated Puffer Vest or the Gerbing 7V Khione Puffer Heated Vest 2.0 for Men.
Don't Sweat
GUIDE TIP – Don't let yourself sweat! Even with all the right layering, if you sweat, you can still get cold because now you are wet.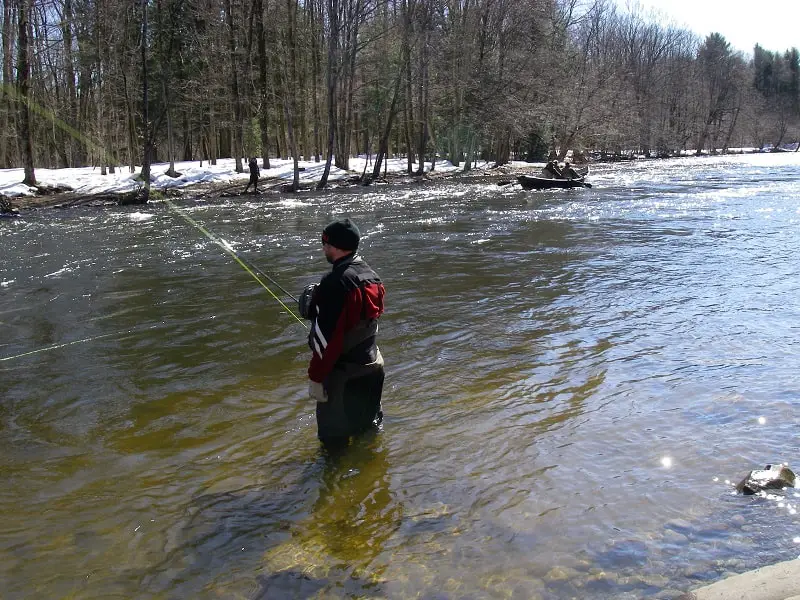 I have walked 5 minutes through the bush to get to a spot and then realized I'm sweating.
Not only is this uncomfortable because chances are you will keep sweating for five to 10 minutes after you stop and fish, but after standing still in the water for an hour or two this sweaty base layer shirt can make you cold.
I will often slow down my pace and be conscious of my body heat. I may also even remove and carry my jacket or take brief rests to keep from sweating.
It's also important not to sweat when you're putting on all your gear at the car. When guiding in the winter, I have had many clients get out of a nice warm vehicle, put on their gear, and say "I don't think I will need this extra sweater because I'm nice and warm", but this can be a bad mistake.
Three hours into the trip while standing in ice-cold water and they are always happy I made them bring the sweater. I know better and I always tell them, "If you have it, you can always take it off, but if you don't have it, you may really need it and it won't be there."
How To Keep Your Head Warm When Fishing In The Winter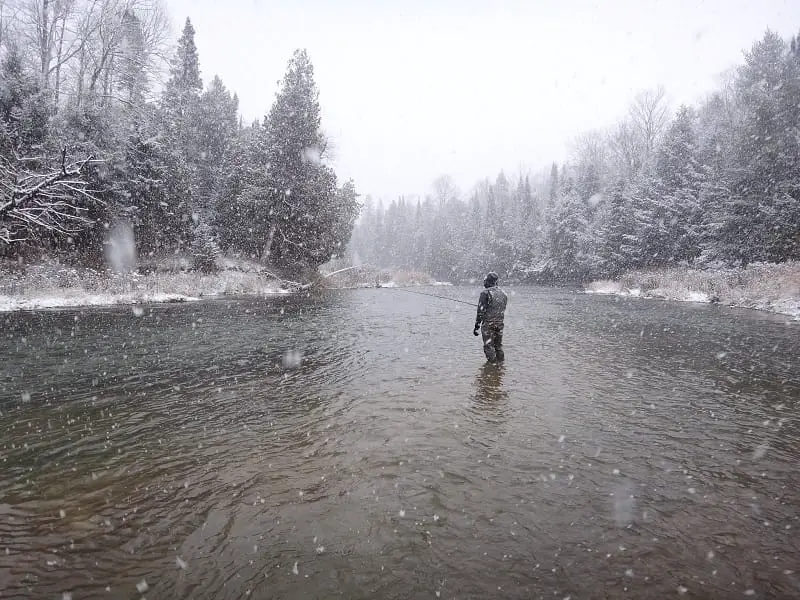 Keeping your head warm when winter fishing is important since they say a lot of your body's heat escapes through your head.
A combination of my thick hooded sweatshirt, my hooded wading jacket or coat, and a ball cap or a toque hat is all that I use, and it seems to work great for me.
How to Keep The Ice Off Of Rod Guides
Ice can form on the rod guides when fishing below freezing temperatures and it can cause problems.
There are a couple of things that I do that help keep the ice off the guides both when reeling in the line or when fighting a fish.
One of my favorite tricks is to dip the rod tips in the water. This works best earlier in the fall when the water is much warmer than the air. Once the ice has formed on the guides and is starting to cause problems I will dip my rod tips (only the ones with ice on them) below the water while I retrieve my line.
The warmer current will usually melt the ice by the time my bait or my lure gets back to the rod. I then tap-tap-tap the bottom of my rod to shake off all the excess water so that it doesn't re-freeze, and magically most or all the ice is gone. Repeat if needed.
Sometimes I will do this every third or fourth cast before the ice builds up too much but you could also do this every cast, especially when the water is very cold and it melts the ice more slowly. This has been a great tip that many of my clients appreciate and is one that I use the most.
I will even dip the rod below the water when fishing a fish to either prevent further freeze-up. Freeze up when fighting a fish could stop the line from sliding through the rod guides easily or completely.

The second thing that I might do is apply Loon Outdoors Stanley's Ice-Off Paste from Amazon. I will apply a thin layer at home where it is warm and then re-apply it as needed out on the river. Make sure it's a thin layer so the line doesn't stick to it. Stanley's Paste is not a 100% effective solution, but it's better than nothing.
The other options are to just keep picking the ice off when it gets bad, or try biting it off which works for me when there's a lot of ice build-up, or even breathing hot air on the guides to soften or melt the ice to get it off easier when the ice becomes a problem.
For more details on keeping the ice off the guides check out my page How To Keep Fishing Rod Guides From Freezing – 3 Guide Tips.
All The River Fishing Gear
For all the river fishing gear that I recommend, check my page River Fishing Gear In 2021- Everything You Need To Succeed and for all the Fly Fishing gear you need check out my page Fly Fishing Gear: Everything You Need To Fly Fish.
Fishing In The Winter: Ask The Guide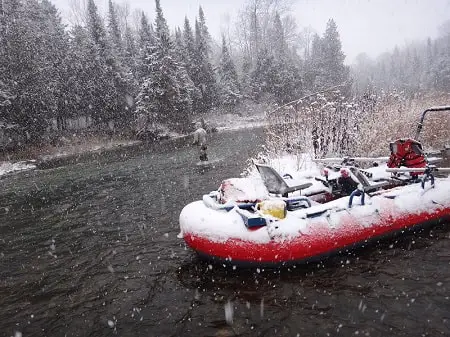 I have done a lot of guide trips in the winter over the last 20 years so I hope my advice helps you stay warm this winter.
If you have any questions, ideas, or other ways that you have found to keep you warm when fishing in the winter, let me know in the comments below.
Tight Lines
Graham