River Fishing Gear: Everything You Need To Succeed In 2021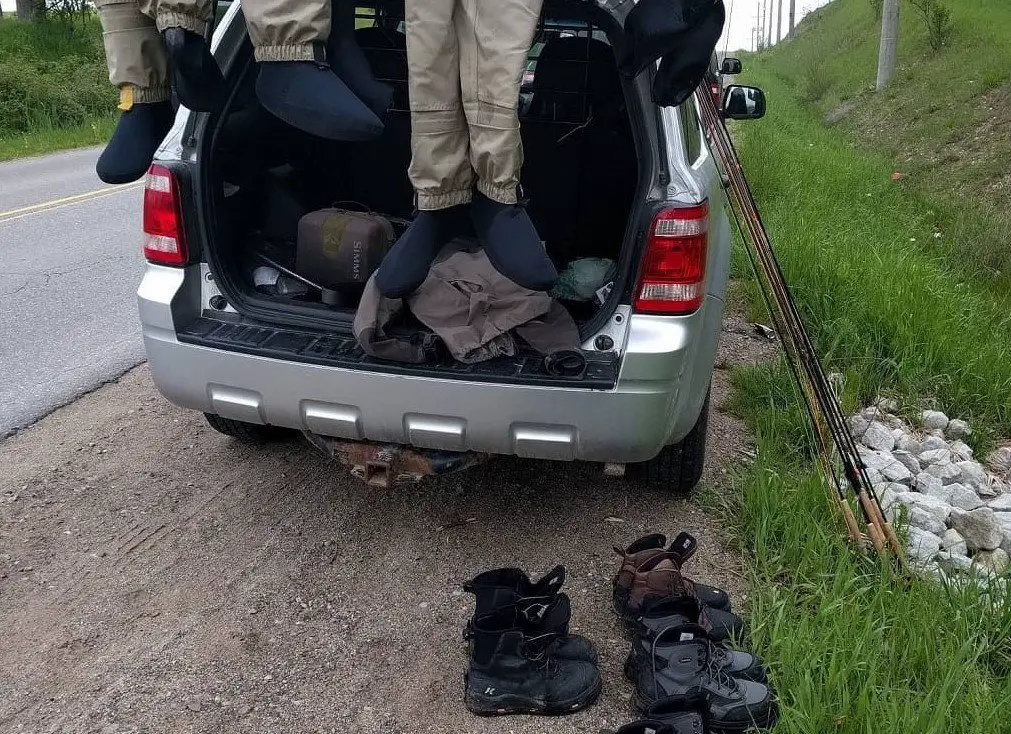 A Guides Advice On All The River Fishing Gear You Need
There is a lot of river fishing gear that you can choose from and it can be overwhelming with all the choices. As a guide, my clients always ask me about the river fishing gear that I use and recommend, so here it is, my list of all the river fishing gear you will need.
Using the right river fishing gear can improve your success on the rivers. The river fishing gear that I recommend is guide tested and used by thousands of anglers. When it comes to river fishing gear you will need rods and reels, lines, waders, jackets, vests, nets, and all the river fishing tools.
If I recommend any river fishing gear you can be sure that I have used it or that I know other guides or anglers that have both tested it and proven that it's a good product.
What makes a product a good product is that it needs to do the job it was intended to do and it needs to do it well. It also needs to be durable, competitively priced, and come from a company that stands behind its products and has good customer service.
The last thing you want is to buy a pair of waders that leak on your third trip and then you need to deal with a company that doesn't want to help you out.
Rods For River Fishing
Rods are a part of river fishing gear that all anglers should know about. When river fishing you can use fly rods, spinning rods, bait cast rods, or float rods.
The rod you use will depend on the type of fishing that you want to do.
Fly Fishing Rods
If you like fly fishing you will need a good fly rod. I discuss fly rod sizes and the best types and I provide my recommendations of the fly rods to consider buying on my Fly Fishing Gear: Everything You Need To Fly Fish page. For a general-purpose fly rod for trout, I recommend a 9 foot 5 weight fly rod like the 9 foot 5 weight Orvis Clearwater Fly Rod.
For float fishing for steelhead, a good 12 to 14-foot rod works great. Some angler Centerpin reels for float fishing for steelhead. If float fishing or Centerpin fishing is your thing, you can also check out my 5 Best Float Rods page.
Some anglers will also use Baitcasting rods and reels on larger faster rivers when float fishing but I'm not a fan for that purpose and think a Centerpin is best.
Reels For River Fishing
If spin fishing is your thing you will need a good spinning reel. I use spinning reels for trout, steelhead, and salmon. For my recommendations on spinning reels check out my page 4 Best Spinning Reels For River Fishing.
Centerpin fishing for steelhead, salmon, and trout in medium to large rivers has become very popular with river anglers. I teach a lot of new Centerpin anglers every year. Centerpin fishing requires a special reel called a Centerpin reel. Check out my page on the 5 Best Centerpin Reels Of 2021.
Some anglers like to use baitcasting reels which are also known as casting reels for throwing lures and for using bait. I do like these reels for very big and heavy lures but I prefer and spinning reel for smaller lighter lures.
Waders For River Fishing
A pair of $400 to $600 waders will usually last me about 2 years, but I'm on the water more in 2 years than most anglers are in 10 years which is why I say a good pair of waders should last you about 10 years and that really depends on how much you use them.
A pair of cheap no-name brand wader that you might find on amazon and being recommended by other websites might only last you a year or two so I never recommend them.
There are a bunch of good brands so stick with reputable brands like SIMMS, Patagonia, Orvis, or for inexpensive waders the Frogg Toggs brand is good.
My Top 3 Wader Recommendations
Waders For Women
If you are a female or if you need waders for the wife or girlfriend check out the Orvis Women's Clearwater Stockingfoot Chest Waders at FishUSA.com – HERE or check out the FROGG TOGGS Hellbender Breathable Stockingfoot Chest Wader, Women's at Bass Pro Shops – HERE, or at Amazon – HERE.
My 3 Winter Wader Recommendations
I would only wear boot foot waders for winter fishing, but some anglers like them for all seasons. For boot foot waders or for winter fishing, these waders are the best boot foot waders that I have tried and are what a lot of other guides and anglers are using to keep their feet warm:
Best Overall – SIMMS G3 Bootfoot Wader – Check the price at Bass Pro Shops or at FishUSA.com
Best Value – Frogg Toggs Steelheader Bootfoot Waders – Best Value Boot-Foot Waders – These get good reviews and are the best breathable winter waders under $200.00. Check the price at FishUSA.com or at Amazon
Economy – Cabela's Classic Series II Neoprene Boot-Foot Waders – I tested these waders for one season and they are the best choice for anglers on a budget- You can check the price at Bass Pro Shops
You can see all recommendations for keeping yourself as warm as possible when fishing in cold weather and when wading cold water, including my favorite base layer apparel for wicking moisture off your body and it's all on my Fishing In The Winter – Stay Warm With These 10 Tips page.
Wading Boots For River Fishing
For a guy like me that has to lead or help other anglers across fast-flowing rivers, I need all the traction and support I can get.
I have been a big fan of the Korkers brand wading boots for a long time simply because they allow me to quickly change the soles on the bottom to suit my needs. I also like the SIMMS and ORVIS wading boots.
Keep in mind the regulations for your area or areas that you might travel to since some areas are now banning the use of felt.
For slippery rocks in the river, I believe that felt provides the best grip but in snow, the snow can pack up on the bottom of your boots which can make walking dangerous.
The rubber tread boots are good in most conditions and if you add studs to both the felt and the rubber that can also really improve your grip on the rocks.
For icy banks and paths, large studded soles are a great option but they do not feel comfortable when walking on rocks.
The downside to metal studs on your boots is that they will make more noise on the rocks and that could spook very cautious trout. These are reasons why I like the Korkers boots and the option to change my soles for the many different rivers that I fish and guide on.
---
---
Other great boots to consider are:
---
Best Wading Jackets For River Fishing
Most wading jackets will be short on the bottom so that you can wade deeper without your jacket being submerged. Your wading jacket should also blend in well with your background.
---
---
---
Other great wading jackets are:
---
---
GUIDE TIP: Wading jackets are not normally insulated so that they can be worn in hot or cold weather. You will need to layer in the colder months and I discuss my layering system to keep me warm on my page Fishing In The Winter – Stay Warm With These 10 Tips
The Best Vests And Packs
I personally wear a hip pack like the one in the picture because I carry enough gear in my pack for 10 guys and my pack can be really heavy at times. Because of that, I find that if I put all that river fishing gear into a chest pack or a sling pack or a vest, it weighs down on my shoulders and my lower back and they start to ache after a long day on the river.
The hip packs can be easily pulled to the front for easy access and then pushed to the side or around the back to get out of the way.
When I owned my tackle shop I tried out about 12 packs to see which ones I liked the most. I found that some chest packs got in my way when casting, and some blocked my view of the path near my feet which is dangerous, and because the chest packs were so high up on my chest I found it awkward finding stuff in it.
I like to oversize my hip pack so I like the bigger ones. It's easier to get your hands in them and easier to get your tools and boxes in and out of a bigger pack. I like packs that open up wader too, it just makes access to what you need easier.
A good pack will also be waterproof or water-resistant so it keeps all your gear inside dry when it's pouring rain out.
Warning: Fishing packs may not be your best choice if you have a really big gut. Just being honest here but, some chest packs sit on the lower chest and the upper belly and that may not work for you. Hip packs can also sit below your gut and therefore your gut may obstruct your view so they may not be a good option for you. A good sling pack might be the better option, but your best bet is to consider getting a good vest if you have a big gut.
---
---
---
---
Fishing Vests For All Your River Fishing Gear
---
---
---
Hats For River Fishing
Baseball type hats are good for keeping the sun out of your eyes but they are not so good for covering and protecting your ears and neck from the sun.
The best hats for river fishing are the cowboy style or Tilly hats as seen in the picture above. For a good fishing hat, check out this Airflo Tilly hat for river anglers which you can get at Bass Pro Shops.
Clip-on Magnifiers
Polarized Glasses Are Essential River Fishing Gear
I prefer glasses like the ones on my hat which are tight wrap-around style glasses that block out more light. Blocking out more light allows me to see deeper into the water to see all those fish holding spots and more. A combination of the glasses and a good hat is a must-have on the river.
I wear darker grey lenses during high bright sun and prefer the brown or amber lenses during low light times.
Higher-end glasses like the Oakley Fuel Cell Polarized Sunglasses will work better than cheaper glasses.
I highly recommend polarized glasses. I buy most of my fishing glasses from Bass Pro Shops.
Hooded Sun Shirts
The Columbia Terminal Deflector Zero Long-Sleeve Hoodie is designed for summer fishing and has the added thumbholes to keep the tops of your hands covered. This shirt doesn't come in green color but the blue blend into the sky and the tan color is not bad either. You can also get it at Cabelas.
BUG SHIRT – Something else to consider and also similar to the sun shirt is the Simms Men's BugStopper Hoody that I like when the bugs are out in full force in the springtime.
Gaiters And Buffs
Sun Gloves and Winter Gloves
Winter gloves are an essential part of your fishing gear in cold weather. Some winter gloves suck for fishing because they make fishing very difficult. You want to get good gloves that are designed for winter fishing.
If you want to know which gloves I use and recommend for winter fishing check out my page called  Fishing In The Winter – Stay Warm With These 10 Tips.
Wading Staff
For the best wading staff look at the SIMMS wading staff at Bass Pro Shops or the Orvis Ripcord Wading Staff at FishUSA.com.
For a less expensive wading staff under $50.00 consider the Perfect Hatch 54″ Collapsible Aluminum Wading Staff from Bass Pro Shops
Wading Nets
Forceps
Nippers
Retractors and Zingers
Stream Thermometer
The stream thermometer in the picture is mine and is very accurate. You can get it at Bass Pro Shop HERE.
If you want a higher-end stream thermometer, check out the Fishpond Swift Current Thermometer from Bass Pro Shops
Tippet Holder
Baits, Lures, Hooks, Weights, Swivels, Floats
HOOKS FOR RIVER FISHING – The right hook can make or break your day of fishing. Many anglers use the wrong hooks and then wonder why they can't catch and fish. For my favorite hooks, when I use them and what hooks go best with different baits check out the page on The Best Bait Hooks.
FLOATS FOR RIVER FISHING – Bobbers are also known as floats. In river fishing the correct term is floats. There are bobbers made for lakes and there floats made for river fishing. Lake bobbers do not work well in river fishing and will make it tougher to catch river fish. check out my page on the Best Floats For River Fishing.
Swivels For River Fishing
I like the Raven Micro Swivels for trout and steelhead fishing. You can get them at FishUSA.com -HERE
I discuss how to set up your leaders for float fishing on my page Leaders For Steelhead and Trout.
River Fishing Gear For Fly Fishing