7 Best Waders For Steelhead Fishing – Guides Advice

My clients often ask me what the best waders for steelhead fishing are? River guides like myself practically live in waders. I have had the opportunity to try waders from all the top brands I will tell you what the 5 best waders for steelhead fishing are and why these waders are what you need to keep you comfortable and dry on the river.
The best waders for steelhead fishing are the Simms G3 Boot Foot Waders which provide superior foot warmth, comfort, and durability. If you know how to layer properly, you would also do well with 6 other waders which include the Simms G3 stocking foot waders and the Orvis Clear Water Waders.
Not all waders are created equal. What I look for in good waders is comfort, fit, function, durability, price, warranty, customer service, and a great reputation. I will discuss the best waders for steelhead fishing from the best high-priced waders to the best economy waders.
This page contains affiliate links. If you buy something through one of these links we may make a small commission which is at no cost to you. Commissions allow us to continue to bring you great content. Thank you for your support. Affiliate Policy
I sometimes guide over 220 clients a year and some of my clients will be wearing waders that I or my other guides loan to them. Many of my clients will be wearing their own waders which has provided me with a lot of honest feedback on the many different types and brands of waders.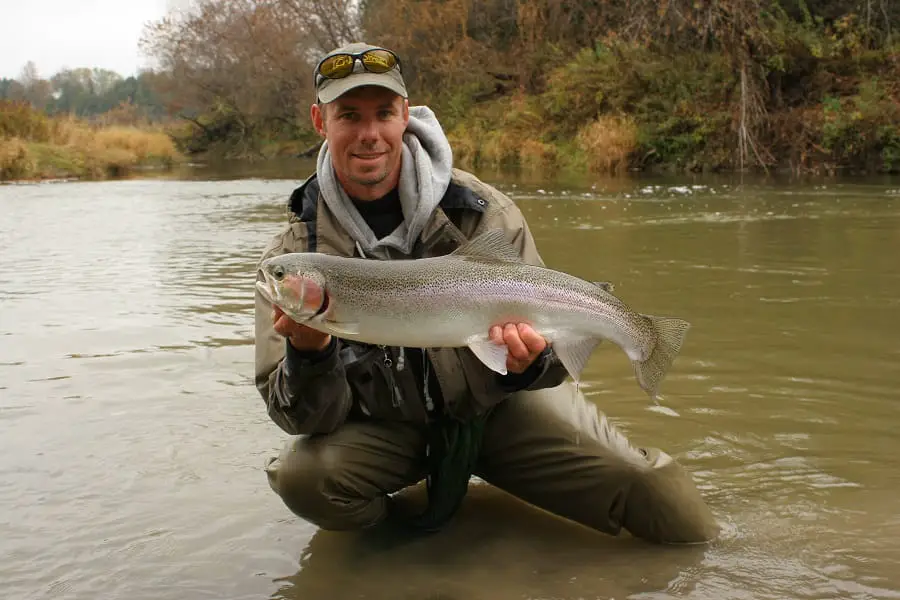 That is why I know which waders anglers like and which waders would be the best waders for steelhead fishing. I also know which fishing waders you should avoid.
A lot of steelhead fishing is done in the coldest months of the year and because of that, not just any set of waders will do.
I'm not going to mention the waders that you should avoid because there are a lot of crappy waders out there, some are even from big brand names. Instead, I'm only going to mention the ones you should consider buying.
A Word Of Caution About The Best Waders For Steelhead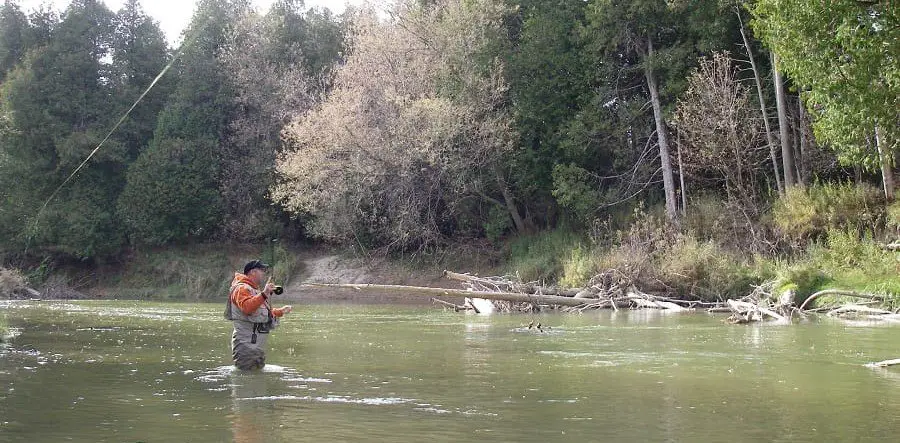 I just did a Google search on the best waders for steelhead to see what others were recommending.
I quickly came to the conclusion that some of the websites recommending waders are written by bloggers that probably don't even fish for steelhead, or very rarely fish for steelhead.
Not all waders are good for steelhead fishing and I have tested some of the ones these bloggers are recommending and I wouldn't never use them or recommend them for various reasons.
Unfortunately, some of the waders being recommended on other websites are even the no-name cheap China crap, and god knows what the warranty and customer service are like on those waders. Sure they are cheap and you will save money, but if they leak on your second or third trip out, what's the point?
For this article, I'm only recommending waders that I have used and waders that my guides and guide buddies use, and also waders that work well for my clients. If 100 guys tell me they like their waders, that's all I need to know. But if 100 guys tell me all about the problems they've had I know to avoid those waders.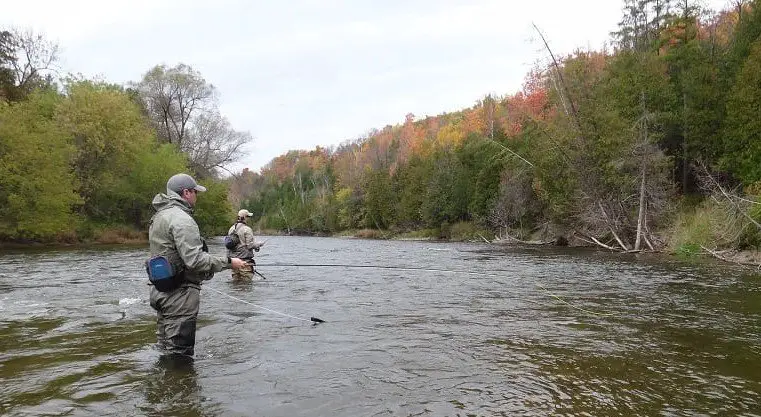 I also currently have about 20 pairs of waders hanging on my racks. I have waders from neoprene, to nylon, to cheap breathable material waders, to the king of breathable material, Gore-Tex waders.
Why so many waders? Well, I do classes and sometimes I teach and provide waders for 15 plus students a day, and I also provide guide clients with waders when they don't have any of their own.
I will discuss the 3 best types of waders for steelhead and I will give you some tips on how to make them better and how to make them last longer.
Guide Tip: Steelhead fishing in some parts of the country will mean occasionally fishing with snow on the ground. Snow sometimes sticks to felt bottoms waders and boots which can be a problem walking and a safety issue. For waders in snow, stick with rubber bottom waders and wading boots.
The 3 Types Of Waders For Steelhead Fishing
There are 3 types of waders that are suitable for steelhead fishing and each one comes with advantages and disadvantages. I will discuss them so you have a better understanding of what will work best for you on the steelhead rivers that you fish.
Neoprene Waders For Steelhead Fishing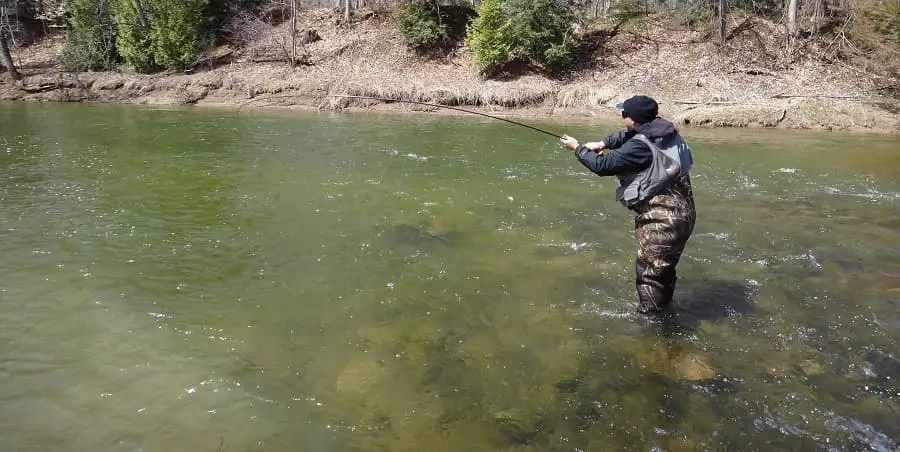 Neoprene waders with a bootfoot (boots built-on) or neoprene with just a stocking foot (separate boot goes on overtop) have been popular for many years and even I wore neoprene waders about 25 years ago. They are warm, but they also come with many disadvantages and few advantages.
Pros
Neoprene waders come in 3mm to 6 mm which is thick insulation all the way to your chest to keep you warmer.
Neoprene waders with insulated boots built-on are warmer on your feet than stocking foot waders.
Neoprene waders are relatively inexpensive.
Neoprene waders might be the best choice for guys that fish in the winter and also duck hunt in colder weather because they keep your entire body warm.
They are thick so they are more durable than other waders
They are easy to fix small leaks and tears
Neoprene floats so if you fall in you probably won't sink. (don't try it)
Cons
They are heavy, bulky, and not flexible which makes them harder to move around in.
They are not breathable so they lock in moisture. I find they are often damp inside due to sweat and condensation and that can leave you feeling colder.
Cold Feet – Neoprene stocking foot waders won't keep your feet any warmer than breathable stocking foot waders will since they both have neoprene feet.
Boot foot waders lack the ankle support needed on ruff terrain and rocky river bottoms.
Summary: Neoprene waders are not the best waders for steelhead fishing and if you layer properly breathable waders are better because they will keep you dryer and warmer. I only recommend neoprene waders for steelhead fishing for anglers on a very tight budget.
Breathable Stocking Foot Waders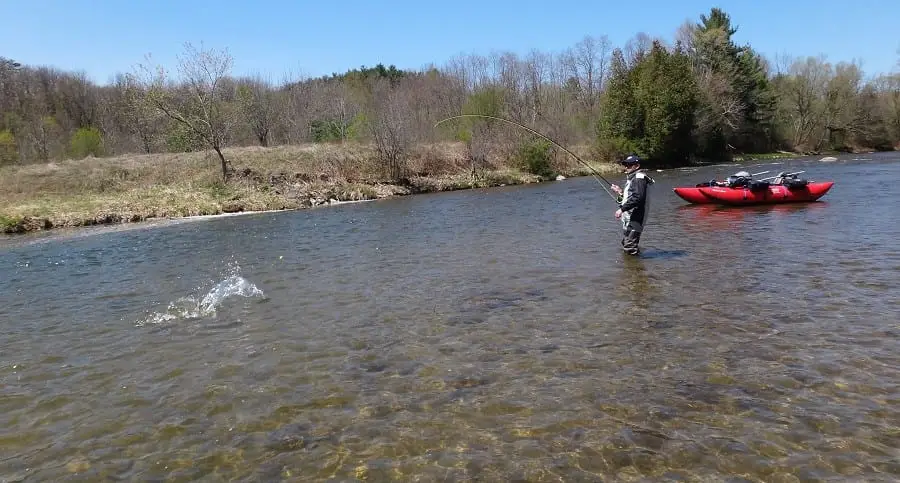 If I had to choose only one wader to fish 12 months of the year it would be breathable stocking foot waders, but, there are advantages and disadvantages to breathable stocking foot waders for steelhead fishing.
Breathable stocking foot waders are probably the most popular waders on the river and they can be great waders for steelhead fishing but only if you know how to layer under them and if you know how to keep your feet warm.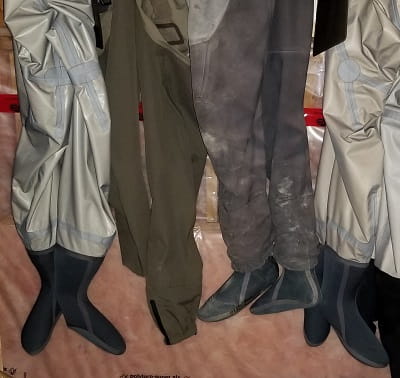 Stockingfoot waders usually have neoprene feet built-in and a breathable material that goes from shins to your chest.
Some of the better breathable waders will have 3 to 5 layers of breathable material for more durability while still being lighter than neoprene.
These are your best choice for waders for summer or warmer weather fishing.
In the summer I wear shorts under the breathable wader to keep me cool and you will feel all the coldness of the river on your legs if you wade deep enough. In the winter I wear many layers to keep my legs warm and it's rare with my layering system to have cold legs even waist deep in ice-cold water.
The downside to breathable and neoprene waders is the neoprene boot-foot in ice-cold water DOES NOT keep your feet warm unless you follow my advice on how to keep your feet warm in the winter.
As a guide who sometimes stands in ice-cold water for over 20 days in a row, breathable waders have left my feet and my client's feet so cold that we could not feel them anymore. I've even had nerve damage in my toes due to my feet freezing daily.
But there are ways to prevent cold feet and my advice on keeping your feet and all parts of your body warm and comfortable can be found on my page Fishing In The Winter – Stay Warm With These 10 Tips
There are some pros and cons of using these waders and the pro's often outweigh the cons which is why these would be my choice for year-round waders.
Pros
They are the most lightweight and comfortable waders
Great ankle support if you pair them with good boots – This makes them safer.
They keep you dryer than most other waders
Great for both warm weather and cold weather if you know what to wear under them
Great for 12 months of the year fishing in warmer climates
Cons
The cheaper 1 and 2-layer waders are not as durable
Cold feet in winter if you don't know how to keep your feet warm
Can be expensive
Conclusion: Breathable stocking foot waders are my preferred waders when the water is not too cold. They offer the most comfort, keep my dryer and offer the best ankle support which is great for any angler.
Guide Tip: I use wading boots that are 2 sizes bigger than my shoe size for very cold water fishing so I can add extra socks and heated insoles. Tight boots make your feet colder.
Breathable Boot Foot Waders Are The Best Waders For Steelhead Fishing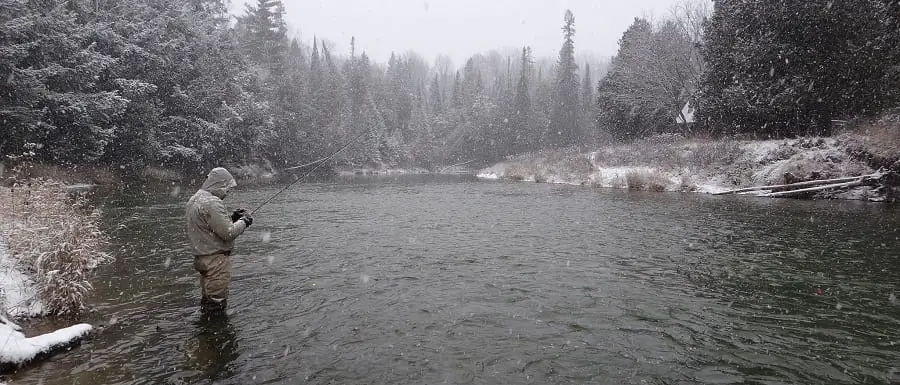 Breathable boot foot waders with insulated boots are great waders for steelhead and are likely the best waders for steelhead fishing in very cold water. They have some advantages and some disadvantages.
Breathable boot foot waders with insulated boots have saved my feet and toes from freezing on many days.
Pros
Best lightweight and comfortable waders for winter fishing
They keep you dryer than most other waders by wicking away sweat and condensation.
They are the best waders for cold weather if you know what to wear under them.
Best for using the heated insoles or heated electric socks that I recommend on my page Fishing In The Winter – Stay Warm With These 10 Tips
Cons
Can be expensive
Bootfoots are not the best for ankle support
Guide Tip: If you are using boot foot waders for mostly very cold water fishing, I use waders with boots 1.5 to 2 sizes bigger than my shoe size so that there is plenty of room for extra socks without squishing my feet and constricting the blood flow to my feet. Tight boots will make your feet colder.
The 5 Best Waders For Steelhead Fishing Are
These are the 5 best choices for waders for steelhead fishing. I have included a few extra options for those on a tight budget.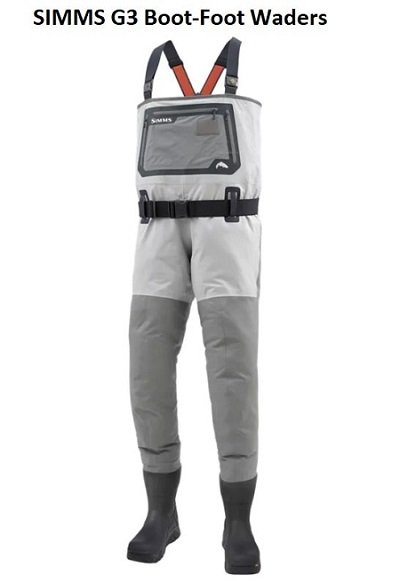 The SIMMS G3 Boot-foot Waders
The SIMMS G3 Boot-foot waders are the best waders for steelhead fishing in cold rivers.
You will not find a better wader to keep your feet warm and dry when winter steelhead fishing.
Many of my guide friends wear these in the colder months.
The only downside to these waders is the price. If price is not an issue I would highly recommend these to anyone who gets cold feet when winter fishing for steelhead.
SIMMS G3 Bootfoot Wader – Check for the best price below.
---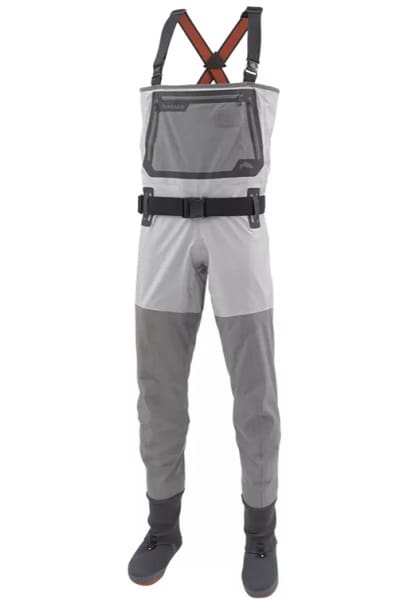 SIMMS G3 Stocking Foot Guide Waders
There are probably more fishing guides in these waders than any other waders and that is because these are simply the best. I wore a pair of these for 200 days a year for about 3 years.
Pair these up with a good set of wading boots and you are good to go anywhere.
SIMMS Freestone Stocking Foot Waders
Another great but less expensive wader option is the SIMMS Freestone Stockingfoot Chest Waders.
If you are going to get stocking foot waders, make sure you get yourself some good wading boots to go with them. Wading boots help protect your waders and your feet. To see my recommendations on wading boots go to my page River Fishing Gear: Everything You Need To Succeed In 2021
---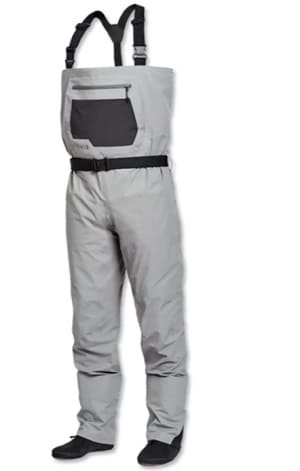 Orvis Clearwater Waders
The Orvis Clearwater Waders are another great choice of waders for steelhead fishing if you layer properly in the winter.
Orvis is a large well known brand with a great warranty and customer service.
Check out the Orvis Men's Clearwater Stockingfoot Chest Waders at FishUSA.com
An even better option if you have the cash is the Orvis Pro Breathable Stocking-Foot Waders.
---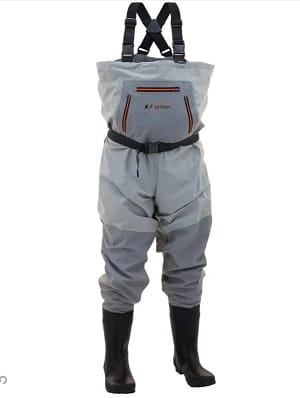 Frogg Toggs Men's Hellbender II Bootfoot Waders
These are the best economy breathable insulated boot foot waders you can get for steelhead fishing.
They come with insulated boots and some will come with studs which is a good idea.
I always recommend rubber waders over felt waders for winter fishing in the snow.
Frogg Toggs Hellbender II Stockingfoot Chest Waders
For those on a tight budget looking for an inexpensive wader option check out the Frogg Toggs Men's Hellbender II Stockingfoot Chest Waders at at FishUSA.com – HERE 
---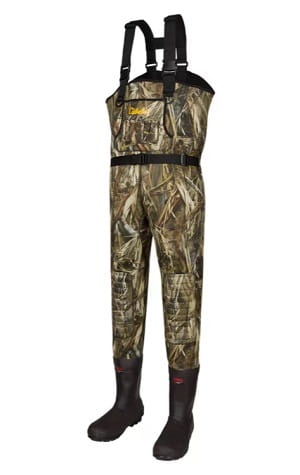 Cabelas Neoprene Bootfoot Waders
Cabela's Classic Series II Neoprene Boot-Foot Waders are a good choice if you need a budget wader for the coldest conditions.
For anglers on a budget – Check the price at Bass Pro Shops
---
Other Good Waders For Steelhead Fishing
Some other waders that myself, my guides and my clients have had good success with and ones that might fit your budget better include these:
You can also check out my page 3 Best Waders For Winter Fishing.
Are Chest Waders Or Hip Waders Better For Steelhead Fishing?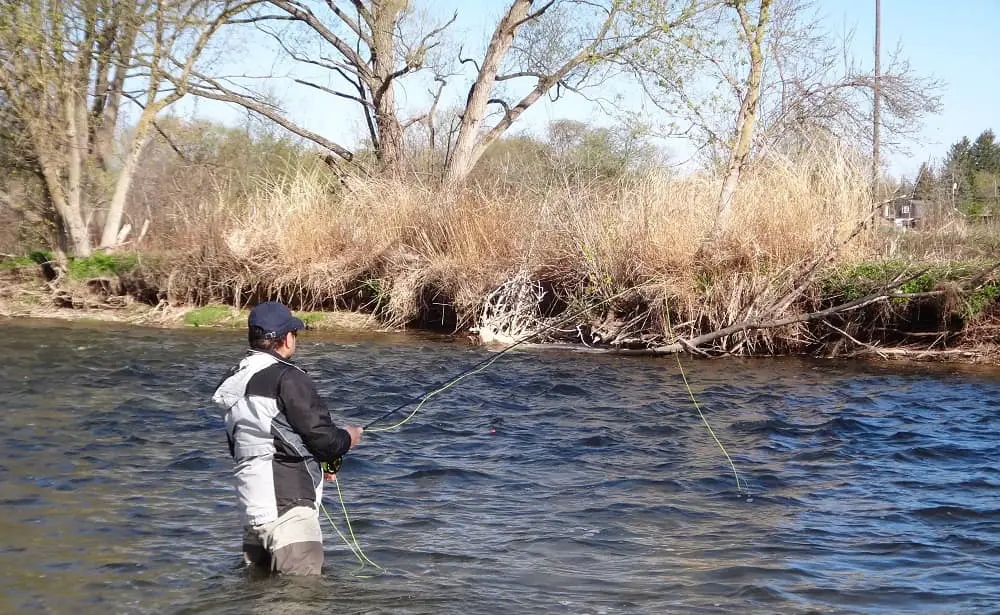 Without question, I would say that chest waders are the best waders for steelhead fishing because of two reasons.
Chest waders provide more warmth and lock in your body heat up to your armpits. If you get too warm you can always fold them down.
Many steelhead rivers are deeper and faster and the higher chest waders allow you to wade deeper when needed, they allow you to cross faster water without getting wet from water that splashes up.
I would not wear hip waders for steelhead fishing unless it was only for small creak fishing.
Storing Waders Properly Will Make Them Last Longer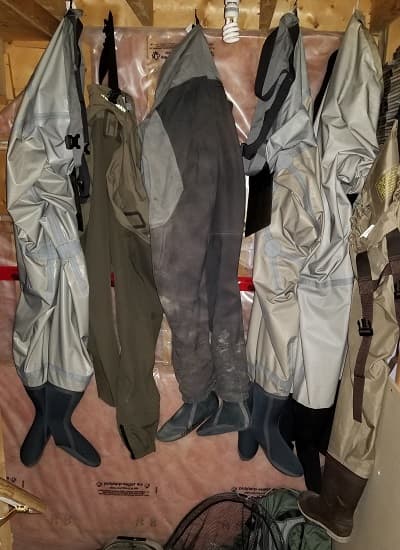 Make your steelhead waders last longer by storing them properly. It's more important than you think.
I met a client on the water one day. He hadn't fished in about ten years and told me that he had good waders that were almost new but he hadn't worn them in 10 years.
He put his waders on and they looked like he might have used them 2 or 3 times.
After an hour of wading, his waders were full of water up to his crotch, and I mean full. I'd never seen waders leak so bad and he was cold and uncomfortable.
We discussed his wader issue which to me seemed odd since there were no visible holes, no scraps, no cuts, no seam separation, or anything that looked like it would cause a leak that bad and in both legs.
I came to the conclusion that due to the way or where he stored his waders (which were in a box in his furnace room), either the glue that the wader company used on the seams had deteriorated and failed or, the breathable Goretex material had just deteriorated somehow.
These waders were from a big brand name company and these waders worked perfectly when he first used them.
This is not the first time I have seen this, I have actually had a few "big brand named" waders deteriorate like this long before the 10-year mark.
A lot of the time, this deterioration of the waders comes from improper storage so I can't even blame the companies.
Many years ago I would leave my waders in the truck overnight, sometimes even for days. Sometimes it got very hot in the truck, and other times it would be below-freezing temperatures. This is hard on waders and so is leaving them wet for days or weeks.
Rolling your wet and dirty waders up and jamming them in a box or in a corner and leaving them for days, or weeks or years is a bad idea.
Now, all my waders are hung up to dry and hung for long-term storage. If they have a lot of dirt on them I will rinse them in water first and let them hang dry.
After a day or two and when they are bone dry, I will turn them inside out and let the interior dry as well. This has prolonged the life of my waders, however, I have used some cheaper brands that deteriorated and leaked constantly after a couple of years and even though they were only used for about 50 days, and even when I took good care of them.
In fact, I bought 3 pairs all at the same time and they all had problems within 2 years which is why I will never use that brand again.
Leaving your good pair of steelhead waders wet for days can cause problems so always hang your waders if you want them to last longer.
Washing Waders
I will often rinse my waders off in the rivers. A simple wipe down with your hands or a rag while standing knee deep in the river does a good job of getting rid of exterior mud and sand, and this can prolong the life of your waders and it can keep your vehicle cleaner.
I will machine wash my waders once or twice a year but I always recommend using the manufactures cleaning instructions and only using cleaning agents that are approved for your type of waders.
This is what I use to clean and waterproof my waders.
This pack contains everything you need to clean and maintain your waterproof, breathable performance gear. The non-detergent, biodegradable Tech Wash cleaner removes dirt and contaminants to enhance your fabrics durable water-repellent finish.
You can get this pack at Bass Pro Shops
For great wader repair tips check out SIMMS Wader Care and Repair Page
Got A Question About The Best Waders For Steelhead Fishing
Got a question, a comment, or a recommendation about the best waders for steelhead fishing? If so just let me know in the comment section below.
Tight Lines,
Graham