7 Best Waders For Big Guys and Tall Guys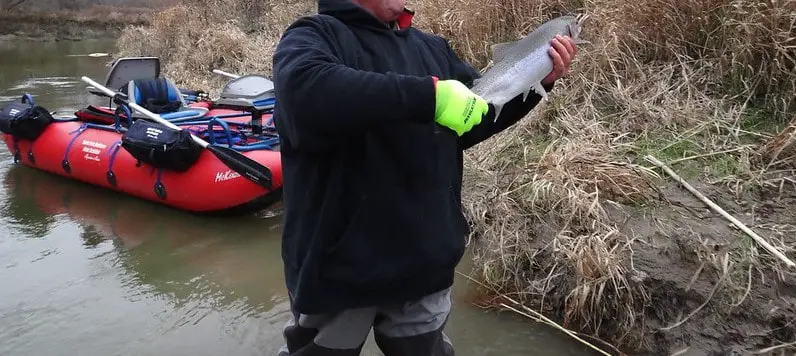 I have a love-hate relationship with fishing waders. As a guide, I'm often in a pair of waders for over 300 days a year, so I understand the need to be comfortable and durable. Unfortunately, finding the best waders for big guys is not easy since many top brands do not provide waders for big and tall guys unless you get them custom-made, and that can be expensive.
But I've guided plenty of large guys and seen what they wear, and I've also just spent hours researching to find out which big guy waders are the best.
The best big guy waders come from the brands Frogg Toggs and Caddis which stock waders up to 64 inches in max girth and provide both stout and tall versions with a variety of foot sizes. Depending on your size, you can also get premium waders from Patagonia, which is a brand I know well.
In fact, in my fishing and hunting store, I sold Frogg Toggs as my go-to waders for big and tall guys. After I sold the store, I would still recommend Frogg Toggs and Caddis, and I have plenty of customers who were very happy with these wader brands.
As a bonus, I've also curated a list of big and tall waders that other websites recommend, so you don't need to search beyond this page. This means I now have 18 big and tall fishing waders listed so you can get everything you need to know about waders for fat guys, or for large guys, or for tall guys right here.
Waders For Fat Guys, Tall Guys, And Guys Built Like Line Backers
Note: I do use the word "fat guys" in this article which is only to help those bigger guys find this page when they search for "best waders for fat guys". Please do not be offended by this term, I mean no disrespect, I'm only trying to help you all out.
The waders listed are well-researched for all you big guys, whatever you call yourselves.
Top 3 Big Guy Wader Brands and Max Sizes: Quick List
Patagonia Men's Swiftcurrent Waders – Best High-End Waders For Chest and waist sizes up to 56 inches.
Caddis NORTHERN GUIDE BREATHABLE STOCKINGFOOT – Chest and Waste from 52″ to 64″.
MEN'S GRAND REFUGE 3.0 BootFoot WADER – Super big waders up to 64.5 inches width.
Big Guy Waders Chart
| | | | | | |
| --- | --- | --- | --- | --- | --- |
| | | | | Max Girth (Chest and Waist) | |
| | | | | | |
| | Deluxe Plus, Northern Guide, Zippered Delux Plus | | | | |
| | Hellbender, Steelheader, Grande Refuge 3.0 | | | | |
| | | | | | |
| | Orvis Pro, Ultra Light, Clearwater | | | | |
What To Consider When Buying Waders For Big Guys
Clothes: If you are going to be fishing in the colder months or in very cold water, you're going to be layering your clothes, and this can create extra bulk. Therefore, I normally recommend buying waders that have a little extra room in them to accommodate for the clothes.
Right Fit and Comfort: Don't go too baggy otherwise you might find some chaffing or bunching in the knees or crotch area, which can be uncomfortable but can also create faster wear and tear in those areas.
Wader Styles: There are three styles of waders to consider.
Chest Waders: You have your chest waders which I highly recommend, especially if you wade deep water or cross deeper water, however, for guys with big guts or a large chest size, these can be a tough fit to find.
Hip Waders: You have your hip waders that cover your legs to your crotch, I see a lot of big guys wearing these, just don't wade too deep since these are the worst for deep water.
Wading Pants: Lastly, you have your wading pants, which are waders that are waist high and look and fit like a pair of pants.
Wader Materials: There are three primary types of wader materials.
Breathable Waders: Breathable waders are the best and are what most guides where 12 months of the year. Even in winter, with proper layering, these are the best. They are lightweight and the most comfortable with good durability, and they will keep you the dryest.
Neoprene Waders: Neoprene waders are the next most popular, however, I rarely recommend them because they are bulky, heavy, not very mobile-friendly, and not very comfortable. Some guys prefer them for winter fishing but I don't.
Nylon-Type: The third kind is made from PCV or Nylon or rubber, and these are cheap, they often don't last long, so I do not recommend them.
Wading Belt For Comfort and Safety: A large adjustable belt is also a must-have item for both comfort and safety, and as far as I can tell, all of these waders that I recommend come with an adjustable belt. Some will also come with a mesh bag to carry your waders.
Guide Tip: Always hang dry your wader before you store them to prolong the waders' life and prevent mold and nasty odours.
BootFoot Versus Stocking Foot Waders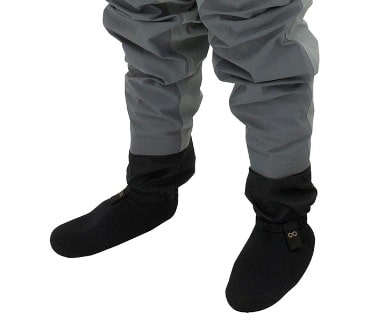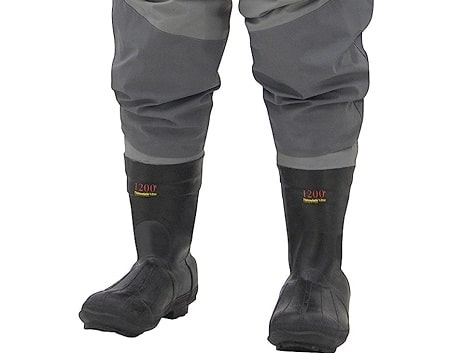 Stocking foot waders are what most guides and experienced anglers use. Stocking foot waders combined with a good wading boot are more comfortable and prove superior ankle support and traction on the rocks, river, and trails.
In my experience guiding many bigger guys, it seems like bigger guys are less sturdy on the rocks, so stocking foot waders for big guys is the better option, especially when combined with a great wading boot.
The only time I prefer or recommend boot foot waders for big guys, or for anyone really, is for winter fishing because they can be warmer on the feet.
However, some guys like the fact they don't need to have a separate set of boots so they prefer bootfoot waders. Also, for anglers on a budget, buying a set of wading boots is just more than they want to spend.
1. Patagonia Men's Swiftcurrent Waders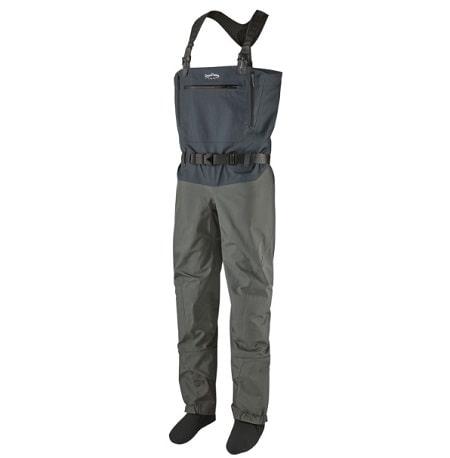 The Men's Swiftcurren Expedition Waders and the Men's Swiftcurrent Regular Waders come in two XXL sizes.
Most waders from Patagonia are high-end and well-built with a great warranty and customer support which is an obvious advantage for guys that are in their waders a lot. You'll see the experienced fisherman and many guides wearing and recommending this brand.
For some guys, the quality is a deal breaker, so these are the best wader for the big man if they fit you.
The 2RM size has a 52-inch girth, with a regular leg length, and foot sizes 9 to 11. This wader fits most guys 5'10" to 6′.
The 3LL size has a 56-inch girth, with a longer leg for guys 6'1 to 6'4 inches, with a foot size of 12 to 14.
These sizes could be good big guy fishing waders for fater guys and tall guys.
What it's made of: These waders are crafted from 100% recycled polyester microfiber, which is a proprietary fabric. They feature an H2No® Performance Standard shell with a waterproof/breathable barrier and a DWR (durable water-repellent) finish. Long story short, they're made to keep you dry and cozy while you fish.
Design perks: One of the things that stands out about these waders is the single-seam construction. This adds durability while giving you enough room to move about freely, thanks to the gusseted crotch.
Comfort enhancements: The EZ-Lock suspenders, which are waist-mounted, make these waders easy to adjust from chest to waist height. This is perfect for when you need to let some air in or take a quick break. They also come with a Secure Stretch wading belt for a snug fit.
Interior upgrades: These waders come with a welded TPU-waterproof pocket on the inside. This pocket flips out for quick and easy access. Plus, they have a center-back hanger loop for hassle-free drying.
Exterior additions: On the outside, there's a reach-through kangaroo pocket and an asymmetrical-zip chest pocket for your accessories. These are perfect for keeping your tippet spools, nippers, and floatant within easy reach.
Comfort and durability: The articulated legs and scuff guards at the ankles add to the durability and comfort of these waders.
I've spent years in Patagonia waders and have put them through more abuse than the average angler considering I'm on the water over 300 days a year. My Patagonia waders held up as good as all of the top-of-the-line wader brands of I have tested in the past.
Boots for wading: The waders come with anatomical booties that offer a sock-like fit, ensuring you remain comfortable.
Where it's made: The Swiftcurrent Waders are made in Vietnam.
Weight: They weigh around 1,301 g (45.9 oz), making them light enough to not weigh you down while you're fishing.
In a nutshell, the Men's Swiftcurrent Waders are a great addition to your fishing gear. They're comfortable, practical, and durable – everything you need for a successful day on the water. They've got my seal of approval!
The Expedition model comes even more added features. To ensure you get the right waders, be sure to check the size chart for these and all waders listed.
2. Caddis ZIPPERED DELUXE PLUS BREATHABLE STOCKINGFOOT WADER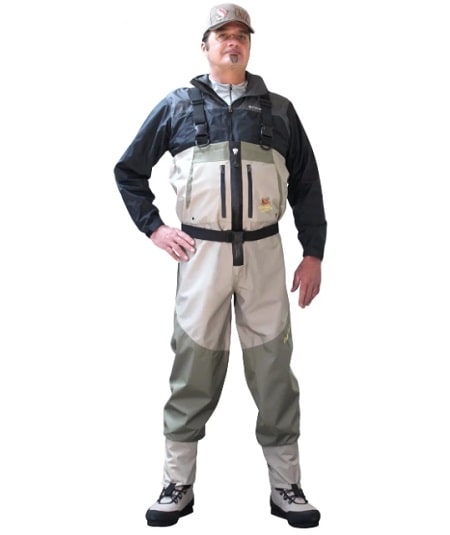 The Caddis brand makes waders that come in a Standard/Regular leg with a size XXL (56″ Max Girth).
The Caddis Zippered Deluxe Plus Breathable Stockingfoot Wader is a great wader for the larger man.
It has a full-length waterproof zipper which is a great opinion for large chested guys to help you get in a out of the waders. Plus, it's reinforced in the knees and seat areas for extra durability!
This wader comes with two zippered accessory pockets. You can easily store your fishing accessories, and they'll be safe and dry. It also has two handwarmer pockets lined with fleece, which are a lifesaver on chilly mornings!
Let's talk about the attached fabric gravel guards. They are super useful for keeping debris out of your boots.
The seams are not just taped, but they are also glued and stitched to make them more durable! They've also taped the foot both inside and out for extra protection.
The CaddisDry™ Breathable Technology helps keep the sweat away so you're comfortable all day.
The wader also comes with 4mm heavy-duty neoprene soles. They give you a solid grip, no matter how slippery the surface is. And as a bonus, you get a free wader belt and a repair kit. That's handy, right?
The two-tone color gives it a sleek look, and the heavy-duty 240-denier polyester material ensures it can take whatever your fishing trip throws at it.
In a nutshell, the Caddis Zippered Deluxe Plus Breathable Stockingfoot Wader is a solid choice. It's packed with useful features, it's tough, and it looks great too.
3. Caddis NORTHERN GUIDE BREATHABLE STOCKINGFOOT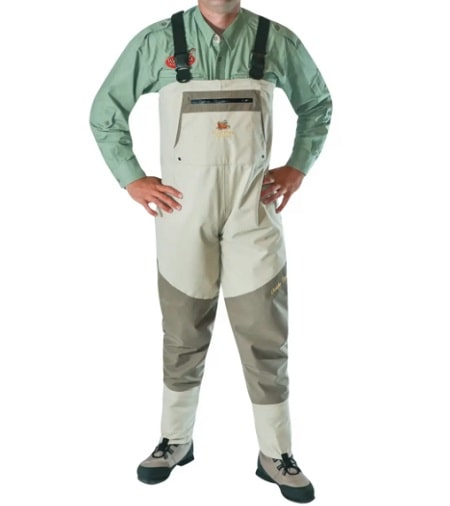 The Caddis Northern Guide Breathable Stockingfoot Wader is great for very big guys. It is designed for hard core anglers and guides. It comes in different sizes, from XXL-stout to regular XXL, with max girths from 52″ to 64-inches.
They call it "Guide Tough," and I can see why! It's super robust and adaptable, making it a real standout. It's got all the top features you'd want, making it a fantastic wader at a bargain price tag.
It's made to last through heavy-duty fishing in any weather. The breathable shell is soft and warm and resists scratches and tears. That's impressive!
It's got this cool two-tone color scheme that I really dig. The material they've used is a sturdy, soft 240-denier polyester. And the best part? It's got this CaddisDry™ Breathable Technology that keeps you cool and dry all day. No more sweaty fishing days!
The knees and seat are reinforced for extra durability. It also features attached gravel guards. If you've ever had gravel get into your boots, you'll know how important this is!
The wader's seams are taped, glued, and stitched. Even the foot is taped from inside and out for added water protection.
It's got a large front pocket for your gear, and a hand warmer front pocket for those chilly days. Super handy!
The soles are high-density neoprene, giving you excellent comfort and grip inside your wading boots.
These waders come with a free wader belt and a repair kit.
4. Caddis DELUXE PLUS GRAY BREATHABLE STOCKINGFOOT WADER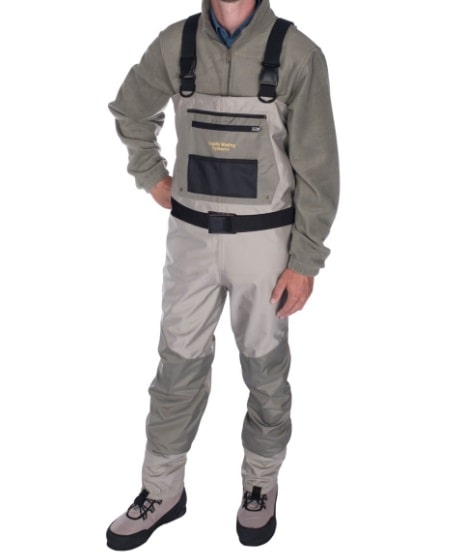 This new wader to the market is the Caddis Deluxe Plus Grey Breathable Stockingfoot, a mid-price wader that comes in XXL-stout and regular XXL, which covers up to a whopping 64-inches in girth.
These are serious waders for fat guys and large-chested guys.
Firstly, it's really tough! The knees and seat are extra-strong. That's important because we know how much wear and tear those areas can get.
Plus, it's got this quad pocket. It's just the right size to keep all your stuff in one place.
One of my favorite parts about these waders is the attached fabric gravel guards. If you've ever had stones sneak into your boots, you'll know how essential this is!
Let's talk about how it's made. They really took the time to ensure it lasts – the seams are taped, glued, and stitched. Even the foot is taped both inside and out for that added bit of water resistance.
The CaddisDry™ Breathable Technology is something special. It makes it comfortable for all-day wear, even in warmer weather.
The soles are heavy-duty neoprene, so you get a good grip in wet and slippery situations.
And guess what? It comes with a free wader belt and repair kit! How thoughtful is that?
This wader is in a stylish two-tone gray color, which I absolutely love. It's made from heavy-duty polyester, making it a sturdy choice for any fishing adventure.
The Caddis Deluxe Plus Grey Breathable Stockingfoot is certainly a winner in my book. I can't recommend it enough!
5. Frogg Toggs MEN'S HELLBENDER PRO Stocking Foot Chest Wader
Largest sizes include 2XL and 2XL Stout
When you're stepping into damp terrains for a fishing excursion, nothing suits you better than the Men's Hellbender Pro SF Chest Wader from Frogg Toggs. This wonder-gear is crafted to keep you cozy and dry throughout your angling adventure. Its build is truly impressive – it's waterproof, made of sturdy 4-ply nylon that shields you against any weather.
One standout feature of the Hellbender is its double-reinforced knees. This extra layer of protection makes it robust and long-lasting. But Frogg Toggs didn't just stop at durability. The wader comes equipped with adjustable X-back suspenders for the perfect fit and large, fleece-lined pockets that double as hand warmers. Now that's thoughtful design!
Storing your fishing essentials is a breeze, thanks to the waterproof zippered storage pocket. There's also an easy access fly patch and a zippered flip-out chest pocket for added convenience. The attached gravel guards with lace hooks and double-taped 4mm neoprene booties ensure that you stay secure and steady during your fishing expedition.
Now, let's talk about the material. The Hellbender uses the advanced Dri2Pore Gen 2 waterproof and breathable material. This innovative technology consists of three layers. The outer layer is a lightweight, durable, and breathable nylon shell. The middle layer is waterproof, ultra-flexible, and breathable, designed to prevent water intrusion while allowing for air circulation. The inner layer is a soft, cool, micro-textured tricot fabric that keeps you comfy during your wear. It's like having three different shields, each with a unique role, keeping you comfortable and dry.
Built to last, the Hellbender is perfect for lengthy days spent casting your line. Frogg Toggs gear is not just about selling; they've thoroughly tested and approved these waders in the field and on the water. This comfort and quality lets you concentrate on what really matters – making that perfect catch!
Worried about finding your size? Don't be. The Hellbender Pro comes in an array of sizes, from small to XXL, and is available in regular or stout fits. Now that's what I call all-inclusive!
From my personal experience, this wader from Frogg Toggs offers excellent value for money. So, if you're looking to add some solid gear to your fishing kit, the Hellbender Pro SF Chest Wader gets my hearty recommendation. Give it a try, you won't be disappointed!
Frogg Toggs makes a wide range of waders for the big man that requires a bigger size. They also make wide waders with varying boot size which is often an issue for some shorter guys.
For all the Frogg Toggs waders sizes, check out their size chart.
6. Frogg Toggs MEN'S STEELHEADER LUG SOLE BOOTFOOT CHEST WADER
Foot Size 9 – Size Husky – 55-inch chest
Foot Size 10 – Size Husky – 56-inch chest
Foot Size 11/12 – Size Husky – 58-inch chest
Foot Size 13/14 – Size Husky – 60-inch chest
Gather around, fellow fishing enthusiasts! Today, I want to share with you a real gem in the world of fishing gear, the Men's Steelheader Lug Sole Bootfoot Chest Wader. If you're someone who relishes a day out in the waters, regardless of the season or weather, then this one's for you.
Just imagine, you're out in the chill, and instead of being all bundled up, uncomfortable, and wet, you're snug and warm, yet not too warm when the sun decides to shine. That's the magic of these chest waders. They have an incredible multi-climate feature and they're breathable too. But the cherry on top is the patented zippered liner that can be easily added or removed. This cool feature lets you adapt to any change in the weather. It's 120-grams of removable insulation at your convenience.
Now, let's talk durability. This chest wader is made with a robust 4-ply nylon upper. It's like your knight in shining armor, especially in the places where it matters most – the knees and seat area. There's no compromise on comfort and ease either. The adjustable elastic suspenders with quick-release buckles make it a breeze to put on and take off.
And for all you who like to keep your belongings safe and secure, this chest wader comes with plenty of storage. It has a zippered flip-out pocket for your valuables and a zippered storage pocket for your extra fishing gear. Need to warm up your hands? No worries, it's got two diagonal zip, fleece-lined pockets just for that.
Stability and safety are just as important when you're in the waters, and that's exactly what you get with the adjustable wading belt that comes with a locking buckle. Not just that, the wader sports a new 5mm, 1,200-gram Thinsulate Ridgebuster boot with a Lug outsole that'll keep your feet firmly planted on any terrain.
So, to all you big guys and tall guys out there, don't worry about finding your size. They've got you covered too!
In my experience, these chest waders are second to none. So, if you're looking for a reliable, adaptable, and comfortable addition to your fishing gear, I highly recommend the Men's Steelheader Lug Sole Bootfoot Chest Wader. Trust me, it's worth it!
7. Frogg Toggs MEN'S GRAND REFUGE 3.0 BootFoot WADER
Available in a size 7 foot Husky build to a size 14 foot with Husky build ranging from 53.5″ to 64.5 inch Max Chest. This makes this the largest stock wader I could find.
So let's get straight to it – the Men's Grand Refuge 3.0 BootFoot Wader is definitely one you should add to your fishing gear. Here's why:
Firstly, it has customizable suspenders. The low-profile buckles and D-rings on these suspenders allow for easy adjustment to your size, ensuring a snug fit.
One of my favorite things about this wader is the see-through pocket on the inside. This zippered flip-out pocket is a gem when you need to locate your gear quickly.
The wader's made up of a 4-ply polyester upper. This means it's built to last while still keeping you comfortable. And for your shells, there's a zippered pocket at the front that comes with a 10-count shell holder. With this wader, accessibility is never a problem.
For those colder fishing days, the wader also includes a new, internal hand warmer pocket lined with cozy fleece. Your hands will thank you for this feature! And let's not forget the adjustable wading belt with a locking buckle – it ensures a perfect fit, every time.
But this wader isn't just about convenience; it's also about comfort. It includes a 120-gram quilted insulated liner. You can zip it in or out as needed, giving you control over your warmth levels.
As someone who's always in and out of the water, I appreciate how the wader is reinforced with heavy-duty nylon in the shin, knee, and seat areas. It's definitely built to withstand a bit of rough and tumble.
Finally, let's talk about the boots – they're amazing. The new 5mm, 1,200-gram Thinsulate Ridgebuster boots are designed to keep your feet warm and dry, no matter how cold or wet the fishing spot is.
Note: Sizes and Prices are subject to change, so you must check the dealer or manufacturer's website for exact sizing before purchasing.
Other Waders Recommended On Other Websites
To save you time, I went to all the other websites to see what they recommend as the best waders for fat guys or tall guys and listed them below. However, as I've mentioned before, I can not guarantee they are making good recommendations or that these waders still exist, so venture at your own risk.
Orvis waders – All come in 2XL for up to 52″ max girth
Simms Freestone Waders come in 2XL for a max girth of 52 inches.
Caddis Men's 2-Tone Tauped Deluxe Stocking Foot Wader
Cabela's Big Man SuperMag Chest Waders for Men
Simms Tributary Stockingfoot Waterproof Chest Fishing Waders
Frogg Toggs Men's Amphib 3.5mm Neoprene Fishing Waders
Frogg Toggs Canyon II
8 Fans Men's Chest Fishing Waders
Piscifun Breathable Chest Waders
Hodgman H3 Stocking Foot Chest Waders
KOMEX Chest Waders
Compass 360 Fly Fishing Deadfall Stockingfoot Waders
Frogg Toggs Mens Grand Refuge 2.0
Make Your Waders Better
Wearing the proper clothing under your waders can make a huge difference. I've heard guys say they think their waders are leaking because their socks or pants are damp. This is either sweat or condensation, or both, which can be limited with good water-wicking socks and pants.
Condensation is worse in Neoprene waders or PVC-type materials.
In the winter, layering is key to staying warm, dry, and comfortable, and I reveal my guide secrets for how to do this on my page, Fishing In the Winter.
Best Waders For Big Guys Q&A
If you guys have questions or recommendations on the best waders for big guys or tall guys, help your fellow big guys please, and let us know in the comments section below.
Tight Lines
Graham