19 Best Fishing Gloves Of 2023: What Guides Wear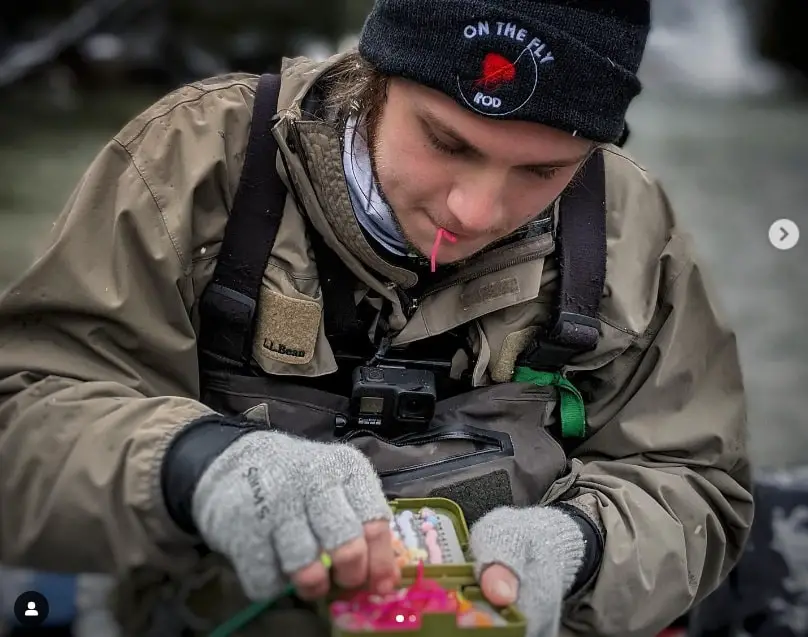 As a fishing guide that fishes 12 months of the year for multiple species, I require the best fishing gloves suitable for the conditions and the methods that I use. I've tried many different types of gloves, including golf gloves, winter gloves, hunting gloves, and gloves made for fishing.
Let me just say, I hate fishing with gloves, but unfortunately, fishing gloves are required at times.
Fishing gloves will protect angler's hands from rain, snow, cold, and sun. I've even used gloves that protect my hands from insects. Gloves are often a better choice than sunscreen and bug repellant which are proven to also repel fish from biting.
So, based on my tests and research, these are the best fishing gloves that you should be considering.
16 Best Fishing Gloves
I've seen anglers stop fishing just because of cold weather, especially if their hands get wet while casting for a trophy trout, steelhead, salmon, or any fish species. There are gloves that will keep you warmer and dryer.
The right fishing gloves can improve your comfort without sacrificing the tactile feel that you need for casting, handling fishing line, or removing hooks from your catch.
Here's a closer look at some of the best fishing gloves you can use for various fishing conditions.
Things to Consider Before Buying Fishing Gloves
Most fishing gloves are designed for a particular task and weather conditions.
Some work great in warm weather to either protect you hands from the sun, bugs, or wear and tear. While others might be intended for fishing in cold weather and will prevent your fingers from freezing. See Fishing In The Winter for everything guides wear to keep them warm.
Some fishing gloves will protect against getting skewered by a dorsal fin or bitten by a pike's sharp teeth.
The best way to choose the best pair of fishing gloves is to determine a budget, know your fishing conditions, and buy a pair that will suit your needs.
Best Fly Fishing Gloves
As a fly angler for over 37 years, I wear gloves suitable for fly fishing for a few reasons. The key to a good fly fishing glove is maintaining a tactile feel both on the rod and on the fly line since often you are holding the line in one hand.
Waterworks Lamson Stripper Glove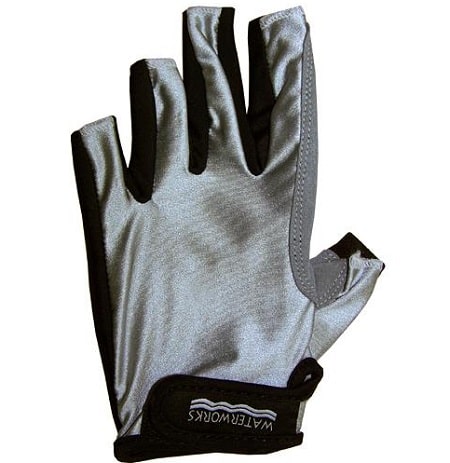 The Lamson stripper glove is very affordable and is ideal for fly fishing. It is very lightweight and has openings for all four fingertips and the thumb to give you the maximum tactile feel while fly fishing.
The open fingers allow you to tie on flies easier and to hold the fly line better.
These are warm-weather fingerless gloves designed to make it much easier to strip line while you are fishing.
The gloves are made from a blend of 30 percent nylon, 30 percent polyester, 25 percent amaram, and 10 percent lycra. It also contains 5 percent of material listed as "other."
These gloves stretch and breathe so your hand will not sweat and overheat while you are fly fishing.
They also cover the top of your hand providing protection from the sun. One thing I hate is using sunblock on my hands since it can make the fly line and rod slippery in your hands.
Sunblock also repels fish so getting it on your flies or bait is a bad thing, for this reason, I never use sunblock on my hands.
These gloves definitely are not cold-weather gloves and work best for summertime fishing and whenever the outdoor temperature is generally comfortable.
Best Fishing Gloves For Casting
Casting with gloves can be a nightmare, especially big bulky winter gloves. The best casting gloves are thin as possible but still warm enough to prevent your finger and hands from freezing.
The above Waterworks Lamson Stripper Gloves can also ne used for casting spinning reels, baitcaster reels, and float reels. But the cloves below are better for keeping your hands warm too.
Orvis Trigger Finger Softshell Glove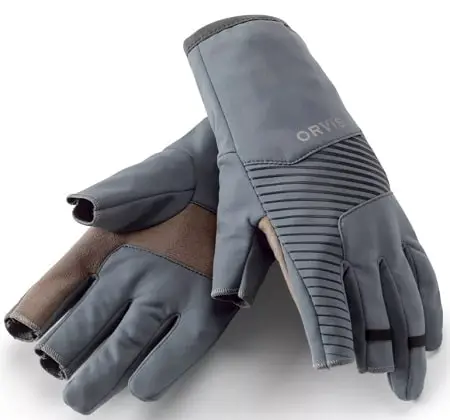 I use a lot of Orvis products, and what I like about these gloves is that they are comfortable and functional.
As the name suggests, the Trigger Finger Softshell Glove by Orvis makes it easy to cast and retrieve line with fingerless thumb, index, and middle fingers.
The softshell protects your hands against abrasions and resists water with its breathable grid fleece backing, helping to keep your hands warm on cool days.
These are not dead of winter ice-cold winter fishing gloves, but from spring to late fall I will wear these gloves.
The synthetic suede-leather palm makes it more comfortable to cast and gives you a firm grip on the rod when fishing and when battling a large fish.
This glove has what they call a DWR coating which makes them water resistant, but with the open finger and low wrist profile, they are not waterproof.
Simms Men's Lightweight Wool Flex Gloves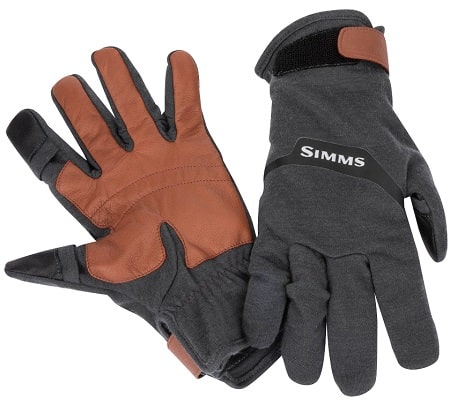 A pair of fishing gloves made from wool is ideal for cold weather fishing gloves because wool still insulates the body when wet.
The Simms Wool Flex gloves have a shell made from 100 percent Merino wool with a leather palm and wrist strap that helps to customize the fit.
The index finger and thumb are covered with suede for added durability and to make casting more comfortable. They also have a diagonal opening that makes it easier to tie knots without removing the gloves.
Best Convertable Fishing Gloves
Orvis Men's Softshell Convertible Mitts: Guide Favorite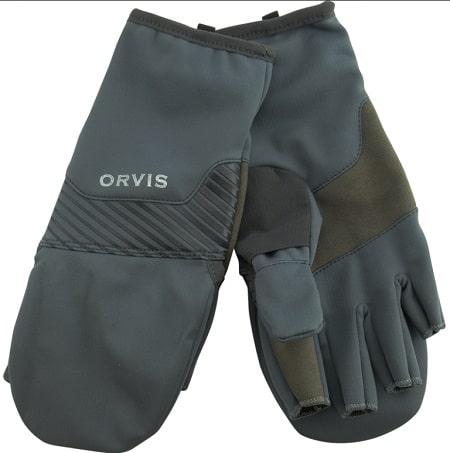 Both Orvis and Simms make this glove, and I'll be honest, this is my favorite of all the fishing gloves on this page, especially for above-freezing temperatures and dry days.
The Orvis softshell convertible mitts combine the warmth of mittens with the tactile efficiency of fingerless gloves so that you can have the best of both while fishing in colder conditions.
The shell and palm patch are made from polyester and are coated with polyurethane to make them waterproof and windproof while still being breathable.
A synthetic suede palm adds durability, and a tuck-under hood makes it quick and easy to switch from mittens to fingerless gloves as needed when you are fishing.
Best Fishing Gloves For Winter Fishing
IceArmor Men's Edge Gloves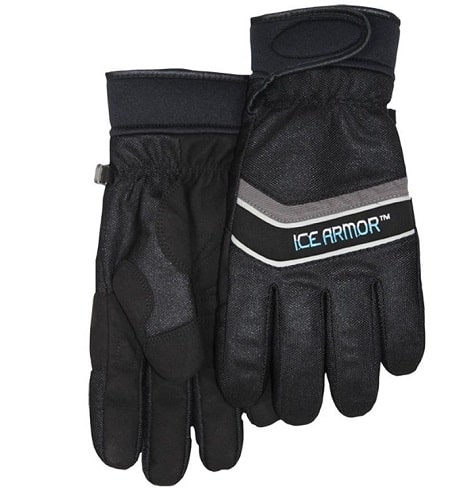 Wintertime fishing means dealing with cold water and potentially windy conditions that make your hands freeze and become very numb without suitable protection.
Whether you enjoy ice fishing or fishing open waters while the weather is cold, the IceArmor Edge winter gloves are the perfect pair of fishing gloves for cold weather.
They are waterproof, windproof, and breathable and made from durable materials that ensure they last.
A polyester shell and lining cover a DINTEX membrane that makes the gloves windproof as well as waterproof. A palm patch contains 65 percent nylon and 35 percent PU to make it more comfortable to hold an ice fishing rod or while you are casting from shore or a boat.
The best gloves for ice fishing are fitted, flexible, and protected with a 5-year manufacturer's warranty. It's easy to wear fishing gloves that are fitted and keep your hands warm on cold winter days.
Best Ice Fishing Gloves
Simms Men's Challenger Insulated Gloves
The insulated and waterproof Challenger gloves by Simms are another great option to keep your hands warm while fishing through the ice for panfish, pike, or maybe even sturgeon.
A 2L polyester shell keeps water out while enabling your hands to breathe. Your hands stay warm thanks to 100 grams of Primaloft Rise insulation that is protected by a nylon liner and insert.
The winter fishing gloves have a touch-tech thumb and index finger that make it easier to hold your ice road and manipulate the line as needed. An adjustable wrist closure helps the gloves to fit over your outerwear and stops the wind, water, and snow from getting inside your gloves.
The palm contains reinforced goat leather for exceptional durability. The Challenger gloves truly are some of the best gloves that you could choose for ice fishing.
Best Sun Protection Fishing Gloves
Simms SolarFlex Fishing Gloves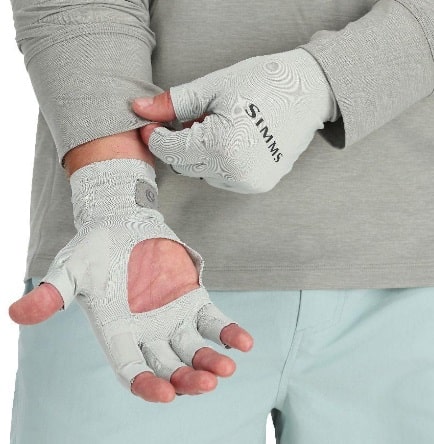 I usually have one pair of these Simms sun gloves in my fishing pack, one pair in my gear bag fro my drift boat, and one pair on my Lund. I love these gloves and have worm out a few of these over the years. Although I love fishing in the summer, I wear these year round on warm days.
I'm not a fan of using sunblock on my hands when I go fishing in the summertime because I don't want the sunblock to contaminate my lures or flies with its scent.
A better solution is the SolarFlex fingerless gloves that make it a lot easier for summer fishing fun.
The SolarFlex gloves feature UPF 50 material that blocks the sun's harmful UV rays. The gloves are made from 92 percent polyester and 8 percent spandex with a half-finger length that gives you plenty of feel when you are casting or tying on new lures or flies.
These are cool, and dry fast if they get wet. I also really like the open palm for added grip on my rods.
An included stripping guard helps to protect your hands when you are stripping fly line.
The Simms sun gloves are available in 3 styles:
Orvis Sunglove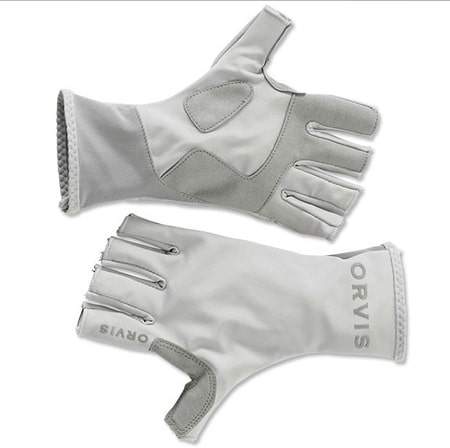 The Orvis Sunglove is very similare to the fingerless Simms sunglove but comes in around $10 cheaper and has a closed palm which some angler prefer.
A combination of spandex and synthetic leather help to make the Orvis Sunglove ideal for warm weather fishing.
Its material is breathable and dries quickly when wet and has open fingertips so that you can get a better feel while casting, removing hooks from your catch, and tying on new lures and flies.
A UPF rating of 50+ makes it perfect for protecting your hands and wrists against the sun's hot UV rays.
Best Waterproof Fishing Gloves
Gill Fishing Waterproof Gloves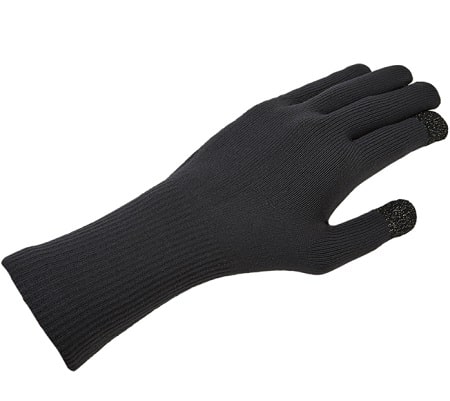 It's hard to find good waterproof fishing gloves that arent made of neoprene and are bulky and stiff, but the Gill Fishing Waterproof Gloves are one of the best waterproff fishing gloves I've tried.
These full finger gloves are made from 80 percent nylon, 10 percent elastane, and 10 percent polyester that effectively stop water from penetrating the gloves.
A lining that is 49 percent merino wool, 49 percent acrylic, and 2 percent elastane help to insulate your hands against colder weather.
A non-slip surface on the palms and fingers helps you to grab ahold of slippery fish.
Best Lightweight Fishing Gloves
Simms Wool Full Finger Fishing Glove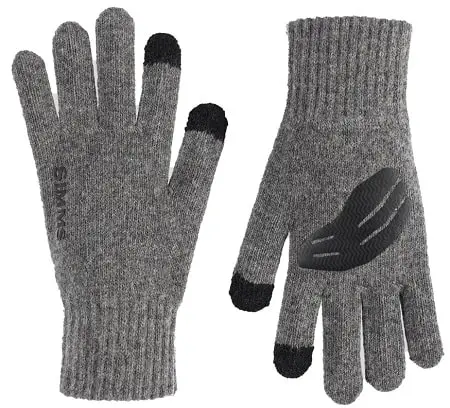 I started using wool gloves over 25 years ago after seeing all the steelhead anglers on the river wearing them.
These Simms wool gloves are good cold weather gloves that use a blend of nylon and wool to keep your hands warm even when the gloves are wet.
They have a high stretch factor that makes it easy to fit your hand like a proverbial glove, and TPU overlays on the palm improve gripping power and durability.
The gloves even have conductive yarns at the tips of the thumb and index finger so that you can use your cellphone without taking them off.
You can get them as seen with the full fingers or often, I prefer the Simms Men's Wool Half-Finger Mitts when it's not that cold out.
Best Fingerless Fishing Gloves
Orvis Fingerless Fleece Glove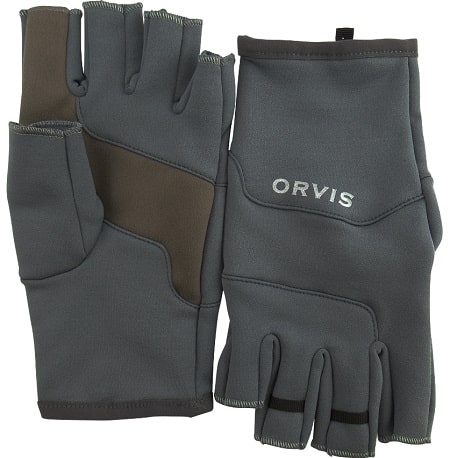 The fingerless fleece glove by Orvis gives you exceptional manual dexterity while keeping your hands warm on colder fishing days.
The fleece gloves offer a four-way stretch that adapts to your hands and include a synthetic-leather AX suede on the palm to improve your grip and protect against abrasion.
Recycled spandex and polyester account for most of the glove's materials.
Best Full Finger Fishing Gloves
IceArmor Men's Featherlight Waterproof Gloves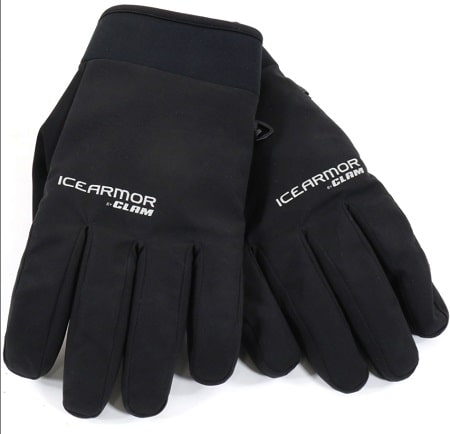 The fully fingered and lightweight IceAmor Featherlight gives are ideal for fishing when the weather is cold.
The back and lining are 100 percent polyester while the palm and padding are 100 percent polyurethane to maximize comfort and durability.
Lightweight foam insulation helps to keep your hands and fingers warm, and articulated fingers make it easier to hold your fishing rods. Dri-vent technology makes the gloves windproof, waterproof, and breathable. They even have a microsuede nose wipe on the thumb.
Best Fish Handling Gloves
Lindy Fish Handling Glove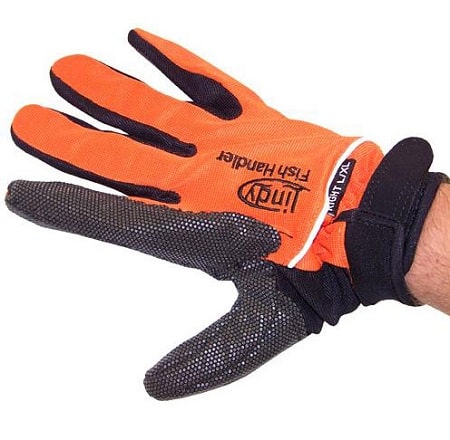 I always had 2 or 3 Lindy Fish Handling Gloves when i guided for musky and pike to protect my hands and to protect my clients hands from teeth and hooks when landing, removing hooks, and handling toothy fish.
A wet fish can be difficult to hold while removing a hook, but the Lindy Fish Handling glove makes it a whole lot easier and safer.
The gloves are cut-resistant and puncture-proof, which makes it a lot easier to also filet your catch and protect against sharp fish teeth and dorsal fins.
The gloves are made from material produced by the SuperFabric brand, and tests show it gives you eight times more puncture protection than other gloves.
Best Fish Cleaning Gloves
Fish Monkey Men's Fillet Gripper Gloves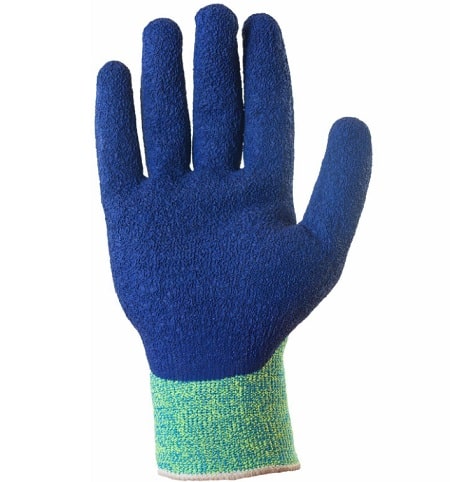 This full fingered glove is perfect for gripping slippery fish and holding them still while you clean and filet your catch.
The gloves are made from latex rubber and include a wrinkle finish on the palm and fingers, giving you a superior grip when holding a fish.
An ANSI 5 material resists cuts and punctures, and the gloves dry quickly when you are done.
Best Saltwater Fishing Gloves
Huk Pursuit Sun Glove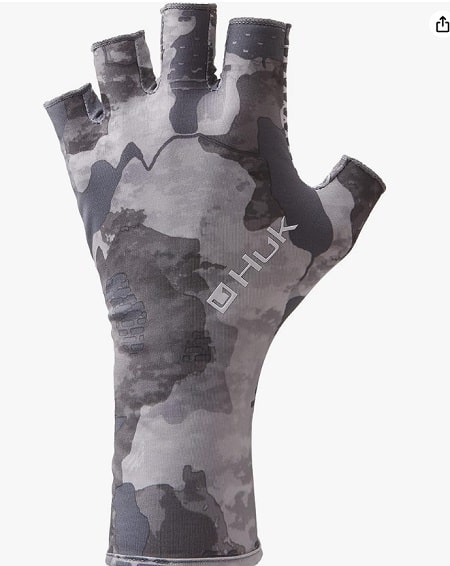 The Pursuit Sun Glove by Huk resembles a kitchen glove with the fingertips cut off to give you greater manual dexterity while providing more protection against the sun's harmful UV rays.
The gloves rise high on the forearms but fit comfortably with a fabric made from 90 percent polyester and 10 percent spandex.
The material gives you a UPF rating of 30 and blocks UVA and UVB rays. Hydrophobic fibers wick away sweat and is anti-microbial to prevent odors.
Best Bug Stopper Fishing Gloves
Simms Bugstopper Sunglove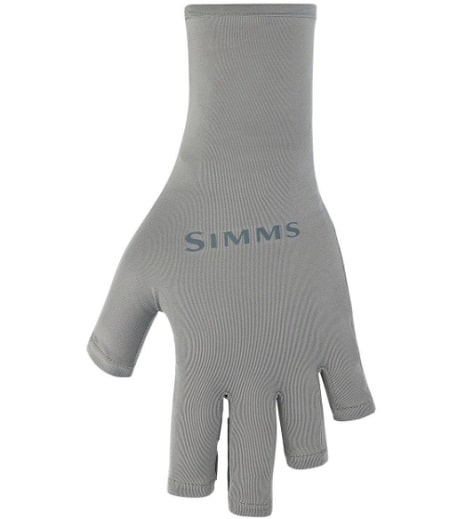 Biting bugs can be a literal pain and highly annoying while you are out fishing. Instead of letting mosquitoes and biting flies eat you alive during the summertime, you can put on a pair of the Simms BugStopper SunGloves and enjoy superior protection against bugs and the sun's UV rays.
The lightweight gloves have half fingers so that you get plenty of manual dexterity while enjoying UPF 50 protection against the sun.
A SolartFlex fabric includes Insect Shield protection that stops bugs from biting while you focus on catching fish.
Bes sure to check out the best river fishing gear that I and other guides recommend.
Best Fishing Gloves Q&A
If you have any questions or tips or would like to add you fishing gloves to the list of best fishing gloves let us know in the comments sections below.
Tight Lines
Graham