5 Best Centerpin Reels Of 2021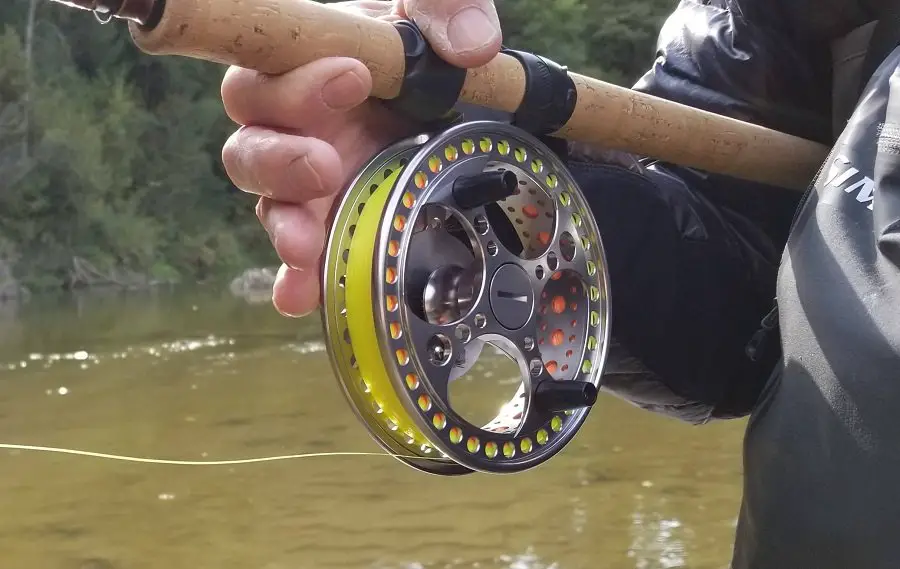 As a professional Centerpin guide I have used dozens of great Centerpin reels that performed well and were fun to use, but I have also used some Centerpin reels that had problems and made it difficult to teach my clients on.
The best Centerpin reels are ones that fit your budget, have a good reputation, and are made by companies with good customer service. The best Centerpin reels of 2021 are the Raven Centerpin reels, the Islander Centerpin reels, the KingPin Centerpin reels, and the Okuma Centerpin reels.
There are many other great reels, but you can't go wrong with reels from these companies. These reels are widely used and loved by steelhead and trout anglers around the great lakes and on the west coast.
These companies offer a number of reels at different price ranges from about $150 to over $1000. Don't worry, you won't need to buy a $1000 Centerpin reel and I discuss both economy reels and the more expensive ones.
I have been Centerpin fishing for over 30 years and have been a fishing guide for over 20 years. I also owned a tackle store and sold Centerpin reels. I have probably tried 20 or 30 reels ranging from mass-produced reels to custom one-of-a-kind reels.
Centerpin reels are also known to some as float reels. Quite often I provide my guide clients and my friends with advice on the best float reels that I have used and this is where I give you that same great advice.
What Makes A Good Centerpin Reel?
There are a few things that you want to consider before buying a Centerpin reel.
Before you buy your Centerpin reel you will want to take a few of these things into consideration. Handle placement, handle type, bearing versus bushings, spool diameter, reel weight, the gap between the spool and the base, the sturdiness of the spool, the price, reel start-up, and the look of the reel are all something you should consider before you spend your money.
I'll discuss a bit more about each of these below.
Do Centerpin Reels Have A Left Or Right Hand?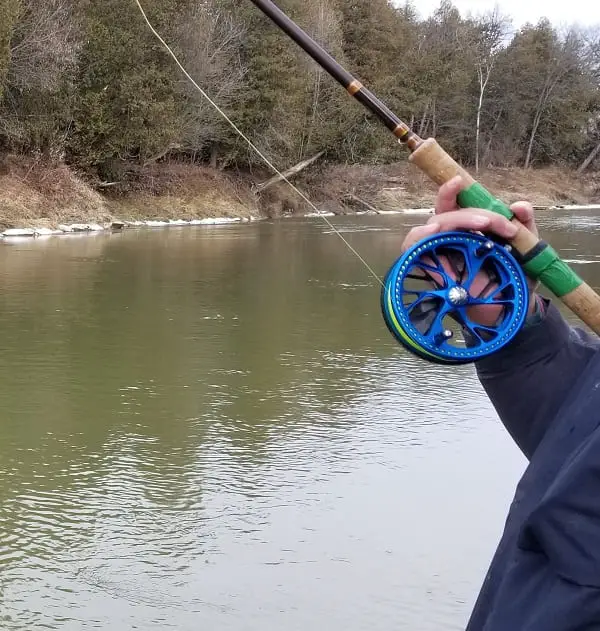 Centerpin reels do not come in left-hand or right-hand retrieves, they work both ways so when you buy your reel don't go looking for a left hand or a right-hand reel.
There is no switch or bearing that you need to change or flip over like you would on a fly reel and you can't change the handle from one side to the other like on a spinning reel.
Centerpin reels go both ways since they have no drag which means to reel with your left hand, you just put the handle on the left side, and to reel with your right hand, you simply put the handle on the right side.
The only caveat to this is whatever hand side you put the line on is the side that that reel will be. You can not reel in the opposite direction once the line is on the reel so make sure you put the line on properly from the start.
When you put the line on a Centerpin reel, the line should always go on the bottom of the reel as seen in the pictures.
If you happen to purchase a Centerpin reel that has a drag system built-in, (yes there are a few of them), you will need to follow the instructions by the manufacturer to change it from left to right.
GUIDE TIP: I have taught thousands of anglers how to cast different reels including Centerpin reels and I have seen firsthand what happens when anglers try to learn how to reel, cast, and fight fish with the wrong hand. It's kinda like a pro dart player trying to teach someone how to throw darts with the wrong hand, it can be done, and eventually, you would get good at it, but why would you want to make it more difficult for yourself?
My tip is simply that if you are left-handed, you should reel with your right hand, and if you are right-handed you should reel with your left hand. Why?
I tell my clients this.
You want to cast with your most coordinated hand, you want to work the reel with the hand that has the most dexterity, you want to hold the rod with your strong hand, you want to set the hook with your fast hand, and you want to fight the fish with your strong arm.
That is all done with your dominant hand, and your non-dominant hand just needs to learn how to go around in circles when you reel, that's it, that's all your non-dominant hand ( I call it the dumb hand) needs to know how to do.
Of course, there will be lots of guys that will disagree with me because they have been doing it the opposite for years but I say to all of them if I asked you to write your name what hand would you use, and if I asked you to punch me as hard as you could what hand would you use, and if I asked you to throw a dart what hand would you use, now if I asked you to set the hook fast what hand would you use? It makes zero sense to do everything that requires, speed, strength, dexterity, and coordination with your dominant hand and then do the opposite when fishing.
The only thing I will say is that if you have already trained yourself to do it backward, like the guys that may have done it like this for the last 10 years then stick with it, but if you're newer to casting and reeling or any fishing, do yourself a favor and start the right way or you may be like many guys I see struggling even more then they normally should when learning how to Centerpin fish simply because they are trying to do everything with the wrong hand.
5 Best Centerpin Reels
These are the 5 best Centerpin Reels that you should consider when buying your next Centerpin reel. Each one of these reels has been used by me and other top guides and river anglers.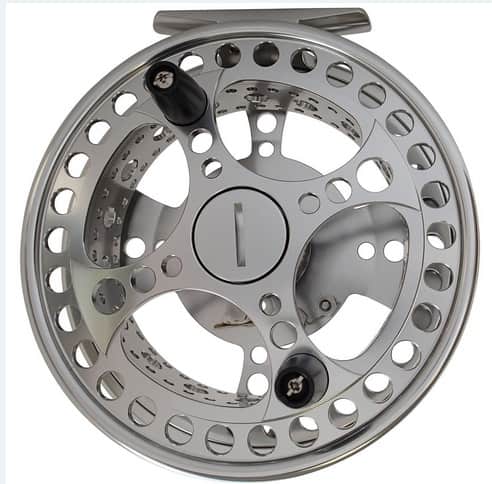 Guides Choice
Raven Matrix Centerpin Reel Review
When talking about the best Centerpin reels available you know Raven is going to get a good mention.
I have used the Raven Matrix Fully Ported Centerpin Reels for a few years now and I have 4 of them that I use for guiding and personal use. I am very familiar with and very impressed with this reel.
This is an incredibly smooth and lightweight reel and a pleasure to fish with and my clients love it.
I would consider this float reel to be the best all-around reel for just about any river and it's come with an affordable price.
The Raven MXRFPT model is the reel that I use and is the reel that I most recommend to my clients and friends. You can check this reel out at FishUSA.com – HERE
If you are looking for one of the best Centerpin reels at a great price and one that is suitable for most rivers from the east coast to the west coast, then this is the reel for you.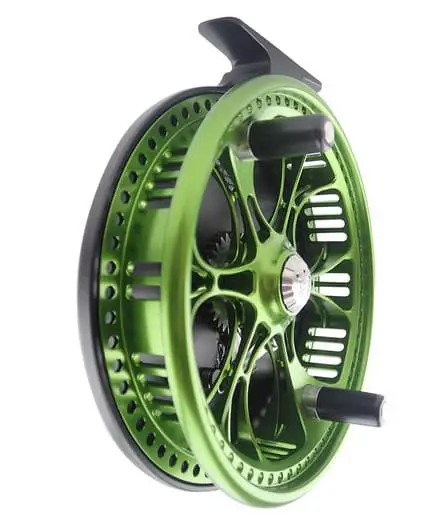 Best High End Reel
Kingpin Zeppelin Centerpin Reel Review
Some of my clients and friends have brought this reel out for me to try and it is one of the nicest float reels that I have used. Kingpin has a huge following with Centerpin anglers for good reason.
The Kingpin Zeppelin Centerpin Reel provides the smoothest casts compared to others on the market today.
It was designed through precision engineering, utilizing incredible details and performance. This reel is constructed of high-grade aluminum and finished with a durable, scratch-resistant, anodized coating.
I would consider this float reel to be the best High-End float reel for those guys that want the best.
It comes in a bunch of really cool looking colors too.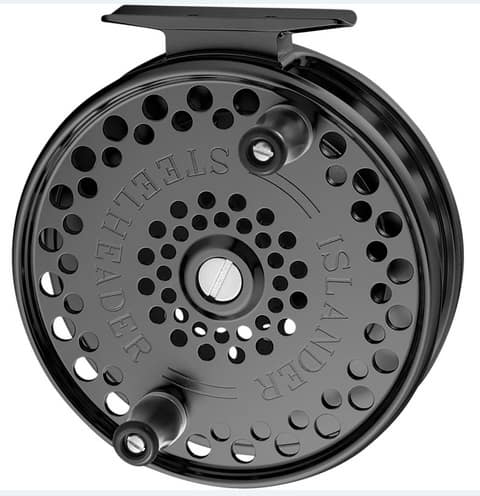 Most Popular
Islander Steelheader Centerpin Reel Review
I have called this the workhorse of float reels for years because this reel is solid and durable and keeps on going even after thousands of steelhead landed.
For years and years, this reel has been one of the most popular Centerpin reels and considered the best Centerpin reel by many veteran Centerpin anglers.
It's heavier than some other reels but that's what some guys like about it. It feels solid and some say they like the heavier spool for reeling in the line better.
If you are looking for a solid Centerpin reel that is durable and really smooth and has a great following than this is the best Centerpin reel for you.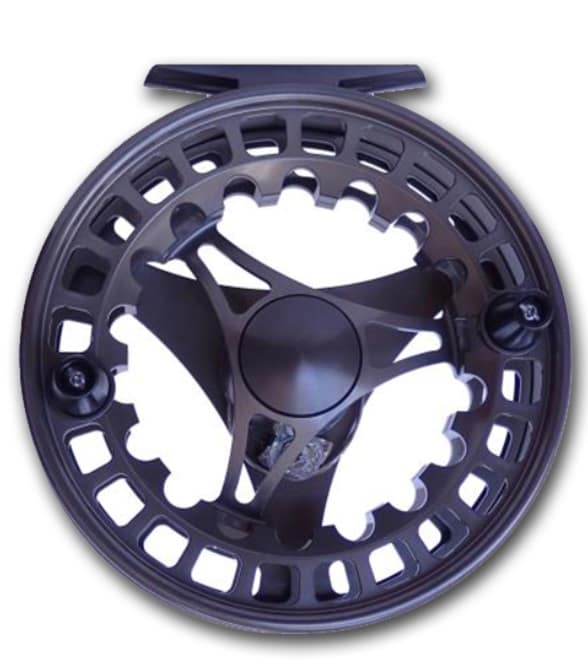 Best Value
Raven T-5 Centerpin Float Reel Review
This is one of the nicest Centerpin Reels Raven has ever produced under $400 dollars and I think it fishes and feels as good as reels that are over $300 dollars more expensive.
It is incredibly smooth, very light weight, and casts great, and looks good too.
If you want a very high-end reel at a middle-of-the-line price this is the best Centerpin reel for you.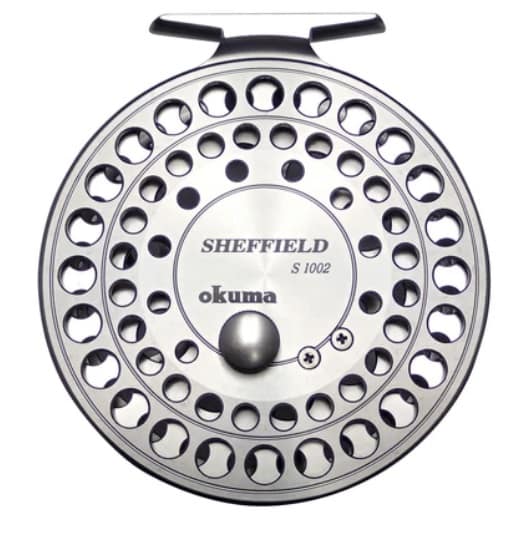 Best Economy Reel
Sheffield Centerpin Reel Review
This may be an economy reel but that doesn't mean it's not any good. For the price, it's a pretty darn good Centerpin reel.
When I owned my tackle store I put 6 different brands of Centerpin Reels on the counter and spun them all and this one spun longer than Centerpin reels in the $500 to $700 range.
This reel is so good for the price that I guided with 3 of them for a few years with no problems, and that is why I feel very comfortable recommending this reel to anyone looking for a Centerpin reel that's not going to break the bank.
This is the best Centerpin reel for under $200 dollars.
Cheap Centerpin Reels – My Warning
Now I was thinking about recommending the Okuma Aventa Centerpin reel as the best economy Centerpin reel and it is a good reel for even cheaper for those anglers on a very tight budget, but for the extra $30.00 I think the Sheffield is well worth it.
I have guided clients with the Okuma Aventa reel and it worked perfectly and it is the lowest priced reel that I would recommend.
I have guided clients that showed up at the river with reels in the $150 and under price range and almost all were just crap!
Some felt clunky, some had rough edges, some didn't spin smoothly, some had a gap between the spool and the base so big that the line kept getting stuck behind and in the gears which damaged the line and even caused fish to be lost. Don't be fooled by the knock-offs and junk you might find online.
Do yourself a favor and avoid the hassles of cheap no-name and some brand-name Centerpin reels that sell under $150.00.
Bearings Versus Bushings
Some of my clients have brought out custom reels with bushings instead of bearing and I spent half the morning trying to figure out what was wrong with the reel before I was told that it's a bushing reel. For the rest of the day, we spent spinning the reel with one hand to keep it moving and finally switched over to one of my reels.
Bushings are not as smooth as bearing and although some anglers on some talk forums rant and rave about them I do not recommend them. They SUCK in slower water!
The idea is that bushings are great in fast water because it helps slow the line down, which helps control the float speed which is very important (see why HERE) but with practice, you can easily do this with your fingers on a bearing reel. There's a reason why all the best Centerpin reel brands use super high-quality bearings. A good bearing reel will work in fast and slow water.
Centerpin Reel Sizes
Centerpin reels have different spool sizes and some guys prefer a larger diameter reel and some guys like the smaller diameter reels. You may see a reel listed as a 4 1/4″ spool or 5″ or some might even say its an XL.
The up-side to a larger diameter reel is that when you reel the line in it comes in faster. This is nice if you are making very long drifts and have to reel a lot, or when a steelhead is coming right at you fast and you need to take up the slack as quick as possible.
The downside to a larger reel is that it may make the reel slightly heavier. One thing with all reels regardless of the size is the handle placement.
Centerpin Reel Handle Placement
Something many guys don't consider is the handle placement. If you have a reel with a large diameter spool for faster uptake of the line but the handles are closer to the middle of the spool instead of on the outsides it defeats the purpose of the large spool.

Handles that are closer to the outer rim of the spool might be better than handles that are closer to the middle of the spool but . . . . .
Handles that are very close to the outside edge of the spool require a different grip so when the fish is running fast the handles are not hitting your fingers and preventing smooth drag pressure or break-offs.
Centerpin Reel Handles
There are many different types of handles with some better than others. The handle should be able to spin freely, provide good grip and feel good on the fingers. Cheap reels wont have great handles that may squeak ore break but the more expensive reels will used high quality handles that last.
Centerpin Reel Looks
There are some really pretty looking Centerpin reels out there and many different colors and designs. To be honest, the look of the reel has little to no effect on the performance of the reel or how many fish you will catch but how the reel is built does.
Centerpin Reel Build Is Important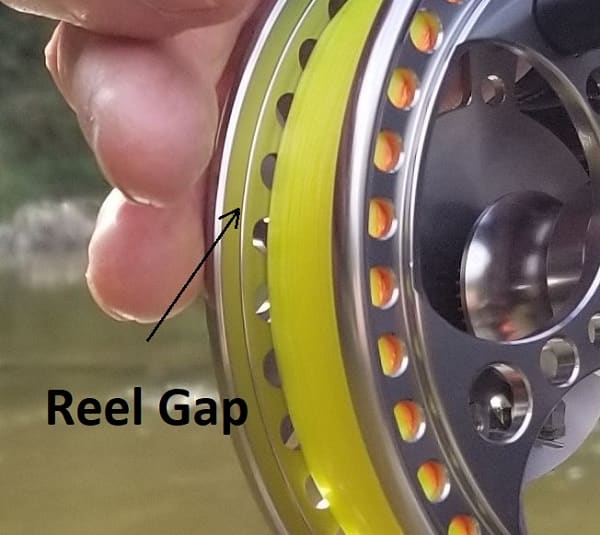 The gap between the spool and the base of the reel should be very small. This ensures that the line won't get stuck in behind the spool. Unfortunately I have seen this happen even on reels over $1000 dollars but quality reels coming from well known brands tend to do it less than the cheap reels
You want to make sure the reel you get has a snug fit on center post that the reel sits on so that there is no excessive play in the reel which means the spool doesn't shake or move, or rattle when if you shake it.
Centerpin Reel Weight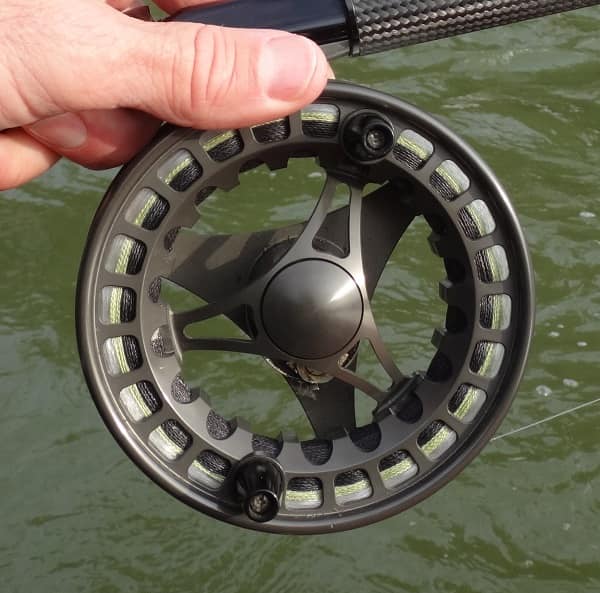 Some centerpin reels are ported, meaning much of the metal is left out and the reels have many holes or spokes instead of being solid in the spool and in the back frame of the reel. The more open a reel is the lighter it should be.
Reels like the Islander which is not ported and will be heavier when compared to reels like this Raven T4 which is very light in comparison.
For some guys they like the super light feel of the reel, it tired the arms, shoulder and wrists out a little. For others, they like that solid feel of the weight and some also suggest a heavy spool that is not ported spins faster if you use the spin retrieve.
Custom Centerpin Reels Versus Brand Name Reels
I'm not going to say that custom reels are better or worse than big brands like Raven, Kingpin, or Islander reels but….
The problem with custom reels is that you could be getting a beautiful custom one of a kind and very expensive reel, which is great, but what happens if that guy making it out of his garage or work shop disappears in a year or two or decides not to answer his emails or phone calls or becomes sick or dies?
If you need repairs or parts for that custom reel you may be out of luck. I have seen this happen with custom rods so be careful if you are considering this option.
The bigger brands are a safe bet, and they sell lots of reels, have good customer service and support, and probably aren't going out of business anytime soon, so I always recommend brand name Centerpin reels for that reason.
Centerpin Reel Price
I have used $100 dollar Centerpin reels and some reels that were over $1000.00 dollars.
To be honest with you, as long as the reel does what it's supposed to do without any problems I can catch just as many fish on a $180.00 Sheffield reel as I could on a $1200.00 Kingpin custom reel.
I have said this a thousand times now, it's not the reel that catches fish, it the guy using it. You're skill with the reel matters more than whether you have a $200 dollar reel in your hand or a $1000 dollar reel in your hand.
Centerpin Reel Startup
Centerpin reel startup refers to how easy and how smooth the reel starts to spin once the float and the line starts getting pulled by the current.
A reel with high quality smooth bearings will start up smoother and easier than Centerpin reel with bushings or low quality bearings.
In my opinion, most Centerpin Reels at or above $175 will have bearings good enough for a easy startup so despite what some brands claim it's usually not a big difference.
Best Float Fishing Line
A very important part of your Centerpin reel in the line that you use! A $1000 dollar reel won't work so well if you have the wrong line on it.
Some lines are just not that good for float fishing and for Centerpin reels. Make sure that you check out my post on the Best Float Fishing Lines where I tell you what lines I use and recommend to all my clients.
I also provide advice with setting up your reel properly which will help you with your casting, and with controlling your float, and with fighting fish.
Now that you have your reel don't forget to check out my page on the Best Float Rods.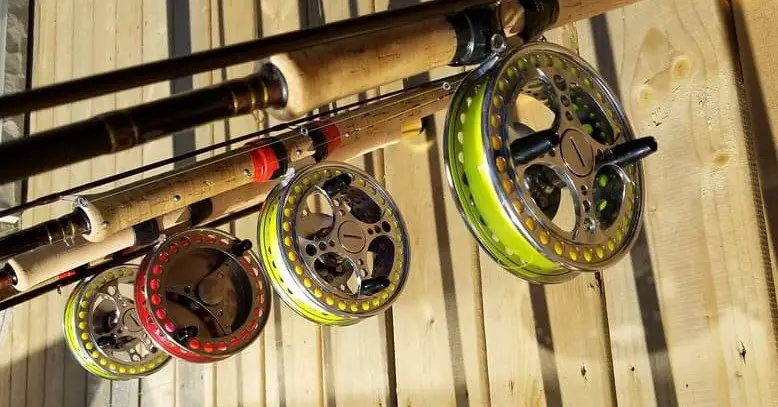 Centerpin Fishing For Beginners
If you are new to Centerpin fishing or even if you have been trying it for years I provide great step by step and some advanced advice on Centerpin fishing on my Centerpin Fishing For Beginners Page.
There I provide you with my 3 most critical things that I tell all my clients, and that all Centerpin anglers must know to maximize the amount of fish they catch.
Some of the advice I provide on that page even some anglers who have fish for over 10 years still don't know about or do well, and it's the reason why I say 7 out of every 10 Centerpin anglers aren't very good and still struggle to catch fish.
Ask A Guide
If you have a question or a comment just ask in the comments section below and I will do my best to give you an honest answer.