Controlling Your Speed For More Fish When Float Fishing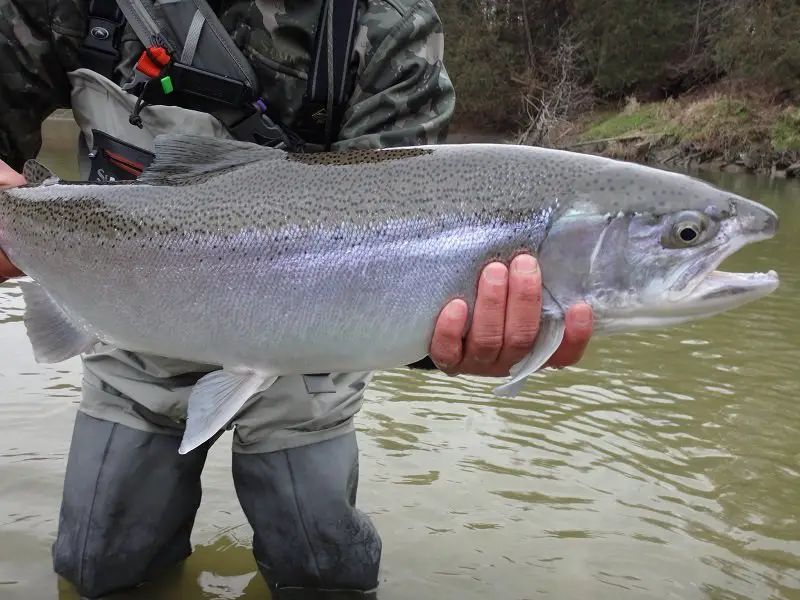 Controlling your speed when float fishing is the number one most critical thing that I teach clients when I'm guiding or during my Centerpin classes. I will discuss my methods for controlling the speed of your float and your bait when float fishing for trout, steelhead, and salmon.
Controlling your speed means controlling the speed of your bait so that it drifts through the spot that you are fishing at the most natural speed possible. The same speed that all the other food that the fish are already feeding on. A slower bait also gives the fish more time to see and grab the bait.
The trick to catching more steelhead, trout, and salmon is to not let your bait go too fast or too slow.
Over 20 years of guiding, I have seen hundreds of times when one angler will catch more fish than the angler beside them, even if they are both using identical setups and identical bait.
90% of the time the reason for this is speed control, however, most guys would think this is just luck.
It doesn't matter if you are float fishing a roe bag or if you are fly fishing with a fly, if your bait moves too fast or too slow it looks unnatural to the fish, and most of the fish won't eat your bait.
Also, be sure to check the comments section at the bottom of the page where I answer some questions that might clear things up for you.
How Much Of A Difference Does Speed Really Make?
I have probably watched thousands of floats drop down due to a fish biting by now, and I've seen thousands of floats drifting down the river both the right way and the wrong way.
Some years I have netted over 300 adult-sized steelhead for my clients just in the month of November which works out to an average of about 15 steelhead per day. Even during the best days of fishing, I have watched some guys catch fish when their buddies don't.
There are times when I can look at a float and know that it's very unlikely that it will go down, but there have been times when I see that the float is running perfect and have even said to my clients that will catch you a fish and then the float goes down.
I've seen guys fish so poorly that I watched 2 of my clients catch 2 steelhead with me on a guide trip when 3 other guys which were friends of mine hook and land about 75 steelhead just downriver from us. The truth is that these 3 guys simply fished well and my clients fished poorly despite my best efforts to try and get them to slow their baits down.
I have seen guys fish so well that I told them that if they fish exactly how I show them they will catch 5 to 10 times more fish than all the other anglers on the river and then they proceeded to fish a big steelhead pool with 3 other anglers in it and my clients hooked over 10 fish in the first hour while the other 3 guys guy only caught one between all of them.
I've had clients fish a spot for over 30 minutes and catch nothing and when they sit down to have their lunch I'll grab their rod to fish myself and I have hooked up to 7 trout or steelhead in a row and I do this just to emphasize to them how important it is to control their drifts and their speed or they will keep catching nothing.
Every time I watch someone catch a lot more fish than someone else it was mostly because of speed control and partially about covering the water and bait choices.
For information about covering the water effectively check out my page Effectively Covering The Water When Float Fishing.
Does The Bait Make A Difference
Most guys think that the key to catching more fish when float fishing is having the right bait, but I strongly disagree.
Controlling your speed when float fishing will make your bait work even better. Not controlling your speed when float fishing will make your bait not work very well.
The reason I say this is that when I am guiding two clients and one guy catches all the fish, even though they both have the same bait on, it's clear that it's not the bait, it's something that they are doing.
After careful observations, I often see one angler's float moving slower than the other angler's float and the slower float always catches more fish, sometimes 10 to 1. I have seen this hundreds of times.
I also know that a great bait fished poorly will catch few if any fish because I see that happen over and over again with my clients. I'd even bet a lot of money on that one.
However, fishing a great bait, controlling your speed, getting your bait down, having the right setup, and then covering the water well will ensure you are that one guy in the pool catching ten fish when everyone else around you is catching only one or two.
My four fundamentals of great float fishing are covering the water, depth control, speed control, and using the right setup.
The bait is not one of those four fundamentals because if you get one or two of the other fundamentals wrong, even the best bait in the world won't work very well. You can see more about these four fundamentals of float fishing on my page Centerpin Fishing For Beginners: 20 Steps From A Top Guide.
What Is Trotting Your Float?
Now that you know that speed control is so important and that the bait is not really that important, let's talk about how to do it.
The key to controlling your speed is learning how to do trotting.
You might be asking yourself what is trotting? The simple answer is that trotting is the action of slightly holding your float back just enough to let your bait go ahead of your float. I will explain more about that below.
Some guys might also call holding your float back "checking your float".
What Is Checking Your Float?
Checking your float is also when you hold your float back to allow your bait to go down the river first, it's really just another term for trotting your float. Checking your float could also be pulling your float back to make sure that you don't have slack in the line and that the line goes straight and directly to your float with now S-bends.
Keeping your line straight does a few things including giving you better float control and a better hook set.
I have asked hundreds of anglers why they trot their floats, or why they hold their float back, and about 95 out of 100 will tell me they need to hold the float back because they think that it presents the bait first to the fish before the leader, before the split shots, and before the float can spook the fish.
In fact, some guys trot so much that the bait is sometimes 5 to 10 feet ahead of the bait so they can be sure the bait goes first and the fish sees nothing but the bait. If they only knew how bad that type of presentation was and how many fish they were missing they would stop immediately! DO NOT DO THIS! I will explain why holding your bait back too much is such a bad thing below.
The bait going ahead of the float is a good side effect of holding the float back but it's not the important reason you should do it. The real benefit of controlling your speed when float fishing or trotting is to match the speed of the bottom current.
What most anglers don't realize is that the bottom current is almost always slower than the surface current, sometimes over 90% slower. This is a proven fact!
The rocks along the bottom create friction and that slows the current down near the bottom where the fish hold and feed. This means that the surface current might be flowing at 6 to 8 miles per hour on the surface, but down near the bottom, the current might be flowing at 2 or 3mph.
Why Does That Matter When Float Fishing?
It matters because if all the food that the fish have been feeding on down at the bottom and all the small chunks of debris is all moving at 3 miles per hour in the slower current, but your float is being pulled along by the upper current at 8mph that means your bait is also moving at 8mph and your bait will stand out like a sore thumb, in a bad way!
If you don't hold your float back just a little your bait is likely going to be moving at an unusually fast speed and many trout and steelhead will pick up on the fact that something is wrong with that bait and they will ignore it.
I tell guys all the time that trout and steelhead are not smart, they're just cautious about things that are unusual in their environment.
The bait might also be moving so fast that it zips by them before they can even react to it because they are not used to stuff moving at double the speed. Only the really aggressive fish will hit a bait moving 2 or 3 times faster than all the debris and food that they feed on every single day.
If you hold your float back properly you can match the speed at the bottom which will greatly improve your catch rate, sometimes by 10 times or more.
How To Control Your Speed When Float Fishing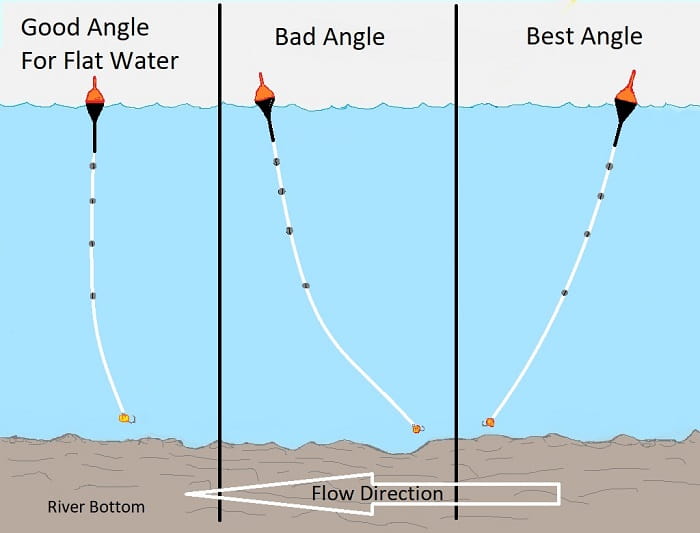 To trott your float properly you need to hold your float back on a slight angle so the point of your float is pointing more upriver than it is vertically straight up and down or pointing downriver.
In moving current, 95% of the time, if you do not hold your float back it will point downriver. This is because the faster surface current is dragging your bait down the river and your bait acts like a little parachute and that tilts your float so it points downriver.
If you hold your float back at the right angle you can match the speed of the lower current better.
If the bottom speed gets faster you will see your float wanting to tilt upriver towards you as the bottom current is pulling the bait faster and out from under your float. If this happens you simply take some of the pressure of the float and get it back to the correct angle.
If your float keeps getting tilted downriver you are either dragging the bottom or you are not holding your float back enough to match the bottom current speed, both of these are a problem that will prevent you from catching fish.
On a Centerpin reel, we use the rim of the reel with feather-light touches to slow the float down as it drifts down the river. With a spinning reel, I will feed the line between two fingers to try to get a steady float speed.
The Centerpin reel is superior when it comes to line control and speed control which is why it is common for the Centerpin anglers to catch far more fish than everyone else. If you are unfamiliar with Centerpin fishing I suggest you check out my page Centerpin Fishing For Steelhead: 13 Tips From An Expert Guide.
When controlling your speed, do not hold the float back with your rod tip, use your Centerpin reel or your fingers on the line instead.
Every time your float starts to stand up straight or vertical, touch the spool of the Centerpin reel or hold the line on the spinning reel to slow or stop the float until it tilts to the correct angle again.
Anglers that do this well will never let their float tilt downriver and will correct the angle of their float before it tilts downriver.
The caveat to this is that if you fish in slow flat water the surface current is much slower and matches the bottom current better so you don't need to slow your float down, you simply just let it go. You can see the angle I recommend above.
Using The Bubbles To Determine Speed
A reader just asked about using the speed of the bubble as a way to determine the speed which is a great question since I have heard many anglers reference the speed of the bubbles, see my response below.
To answer your question, unless you are fishing flat slow water, the bubbles are a poor indicator of the bottom speed. However, I tell my clients that if the bubbles are passing their float, that is a good thing, at least it's better than their float going faster than the bubbles or at the same speed of the bubbles which are both a bad thing.

Unfortunately, just because the bubbles are passing your float, it doesn't tell you if your bait or float are still going too fast or too slow, Therefore, you should not use the bubble speed.

Flat slow water might have an even speed from the top to the bottom of the water column, however, bubbles in faster water are often much faster than the bottom current, sometimes 80% faster but you can't tell how much faster the top current actually is.

The method that I have found to be the most effective to determine the bottom speed and how fast you should be running your float and you bait is the angle of your float. If the current at the bottom increases in speed it will pull the bait forward and that will tilt your float back on more of an upward angle. If the current slows down the float will want to tilt straight up more in which case you can add more pressure holding the float back which will slow your bait speed.

As a rule of thumb, I would prefer to be too slow than too fast and based on years of experience the slower bait usually get hit the most.
Why Over Trotting Is Bad
Over trotting is basically when you hold your float back too much and this is a problem.
Anglers will do this because they think that it slows the bait down, which it does, and that it puts the bait way out in front of the float and weights so that the fish won't see the leader, the weights, or the float, which it also does. They think this is a good thing but I will explain why it's not and why I never, ever, excessively over trott my float!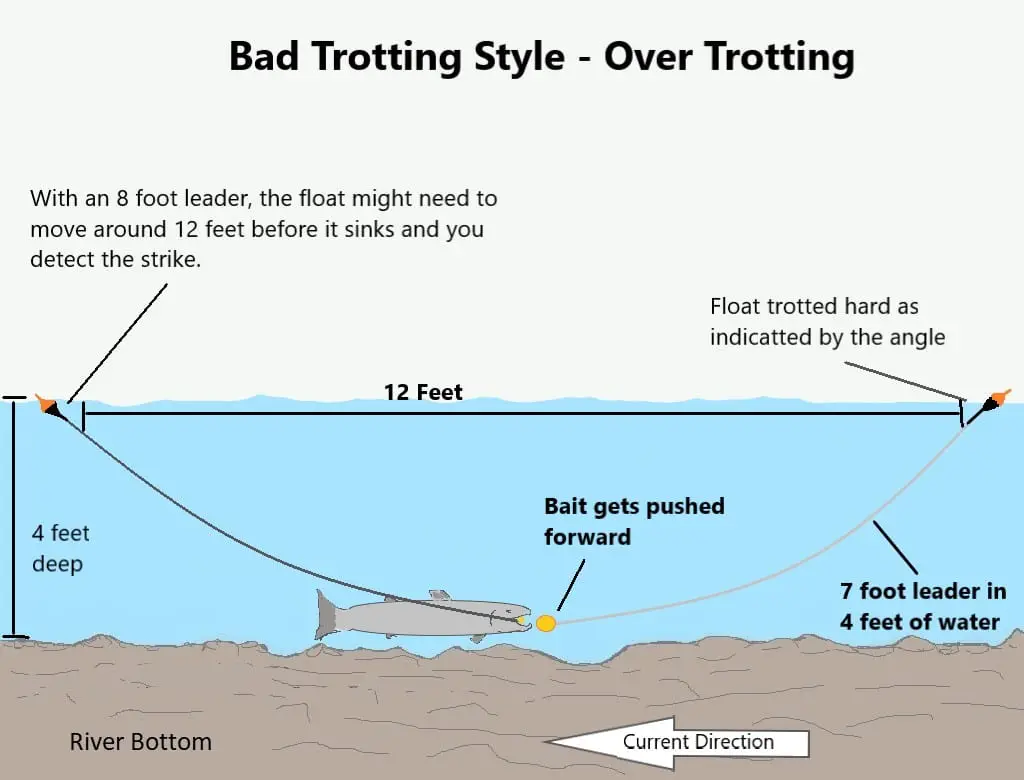 Over trotting has two negatives that will prevent you from catching fish.
The first problem is that if you over trott too much it lifts your bait up to high and out of the strike zone so you end up missing a lot of fish.
To compensate for this lifting of the bait effect when holding your float back, some anglers will increase the leader length a lot just to make sure they have a long enough leader to keep their bait down. You may see guys running an 8-foot leader in 4 feet of water.
The problem with this is that their bait might be 4 to 6 feet ahead of the float and if a fish grabs the bait the float will not go down indicating a strike until it has drifted past the fish and the line tightens.
With an 8-foot leader, this means the float might need to travel 8 to 12 feet, which means the bait could be is in the fish's mouth for over 10 seconds before the float actually goes down and indicates a bite. The chances of a fish holding onto your bait for that long are less than 1 in 10.
Once the fish grabs the bait, if it feels the hook or it feels the line, or it realizes that this is not an edible item they will try to spit it out. Underwater video shows that trout pick up all kinds of stuff that is not food and they spit it out within seconds. They are good at determining what's edible and what's not.
If you are using real eggs or a real worm they might hold onto it a bit longer which is something that I discuss in my article on fishing with eggs and why I say fish eggs are one the best baits for beginner anglers.
However, any artificial bait like a bead, a plastic bait, or a fly that goes into the fish's mouth will be determined quickly that it's not real or edible and they will want to spit it out within a second or two.
Without getting into details and stories, I will just say I have witnessed many times anglers trotting and me seeing the fish down deep shaking their heads to trying to get the anglers bait out of their mouths yet the anglers float has not moved and they are unaware they even have a fish on until I yell "set the hook".
Over trotting is risky and I do not recommend it.
The Side Drift Problem
It's important to fish each pool in lanes or straight lines, you can see how I do this on my page, Covering The Water Effectively When Float Fishing. Your float should be running in the same direction as the bubbles and it should not be running sideways when you trot.
However, a common problem of holding your float back, especially in bigger pools or long drifts, and especially the further across the pool you go is that the float will tend to drag on a slight angle towards you which is not what you want.
This is a common issue, and unfortunately, without taking off all the pressure on your float and allowing it to drift freely and as fast as it wants, it's hard to stop the side drift problem.
If this is happening to you, some things you can try are:
get further out into the river – The more straight up you are from your float the less side drift you will have.
hold your rod tip further out when drifting – The closer your tip is to the float the less side drag.
use a longer rod for more reach.
ensure you are not applying too much pressure or pulling on the float at a sideways angle.
use a bigger float with more weights and sink your float deeper with the weights – The deeper your float, the less it will move sideways
Use a wide body and long body float – The more width and length of float you have under the water the less it will pull sideways. Thinner floats slice through the water easier, a fat float won't move as easily and will get pulled less.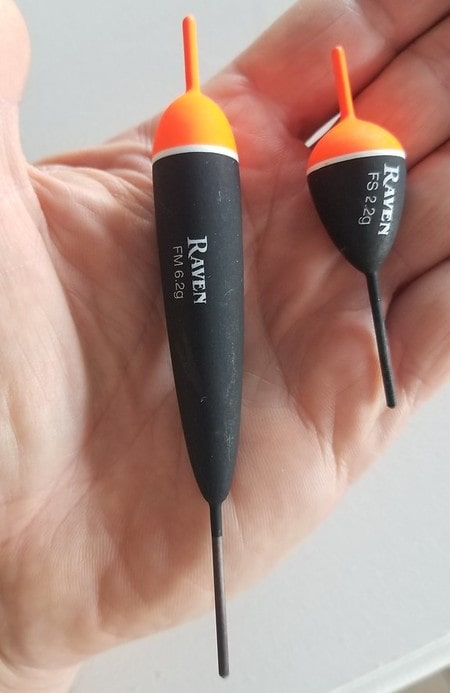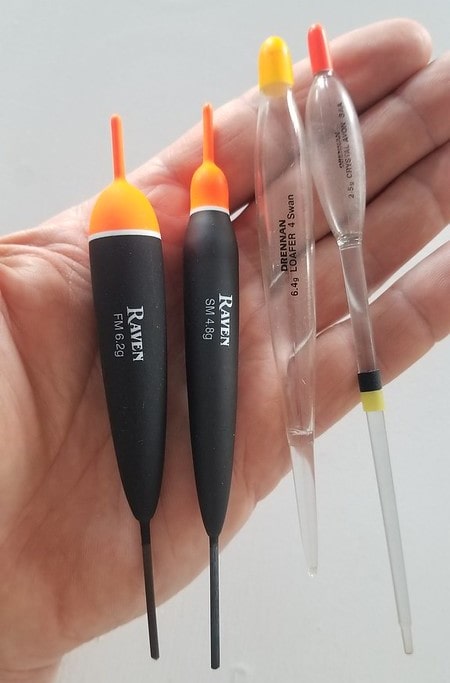 Even when you do it all right, your float could still track sideways. There are other things that I do to get straighter drifts which I discuss on my page HOW TO COVER THE WATER BETTER.
Got A Question About Controlling Your Speed When Float Fishing?
If you have a question, comment, or tip for me or other readers regarding controlling your speed when float fishing, let me know in the comment section below.
If you do this well and do it all the time the results are amazing.
Tight Lines,
Graham