About Us -Your Trout and Steelhead Specialists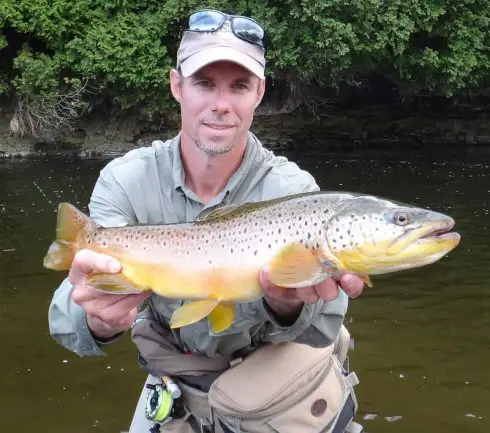 HELLO
My name is Graham and I have been guiding for over 20 years, fly fishing for over 35 years, and Centerpin fishing for over 30 years.
I run one of the top river guide services in the great lakes region with a team of great guides on staff. I am considered the top river guide in my area. I can sometimes be found on the water guiding over 250 days a year.
I have had the opportunity to train with, fish with, and learn from world champion competition anglers, USA head fly fishing coach, other top river guides, and with hundreds of exceptional anglers and competition anglers. I share that knowledge in my daily guiding and on this website for you.
I have also appeared on fishing shows, in books and magazines, and have been a guest speaker at trade shows, seminars, and presentations. I have also been on select pro-staff and guide programs.
With us, you're getting expert advice. When you get advice on this website it's not just some average Joe giving you his opinion or ideas on river fishing, it's advice obtained from guiding and teaching around 3000 anglers and from a guy with more time on the water than 99% of anglers. The information on this website is also an accumulation of knowledge obtained from other exception river anglers and professionals.
I am no longer on any companies Pro-Staff and that is by my own choice. This means I am no longer obligated to recommend any companies products anymore and I am now free to recommend only what I think is the best and without being biased or obligated.
With the right advice and the right equipment, you too can become a better angler and you can start catching more trout or steelhead or even salmon!
I hope you enjoy this website and that you get a lot out of it. Please share with others anglers and spread the word!
Why Trout and Steelhead .net?
Tips And Advice From A Top Professional River Guide
I originally built this website for my clients and friends so they had a private place to go for accurate and detailed information on river fishing for trout, steelhead, and salmon. It has become a resource of tips and advice that work on almost any river in North America and it's now free to everyone. This site is everything you need to know about river fishing for trout and steelhead from a professional river guide!
Why I Started A Website Like This?
It's not uncommon for me to give out so much information during a guide trip that it can be overwhelming and some of my clients would forget some of the information that I covered on the water. These clients would email me asking me questions like, "what was that knot you showed me?" or "what was the tippet size you said is best for steelhead?" or "how did I set up the trout leader again?".
So instead of answering all the same questions over and over and over again every day, I thought "why don't I just put all those questions that everyone wants to know onto a webpage that is there for them all the time?". So I did, and this is that website.
It used to be just a few private pages only for my clients, but now it's available and free to everyone. This website is a summary of what I've been teaching my clients for over 20 years and it can be used as a reference that you can come back to over and over again.
Why It's Free And Available To Everyone Now
The reason I made it free was because anglers would show up to a guide trip with the wrong rods, the wrong leaders and tippets, or the wrong flies because someone told them or they read somewhere that's what they needed.
It's kinda frustrating when you have to tell your new client first thing that the new rod the guy in the big-box store told him to buy was not really suitable for the rivers or the fish he wanted to pursue. It became apparent that bad advice is everywhere and I hear it in the stores, see it on websites, and on Facebook groups and forums and even on the river.
So I made the information free and provided links to the website from my guide website and on social media so that my future clients could get the right stuff before they showed up for a guide trip with me.
It used to be just a few private pages only for my clients, but now it's available and free to everyone. This website is a summary of what I've been teaching my clients for over 20 years and it can be used as a reference that you can come back to over and over again.
This website is about the right advice from a highly respected and experienced river fishing guide that has taught about 3000 clients to become better anglers!
And that is how and why www.troutandsteelhead.net got started.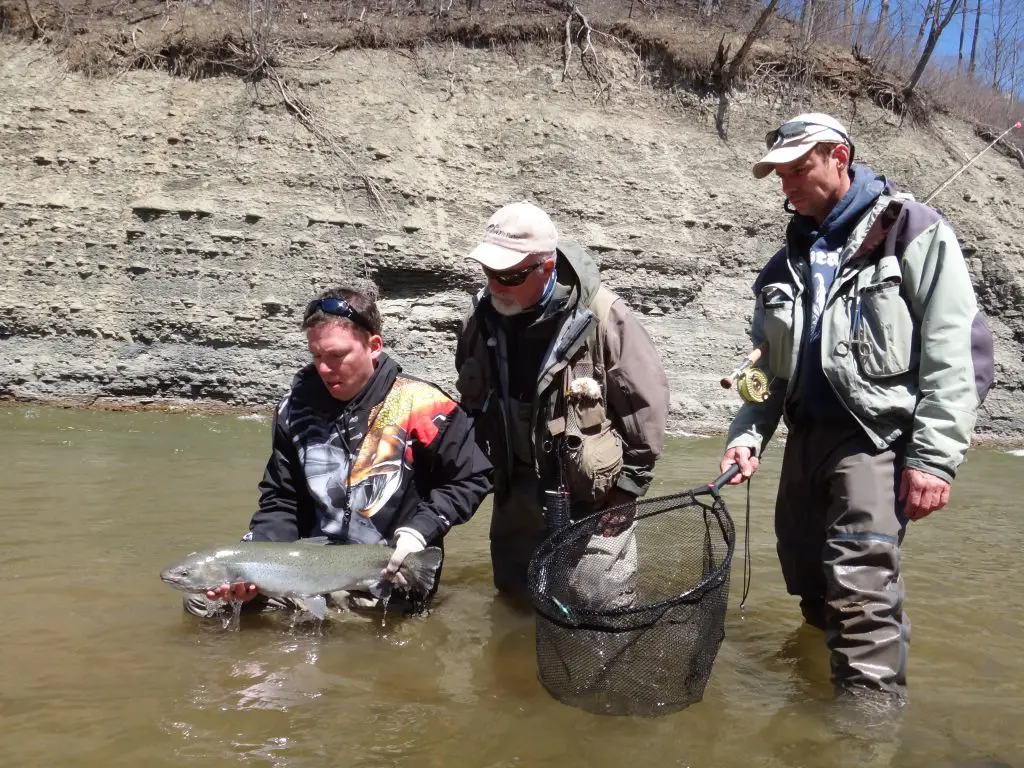 On TV
Graham filming another episode of The New Fly Fisher TV show. Graham On the far right after netting this steelhead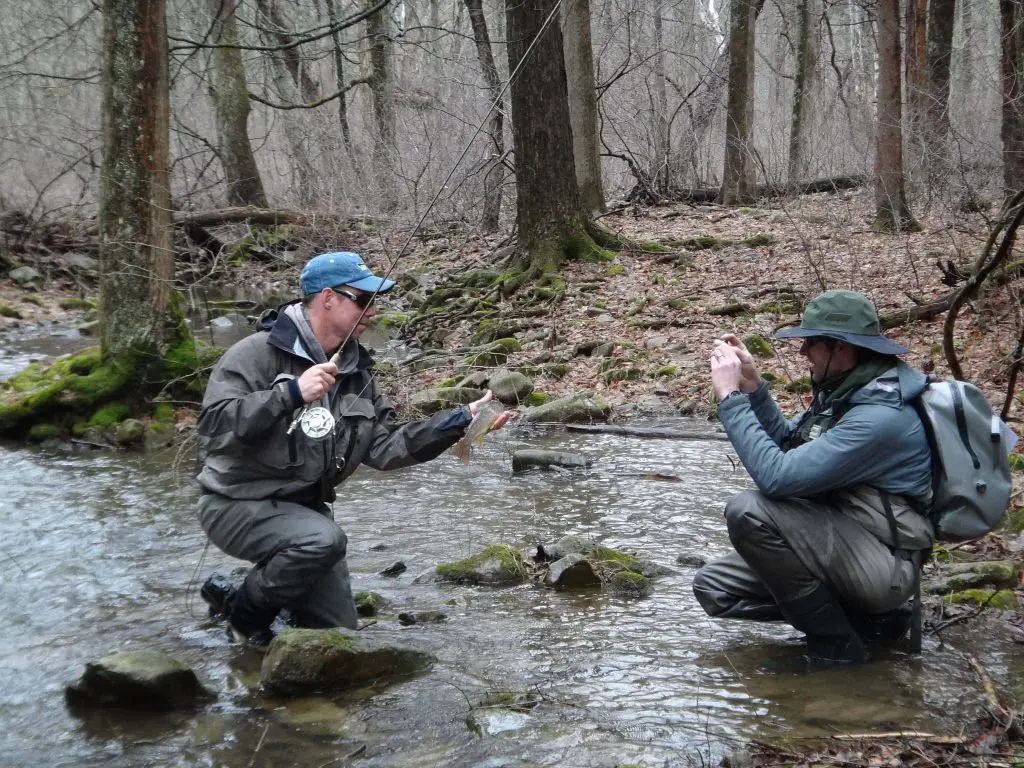 Being Coached
Graham out with George Daniel, author, former medal winner, and former head coach of Team USA – Fly Fishing Team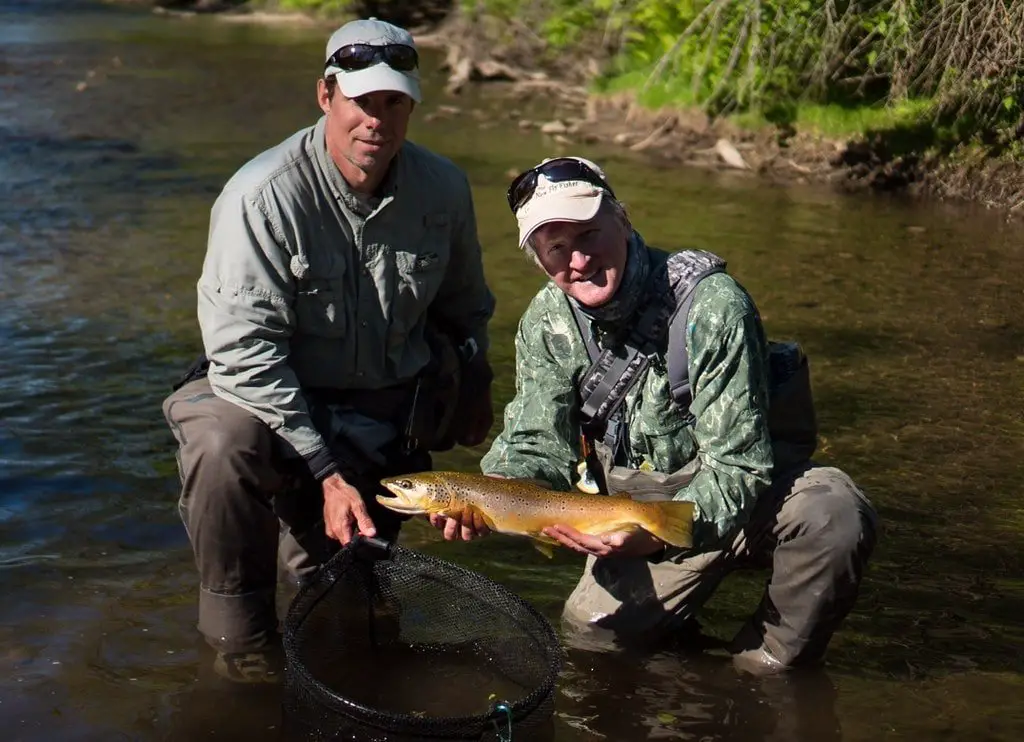 Filming For Browns
I've had the opportunity to film and learn from great anglers like Collin McKeown owner and host of the New Fly Fishing TV Show, along with other TV Hosts.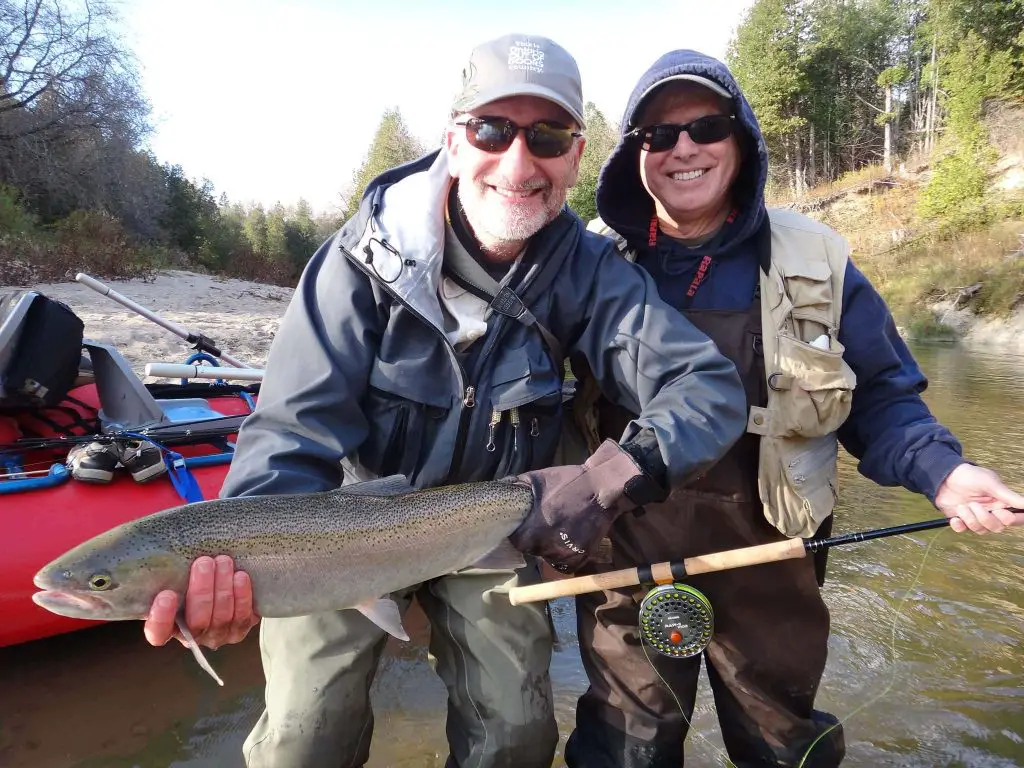 Lots Of Mentors
They say when you teach something you learn it deeper. As a top river guide, I can honestly say I have learned from thousands of anglers.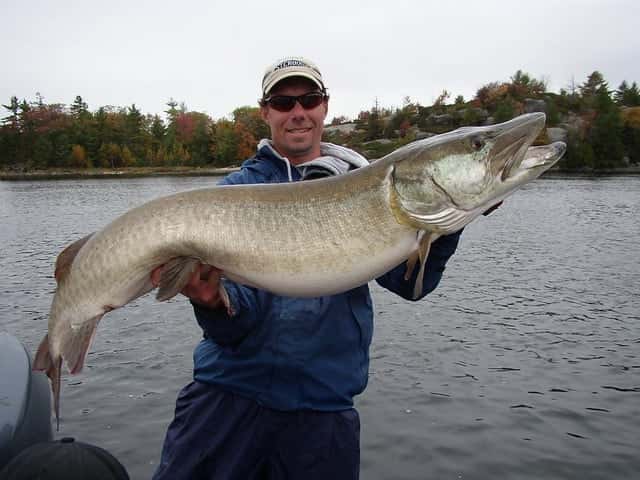 Well Rounded
I have also been the top Musky guide on one of the Great Lakes and have guided for bass, pike, and walleye which has helped me be a very well-rounded angler and guide.
Original Images
About 99% percent of the images on this website are originals and were taken by me, my clients, and my friends. Unlike other websites that buy their images, I have over 20,000 images from guide trips, fishing classes, and fishing trips that I will share with you. Images of products are likely from the sellers or manufacturers and are used with their permission. I hope you enjoy the fishy pics!