Fishing Pulaski NY: Access, Species, And Best Methods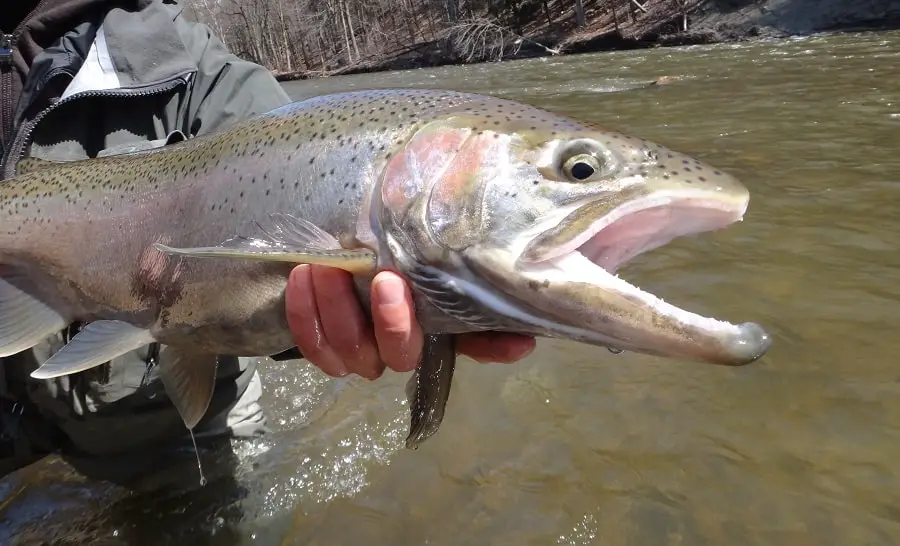 Best Places To Fish In Pulaski, NY
The Salmon River in NY is the premium fishing destination for steelhead and salmon and a large section of the river is located in the town of Pulaski NY. Fishing Pulaski NY can be tough for new anglers but this guide on the best spots, methods, and best times will help you out.
Fishing Pulaski NY consists primarily of river fishing on the Salmon River for Steelhead, Salmon, Brown trout, and Bass. There are multiple access points with good parking and miles of accessible for anglers to fish.
When To Fish Pulaski
Anglers can enjoy good year round fishing with multiple species present in the river all the time.
Fall fishing Pulaski NY is great for all 3 species of salmon that will start entering the river in September and can be caught into November. Late fall is also great for steelhead and big migratory brown trout.
Winter and spring fishing Pulaski NY provides some of the best steelhead along with some brown trout that will remain in the river all winter and into the spring.
Summer fishing Pulaski NY tends to be slower however, this is when anglers have a shot at Atlantic salmon, resident brown trout, as well as bass and pike bear the mouth fo the river.
Fishing Pulaski NY Access and Parking
There are 17 miles of fishing grounds on the salmon river, and 12 miles of that are recognized as public access water. The fishing section starts at Lighthouse Hill Reservoir below the damn and goes to Lake Ontario.
Some fishing spots fall on private property, so you need the landowner's consent to access them but much of the river can be easily accessed and then walked along the banks of the river.
Some landowners also charge a small fee to allow anglers onto their property and often these are the least fished areas.
Some of the best upstream fishing spots in Pulaski NY area include:
Town Hole
Black Hole
Long Bridge Pool
81 Hole
Paper Mill
 If you prefer to fish downstream, you can try the following pools:
The Joss Hole
The Wall Hole
The Little Black Hole
A private fishing ground that bears special mention is the Douglaston Salmon Run. It is a 2.5-mile fishing strip with some of Pulaski's best salmon and steelhead runs. You will need to pay a fee to access this fishing spot and the day rates fluctuate depending on the time of year and the day of the week.
If you do not want to pay the fishing spots on the Salmon River are plentiful for those that are willing to explore. You can access most of the spots along the salmon river through routes 13, 11, and 81.
Additionally, there are plenty of public parking spots near most fishing areas, making them highly accessible. To see where the public parking spots are and the named holes along the rivers check out this Pulaski Fishing NY MAP which is provided by the DEC.
Fish Species in Pulaski, NY
There are four primary sports fish that are targeted by anglers fishing Pulaski area, and each species has its own peak times and best fishing methods. The mix of species allows anglers to fish for twelve months of the year.
Steelhead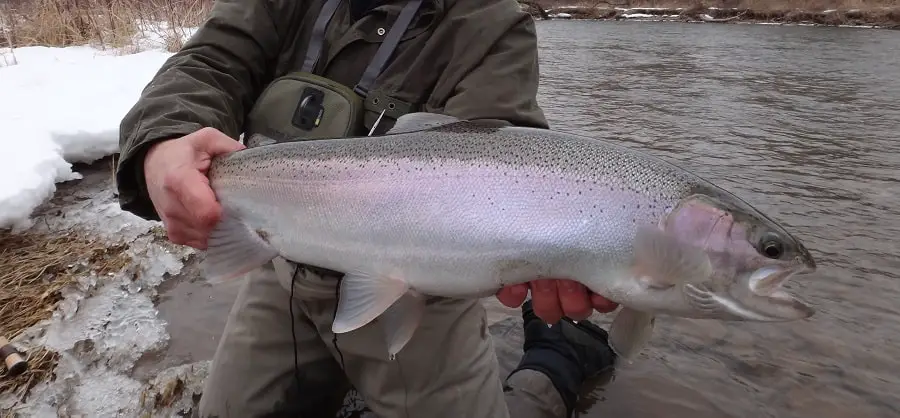 New York State is known for its fantastic steelhead runs, and the Salmon River in Pulaski is no exception.
Reports indicate that the New York Department of Environmental Conservation stocks this river with about 750,000 steelhead each year. Two main types of steelhead are stocked: the Skamania or summer steelhead and the Lake Run Rainbow or winter-run steelhead.
This allows for year-long steelhead fishing in Pulaski NY but just because there are lots of steelhead in the river doesn't mean they are easy to catch. There are reports of 20+ days but these are usually from anglers that know how to catch steelhead.
As a steelhead river guide, I use different methods, different setups, and different baits at different times of the year, and under different conditions. Knowing the best methods and best baits really help and you can see all of this on my page Great Lakes Steelhead Fishing: Proven Methods And Tips.
Steelhead are basically big rainbow trout, they enter the river as adults that are big, silvery fish with a red streak along their mid-line. The average steelhead caught in the Pulaski area weighs about 5-10 pounds, with the biggest mature ones being about five years old and these old fish can be over 20 pounds.
The best time for steelhead fishing in Pulaski, NY, is in the fall starting in October when the dropping temperatures and the rising water levels trigger steelhead runs into streams and rivers.
Anglers fishing Pulaski NY will also find decent winter runs of steelhead from mid-December through to early March which is when large runs of spring steelhead will enter the river.
If you prefer fishing in the summer, you will mostly catch the Skamania steelhead which will often start their upstream migration as early as June and will continue throughout the summer.
Chinook Salmon
Fishing in Pulaski NY for the giant Chinook salmon is likely what has put Pulaski On the map.
The Chinook or King salmon is another common fish variety in Pulaski. It is a gigantic, predatory fish with a tell-tale fully spotted tail. Another outstanding feature of this fish is its black mouth and gums and its bright silvery body.
The Chinook salmon are the prevalent salmon species in the Salmon River. This is because the DEC stocks about 3.2 million of these fish annually in the local rivers between May and June. Many of these salmon will find their way back to the salmon river to spawn.
Some salmon start to enter the Salmon River in late August and peak salmon runs will occur throughout September and October, and will usually be done by mid-November.
Unfortunately, the Chinook Salmon do not survive the spawn so it is not uncommon for anglers to find dead salmon in the rivers during the fall and the winter.
The best time to fish Chinook salmon in Pulaski is after increased water flows created by releases at the reservoir or after heavy rains. If you want to fish in the fall, plan your trip early in the season before the post-spawn fish die-off in November.
The average Chinook salmon catch weighs between 20 and 25 pounds but fish up to 40 pounds are possible and is impressive for Great Lakes Salmon. In fact, the Great Lakes record Chinook salmon which is 47 lbs. 13 oz comes from the Salmon River near Pulaski NY.
However, beware that these are aggressive fish that will put up a fight before you can catch them, and having the right gear is important.
I discuss my most effective methods and baits for salmon fishing in rivers on my page Great Lakes Salmon Fishing.
Coho Salmon
Pulaski Fishing NY also includes the aggressive hard fighting and acrobatic Coho Salmon.
Thanks to the DEC's aggressive stocking efforts, there are also many Coho salmon in Pulaski during the fall. Coho's are considerably smaller than the Chinook salmon, weighing an average of 10 pounds with some getting up to 20 pounds or more. In fact, the Salmon River holds the world record Coho of 33 pounds. 4 oz.
Coho salmon are my favorite salmon because they are smaller and more manageable and they fight differently than their large cousins the Chinook.
I tell my clients that have never hooked a Chinook that hooking a fresh run Chinook salmon is like hooking onto the bumper of a car as it drives away. The salmon often take off in one direction either up or downriver and just pull and pull. This often means you will need to chase them a long way down or up the river.
Coho on the other hand are often airborne in the first 5 seconds and they rip around the pool leaping and pulling like crazy. They fight more like a steelhead. Coho are super fast but still manageable enough that you probably won't need to chase them a mile down the river as you might with a Chinook.
However, just like the Chinook salmon, the Coho salmon also have a silvery appearance and a spotted tail when they first enter the river. To tell these species apart, look at their mouths. Coho salmon have black mouths and white gums, whereas Chinook salmon have black mouths and gums.
Additionally, only half of the Coho salmon tail is spotted, while Chinook Salmon have fully spotted tails.
Coho salmon spawn in early fall, starting in September and some might be found kicking around the river later in November. As a result, you will find some of the best Coho runs during this period. However, some post-spawn fish will have started to die off by mid-October, reducing their numbers in the river considerably.
I use the same methods and the same baits that I use when fishing for Chinook salmon.
Fishing Pulaski NY Lake Run Brown Trout
Fishing Pulaski NY for large lake run brown trout can be excellent and using lures, jigs, and worms or leeches are good ways to catch smallmouth bass in the river.
I use all the same methods that I use for steelhead and I also fish the same spots.
There is good lake-run brown trout fishing in Pulaski NY from early September, and the runs will peak in late October and November which is when the brown trout spawn.
Brown trout can be found in the river year-round and they can congregate near the mouth of the river and lower river all winter and spring.
These brown trout can get over 30 pounds and start their upstream spawning migration in September and throughout the fall.
Once they finish spawning some will hold in the river all winter but most will head back out to Lale Ontario.
Brown Trout: Resident Brown Trout
The DEC has also been sticking resident brown trout in hopes of creating a better summer fishery. Resident brown trout stay in the river year round and their average size is between 14 and 16 inches but they can grow to be over 24 inches, 5 pounds.
Fishing Pulaski NY for Small Mouth Bass
Fishing in Pulaski NY for smallmouth bass is usually best in May through late August. Some bass will enter the river to spawn and feed and this migration often starts as the majority of the steelhead have left the river in early May.
As the water warms in June and July, the fishing in the lower river and at the mouth can be excellent.
Lures, jigs, and worms or leeches are good ways to catch smallmouth bass in the river. Focusing on the slower deeper edges and slow pools are usually the best spots. My experience with guiding for smallmouth bass is to avoid the faster water and look for slow deep edges off the main current.
Even along the bank is good if the water is 4 feet or deeper.
The Best Methods for Fishing Pulaski, NY
Fly Fishing
Fly fishing in Pulaski NY entails casting a fly suspended under an indicator and then drifting it through the current in areas where the fish will hold. Indicator fishing is likely the most used and most effective way for fishing Pulaski NY. You can see the best methods, best setups, and the best flies on my page Nymphing For Steelhead: The 3 Most Effective Methods
I have also done very well when Euro Nymphing For Steelhead and discuss my methods and flies on my page Euro Nymph Fishing For Great Lakes Steelhead.
Fly fishing also includes Spey fishing or streamer fishing. Spey fishing is popular near Pulaski since the river is wide and has a good depth and current speed for this method. The same methods used to spey fish for steelhead will work for all species in the Pulaski area. For more information on these methods check my page Spey Fishing For Steelhead.
Streamer fishing, in particular, requires that you cast a large streamer fly and then actively retrieve it before casting again. With this method, you will attract larger fish, and reeling them in is exhilarating.
If, on the other hand, you are looking for a more relaxed Pulaski NY fishing method, consider either nymphing or Euro-nymphing.
Float Fishing
Float fishing is arguably the most effective method when fishing Pulaski NY and most rivers in the Great Lakes region.
Float fishing requires that you present your bait below a float as naturally as possible and it allows you to get long drifts at a controlled depth. With float fishing, you can use a Centerpin reel or a spinning reel to cast your bait and float.
Done right, float fishing is very effective, done wrong and you will struggle to catch any fish. For more on float fishing check out my page Float Fishing: Tips and Tactics Used By Guides
Spin Fishing
Spin fishing is yet another effective method of catching steelhead and salmon in Pulaski NY. Spinn fishing with spinning reels can be done in multiple ways.
When using a spinning reel these methods will work well:
For more on spin fishing, check out my page Spin Fishing For Steelhead: 5 Most Effective Methods Used By Guides
Rules and Regulations for Fishing Pulaski, NY
Fishing in Pulaski is a highly regulated activity and there are special rules along the river that anglers need to know. Every angler must comply with New York's Department of Environmental Conservation rules and regulations, and since rules and regulations can change do not rely on what we write here, instead check out the rules here.
Some of the most notable regulations include:
 Licensing requirements- every angler over 16 years must have a license. Even if your only task is to assist other anglers in bringing in their catch, a license is necessary.
Fishing sessions- fishing at night on most streams and rivers in Pulaski is prohibited, particularly during fish runs. You can only commence fishing half an hour before sunrise and must be out of the waters by half an hour past sunset.
Catch Limits- the DEC limits how many fish you can take with you at the end of your fishing session.
It is illegal to snag fish. Using treble hooks during salmon runs is also prohibited, and you must adhere to the hook requirements to fish in these rivers.
It is illegal to herd, chase, or stonefish to catch them.
Fly Fishing Only Sections – Flys Only
Fishing Amenities in Pulaski, NY
Fishing Guides
The city of Pulaski NY has numerous experienced fishing guides and this is a great idea if you are new to the area. The amount of fishing guides in the area is hardly surprising as Pulaski is home to a world-famous fishing destination known as the Salmon River. Some of the leading fishing guide services in Pulaski include:
Cold Steel Sport Fishing
Fish Wish Sport Fishing
Adrian Lasorte Guide Service
Angling Adventures Guide Service
 You can also find more fishing guide companies here.
Before settling on any guide, be sure to inquire about their licensing, the typical length of a fishing trip, and the fish variety you can expect to catch on your trip.
Accommodations And Food
Pulaski offers a host of accommodation options to visiting anglers ranging from cabins to motels to lodgings and even fancy hotels. Some great places to stay during your angling trip include:
1880s Hotel
Log Cabin Inn and Motel
Harris Lodging
Deer Creek Motel
You can also find more accommodation options here. It is advisable to book your hotel or lodging early, especially if you intend to go fishing during peak season.
When in Pulaski, I recommend visiting some of the small-town restaurants that are pleased to serve visiting anglers. There are many places in town to eat or to grab lunch and drinks to take to the river.
Bait and Tackle Stores in Pulaski
I am surprised at how many fishing stores are in the area in such a small area, but like the fishing guides, there is money to be made with the number of people that fish the salmon river.
Most bait and tackle stores specialize in the areas fishing and in river fishing. The stores are not just a good place to get your tackle but they are a wealth of local knowledge and tips about how the fishing is at the time you are there. Some of the leading stores here include:
All Season's Sports
Malinda's Tackle and Fly Shop and Lodge
Whitaker's Sport Shop and Motel
Fat Nancy's Tackle Shop
Final Thoughts on Fishing Pulaski, NY
Fishing Pulaski, NY, is one of the best angling experiences you will have if you want a great place to stay and eat close to some awesome fishing. From fantastic fish runs to plenty of fishing amenities, this city is the angler's dream destination. So plan a trip here and find out for yourself!
Tight Lines
Graham