Euro Nymphing For Steelhead: Methods And Tips Of The Guides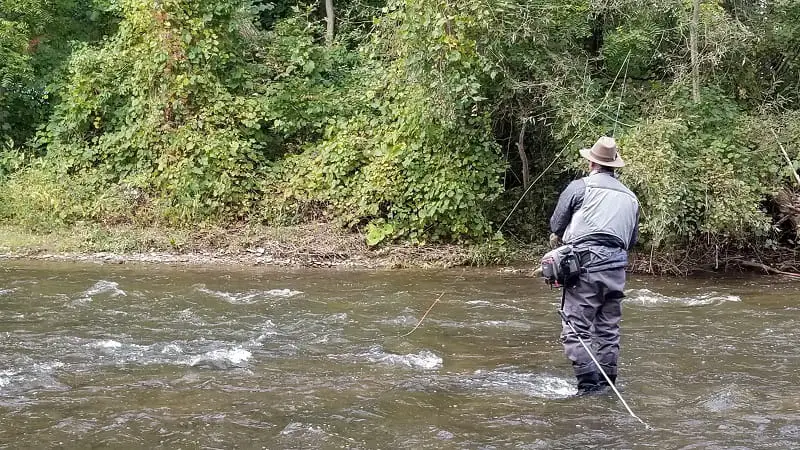 Euro Nymphing for steelhead can often be the most effective way to catch steelhead and there are many river guides and experienced anglers that are now Euro Nymphing for steelhead. I have been teaching Euro Nymphing for over 10 years and in this article I will share my best tips, my leader set up, my best flies, and tactics for Euro Nymphing for steelhead the right way.
The reason Euro Nymphing for steelhead is so effective is that it allows you to get your flies down to the steelhead fast, it allows you to control your speed and get the most natural drift possible, and it allows you to detect even the most subtle bites.
Euro Nymphing for steelhead often requires special Euro Nymphing flies or at least variations of the regular flies that are usually effective for steelhead, but I will show you how you can Euro nymph for steelhead with your regular non-weighted flies or a combination of both.
The article is part of our series on fly fishing for steelhead. To see all the best methods for fly fishing for steelhead which include indicator nymphing for steelhead, swinging flies, and streamer fishing for steelhead, go to my page Fly Fishing For Steelhead: Great Lakes Style.
UPDATED: May 31, 2022 – Added 5 new and very effective fly patterns that we tested in 2021 and 2022
Best Water To Euro Nymph For Steelhead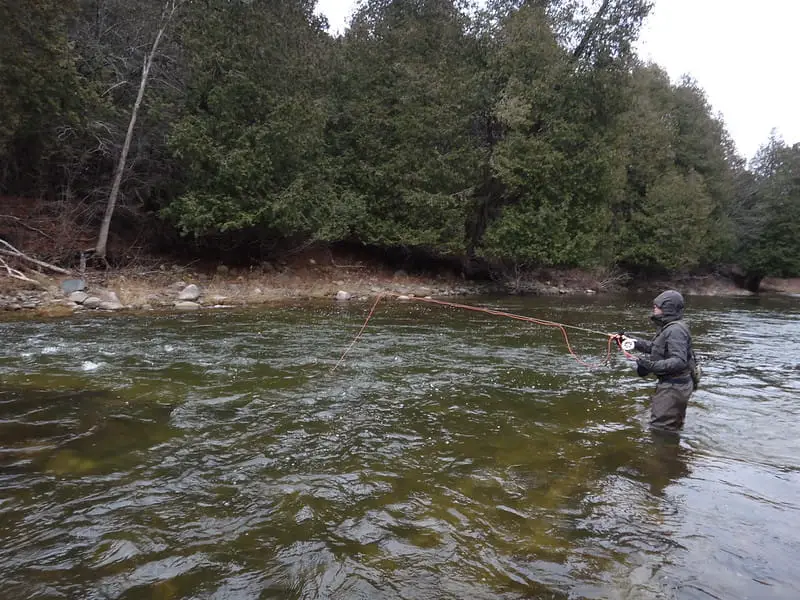 Not all water is good for Euro Nymphing for steelhead and I prefer to use indicators in slow, flat or very deep water.
But it's hard to beat Euro Nymphing for steelhead in faster water that is less than 7 feet deep. You also can't beat Euro nymphing for steelhead in pocket water, runs and riffles. Euro nymphing is great in short pools and when you can fish within 20 feet of your rod tip.
What Makes Euro Nymphing For Steelhead So Effective
When I explain to clients what makes Euro nymphing for steelhead so effective the number one thing I tell them is speed control.
Speed Control Is Better When Euro Nymphing
When Euro Nymphing for steelhead we are not using any type of float or indicator which allows the flies to move at the speed of the bottom current and that gives you the most natural drift speed possible and that means more fish. The keyword in that sentence is bottom current.
The bottom current is often much slower than the upper current which in some cases can be 50 to 90% faster. This is a proven phenomenon of stream hydraulics.
Imagine a big steelhead sitting 6 feet down on the bottom of the river and it's occasionally feeding on the odd piece of food that goes by. There is also lots of debris drifting past that fish which could be little pieces of bark, sticks, leaves, bits of leaves, weeds, or algae. Everything that fish sees is moving at the speed of the bottom current which is about 3 miles per hour (MPH).
Now, on the surface, your indicator is being pulled along at 7 miles per hour by the faster surface current. Guess how fast your flies are going, yep, 7 miles per hour! This means while everything that steelhead sees and feeds on is moving at 3mph, your bait stands out like a sore thumb at 7mph, and that is a bad thing.
I tell anglers this all the time, " trout and steelhead are dumb as a bag of nails" they have no idea what a line is when they see it, they have no clue what a hook is when they see it, and they have no clue why a fly is moving twice as fast as everything else, but…..
They are instinctually cautious which is why if they see a hook, or a line, or a bait moving at twice the speed, they will avoid it. The simple truth is that anything out of the ordinary could spook them or prevent them from biting your fly.
When Euro Nymphing steelhead, we don't use a float or an indicator so there is nothing for that upper current to grab onto and pull. This results in the flies moving at a speed that is much closer to the bottom speed, and that's a great thing.
Depth Control Is Better When Euro Nymphing
The other great thing about Euro nymphing steelhead is the ability to control your depth and to be able to fish in shallow and deep water without any setup or indicator adjustments. You simply lift the tip up or lower the tip down to get the right depth.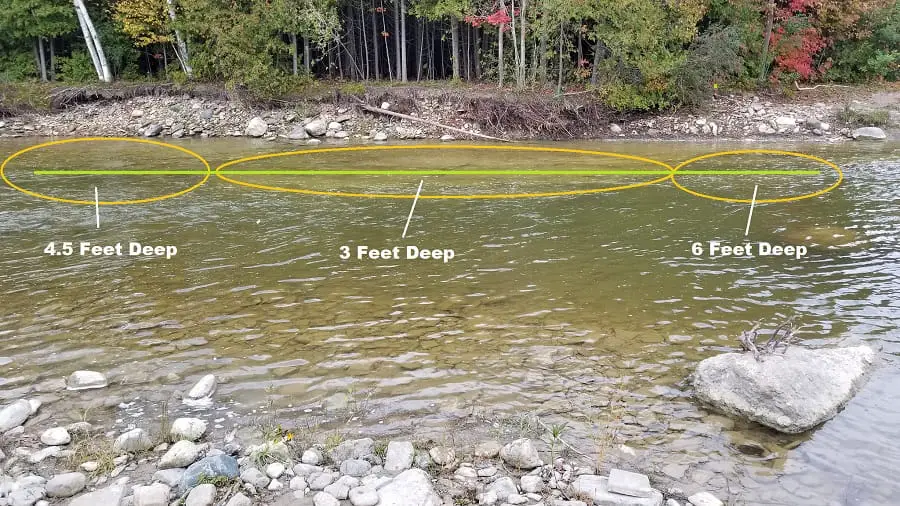 With a strike indicator, you would need to adjust the indicator for all the different depths of a pool and you would need to fish each depth separately. In the picture above I would need to adjust my indicator 5 or 6 times to fish this pool otherwise I would be too deep or too shallow at times.
With euro nymphing steelhead I would not need to make any adjustments to my setup and I would simply raise or lower my rod tip as needed.
As I run my drift through the river with my Euro Nymphing set up, once my fly starts to hit the bottom I simply lift my rod tip to keep the fly 6 to 12 inches above the bottom or lower it when I'm not hitting the bottom.
The Euro nymphing method makes it easier to find the bottom and then fish in the strike zone.
Strike Detection Is Better When Euro Nymphing
Another great benefit of Euro nymphing for steelhead is that your strike detection is improved. If done right, you will never have slack in your presentation which means anything that touches your flies will be noticed on what we call the sighter.
The Sighter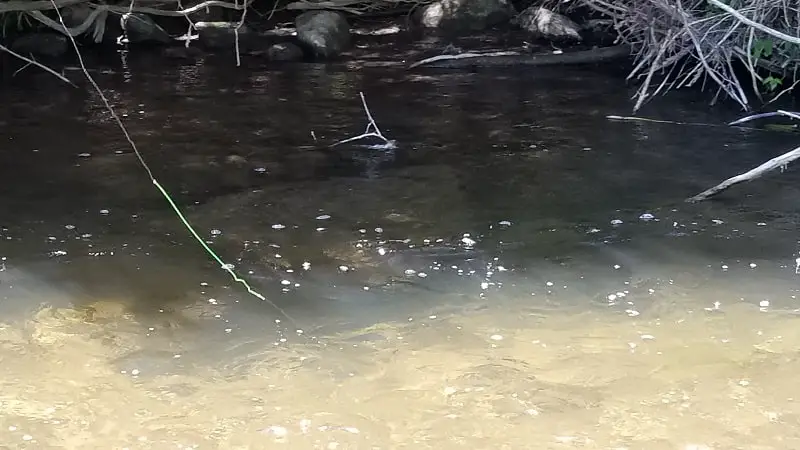 There are two things that make Euro Nymphing steelhead unique to other nymphing methods for steelhead. The weighted flies and the sighter.
The sighter is the brightly colored piece of line in the leader setup that makes all of this possible. The sighter can be one color or 2 or 3 colors and it can be anywhere from 6 inches to a few feet.
Most sighters that guys use are brightly colored to help them see it, however, you can also get sighters that are white and black and the contrasting colors can also help you see it better. There are also sighters that I use that stand out better and trick that I use to make all sighters easier to see.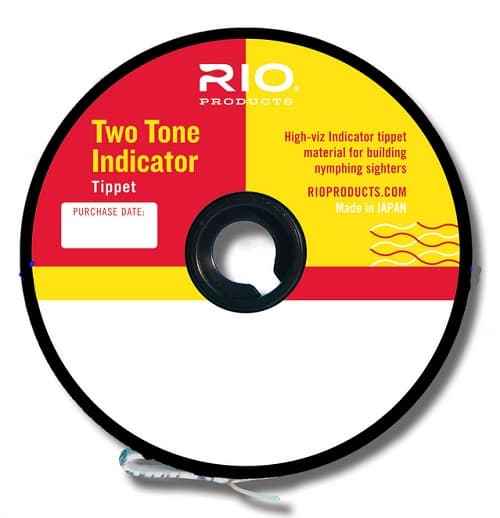 When I Euro Nymph for steelhead my sighter is usually around 14 to 18 inches long but I have been known to use 8 inches and up to 24 inches.
My favorite sighter material for Euro Nymphing for steelhead is the 1X RIO Two-Tone Indicator Tippet in the Pink/Yellow color. It also comes in White/Black.
Another good sighter is the 0X tri-color Orvis Tactical Sighter Tippet which has Chartreuse/Orange/White segments and I like the OX thickness which is more visible than the 1X Rio. See Best Price Now
Sometimes the sigher is hard to see for some people due to poor eyesight or glare on the water. If this happens I have a few guide-tricks up my sleeve to help my clients out. Because after all, the sighter is key to the whole setup and if you can't see it you won't do well.
GUIDE TIP: One of my best tricks to help guys see the sighter better is to apply micro pieces of Loon Bio-Strike Putty to the sighter.
I prefer the orange color and I add two or three small blobs pinched tightly to the bottom part of the sighter.
My blobs of putty are about the size and shape of a cooked grain of rice but making them a little more round can work to and you can increase the size as needed as long as it does not weigh the sighter down and cause problems. These blobs can easily be added or removed.
Fly line backing is thicker so it's much easier to and it's still very supple. The only disadvantage of it is that it can absorb water, which makes it heavy and it might start to sag. To prevent this a bit, I will often lightly coat the sighter with Mucilin Paste or Loon Payette Paste.
I will discuss where in the Euro Nymphing leader the sighter should go and what you need to make my Euro Nymphing leader further in this article.
Do You Need A Euro Nymphing Line
Many companies are now selling fly lines specifically for the euro nymphing purpose which are called Euro Nymphing fly lines. Because of this, many anglers that are new to Euro nymphing will ask me if they need to have a Euro Nymphing fly line for steelhead and the answer is NO.
You do not need a Euro Nymphing line to do Euro Nymphing for steelhead because you can use a special leader that is up to 40 feet long which allows you to Euro Nymph effectively for steelhead.
However, using a specially made Euro Nymphing fly line will make Euro nymphing easier and many anglers prefer it over a regular fly line.
The disadvantage to using a regular fly line when Euro nymphing for steelhead, especially if it's a weight forward fly line, is that it's heavy and if you have too much fly line hanging out of the rod guides it will sag.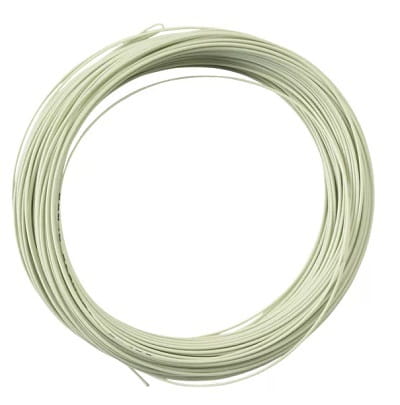 The heavy fly line can also cause sag between your reel and the first feeder guide up the rod and this is a bad thing when you set the hook. You always want tension from the reel to your bottom fly when you Euro Nymph for steelhead, slack anywhere in the line or the leader is a problem.
Euro nymphing lines like the Orvis Hydros Tactical Nymph Fly Line are extra thin, lightweight, and more sensitive, and that can prevent these issues and should be considered when Euro Nymphing steelhead.
A good alternative to getting a full Euro nymphing fly line is the RIO Euro Nymph Shorty Fly Line which is a 20 foot Euro line extension that attaches to any standard fly line and converts it to a Euro line. See Best Price Now
My preferred Euro Nymphing rig for steelhead is to use a Mono-Rig setup using the OPST Pure Skagit Lazar Line instead of mono. I use the 30 pound green Lazar line and I attach it directly to my standard steelhead fly line using a loop-to-loop connection or and nail knot connection.
The OPST line is made for fishing steelhead as a running line for spey lines but it is the best line I have found for Euro Nymphing many other Euro Nymphing guides and anglers are using it to.
Do You Need A Euro Nymphing Rod For Steelhead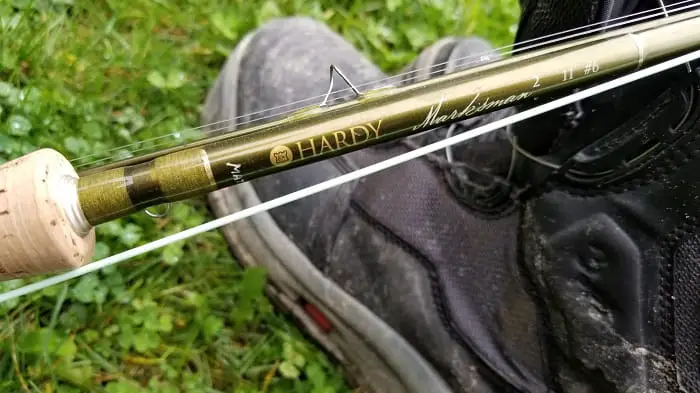 There are many Euro nymphing rods on the market for trout, but there are few on the market that are good for steelhead.
You do not need a Euro Nymphing rod to Euro Nymph for steelhead. A standard 9 foot or 10-foot fly rod will work. However, there are some advantages to a rod that is specifically designed for euro nymphing that will make it easier to fish with.
I tell my clients that if you can find a good 10 to 11-foot single hand fly rod that is a 6 to 8 weight I highly recommend getting it.
The longer Euro nymphing rods allow you to get longer casts, fish longer leaders with better line control, and the long rods also protect light tippets. Another observation I have made from trying Euro nymphing rods from $200 to over $1000 is they are built with a softer more sensitive tip section that allows the angler to cast smaller and lighter flies further.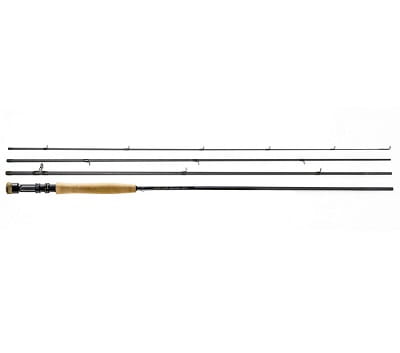 The best Euro Nymphing rod for steelhead is the 10 foot, 7 weight Cortland Competition MKII Fly Rod.
This rod is built for Euro Nymphing and I have used it many times and find it to be a great rod for the price as well as one of few rods that you will find in this length and weight. The balance of the weight and the main power in the butt section is perfect for Euro nymphing for steelhead.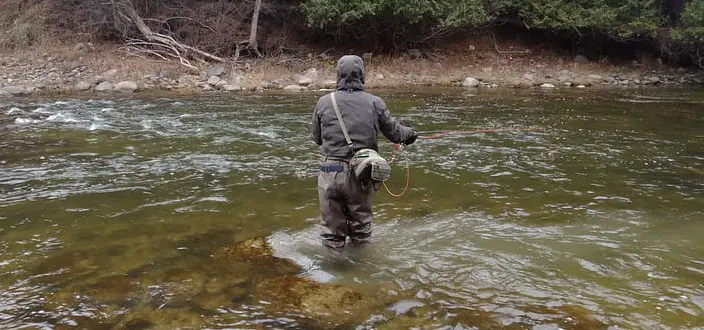 Jeff Blood Premium Steelhead Fly Rod
Another great rod for Euro nymphing steelhead around the great lakes lake region, and a rod that is made by local legend and great lakes fishing guide is the 10'3, 7 weight Jeff Blood Premium Fly Rod which sells for around $599.99 – Check Best Price .
This is a steelhead fly rod that could be used for both euro nymphing and indicator fishing and is one of very few that are actually designed specifically for fly fishing steelhead.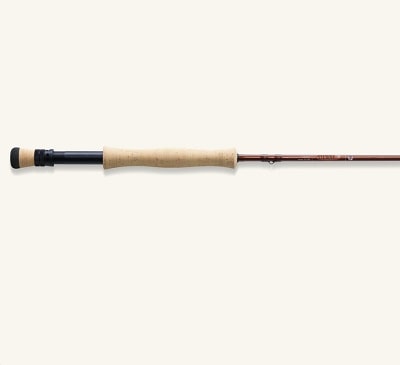 St. Croix Imperial USA Switch Fly Rod
Another rod that I have used for Euro Nymphing is the 11 foot 6 weight and 7 weight St. Croix Imperial USA Switch Fly Rod.
This is a lightweight switch rod and the extra length of the 11 footer is great for long reach and protecting light tippets.
Other good rods that would work for Euro Nymphing steelhead and for indicator nymphing for steelhead are:
Douglas LRS Fly Rod 10 foot 6 or 7 weight – Average Price $189.00 – Check Best Price Now
Temple Fork Outfitters LK Legacy Fly Rod 10 foot 6 or 7 weight- Average Price $289.00 – Check Best Price Now
Orvis Recon Fly Rod 9 10 foot 6 or 7 weight – Average Price 549.99 – Check Best Price
Do You Need A Special Reel To Euro Nymph For Steelhead
All my euro nymphing reels for steelhead and for trout are normal standard reels. you do not need a special fly reel to do euro Nymphing for steelhead, however, I do recommend that you look at my page on the Best Fly Reels For Steelhead so that you get a good enough reel that can handle steelhead.
Weighted Flies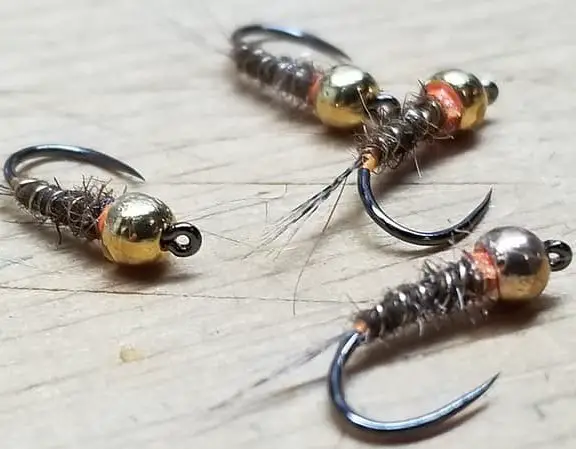 One of the things that makes Euro Nymphing for steelhead so effective is the use of weighted flies.
Weighted flies get your flies down fast and keep the line tight which greatly improves your bite detection. Even the most subtle bite is detected with this method.
To do this well I use weighted flies, however, some of my best flies for steelhead can't be weighted, but that doesn't mean you can't Euro Nymph for steelhead. To see my most effective non-weighted flies for steelhead check out my page on The Best Flies For Steelhead.
I will list some of my best Euro Nymphing flies below.
Do You Need Weighted Flies Or Special Euro Nymphs?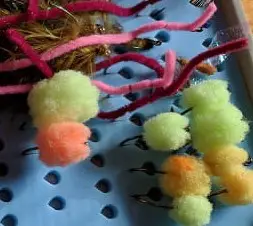 Some anglers shy away from euro nymphing because they have hundreds of non-weighted nymphs that they have tied or collected over the year and because they think that they can't use these non-weighted flies when Euro Nymphing for steelhead.
The truth is that you can use both weighted and unweighted flies when euro nymphing as long as you know my leader setups for both. I can even use 2 non-weighted flies or I often use a combination of weighted and non-weighted flies on the same line with great success.
So the answer is no, you do not need weighted flies or special nymphs to euro nymph for steelhead if you know how to properly set up your flies and your leader.
I will discuss the leaders and my most effective flies below.
Euro Nymphing Leader Formula For Steelhead
To make my 16 to 24 foot Euro Nymphing steelhead leader you will need a few things. Once you know what you need I will show you how to build my leader.
40 inches of 20 pound Maxima Chameleon Monofilament Leader – Check Best Price Now
40 inches of 16 pound Maxima Chameleon Monofilament Leader
3 to 8 feet inches of 12 pound Maxima Chameleon Monofilament Leader
(Optional instead of the 20lb and 16 pound section)7 to 9 foot 0X tapered Leader – Check Best Price Now
12 to 36 inches long – Sighter – see below
3 to 7 feet long – extra strong fluorocarbon tippet in sizes 1x, 2x and 3x. Check Best Price Now
Tippet Ring – Check Best Price Now
Weights – Check Best Price Now
See the diagram below to put this all together.
Pre-Made Euro Leaders For Steelhead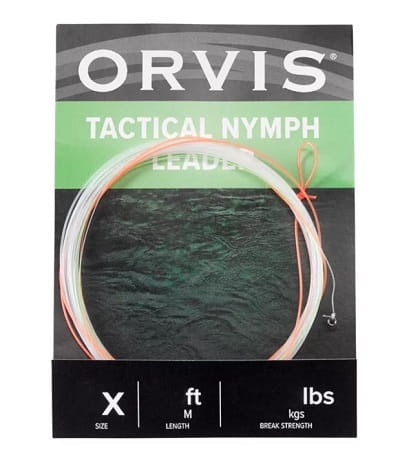 For anglers that don't want the hassle of going out and buying all this stuff to make their own nymphing leader, I have used the 2X, 13 foot, Orvis Tactical Nymph Leader and it is not as good but it will do the job.
I have also used this for Euro nymphing for trout. You will still need a 2X or 3Xtippet for the bottom part of the leader.
The entire leader with the added 2X section of tippet is about 19 feet but the length will change based on the depth of the river that you want to fish.
Best Tippet For Euro Nymphing Steelhead
The best tippet size for Euro Nymphing steelhead in most great lakes rivers is 3X but it will need to be an extra-strong high-quality tippet like the RIO Fluoroflex Strong Tippet.
Before you run out and get a heavy think line because you think the steelhead are big and that is what is required, remember that you will be using a 10 or 11 foot rod that helps protect your lighter tippets, and lighter tippets have some benefits and will help you catch more fish. I have landed thousands of great lakes steelhead on 3X tippet and Hundreds even on 4X tippet.
The 3 benefits to a lighter tippet and why I use light tippets are:
#1. A lighter tippet will not get pushed by the surface current and which will allow you to get a slower and more controlled drift.
#2. A Lighter tippet will allow your flies to sink faster and get into the strike zone quicker.
#3. A lighter tippet won't be seen as easily by the steelhead and that will mean more fish will bite your flies.
I will use 4X in gin-clear water when steelhead are nervous and I have the room to walk a fish up or down the river and play them longer.
I use 3X tippet the most and I use it in clear water. I use 2X in bigger rivers or in semi-clear or water that is stained.
I will rarely use 1X tippet but if I do it would be in large fast-flowing rivers like the Niagara River or the bigger west coast rivers, or in heavily wooded spots.
If I was going to buy a tippet today I would buy RIO Fluoroflex Strong Tippet – Check Best Price Now.
Or if you are a guy like me that goes through a lot of tippets or you want to buy in bulk to cut costs I would buy 6lb Sunline FC Super Sniper Fluorocarbon which is equivalent to a 3X tippet. Check Best Price Now
My Great Lakes Euro Nymphing Steelhead Leader Setup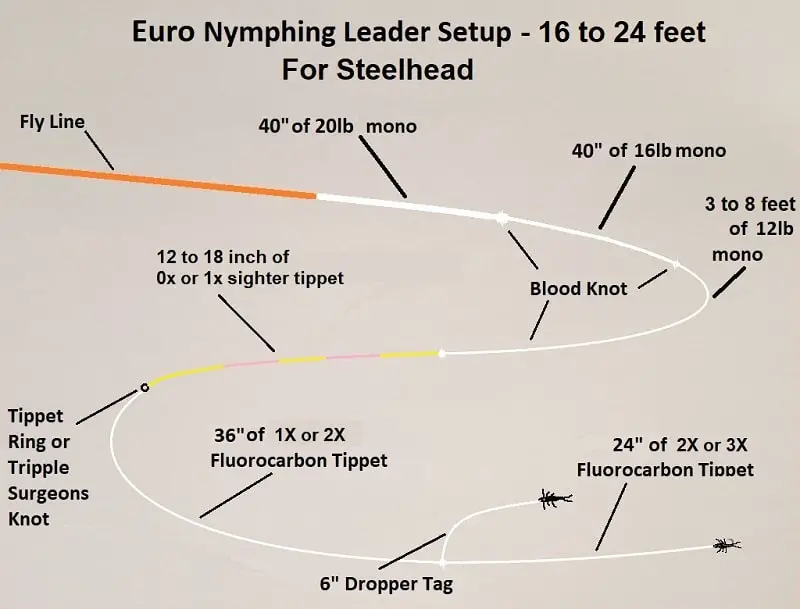 The leader that I use when Euro Nymphing steelhead is similar to what I use when Euro Nymphing for trout. All I do is up-size everything and I use different flies that work well for steelhead.
I also tend to use longer casts so very little or no fly line is used for best results.
The middle section of the leader can be lengthen to go from a beginner length of 14 to 16 feet to a more advanced length of 30 to 40 feet. My go-to length for a Euro Nymphing leader for steelhead is 18 feet long
Euro Nymphing Leader For Non-Weighted Flies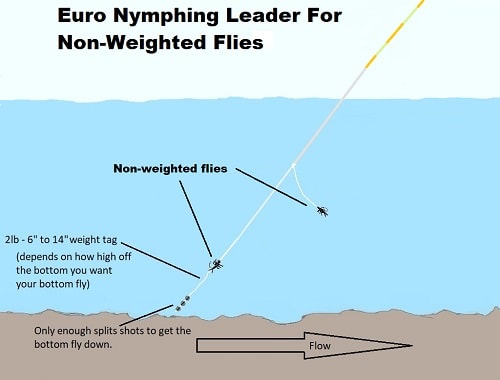 Some of my best steelhead flies like egg patterns and worms are not weighted and I know that many anglers don't have weighted flies, so some minor leader adjustments are required to get and to keep the non-weighted flies down and the leader tight throughout the drift.
The key to Euro nymphing is to have the weight at the bottom so you always have controlled tension from the bottom of your leader to your rod tip.
This is why when I euro nymph with non-weighted flies and why I do not add weights like split shots to the upper parts of the leader, or anywhere between my flies or above my flies. Adding weight anywhere in the line could mean slack in the line below the weights and that can result in poor strike detection and missed steelhead.
Therefore, as seen in the diagram above, I always put my weight on a separate tag at the bottom of my leader and below the bottom fly.
The amount of split shots I use will depend on the velocity and the depth of the spot that I am fishing.
Euro Nymphing Flies For Steelhead
Part of what makes euro nymphing for steelhead so unique and so effective is the use of weighted flies which allows for a semi-tight line which then aids in great strike detection. The weighted flies also allow you to get your flies into the strike zone quickly and then keep them there.
Some of my best steelhead flies can't be weighted and therefore I will make minor adjustments on my leader or on my choice of flies and where I place those flies on the line.
Best Euro Nymphs For Steelhead

Most of my Euro Nymph flies are custom tied by me. I did some research for you guys and found patterns that are similar or the exactly the same as these ones that I use and that work well for me.
I prefer to use flies in size 10 or 12 for steelhead, however depending on conditions size 8 or 14 can be good.
The Best Euro Nymphs For Steelhead Are:
NOTE: I tie my own flies on high-quality hooks that I know will not break or bend, but the hooks from mass produced fly companies are often not high quality so when buying flies you do so at your own risk, especially if you buy cheap flies. Often, discount flies are only good for your wallet or little trout.
Also, the patterns I recommend are either exactly what I use or as close to my exact patterns as I could find that are available for you to purchase. The flies do not need to be an exact match to the ones that I use as long as they are very close and you fish them well.
For quality hooks and some fantastic custom flies that myself and my clients have used, check out The Fly Feind.
Euro Nymphing Styles And History – Better Methods
The methods of Euro Nymphing on this page are proven to work on great lakes steelhead but they are my version of Euro Nymphing.
Euro nymphing can mean different things to different people because there are many styles and variations of Euro nymphing. You may have heard of Czech Nymphing which is just another style of Euro nymphing and it can be very effective at times.
I will change Euro Nymphing styles for different types of water and doing so allows me to adapt or adjust to a method that can work better based on the spot, and that and helps me catch more fish. But you can't adapt if you don't know what to change too.
To get a better understanding of all the different styles of Euro nymphing see my page on Euro Nymphing
How To Euro Nymph – How You Actually Do It
There are many so called Euro Nymphing experts but few actually are. I have been lucky enough learn from multiple competition fly anglers and even world champion fly anglers so it's easy for me to spot the fakes and the real experts.
Since it's pretty hard to explain the cast, the drift and just how to Euro nymph, I know it's sometimes better to watch it done, but watch it from the right guys. I hope to have a video out soon but in the meantime these are two great option to see experts at Euro Nymphing.
The closest method to what I use can be seen in the video called Modern Nymphing which is the best video I have seen on this method.
I have spent days on the water training with Euro Nymphing Guru George Daniel and I can honestly say that he is one of the best anglers I have trained with. George has a free YouTube video that explains and shows you how to euro nymph properly. His methods are also similar to the methods that I use for steelhead. Watch George Euro Nymphing Here and enjoy watching a master in action.
If Euro Nymphing for steelhead in not for you, make sure you check my page on Nymphing For Steelhead to see other great methods for catching steelhead.
Got A Question Or Comment About Euro Nymphing For Steelhead
If you have a question, comment, or tip about Euro nymphing for steelhead let me know in the comments section below.
Tight Lines
Graham
Cool River Fishing Accessories
Simms Taco Bag
It's a wet wader bag for storing your waders after a day on the water and it's a mat to stand on to keep your feet dry when getting your waders on and off.
Duffel Bags and Stream Packs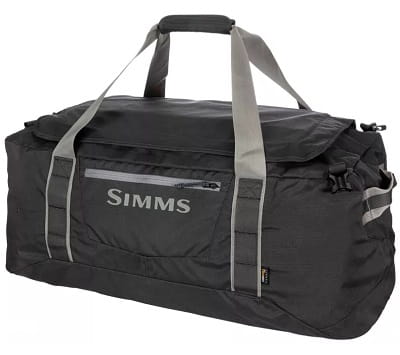 Having a dedicated bag to pack and carry your waders, vests, boots, jackets, and more is a good idea. Waterproof and mesh bags are available.
Waterworks Release Tool
Protects your flies from damage caused by forceps, This tool gets all hooks out easily. Even deep hooks come out with this tool.
Clip-on Magnifiers
When I flip these down to tie knots a lot of guys say " I need to get some of those". These are great for anyone that ties knots. Make sure they are lined up properly for the best view.