Best Fly Fishing Packs And River Fishing Packs Of 2023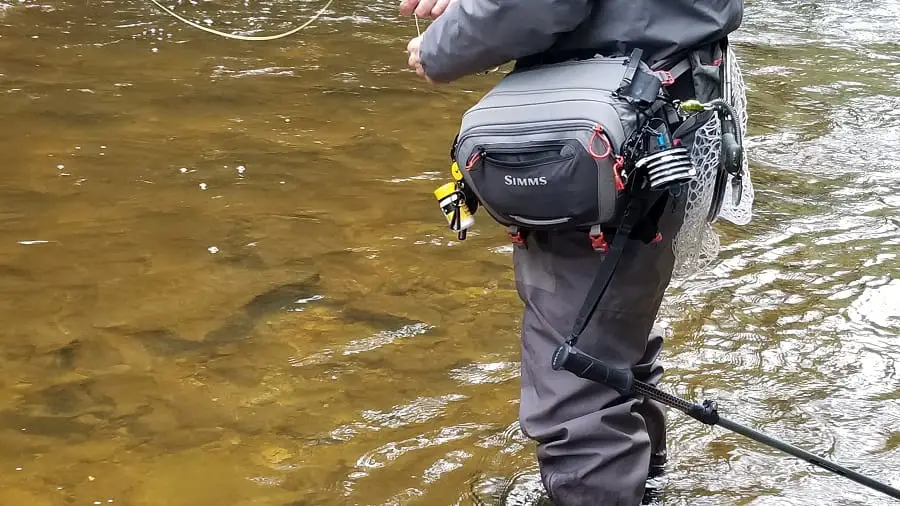 As a guide, I wear fly fishing packs almost every day and many of the guides that work with me and many of my clients do too. Out of 22 river fishing packs that I found online, these are proven packs and my best picks for every river angler.
Fly fishing packs are not just for fly anglers because they are great for all river anglers. Fishing packs are a great way to organize all your gear, keep it safe, and have it with you while you're fishing. The 3 types of fishing packs are hip packs, chest packs, and sling packs.
While many websites review or recommend fly fishing packs, few of them have actually used them or seen them in action on the river. I and my guides go over the best fishing packs and show you why some are better than others.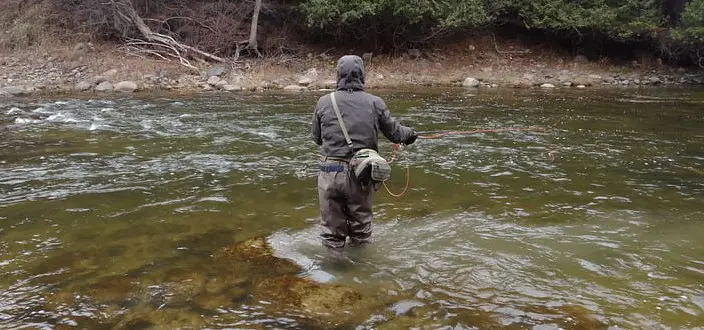 This page contains affiliate links. If you buy something through one of these links we may make a small commission which is at no cost to you. Commissions allow us to continue to bring you great content. Thank you for your support. Affiliate Policy
Fly Fishing Packs Or Vests
Anglers also have the option to use a fishing vest instead of a pack and there are pros and cons to both. Vests deserve your gear evenly over your entire body with very large pockets in the back for stuff like lunch, or rain gear.
However vests also put all the weight on your shoulders and for guys like me, I find vests harder on my back and shoulders. The vest can also be too warm to wear in the hot summer months, but packs don't cover as much skin and are therefore cooler to wear.
Personally, I like how the pockets are all spread out on the vest with some pockets inside, and some outside, however, you just need to remember where everything is, or you might find yourself searching for things.
On the other hand, everything on the pack is all in one place and the ease of use and the ability to take the pressure off the back and shoulders is great. For this reason, I wear packs 90% of the time and I know many river guides prefer packs over vests.
If you think a vest might work better for you or you want to compare packs to vests a little more then go check out my page on the Best Fishing Vests.
And once you determine if you need a pack or vest make sure you check my list of all the things that every good river angler should have in their vest or pack on my page River Fishing Gear: Everything You Need To Succeed In 2021.
Our Top Picks For Fly Fishing Packs
Fishpond Thunderhead Pack – Best Waterproof Fishing Pack
Fishpond Waterdance PRO Guide Pack – Best Pro Pack
Orvis Guide Pack – Best From Orvis
Simms Dry Creek Hip Pack – Best For The Average Angler
See the details and more fly fishing pack options which include lumbar packs, chest packs, and sling packs, all below.
The 3 Types Of Fishing Packs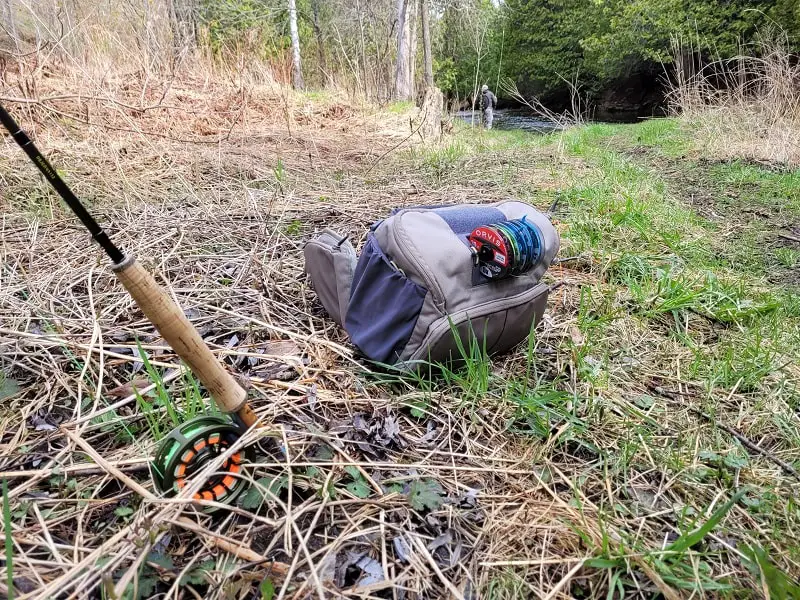 There are 3 types of fly fishing packs that anglers will use and these are the best of the best packs for each type. Some anglers have different needs and some anglers will find one pack better than the others. Here is what you need to know.
The three most common types of fishing packs that anglers use for river fishing are hip or lumbar packs, chest packs, and sling packs. All have their pros and cons and depending on your needs or body type, some will be better suited to you.
Another type of fly fishing pack to consider is a waterproof fishing pack.
Best WaterProof Fishing Packs
Waterproof fly fishing packs are a great idea for anglers that want to be sure that their gear stays dry when wading deep or if caught out in heavy rains.
The downside to most waterproof fishing packs is the waterproof zippers can be tough to open and close, especially with one hand which is often the case when one hand is holding a rod.
However, I think waterproof fishing packs are a great idea and are definitely worth considering.
#1 Waterproof Pack – Fishpond Thunderhead Pack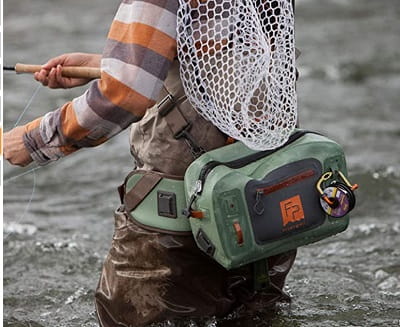 If you are looking for a waterproof waist/hip pack then the Fishpond Thunderhead pack is the best you can buy.
A big fly fishing pack with plenty of storage room. It can be completely submerged and your gear inside will stay dry.
Waterproof fishing packs are almost always more expensive but the materials they use aren't cheap. The cheaper waterproof versions that I know aren't always waterproof and will often leak, and when they do, they hold the water in for longer or forever, until you notice it and dump it out.
The other reason I won't recommend the cheaper waterproof fishing packs is that they often come with zippers that break or with poor quality stitching that will come apart quicker which makes the pack no longer waterproof.
#2 Simms Dry Creek Hip Pack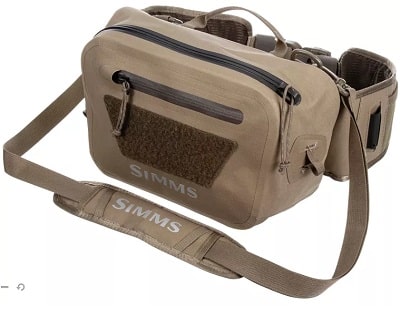 Anglers looking for waterproof fishing packs should also consider the Simms Dry Creek Hip Pack which is a good pack that holds a lot of gear and is made by a well know and trustworthy company.
Best Lumbar / Hip Packs – Non-Waterproof
Waist packs are also known as hip packs and lumbar packs. I personally like this style of fly fishing packs the most, however, there are pros and cons to them which I will discuss below.
I also see a lot of anglers wearing this type of pack which shows that it is one of the most popular styles of fly fishing pack.
The #1 best fishing pack that I have seen and used is:
#3 Orvis Guide Pack
The Orvis Guide Hip Pack is the lumber fly fishing pack that I am currently using. After reviewing many packs this one suited most of my needs.
It has lots of storage pockets and is durable enough to last.
100% recycled ECO CORDURA which provides lightness and weatherproofing, and it comes with an interchangeable neck strap and shoulder strap.
On the top is a tippet Whippet recessed docking station.
The pack has 9 liters of capacity
One large main body storage pocket with fly patch and added internal pockets
There is a smaller front zippered pocket with internal features
There are built-in pockets on the belt section with a net scabbard.
#4 FishPond Waterdance Guide Pack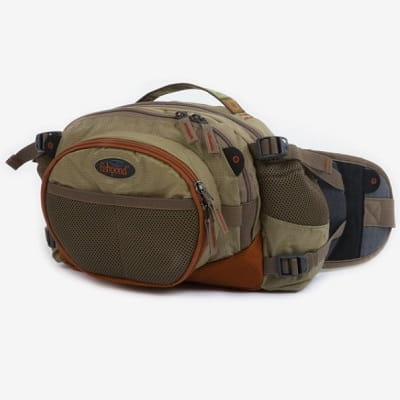 The Waterdance Guide Pack is the best lumber fly fishing pack for many reasons which include a great design, tons of storage pockets, and is durable enough to last.
Many of my clients and friends use this pack.
Key Features Of The Orvis Guide Pack:
The Cyclepond lightweight pack has multiple inner pockets within the two large compartment pockets.
There are multiple gear pockets on the outside and on the belt, and there are 2 side mesh water bottle pockets.
This pack has a breathable padded air mesh backing and an adjustable compression strap system.
There is a zip-down fly bench with replaceable foam, ad webbing and cord loops for tools and accessories.
My take on this fly fishing pack is that it is a good size pack for most average river anglers and is a great choice for anyone that needs a fly fishing pack.
#5 FishPond Waterdance PRO Guide Pack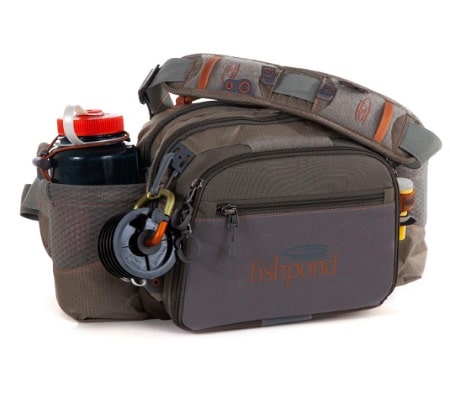 The PRO version oif the Waterdance Guide Pack is even better with more options for anglers and guides that have more boxes and gear to put in a pack. For this reason, this is a great larger pack.
Key Features Or The Waterdance Pro
A compression strap system that is adjustable and that enables you to use the pack as a hip pack or a chest pack.
Two mesh water bottle holders (Bottles not included)
Two large-sized main compartments for fly boxes or other large items combined with multiple inner pockets.
A cool zip-down fly bench with replaceable foam
Hypalon tool attachments for retractors, floatant holders, forceps, and more
420D nylon Cyclepond fabric with velcro patch, a padded backing and lumbar support, and a built-in net sleeve.
For the past few months, I've been testing out the Elkhorn Lumbar Pack by Fishpond.
As an avid fisherman and fishing guide that is constantly putting gear to its limits, I've found the elkhorn lumbar pack to be a great pack for most river anglers. on my many fishing adventures.
Despite weighing just 1.7 lbs, this lightweight pack is a powerhouse with a spacious 5-liter interior storage capacity.
The Elkhorn is a thoughtfully designed waist pack, it doesn't compromise on functionality. The minimalist attachment pad on the shoulder strap is a convenient addition for carrying tools, while the additional adjustable straps below the pack are ideal for securing an extra jacket or fishing rod.
What I really appreciate is the water-resistant inner compartment. It's perfect for safely storing essentials and has an easily accessible exterior pocket for items needed on the fly. And let's not forget the strategically placed Hypalon attachment points – these have come in handy for securing my tippet holders, retractors, floatant, and more.
The adjustable straps on the belt and shoulder strap are customizable, which has allowed me to tailor the fit according to my needs. The padded back is another feature that enhances the comfort, making it ideal for those long fishing trips. The integrated net slot is a godsend, making it easy to pull out and store my landing net swiftly.
Constructed from robust recycled Cyclepond Fabric, the Elkhorn has withstood all my fishing expeditions in the past year and still looks as good as new.
Here are some of its key features that I've grown to love:
210D Cyclepond recycled fabrics construction
Back air mesh panel that helps distribute heavy loads while keeping me cool
Secure zippered main compartment for my fly box
Additional front zippered compartment for easy access to essentials
Hypalon tool attachments for various fishing tools
Compression Straps for balanced load distribution and additional storage
Two exterior water bottle pockets for hydration on the go
A year into owning the Elkhorn Lumbar Pack and the specifications still impress me:
Capacity: 5-liter
Dimensions: 11 x 8.5 x 4.5 in.
Weight: 1.7 lbs.
(Note: It has a Velcro patch, but the Tacky Fly Dock is not included)
Imported and robust, it's been a year of adventures with my Elkhorn Lumbar Pack, and I'm looking forward to many more.
Pros And Cons Of Lumbar Packs
There are advantages to lumber/waist fishing packs like this.
I personally wear a waist pack most of the time and I do it because I found that it's the only pack that doesn't make my shoulders ache at the end of a long day on the water.
The problem with a fishing vest, as well as chest packs, and shoulder sling packs is that they all put pressure on my shoulders and on my back. I'm often on the river for 280 days a year which means 7 days a week for sometimes 40 days straight and over time all that weight causes back and shoulder issues.
That is why I find that the waist or lumber pack acts almost like a lumbar support belt. Even with a ton of stuff in it, it still doesn't hurt my shoulders or back after a long day on the water or multiple days straight. For that reason, I recommend lumbar fishing packs for guys with bad backs or shoulder issues.
I also like that the Lumber and Hip packs are easy to shift the pack around to your side or to your lower back area to get it out of the way when you are not using it.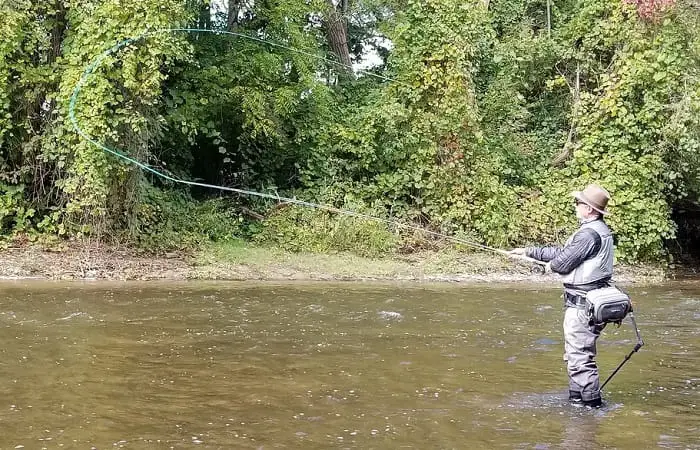 The disadvantage to a waist pack is that you can easily submerge it when wading deep or crossing in water that is over your waist. This can result in a pack full of water, or even boxes of flies and other gear soaked and maybe even ruined.
Caution: Anglers with a large gut may find it hard to see over their gut and into their waist pack and for this reason waist/lumber fishing packs may not be good for you. With that being said, chest packs might get pushed up or not site right from a large gut which may impede your downward view. A sling pack is probably best for guys with a large midsection.
There are Waterproof or submersible waist packs which are a great option if you really want to keep your gear dry.
There are some Chest/Lumber packs that can be worn high on the chest or low on the waist/ This is due to the neck strap. Personally, I take the neck strap off and only wear mine as a lumbar fishing pack.
3 More Of The Best Hip Packs
Simms Tributary Hip Pack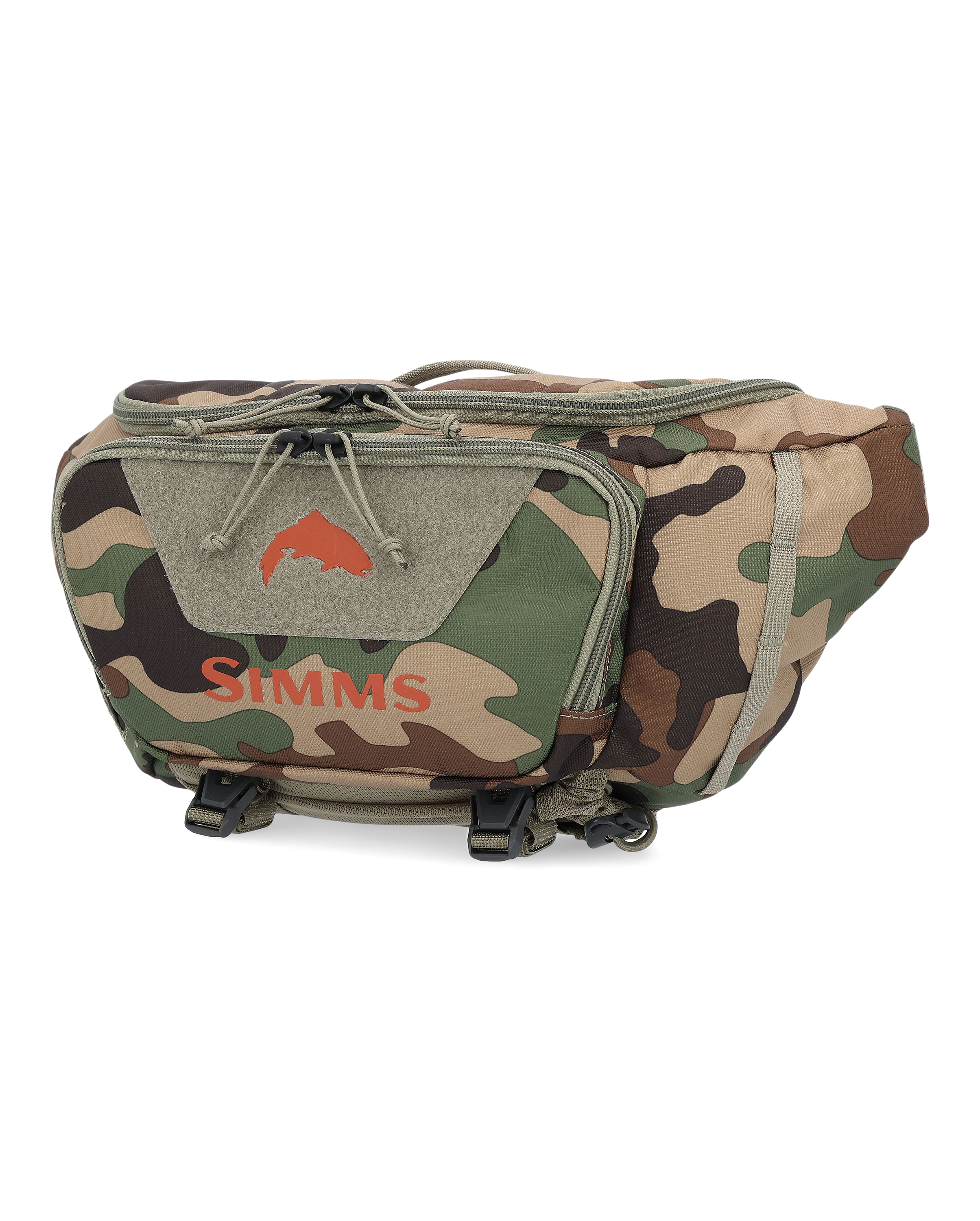 This is the newest pack that I've been testing for the last 4 months and I like it so far. It's a medium-sized pack that would be great for most average anglers. I'm on the water sometimes 7 days a week and put my gear through a lot of abuse and this one is holding up. The interior layout, look, and feel of this pack and the fact it comes from SIMMS is more than enough reason to recommend it.
Fishpond Switchback Pro Wading System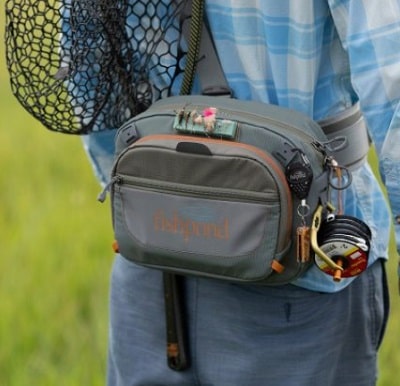 A great pack with lots of pockets, and spots to hold your gear. With the built-in net holder on the belt, and fly foam, pockets, and attachments everywhere including right on the adjustable shoulder strap, there is plenty of spots to put all your gear and to keep it organized.
What makes it different is that it's made to add other attachments like the Thunderhead Submersible Pouch, Quickshot rod holder, and a whole host of other add-ons
Fishpond Blue River Chest/Lumbar Pack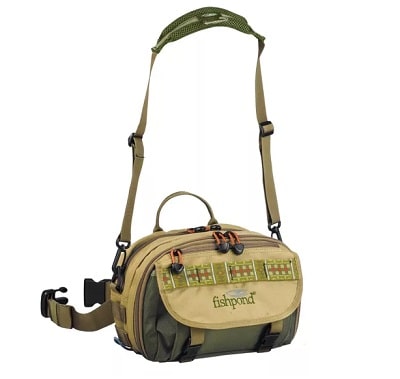 Best Economy Pack
Most economy packs are crap. They fall apart faster and have bad zippers the break-off.
However, The Fishpond Blue River Chest/Lumbar Pack is made better and is made by a great company that stands behind its products. I've also seen this one being used by many of my clients and the feedback is good.
Best Economy Hip Packs
I don't like recommending low-quality China-made products for many reasons. What's the saying "buy cheap and buy twice"?
However, I know that there are people that want or need low-priced items and that is fine with me. So these are the best economy packs that you can get on Amazon.
Remember, you get what you pay for.
Best Chest Packs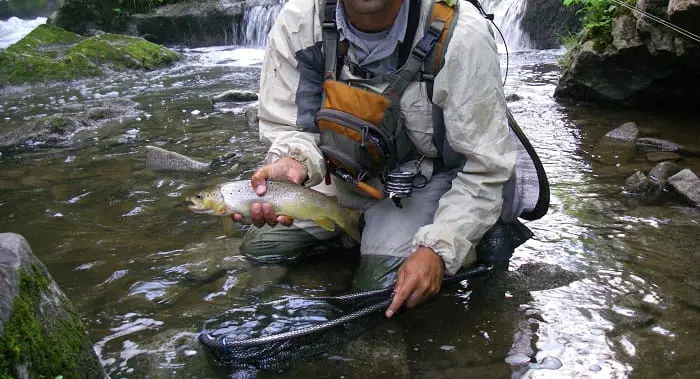 Chest packs are another option for fly fishing packs. Chest packs sit high up on your chest and they have a strap that goes around your chest and a neck strap to keep it up.
The advantage of the chest packs is that they stay high and are not likely going to be submerged should you wade in too deep.
The disadvantages which are based on my personal experience with trying 5 or 6 packs and from what others tell me is that:
They sit so high up that you really need to bend your neck to see inside of them and this can be uncomfortable for some people and it can make finding stuff inside the pack more difficult.
Because they sit so high and often extend so far out with all your gear packed in them that it can also impede your vision straight down towards your feet which can be a problem when walking on trails, banks, and in the river. I found it harder to maneuver around rocks, logs, and uneven ground because I had difficulty seeing what was at my feet. I found that I tripped more frequently which is unusual for me since I'm very sturdy on my feet.
Anglers with a large protruding gut can find that their gut pushes the pack out even further.
They cant be easily shifted around the to your back and out of the way
For these reasons if you are going to get a chest pack I recommend thin ones that don't stick out too far. Unfortunately, these thin packs won't hold as much gear as a hip pack or a sling pack.
#1 Chest Pack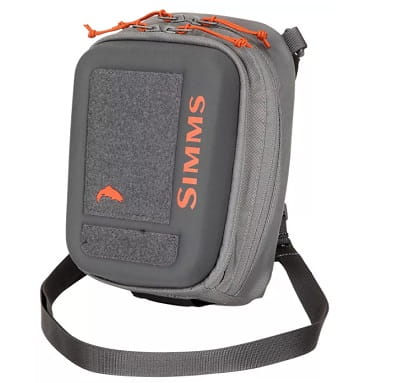 The Simms Freestone Chest Pack is the best chest pack on the market.
It's water repellent, has 3 mesh pockets, a floatant holster, a tippet caddy, and a fly drying patch.
Fishpond company has been making great packs for over 10 years and I really love what they do.
Fishpond often uses recycled materials and is a more environmentally friendly company compared to some of the cheaper China crap brands. Fishpond has so many details designed right into their packs and they are made to last.
When it came down to choosing the #1 pack it was actually a tie because the Fishpond packs had other great features you just can't beat. The net holder feature on the back of their packs is part of why I would highly recommend these fishpond packs below. Some other great chest packs to consider are:
Best Waterproof Chest Pack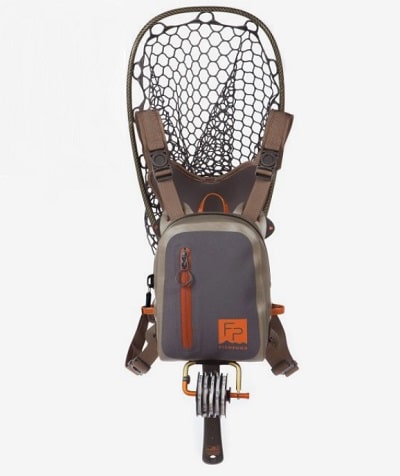 The Fishpond Thunderhead Chest Pack is waterproof and fully submersible with a 5 liter storage capacity. Comes with attachment loops, a front pocket, two interior pockets, and a net holster on the back.
Fishpond Cross Current Chest Pack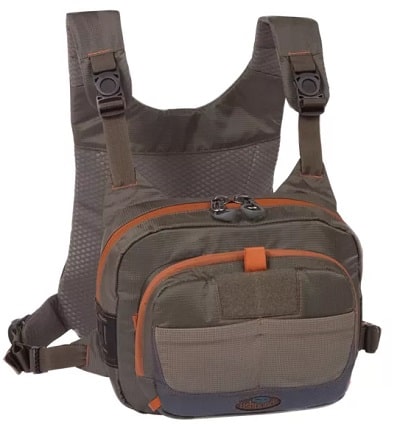 The Fishpond Cross Current Chest Pack rides high has ample pockets, a magnetic closure on the front pocket. There's room for small and large fly boxes in this pack. It also comes with a great net slot in the back. Not to mention it's well-built and durable.
Fishpond Canyon Creek Chest Pack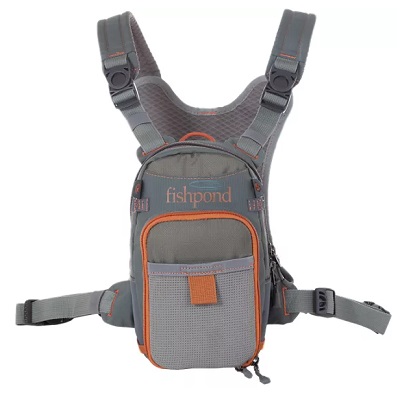 The Fishpond Canyon Creek Chest Pack is a low-profile, vertical design with a drop-down fly bench and 7 tool-attachment points. It has a built-in net slot and fits up to 4 fly boxes and a quick-access exterior pocket. It's well built and durable.
Best Sling Packs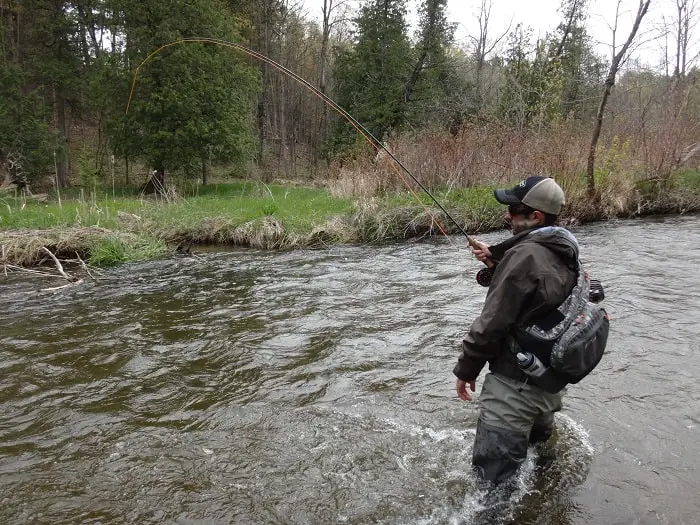 Sling packs are more popular than chest packs and they are a good choice for many anglers including bigger guys.
With the sling pack, you can easily move it behind you to get it out of the way and they can hold a lot of gear. They can also be moved higher on the shoulder when wading in deeper water.
The disadvantages are few and the primary disadvantage is having all the weight on the one side which can cause shoulder fatigue or shoulder, neck, and back pain.
#1 Best Sling Pack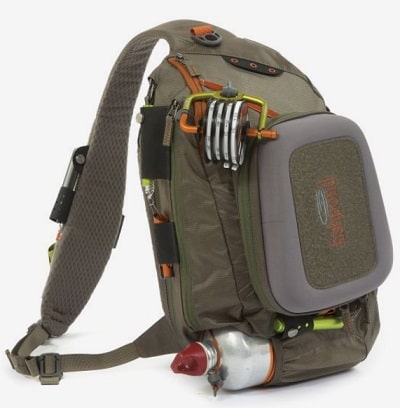 The Fishpond Summit Sling Pack is the most comfortable, durable, and design-rich sling pack is available.
Comes with a molded drop-down fly/cargo bench, tool attachments, water-resistant zippers, a net sleeve, inside and outside pockets, and a water bottle holder.
Simms Freestone Sling Pack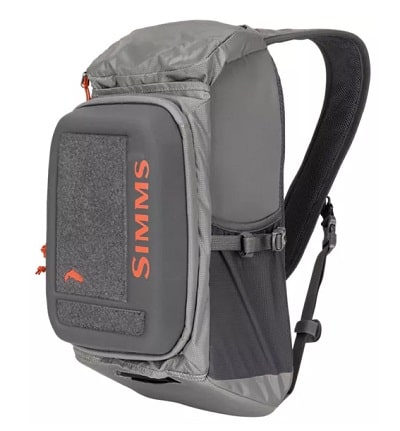 The Simms Freestone Sling Pack is water-repellent on the face, a compression-molded main compartment with a 2-way zipper. A zippered stash pocket with a key clip, a stash pocket, a D-ring for your net, and an ergonomic shoulder strap with a tool attachment and adjustable sternum strap for comfort.
Orvis Guide Sling Pack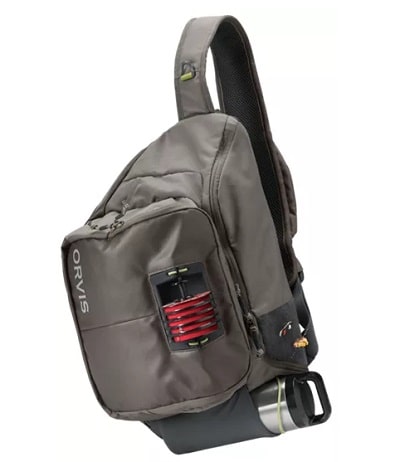 The Orvis Guide Sling Pack is huge at 18L of capacity. This is for guys with tons of stuff. Has a Tippet docking station for 6 spools, net storage between the pack and your body, a roomy main compartment boasts a zippered interior pocket, and stretch mesh pockets, a water-bottle holder, a shoulder strap with pocket and spots for concealed forceps stash, zinger docking station, fly patch, and rear D-ring. An adjustable sternum strap ensures all-day comfort
Best Economy Pack – Allen Sling Pack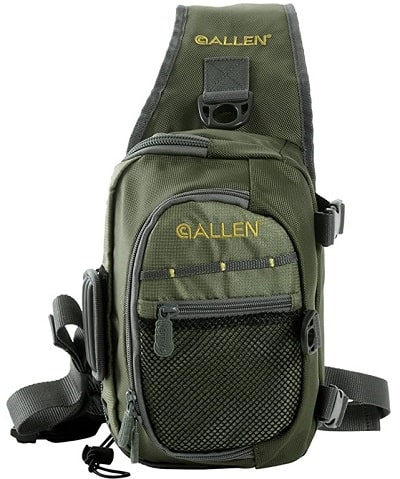 The Allen Sling Pack comes with a shoulder strap organizer, a wide-mouth opening to the main compartment, a zip-down workstation, a tippet tender and fly patch, a padded sling strap, multiple D-rings for accessories, heavy-duty zippers, and a water bottle pocket.
There you have it, all the best packs to consider when you need to buy your next fly fishing pack.
Best Fly Fishing Packs Q&A
Every year I will be looking at, testing, and then reviewing the newest fly fishing packs and vests so check back for updates.
If you have any questions, comments, or advice on the best fly fishing packs let me and other readers know in the comments section below.
Tight Lines,
Graham