Spring Steelhead Fishing Michigan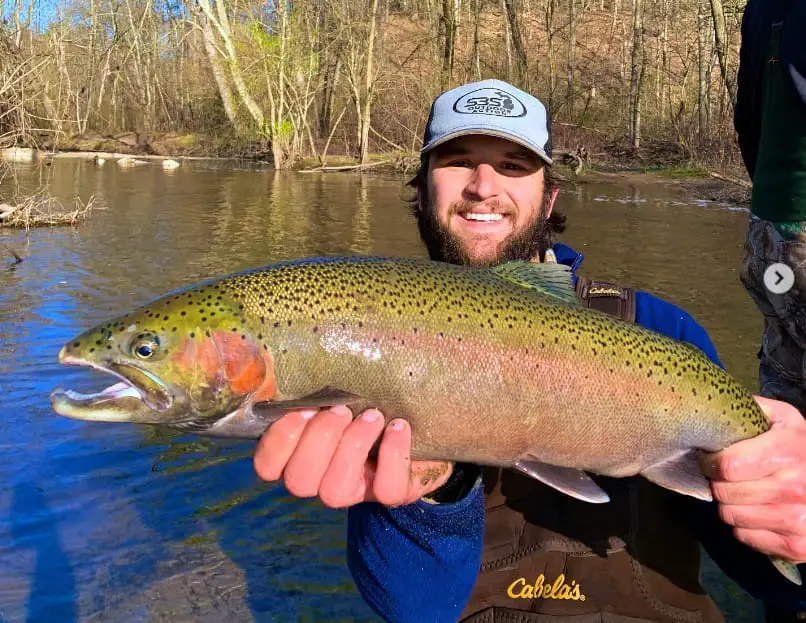 To ensure that you are getting the most in-depth and accurate information available on spring steelhead fishing Michigan, this article is a collaboration of knowledge and advice from three steelhead fishing guides.
Spring steelhead fishing in Michigan can be fantastic with lots of good opportunities on just about all the rivers flowing into the 3 great lakes that surround Michigan. Spring is spawning time and is when the most steelhead are in the river and this provides the best steelhead fishing of the year.
We will share with you our guide tips and tactics and some unique information on spring steelhead fishing in Michigan that has never been shared online before. Don't miss out on this because this info will surely help you catch more steelhead, so read on!
The Steelhead Runs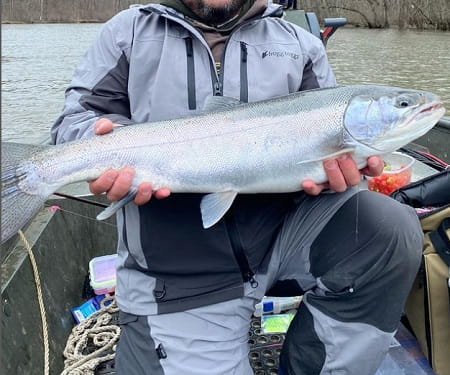 During fall, winter, and early spring, a large number of steelhead migrate from Lake Michigan, Lake Huron, and Lake Superior up and into different tributaries to spawn.
Although many steelies will run in late fall and then hold all winter in deep holes or below dams, most will still spawn in spring, and some will stay in the river until late May.
This means steelhead are in many rivers for about 8 months of the year allowing anglers to experience a beautiful steelhead fishing experience through 3 seasons.
Some Michigan rivers like the St Joseph river will also have a summer run steelhead known as a Skamania Steelhead and that river can have steelhead in it twelve months of the year. For more on summer steelhead and Skamania steelhead, check out, Summer Steelhead Fishing In Michigan and Skamania Steelhead Fishing.
Spring steelhead fishing in Michigan is unique in that there are two primary runs to consider. The first runs consist of summer, fall, and winter steelhead that will hold in the river throughout the winter and not spawn until the spring.
These fish will be big darker colored fish.
The second run are steelhead which will start their runs in late winter and early spring (February and March). These fresh-run spring steelhead can be bright silver or lightly colored.
As the water temperature starts to warm from the winter, the holdover steelhead that run the rivers in the fall will start migrating to spawning grounds and often at the same time fresh run spring steelhead will start entering the river.
Many rivers will freeze solid over the winter months so the spring steelhead fishing in Michigan usually starts in late February which is when the ice breaks up, water temperatures warm and snowmelt and rains raise water levels make them active. For more on catching winter steelhead check out Winter Steelhead Fishing In Michigan.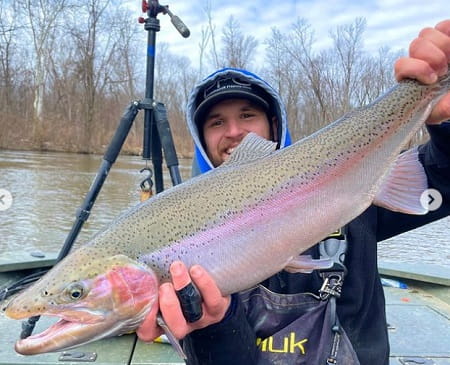 Late February is when most anglers start getting the itch to get out on the river, provided the weather is decent.
Peak times are from early March and April, which is their spawning season, until early May, when most steelhead have dropped back into the lakes.
Water temperature best determines where to kick off the spring fishing in Michigan as it affects the migration of the steelhead. Smaller rivers like the Pere Marquette River in Baldwin, the Rogue River in Rockford, and the White River in Hesperia tend to warm faster and can be good early-season hot spots.
Sunny days in February will activate fish and cause snow melt and increase currents so sunny days and late morning and mid-day fishing can be best.
Southern rivers like the Grand River around Grand Rapids, the Kalamazoo River, and the St Joseph River near South Bend will also become ice-free and provide excellent fishing before the rivers in Michigan's upper peninsula start fishing well. For a good guide in this area contact John and Get Bent Guide Service.
Western Michigan has some bigger rivers and these larger rivers, like the Big Manistee River, and the Muskegon River in Newaygo will warm up a bit later compared to the smaller ones.
The warmth of the smaller rivers makes them good fishing grounds from February to March, while the bigger river can still be good in April and May. For a good guide service in this area contact Alex at Fire Plug Charters.
Michigan's lower peninsula can also have decent spring run steelhead fishing starting in early March.
East Coast Michigan rivers like the Au Sable River can also be very good options in early spring.
Spring Steelhead Fishing Michigan: Stages of Steelhead Runs
I look at spring fishing as having three-run stages for steelhead. This is something the average angler doesn't consider and it can greatly affect how many fish they catch. If you are not aware of this and don't adjust your tactics you too will likely catch fewer steelhead.
Stage 1: The Early Run
Both the steelhead that were holding in the river over the winter in deeper pools and the fresh run steelhead just coming in from the lake will both start migrating around the same time based on water temps and water levels, and this is the beginning of the spring steelhead migration.
In past years, fishing reports indicate this migration starts in most areas in late February and early March.
During this time, steelheads rapidly run upstream in the higher water caused by the ice, snow melt, and rains. Their goal is to get up to the spawning grounds as fast as possible while the water levels are still optimal or still high.
This early run stage is an excellent time to catch steelheads because they are active and feeding as they move up the river. Anglers will find these fish just about everywhere in the river from pocket water to deep pools and these fish will fight hard.
Stage 2: The Spawning Stage
There's only one reason why steelhead would go upstream and that is to spawn.
Steelheads seen in shallow waters with small gravel bottoms are usually spawning or ready to spawn. Unfortunately, spawning steelhead are generally inactive, they rarely eat, and if they have been spawning for days they do not fight well.
Sadly, anglers will see these fish on the spawning beds and try to catch them, but since these fish generally don't eat, most of the time if they are hooked they are snagged. These fish should be left alone for three or four reasons.
First, it's because no one should disrupt the steelhead's reproduction process as this can affect future generations of steelhead. Leaving these spawners alone ensures that anglers will still be able to have a good steelhead run in future years.
The second and third reasons are that these fish do not fight well and they are generally poor at eating fish, meaning they taste bad. They are beat up and tired fish. You are better off eating a late fall steelhead or fresh run spring steelhead.
The fourth and most important reason that all anglers should know, is that while these fish are spawning, other fishing that are in stage one, or in stage three are much easier to catch, and far better fighters.
I've often seen where a guy will be fishing for 4 or 5 spawning steelhead in 1 to 2 feet of water for an hour or more and not catch any fish while I and my clients fish a deeper pool just above or below him with stage one and stage three fish and we will catch 10 steelhead for every one steelhead the guy on the spawning bed hooks.
This is because fish on the spawning beds in the shallow water get spooked easily and they don't want to eat!
Fishing for spawning fish on the spawning beds is a total rookie mistake. They don't bite, you lose most of the ones you snag anyways, you disrupt the spawn, they fight poorly, and they taste like crap. Honestly, it's almost always the new or bad anglers that resort to fishing for these fish. Don't be that guy!!
Stage 3: The Drop Down and Drop Back Fish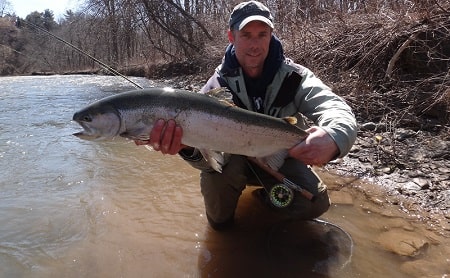 Stage three consist of what are called drop-down steelhead or drop-back steelhead.
Drop-down or drop-backs refers to the steelhead that have completed the spawn and are starting to drop-down the river or are dropping back to the lake.
Summer run steelhead will usually be the first to start dropping back and this could start in early March. The rest will drop back between late March and late May.
During this time, spawned-out steelhead are trying to recover, regain their strength, and are often very hungry and aggressive. They can be so aggressive that I and my clients have caught the same steelhead twice in two casts.
These spring dropback steelheads can be found anywhere in the river, including shallow runs and pocket water, pools, and many will hold above or below dams like the Tippy Dam on the Manistee River or the Croton Dam on the Muskegon River.
However, one of the best places to fish for drop-downs are the first one or two deeper pools below known spawning beds. These fish will often stay for days and gorge on eggs that are drifting down the river.
Smart anglers that see steelies on a spawning bed will avoid the temptation to fish for them and go below them and fish for ones that are actually eating.
Although eggs are a fantastic bait at this time, drop-down steelhead are aggressive and will tend to eat any bait. I discuss the best baits below.
Spring Fishing in Michigan: The Steelhead Fishing Methods
Anglers have used many fishing methods for steelhead fishing over the years. However, fishing methods vary in their styles and appropriateness in different fishing situations. The following are the most effective fishing methods for steelhead.
Fly Fishing Method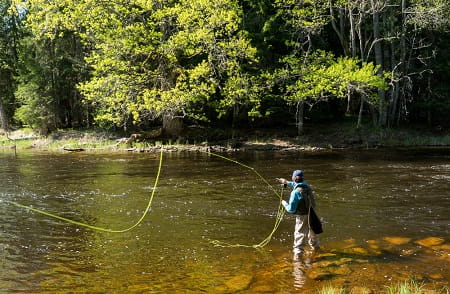 The fly-fishing method involves the use of artificial flies as bait.
This method is popular for fishing steelhead in shallow and smaller sections of the river. Under the fly-fishing category, the different methods vary in fly lines and rods and artificial flies used.
Examples are as follows:
For more in-depth information on fly fishing for steelhead, check out Fly Fishing For Steelhead: A Complete Guide.
Float Fishing Method
Float fishing is one of the most popular Michigan spring steelhead fishing techniques.
It requires a fishing float, also known as or called a bobber, and a leader line with wights known as split shots.
Floats come in different sizes are are designed to suspend you baits at various depths depending on the fishing.
There are many bobbers on the market but not all are good for float fishing in rivers. Also, most anglers don't understand how to properly use a float and they three key things a good river float does. If you do not know this, I guarantee you are missing fish. Check out Float Fishing: Methods and Advice From Guides.
Float fishing is not suitable for all parts of the river. This method is most effective only in bigger and deeper pools and less effective in shallow water under 3 feet deep or in pocket water. For shallow water, you are better off using a method known as Bottom Bouncing.
I mentioned using the right float and with that you need the correct float setup that can allow an angler to fish for steelhead in shallow waters. Clear small floats are best in shallow water. See Best Floats For Float Fishing.
Lure Fishing Method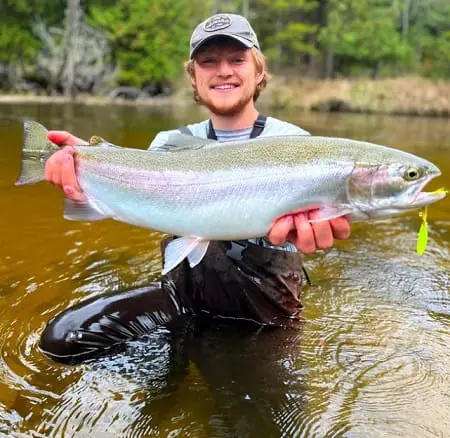 Lure fishing is prevalent and can accommodate fishing in all river sizes and depths and flows.
This fishing method uses artificial baits, also known as a lure, which imitates a baitfish appearance, movement, and flashy colors.
Examples of effective and commonly used lures for steelhead fishing are:
Jigs: are suitable for deep-water fishing as they use weighted hooks – See Jig Fishing For Steelhead.
Crankbaits: Minnow-type crankbaits like Rapalas are good options for steehead.
Spinners: uses a flashy spinner blade at the top with a hook at the bottom.
Spoons: are shaped like a concave spearhead, allowing them wobble and to reflect light when moving and attract steelhead.
Plugs: Plugs or wobblers like the Kwikfish or Flatfish are good option for steelhead fishing.
For more in-depth info on how to, best lures, sizes and colors, see Lure Fishing For Steelhead.
Three Other Methods
There are three other methods used by anglers and guides:
Plunking: Plunking is still water, or stationary method. You will se guys use this at the river mouth, of piers, and beaches along the shores of the lake.
Bobber Doggin: A relatively new method using a bobber and in my recent article I give you my honest opinion on this method.
Drift Fishing: A good method using a semi-tight line, no bobber, and it works well on large rivers, fast currents, and deep water.
Baits For Michigan Spring Steelhead Fishing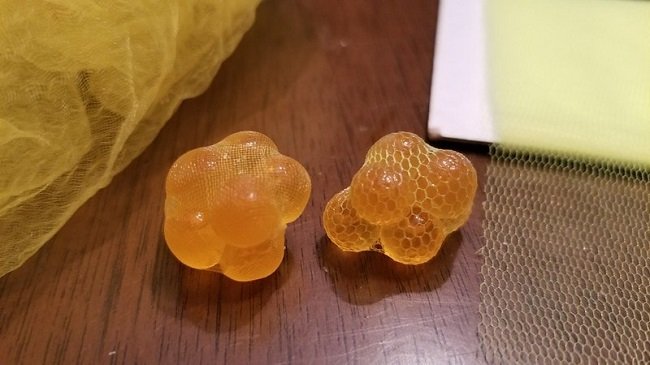 At times the steelhead will eat just about anything that drifts down the river past them. But these baits below are often the most effective.
However, don't be one of those guys that only uses one bait all day and everyday.
Those guys often get out-fishing by guys like me that are on the water 7 days a week for months and us guides are known to rotate through many baits to determine what the fish want based on time of day, river conditions, and water temps.
For more on baits, check out 11 Best Baits For Steelhead.
Try these baits:
Fishing Licences and Fishing Rules
When exploring spring fishing in Michigan, one significant thing to remember is the Michigan fishing license.
All anglers 17-year-old and above are required to carry this license. They are easily accessed and processed online. Several options are available depending on the duration of the fishing activity.
But, when it comes to licenses and fishing rules this article might be out of date so DO NOT rely on us for that information. Instead, check out the Michigan DNR website.
Spring Fishing Charters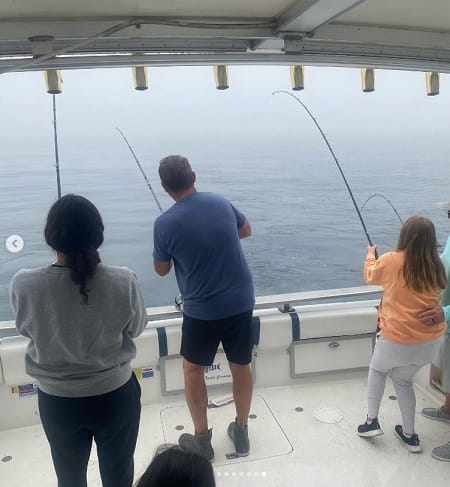 Indeed, spring fishing in Michigan is an exciting activity regardless of your expertise.
Currently, there are many charters and guides available for booking, allowing people to have the best fishing experience in Michigan's most famous rivers and lakes.
Spring steelhead can be caught out in Lake Michigan, or on a Lake Michigan tributary. For lake fishing and river fishing guide trips check out Fire Plug Fishing Charters.
For river guide trips closer to Chicago, check out Get Bent Guide Service.
Lake Michigan Spring Steelhead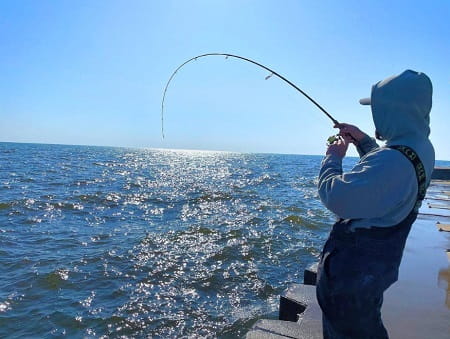 Not everyone likes to fish the rivers for big fish. Some anglers prefer to fish Lake Michigan or Lake Huron from shore or from a boat.
Spring fishing for steelhead on the lake can be very good too.
Fishing out from the mouth of the Pere Marquette River, White River, and Big Manistee River are good for great lakes steelhead.
Even large salmon and lake-run brown trout can be caught while fishing for steelhead. See Great Lakes Brown Trout Fishing.
Using streamers and lures off the piers can be effective with significant numbers of big migratory fish. Smallmouth bass are also possible here.
Check out these articles.
Spring Fishing in Michigan: The Conclusion
With its long freshwater coastline from three great lakes and hundreds of steelhead rivers, Michigan is home to spectacular spring steelhead fishing. If you know where to go, when to go, and understand the three stages of the spring run you have a good chance of being on the river when there are lots of hungry steelhead.
Use the right gear, and the right setup, and get a good presentation and you will be catching as Michigan steelhead as the guides do. Master these things and landing 20+ steelhead a day is very possible.
Spring fishing in Michigan has been a tradition for many years and has had several anglers served by its diverse aquatic ecosystem.
Spring Steelhead Fishing Michigan Q&A
If you have a question or some advice on spring fishing Michigan, let us know in the comments section below.
Tight Lines,
Graham