The Best Steelhead Flies Used By Top Guides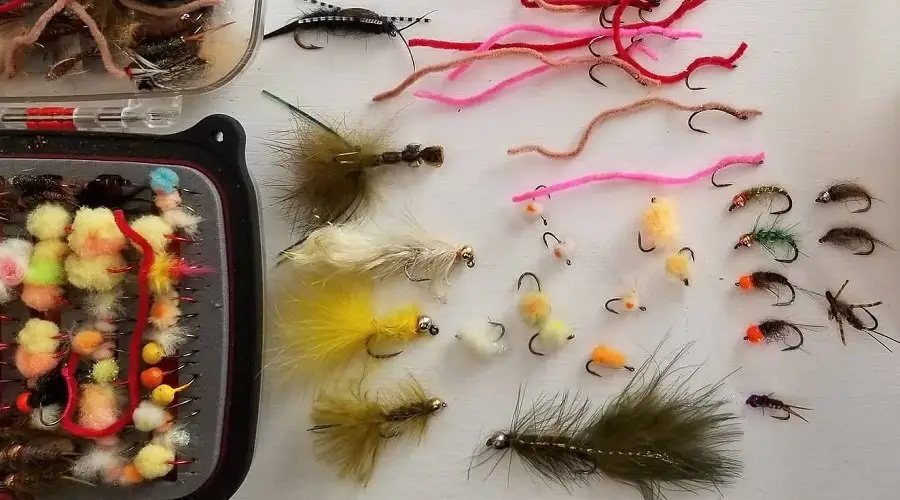 There are hundreds of good flies for steelhead, but the best steelhead flies are found inside the fly boxes of experienced fishing guides, and I'm going to let you know what they are.
I've been a steelhead guide for over 20 years so I know that guides test out many flies to determine the MOST effective flies. Plus, they network with other guides, lodges, and local fly shops, which is why they always know what flies are hot.
The best flies for steelhead are the ones that consistently work day after day in almost any river where steelhead exist. The most effective steelhead flies include flies like the stonefly nymph, the worm, the yarn egg, and the woolly bugger, or variations of these.
Stick with me to the end because I'll reveal over 20 great flies used by me and many other guides, and I'll provide some guide tips to make them even more effective.
Top 5 Quick Pick
Egg Patterns: Best used when salmon or steelhead are spawning but egg patterns can be good all the time. There are many variations which I'll discuss below.
Stonefly / Mayfly Nymphs: Nymphs like stoneflies and mayflies are great steelhead flies when the steelhead are not gorging on eggs. For summer run steelhead before the salmon spawn, nymphs are the most productive flies. Late spring is another time when steelhead love nymphs. The Easy Stonefly and Hare's Ear are two of the best.
Worm Flies: Worm patterns are one of my best steelhead flies, and at certain times of the year, a pink or red worm will work better than all other flies.
Woolly Buggers: Micro Buggers and full-size Woolly Buggers are great for steelhead fishing. They come in many sizes, colors, and a few great variations.
Hoh Bo Spey: An easy-to-tie but very effective fly for spey fishing and for swinging flies.
Steelhead Streamer: Streamer flies like the Zonker that imitates sculpins, minnows, and other baitfish can be great for steelhead.
I'm going to let you in on a secret, although there are hundreds of steelhead flies being recommended, most are just MEH, some are just crap, and only a few are worth using.
I know this for a fact because on top of being a guide, training other guides, and fishing with many guides, I've also tied and sold flies commercially, and I have probably tested just about every steelhead fly ever published in books, magazines, and online.
If you are not using the same flies the guides are using, you're missing fish!!
Are Guides Flies Different From Other Steelhead Flies?
When you look into the fly boxes of top steelhead guides, their most effective steelhead flies are often pretty basic, and they use a lot fewer fly patterns than you might think.
In fact, I and most guides I know catch 90% of our steelhead on the same five or six steelhead fly patterns consistantly, and so can you.
This page contains affiliate links. If you buy something through one of these links we may make a small commission which is at no cost to you. Commissions allow us to continue to bring you great content. Thank you for your support. Affiliate Policy
The Five Essential Steelhead Flies For All Rivers
There are also streamers and spey flies if that's your preferred method of fishing for steelhead, and I'll discuss some of those here too.
When choosing steelhead flies, just keep these four simple guide tips in mind.
Choose your flies wisely: Choose flies based on the conditions, and then rotate colors, sizes, and patterns to determine the best fly.
Fish your fly well: A good fly fished poorly won't catch many fish, so spend less time on fly selection and more time mastering the presentation.
Ensure your setup is good: it doesn't matter how good your fly is if the steelhead are seeing your tippet and weights.
Don't Be Fooled By All Those Fancy Flies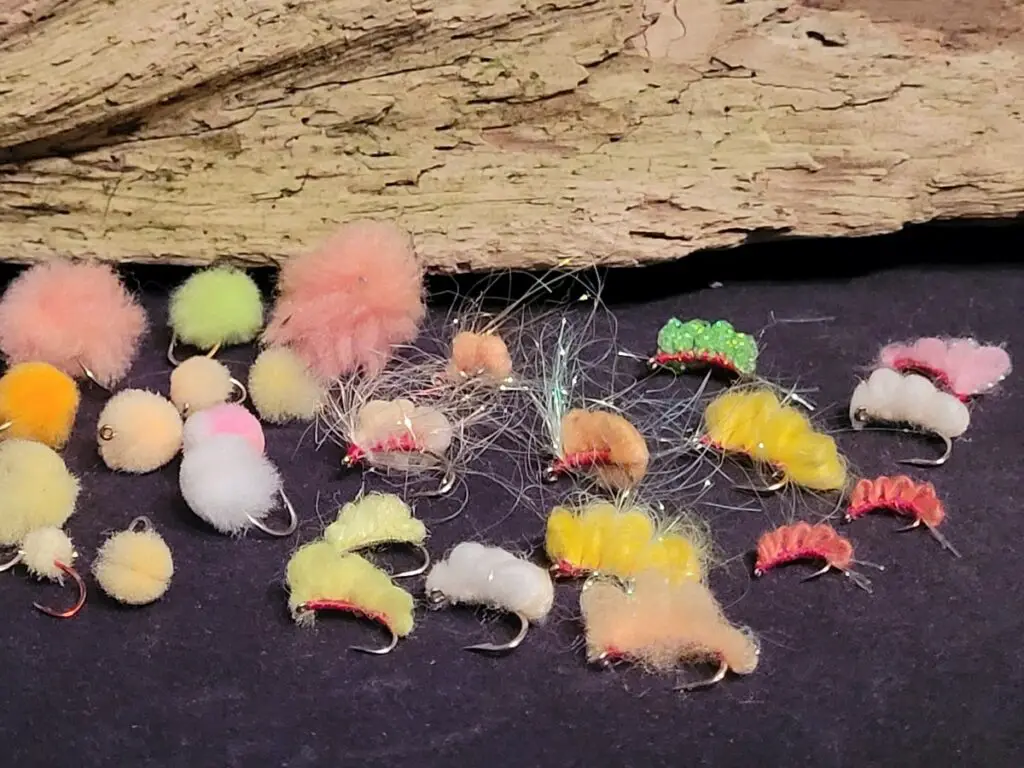 Fancy flies that you see online and in books do catch steelhead, but I have found it's often best to stick to proven flies and not waste too much time looking for that "magic fly" that's going to catch all the fish for you, because it doesn't exist.
If fancy flies worked so well you would see them in the fly boxes of guides, but that's not what I see when I look in the boxes of guides. The flies inside the boxes of guides are as close to the "magic fly" as you're going to get.
5 Essential Steelhead Flies For Nymphing
| Fly Pattern | Description | Best Colors | Size Range | Key Features |
| --- | --- | --- | --- | --- |
| Yarn Egg | Highly productive egg pattern | Peach, Salmon, White, etc. | Varies | Great for imitating salmon eggs |
| Worm Pattern | Effective steelhead fly | Pink, Brown, Red, Purple | 3-5 inches | Tied with hook at the end |
| Stonefly | Effective nymph pattern | Black, Brown | 6-14 | Good for nymphing rivers |
| Woolly Bugger | Classic steelhead fly with marabou tail | Black, Olive, White, etc. | 1-3.5 inches | Versatile and effective |
| Hoh Bo Spey | Spey-style steelhead fly | Assorted | Varies | Great for swinging in currents |
Pro Tip: If you can imitate their natural food sources more precisely, or find flies that trigger a strike response, you will increase your chances of getting them to bite more consistently.
So let's find out which flies the guides use.
1. The Egg Fly – All-Time Best Fly For Steelhead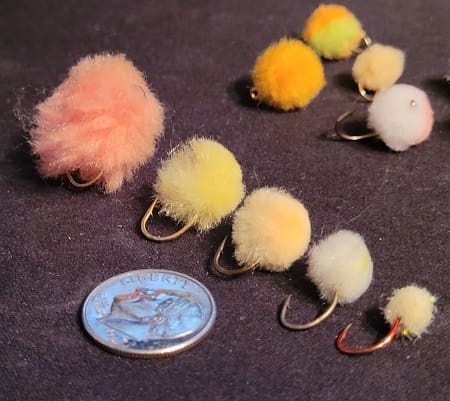 Egg flies probably catch more steelhead than any other fly patterns, and they work everywhere. For this reason, you will see egg patterns in almost every steelhead guides box.
But there are dozens of different egg fly patterns, some are good, and some not-so-good.
If you take a lesson from the Centerpin and float fishing guys that crush steelhead on beads, and based on my experience, the number one egg fly pattern is the basic Glo Bug Egg Fly. It's round, it looks like a single egg that steelhead feed on readily, and it's easy to tie or buy.
This is a pattern you will find in most guide fly boxes.
You may hear it called the Yarn Egg, McFly Egg, or the Blood Dot Egg. Whatever it"s called, it" i"s a go-to fly anywhere in the world for any fly fishing guide who nymphs for steelhead.
My best colors are:
Steelhead Egg Fly Colors And Sizes
| Bait Color | Water Condition | West Coast Hook Size | Great Lakes Hook Size |
| --- | --- | --- | --- |
| Peach | Clear water | 6 to 8 | 8 to 10 |
| Salmon | Clear water | 6 to 8 | 8 to 10 |
| White | Clear water, Winter | 6 to 8 | 8 to 10 |
| Light Pink | Clear water | 6 to 8 | 8 to 10 |
| Chartreuse | Dirty water | 2 to 4 | 4 to 6 |
| Hot Pink | Off-colored water | 2 to 8 | 4 to 10 |
| Orange | All water conditions | 6 to 8 | 8 to 10 |
| Yellow/Cheese | All water conditions | 2 to 8 | 4 to 10 |