Winter Steelhead Flies: 11 Must Have Guide Flies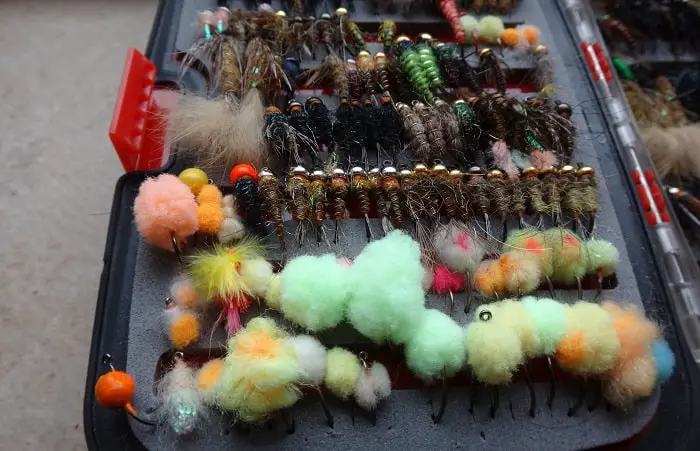 River guides catch steelhead all winter with these 11 winter steelhead flies. These flies have produced the most steelhead for my clients when I'm guiding in the winter and these winter steelhead flies will work on rivers around the great lakes and on the west coast steelhead rivers.
Winter steelhead flies need to be smaller than fall or spring steelhead flies and they need to represent the natural forage that the steelhead are feeding on. The best winter steelhead flies are variations of stoneflies, mayflies, caddis larva, eggs patterns, and worm patterns.
Knowing what flies are the best is only part of the equation. There is a saying in the fly fishing world " a bad fly fishing good is better than a good fly fished bad". I tell this to all my clients because it's true.
The Best Winter Steelhead Flies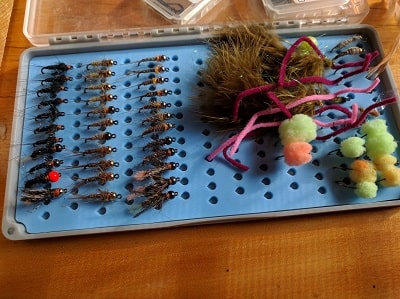 I know everyone wants to know what's in my fly box or the box of their local steelhead guide, but what most anglers don't understand is that those guide flies won't help them catch fish if they don't set up their leader properly and they don't present the flies effectively.
I cover those things on my page Fly Fishing Nymphs – Advanced Methods Of A Pro Guide.
Now if you saw what was in a guides box and you know how to fish those flies well, now you are really going to kick some steelhead butt on the river.
In this article, I'm going to discuss the best flies for nymphing for steelhead with indicators and the best flies for Euro Nymphing For Steelhead. Both types of flies can be used for either method.
These are the flies that have been tested and proven over and over again and seem to produce steelhead consistently in rivers all over the great lakes region.
1. Egg Patterns #1 Best Of All The Winter Steelhead Flies
Egg patterns are often the best steelhead fly pattern at any time of the year but during the winter it's hard to beat a good egg pattern.
If you are looking for the best winter steelhead flies have these in size 8mm, 10mm (salmon egg size), and 12 mm sizes.
During the winter I like white, peach, light yellow, light orange, and light pink colors.
2. Worm Patterns
Worm flies are one of the best winter steelhead flies. My favorite colors are pink, red, and worm brown.
Most of the year I like to use 3 to 4.5-inch worms, but in the winter my secrete flies that have been excellent for me are the 1 and 2-inch micro worm flies.
I like to use the squirmy wormy patter or the Saun Juan Worm pattern.
3. Stonefly Nymphs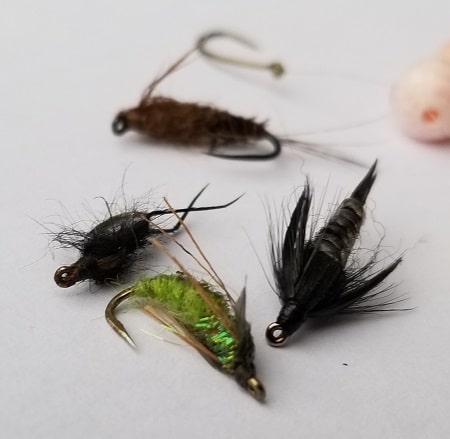 Black Stoneflies are an excellent winter steelhead pattern that has put thousands of steelhead in the net for me and my clients.
This is one of those must-have winter steelhead flies that every angler should have in their box and they should give them an honest try when fishing for steelhead at any time of the year.
Sometimes adding a gold or silver bead to this fly can make it even better. I use it with and without the bead and I really like size 10, size 12, and size 14.
4.Pheasant Tail Nymph
The pheasant tail nymph could be one of the best steelhead, trout, and even salmon flies that I have ever used.
It's an old pattern but it's one of the best winter steelhead flies and is one that I always use.
I use it with and without the bead and I really like size 10 and size 12.
4. Caddis Larva Patterns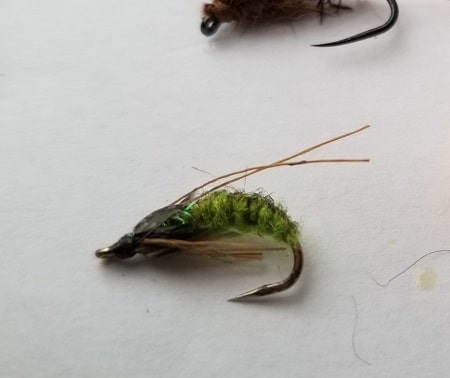 I'm always on the lookout for what the predominant insect is in the river that I fish all around the great lakes region, from NY to WI and the caddis is everywhere.
This makes this fly pattern a great winter steelhead fly even if it's not exactly the same as the one I above.
I like this fly tied on a size 10 or 12 scud hook.
5. Woolly Buggers
The Wooly bugger is a fly that has been fantastic when nymphed, stripped in, or swung on my Spey rod. This fly has been great for trout, salmon, and for steelhead, and is a great winter steelhead fly pattern.
Often, my most productive Wooly Bugger patterns have a gold or silver bead head and flash in the body and tail.
I like my Wooly buggers to be about 2 inches long on a size 10 hook for winter fishing. My most productive colors for winter steelhead fly fishing are black, olive, white, brown, and sometimes yellow.
6. Polish Phesant Tail Nymph
This is a fly that many anglers would not have heard of yet but it's been a fantastic winter steelhead fly and a fantastic fly all year for steelhead, trout, and salmon.
In the winter I like this fly in a size 10 or 12 but there are times when a size 8 works well.
I have done well with the orange butt and color but have also done well with pink, chartreuse, and black.
Some years this fly has also been my most productive fly for large brown trout during the summer and for migratory brown trout during the fall and winter.
7. Bead Head Hares Ear Nymph
Size 10 and 12 are best for winter steelhead fishing. There are some great variations of this fly that I will discuss below.
9. Blowtorch Tag Nymph
The Blowtorch tag nymph has been a great winter steelhead fly for me over the last few years and is worth trying on any river. It's also been very effective for trout and salmon.
I use this in the winter in sizes 10 and 12. In the fall and spring, a size 8 is also good.
This fly had also been good with a yellow, or pink tail and collar.
10. Woolly Worms
Woolly Worms are another great pattern that I have done well with. Through the warmer months, I will use sizes 6 to 10, but in the winter I have done better with size 10, 12, and 14 hooks.
I like this pattern in the black as seen in the picture but I have done well with a white body, pink body, red body, and a yellow body.
11. Egg Sucking Leach
The egg-sucking leach is a great winter steelhead pattern. I will use this pattern in sizes 2 to 3 inches long, size 8 and 10 hooks.
I have also done well with micro egg-sucking leeches. These are 1 inch long.
Black bodies with pink, yellow, chartreuse egg heads are best.
Other Great Winter Steelhead Flies
There are a lot of other flies that have been very effective when fly fishing for steelhead. Some of my favorites are:
Flashback Scud
SOS Fly
Red Dart
Beadhead Prince Nymph
Also, if you tie your own flies, check out The 7 Best Fly Tying Hooks: For Dry Fly, Nymphs, and Streamers.
Fishing Steelhead In The Winter
You may be out all day fishing these winter steelhead flies and you are going to want to be able to focus on your presentation and not on how cold your hands and feet are.
If you have ever wondered how river guides can be standing in ice cold water or on a boat in freezing temperatures day after day and not get cold, my article Winter Fishing: Guide Tips For Staying Warm And Comfortable
Got A Question About Winter Steelhead Flies
If you have a question, comment about winter steelhead flies, or if you have another great winter steelhead fly that you would like to share with me and the reader let me know in the comments sections below.
Cool River Fishing Accessories
Simms Taco Bag
It's a wet wader bag for storing your waders after a day on the water and it's a mat to stand on to keep your feet dry when getting your waders on and off.
Duffel Bags and Stream Packs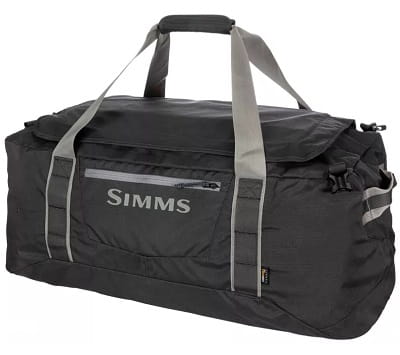 Having a dedicated bag to pack and carry your waders, vests, boots, jackets, and more is a good idea. Waterproof and mesh bags are available.
Waterworks Release Tool
Protects your flies from damage caused by forceps, This tool gets all hooks out easily. Even deep hooks come out with this tool.
Clip-on Magnifiers
When I flip these down to tie knots a lot of guys say " I need to get some of those". These are great for anyone that ties knots. Make sure they are lined up properly for the best view.
Tight Lines
Graham