5 Best Fly Tying Kits Of 2023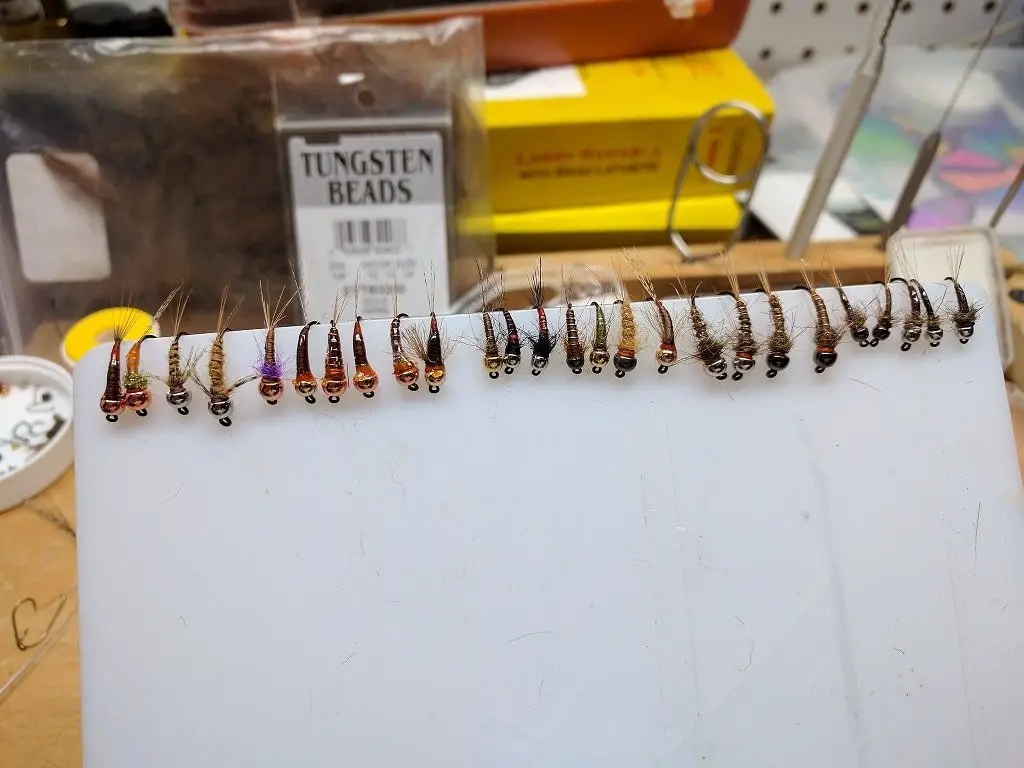 The Best Fly Tying Kits
I have been fly tying for over 35 years and have run fly tying classes and I have even sold fly typing products in my tackle store. In this article, I'm going to help you by providing advice on the best fly tying kits and what I would recommend to my students and clients.
99% of the flies that I use for my guiding are tied by me and I have also tied flies professionally. I still tie about 500 flies a year so I know which vises, tools, and materials you will need to get yourself started the right way.
The fly tying kits on the list have been researched and hand picked by me and are the best fly tying kits for beginners and intermediate fly tiers and I will explain the pros and cons of each fly tying kit.
Getting the right fly tying kit will make learning easier and more fun, and if your new to fly tying, combine your new fly tying kit, with a great book from my article The 21 Best Fly Tying Books – Beginner to Advanced.
This page contains affiliate links. If you buy something through one of these links we may make a small commission which is at no cost to you. Commissions allow us to continue to bring you great content. Thank you for your support. Affiliate Policy
Orvis Premium Fly Tying Kit Review
The ORVIS Premium Fly Tying Kit is the best fly tying kit on the market. I compared dozens of fly tying kits and could not find a better fly tying kit anywhere.
If you have the budget for a premium fly tying kit and you think that fly tying is something you will be doing for a long time then this is the kit you want.
This fly tying kit comes from ORVIS who is known as one of the best fly fishing companies in the world.
They are known for their great products that work and they have great service.
They stand behind all their products and I never have a concern recommending ORVIS products.
The reason I like this kit above all other kits is because of the head of the vise which is small enough to grip and tie smaller flies like size 18 or 20 hooks. Most other vises have rounder heads which can be problematic with smaller hooks.
Starting with a vice like this means you will not need to upgrade, at least not for a very long time or until you start getting into crazy small flies which most guys don't tie anyways.
The tools in this fly tying kit are also of higher quality which means they will last longer and be easier to work with.
Everything you need to tie flies is in this fly tying kit.
This fly tying kit provides a lot more than all the other kits that I have seen. You pay more, but you get more, much more, and just the upgraded vise makes this kit a great deal and a worthwhile investment.
---
---
when you are ready to get more hooks, be sure you check out my article all about the Best Hooks For Fly Tying.
Best Fly Tying Kit + Bench Organizer: Fly Furniture Desktop Jr.
You can also take the option of just the Stand and materials.
For those tyers that already have the vice and all materials, you can purchase just the stand on its own.
Best Traveler Fly Tying Kit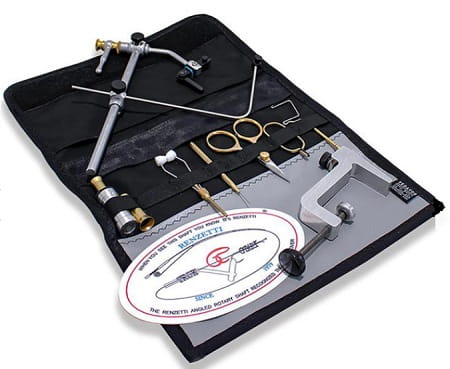 Renzetti Traveler 2000 Cam Jaw Fly Tying Kit
I have tried the Renzetti Traveler Tying kits and once sold this in my tackle store and like just about everything from Renzetti, this is top-notch.
This kit is just the tools and the vice so you would need to buy the fly tying materials separately. See below for a great tying material kit.
If you are not sure what tools you should have, be sure to check out my article Best Fly Tying Tools and Best Tool Kits.
Umpqua Beginner's Fly Tying Kit Review
Another one of the best fly tying kits is this Umpqua fly tying kit which is around $90.00.
This Umpqua fly tying kit comes with a standard vise similar to the White River Kit and it has a good assortment of tools and some pretty good fly tying materials.
Everything you need to get started is in this kit and that makes it one of the best fly tying kits for under $100.00.
I used to sell this kit in my tackle store with confidence and I know it's a great starter kit at a great price. In fact, I sold a lot of these kits to fly my tying students.
This fly tying kit also comes from a well know fly fishing company that is known for good fly fishing and fly tying products.
---
Wapsi Deluxe Fly Tying Starter Kit Review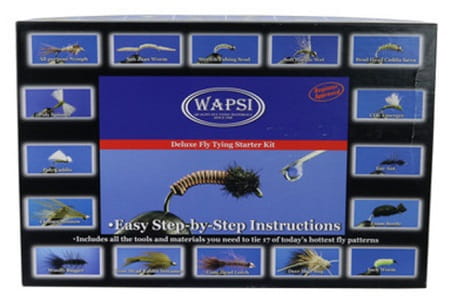 The Wapsi Fly Tying kit is another one of the best fly tying kits available and this kit comes loaded with materials and everything that you need.
In case you are wondering, Wapsi is a well-known fly tying brand that has been around for a long time, maybe even before I started fly tying 36 years ago, and they are not some no-name crap brand.
This fly tying kit comes with all the tools you will need to get started in fly fishing.
It also has a great selection of really good fly tying materials and with none of the crap that you will find in some other kits on the market.
It also comes with a variety of good-quality hooks and a DVD to help you get started.
---
Colorado Anglers Fly Tying Kit Review
This kit won't have as much material as the other more expensive fly tying kits but it has all the tools and a similar standard vise to the other fly tying kits.
Sometimes it's just as good that there are not as many materials because you can always add just what you need for those fly patterns that work in your area.
I do like this kit because the materials that it does offer are actually practical for tying a lot of fly patterns that could be useful in any stream. I could tie dozens of fly tying patterns with what is provided in this fly tying kit.
This fly tying kit also comes with a beginner fly-tying DVD and everything you will need to get started.
You can get the Colorado Anglers Gunnison River Fly Tying Kit at Bass Pro Shops.
---
Best Fly Tying Kit For Beginners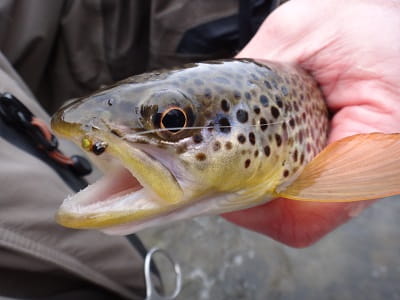 I just went over all the best fly tying kits for beginners but let's narrow it down a bit.
For kids and new fly tiers on a budget, I would suggest the Colorado Anglers Gunnison River Fly Tying Kit just because of all the stuff you get for under $50.00.
If you think you will be tying lots of flies and tying for a long time but you're still on a limited budget then the Wapsi Fly Tying kit is the best fly tying kit under $100.00
If money is not an issue then the ORVIS Premium Fly Tying Kit is by far the best fly tying kit for beginners.
Build Your Own Kit
I would start with a quality tool kit like the Loon Fly Tools Kit. It has all tools you would need to tie a fly. See a good YouTube Review HERE.
Another great one is the Dr Slick Fly Tying Tools Kit . The Dr. Slick brand is well known for quality fly tying tools and this kit sells for about $60.00 on Amazon.
---
Then I would get a middle-of-the-line fly tying vise. You do not need a high-end vise that will cost you $200 or more.
I've tied a thousand flies, some as small as a mosquito on my Griffen Vise which is about $115.00. Another Vise to Consider is the REGAL MEDALLION TRADITIONAL JAW VISE for about $199.00
I'll be doing a post on the top 5 Fly Tying Vises soon.
---
Fly Tying Materials
When it comes to fly tying materials I'll give you the same advice I give to all my clients.
Find out the 4 to 6 best flies for your area or the river you want to fish, then Google search the fly tying recipe (all the required materials) for each fly and then only buy the materials based on what you need for those flies.
Many rivers or many areas have hatch charts to help you determine what flies are best.
Be careful of fly tying material list with colorful and flashy materials, most of these materials are to attract the angler, not the fish.
If you want to buy a good material kit with all good materials, check out the White River Fly Shop Premium Fly-Tying Material Kit.
---
Fly Tying Accessories
These are some things to consider to help improve your fly tying experience or to help keep you organized.
Pro-Tip: After you tie a dry fly, I will pre-tread the fly with a fly floatant at the tying table before storing them in my fly trying box. This helps the fly float longer and float higher which is a good thing if you want to catch more trout.
Fly Tying Station
You can mount your vise on the left or right, depending on which way that you want to tie.
You can also buy the upgraded version which comes full of fly tying materials, this is a good option for new fly tyers.
It has many holes to hold your tools as well as storage rods to hold your thread.
The base is designed so that it doesn't move around.
Key Features:
Constructed of hardwood for durability and looks.
Right and left vise mounts
Many holes for storing all your tools
Storage rods to store your fly tying thread spools.
A base that is non-skid so it stays securely in place when you are tying.
NOTE: Vice, tools, and fly tying material are not included.
---
Best Tying Organizer
Angler Fly Tying Fishing Kit Tool Organizer is a great way to organize your fly tying table with places to store your tool, thread spools, hooks, beads, and more.
This organizer is portable and comes with a non-skid base so it can be placed on any table or desk.
It also comes with a magnetic strip to control hooks and finished flies.
---
Cabelas Basic Fly Tying Desk
The Cabela's Big Horn Fly-Tying Bench has a mount for your vise or you can secure your vise from the front like I do and it comes with a non-skid bottom so it won't move around or damage your table.
It has plenty of holes for your tools and a removable rod built to help you organize your thread spools.
The base has 11 wells for your hooks, containers, beads, cement bottle, and finished flies.
Key features include:
11.9″ x 7.7″ x 2″
Hardwood for durability and looks.
It will hold most or all of your tying tools and some materials like tying threads
Non-skid base to keep it in place
11 different sized wells for small components
---
Learn Fly Fishing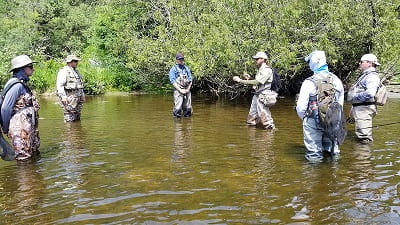 Check out my learn to fly fish page to get more information and tips that are provided by fly fishing guides and fly fishing instructors on how to fly fish. You can also click these links to learn my best flies for trout or the best flies for steelhead.
Got A Question About The Best Fly Tying Kits
Thanks for visiting my blog post about the best fly tying kits for beginners and intermediate anglers. This is where all the information comes from a professional guide with over 20 years of guiding experience and 35 years of fly tying experience.
Tight Lines,
Graham