Best Fly Tying Books: 21 Best Rated And Reviewed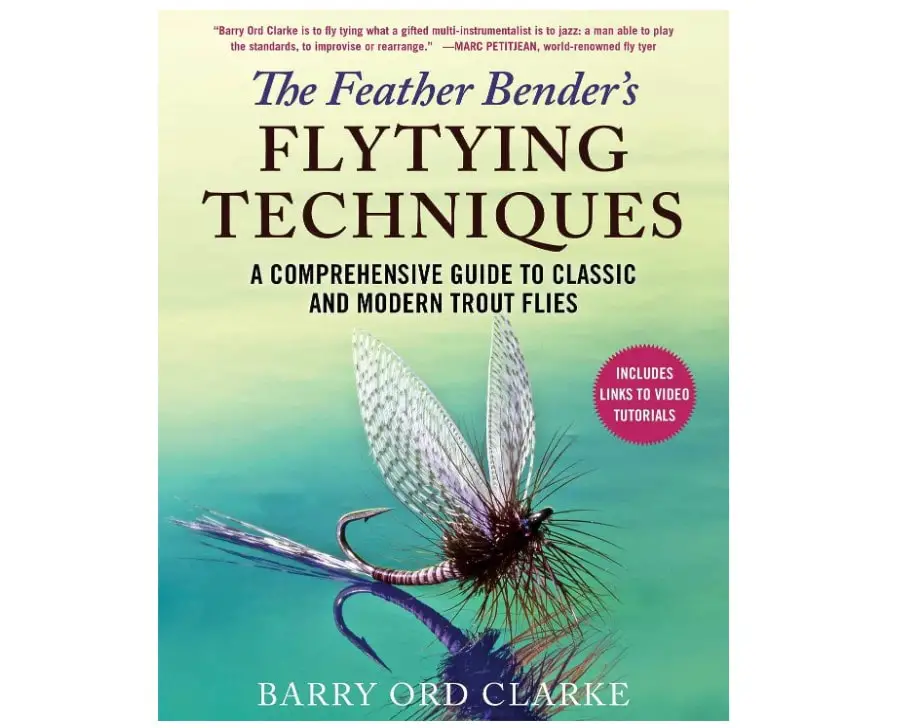 This list of the best fly tying books is different from most of the other websites I have seen online, and I will tell you why.
I have over 50 fly-tying books that I have collected over the last 35 years, and while some are fantastic, others are not so great. The books I love as a guide and experienced fly tier might not be suitable or liked by other anglers, especially those new to the sport.
I've listed fly tying books and fly pattern books that are the best-reviewed, are the most liked by readers, and book that have the highest ratings.
There are various books for beginner and advanced fly tyers and fly anglers.
As a bonus, I'll reveal my all-time favorite fly pattern book. My fly boxes are full of the unique patterns from this book. Many of these flies are the most effective patterns that have caught thousands of trout for me and my clients.
5 Best Quick List
The Feather Benders – Highest Rated Book
Orvis Guide to Beginning Fly Tying – Best For Beginners
Tying Nymphs – Best For Nymph Patterns
Tying Streamers – Best For Tying Streamers
Fly Pattern Encyclopedia – Most Fly Patterns
1. The Feather Benders Fly Tying Techniques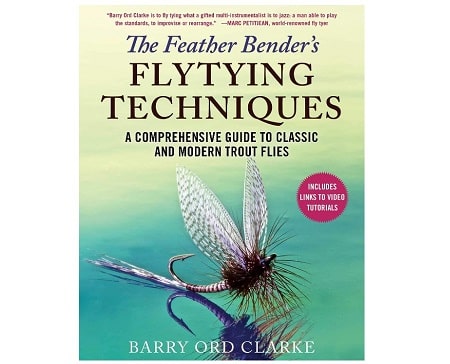 Author Boyd Ord Clarke is one of the world's best fly tyers and gives you very detailed instructions for 28 of the most useful fly patterns.
The fly-tying bible includes QR codes and links to YouTube videos so that you can see Clarke tying flies and using the different fly-tying materials for each of the 28 popular trout flies, salmon flies, and other types.
Clarke gives you step-by-step instructions, photos, and videos in one of the best fly-tying books. This book has the most 5-star ratings, so it's a clear winner, but if you are an absolute beginner, these patterns might be too advanced for you.
2. Dynamic Nymphing: Tactics, Techniques, and Flies from Around the World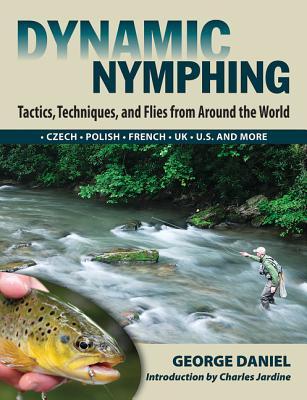 Fly-tying and trout-fishing expert George Daniel has written an excellent fly-tying book for modern nymphing, but it also includes modern and unique nymph patterns used by top guides and competition anglers.
NOTE: It is not a beginner's guide for making trout flies and does not have step-by-step tying instructions.
Experienced fly tyers who want to catch trout will get 62 nymph patterns used for river fishing.
FYI, this is an excellent book for learning modern nymphing, and I recommend it to all my new and advanced clients.
3. Orvis Guide to Beginning Fly Tying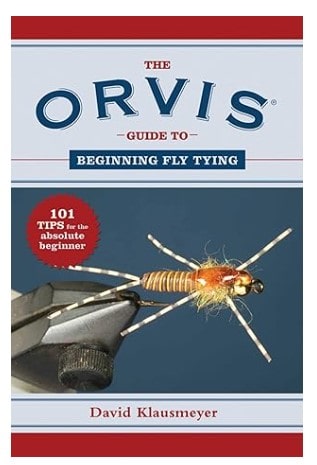 Fly tying is always more appealing to novices when a book like the "Guide to Begining Fly Tying" by Orvis gives you the basics for fly-tying materials, fly patterns, and fly-tying techniques.
With the right fly tying tools and materials, you can start tying your own flies with what many consider to be the fly-tying bible for beginners and begin your fly fishing journey.
This is the highest rated fly tying book targeting beginner tyers, which makes this one of the best fly tying books for beginners.
4. The Orvis Fly-Tying Guide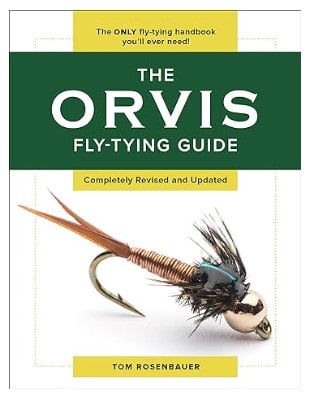 Orvis' fly-tying guide is a terrific book for learning the fly-tying basics for wet flies, dry flies, and nymphs.
You'll learn about fly-tying materials, different fly patterns, and fly recipes to help you start filling your fly box with your own trout flies, salmon flies, and others.
5. Fly Tying For Beginners: How to Tie 50 Failsafe Flies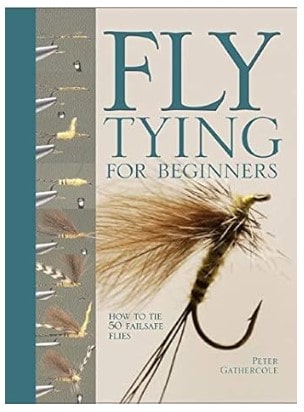 This is another great book for beginning fly tyers who want to learn how to tie 50 popular dry flies and wet flies using proven fly patterns.
The spiral-bound book is a great introduction to the world of fly-tying and is very easy to consult when you want to learn modern patterns. You'll learn 50 of the best flies to catch fish and become a better angler.
6. Charlie Craven's Basic Fly Tying: Modern Techniques for Flies That Catch Fish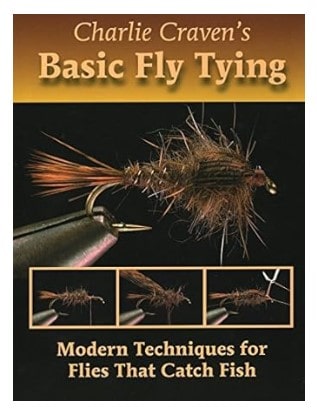 One of the top fly-tying books for beginners has 1,000 photographs that help to show you how to tie 17 great nymphs, dry flies, and streamers that are in Charlie's fly box.
The book shows you the proper techniques that fly fishers use to make fly-tying fun and effective for catching fish and create a great collection just like in Charlie's Fly Box.
All you need is the right fly tying kit, materials, and this book and you are good to go.
7. Simple Flies: 52 Easy-to-Tie Patterns that Catch Fish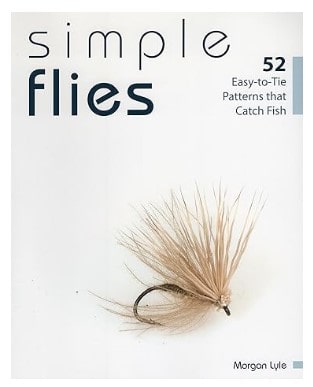 Simple Flies simplifies the process for the novice fly tier with step-by-step instructions and illustrations for 52 simple patterns for wet flies, dry flies, nymphs, and streamers.
You learn how to make many of the favorite patterns used by fly fishers, and you get a good introduction on basic fly design. Any beginner will benefit from the many tips and variations while learning to tie flies for
8. Essential Trout Flies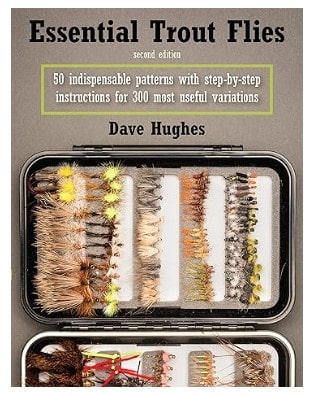 The book by Dave Hughs gives you step-by-step instructions on how to tie up to 50 of the most popular patterns for trout flies.
The book is terrific for any beginner who wants to learn fly-tying and have more success when fly fishing for trout.
It's a classic book for learning how to tie the best flies for trout and become a better angler.
9. Tying Nymphs: Essential Flies and Techniques for the Top Patterns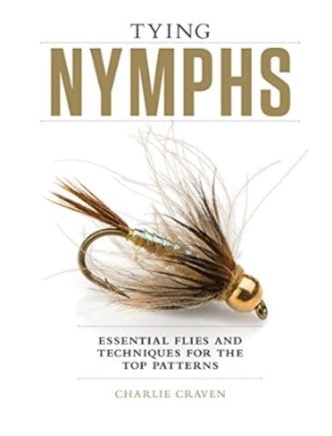 Author Charlie Craven's book on wet flies and nymph fly fishing covers some of the most proven patterns for trout fishing and catching salmon and other fish beneath the water's surface.
Craven presents many of the most effective patterns and gives very clear instructions with illustrations and clear explanations of the techniques used for tying the nymphs.
192 pages with 50 essential nymph patterns make this one of the best fly tying books on nymphs ever made.
10. Tying Streamers: Essential Flies and Techniques for the Top Patterns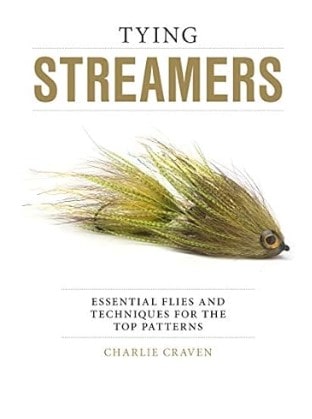 If you like to target bigger fish with more active flies, this fly-tying will teach you how to tie streamers to add to your fly box.
It's another great book by Charlie Craven that shows you the step-by-step techniques to tie the most popular patterns and hook more fish with his streamer fishing tactics. Combine this with my 13 favorite streamers, and you've got a lot of great flies that work.
Published in 2020, you get up-to-date streamers combined with classic patterns that are proven to work.
The 18 featured patterns include variations and the materials needed to tie them to give you more fishing success. The 1200 color photos, and 50 additional top patterns make this one of the best fly tying books ever.
One of my favorite books on modern streamer fishing methods and modern flies is the book called Strip-Set: Fly-Fishing Techniques, Tactics, & Patterns for Streamers
11. The Fly Pattern Encyclopedia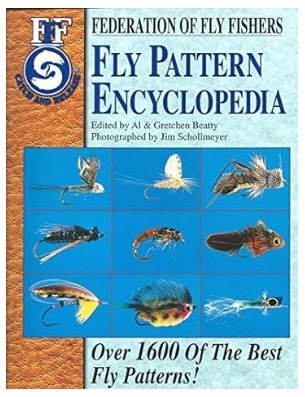 The Federation of Fly Fishers has produced the definitive encyclopedia for tying all kinds of fly patterns for successful fly fishing. Two hundred thirty-two pages covering 1600 patterns all in one book which makes this one of the best fly tying books ever.
If this is the first book you buy to learn how to tie existing patterns, you might not ever need to buy another one after buying this outstanding international guide.
Paperback and spiral-bound editions are available for the beginner and experienced fly-tier alike to help with tying an outstanding finished fly.
12. The Orvis Streamside Guide to Trout Foods and Their Imitations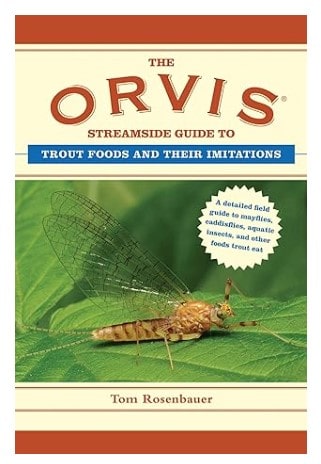 The Orvis guide is an essential tool for showing you the many variations for tying flies that resemble the natural foods in local rivers and streams so that you have more success catching trout while fly fishing.
The book shows you how to mimic aquatic and terrestrial insects, crustaceans, and other natural food sources that attract trout.
You'll learn how to select the right materials for tying an accurate nymph or fly that will improve your trout fishing.
13. Fly Tying Made Clear and Simple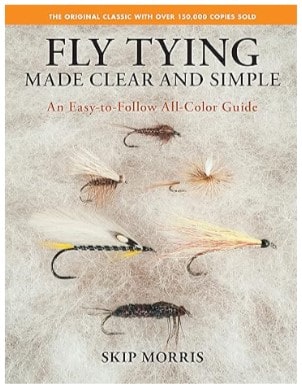 If you are a beginner at tying your flies and want to raise your skill level, this book by Skip Morris will show you the step-by-step techniques and materials that you need to produce an outstanding finished fly.
Morris discusses the materials and tying techniques to create 16 of the most proven flies known to the world. They include the Wooly Bugger, Black Ghost, and Mickey Finn.
14. The Book of Fly Patterns: Over 1,000 Patterns for the Construction of Artificial Flies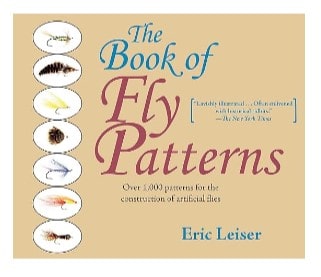 The more than 1,000 patterns for tying popular flies make this another exceptional fly-pattern encyclopedia for beginners and seasoned fly fishers.
Eric Leiser's complete book of fly tying covers virtually every type of fly made and will help you to spend many happy tying hours while learning the world of fly tying and how to use items like the whip finish tool and the various materials to tie outstanding flies.
15. The Complete Book of Fly Tying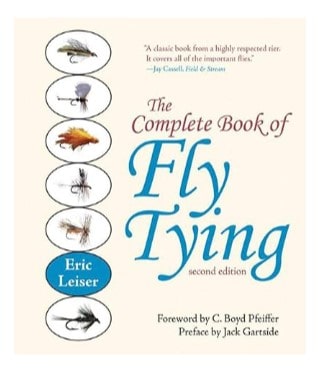 Eric Leiser gives us another great book filled with fly recipes and step-by-step instructions and tips for tying every type of fly.
You'll learn which materials to use and the individual pattern for each type, plus tips on how to create a great example of each fly.
Full-color illustrations and photographs help to show the proper technique for making a bunch of great flies.
16. Colorado Guide Flies: Patterns, Rigs, & Advice from the State's Best Anglers & Guides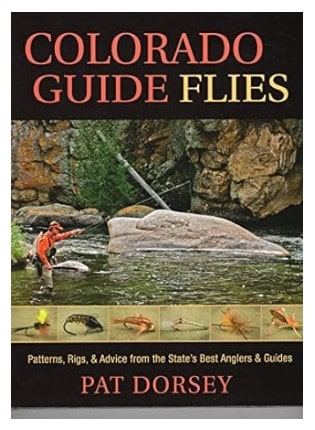 I like guide flies!! As a guide myself, I know some of my fly patterns are more effective than many old-school traditional flies that regular anglers use. Like the flies in this book, my flies are tested and proven to work by expert anglers.
The Colorado Guide is one of the best fly-tying books and gives you 600 patterns suggested by many of the top fishing guides in Colorado.
These flies will also work on trout streams all over North America.
It's one of the best reference books for fly tying and gives you lots of information on the materials and techniques to tie a bunch of them.
The book also includes interviews with 20 of Colorado's best fishing guides and information on hatch information so that you, too, can match the hatch when fly fishing in Colorado.
17. Selective Trout: The Last Word on Stream Entomology and Aquatic Insect Imitation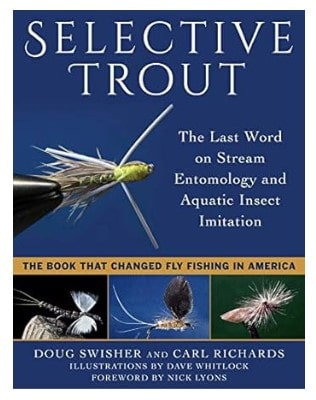 Authors Carl Richards and Doug Swisher created this classic book more than 50 years ago, and it's been regarded as one of the best fly fishing books ever written.
The authors updated it in 2001 to include new fly-tying technique innovations for tying trout flies and many others that closely resemble the various insects and other foods that trout and other fish eat.
The patterns and the tying materials replicate the natural food sources so that you can hook more trout and other species while fly fishing.
18. Tying & Fishing Tailwater Flies: 500 Step-by-Step Photos for 24 Proven Patterns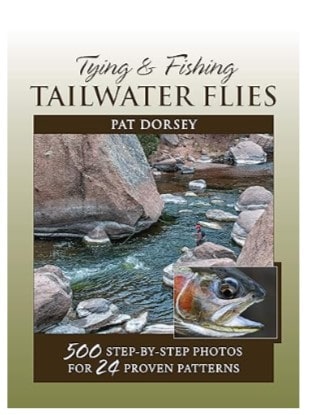 As the title affirms, you get photos that show you the step-by-step techniques to tie flies using 24 proven patterns.
The photographs make it one of the easiest-to-use fly-tying books with individual patterns and material instructions for each of the two dozen proven fly patterns for trout fishing.
19. Landon Mayer's Guide Flies: Easy-to-Tie Patterns for Tough Trout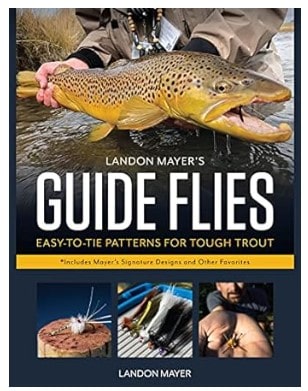 Fishing guide Landon Mayer's fly-tying book is another great resource that focuses on trout flies capable of landing trophy-sized fish.
Mayer shows you how to make 20 easily tied patterns and the material needed to create them for greater fly-fishing success.
A dozen of the patterns are Mayer's own creations, and he adds eight of his favorites that other guides created to catch trophy-sized trout.
20. Flytying For Beginners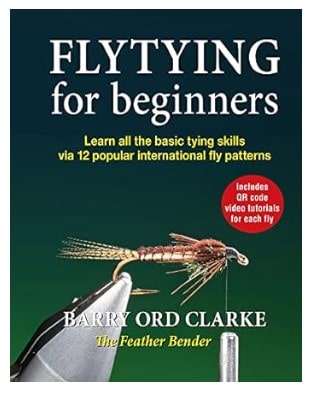 You can learn the tying techniques for a dozen flies that are among the world's most popular.
It's one of the best reference books for beginners and gives QR codes and YouTube links to videos that show exactly how to make each fly.
The work is among the more useful fly-tying books for those who are just learning the fine art.
21. Secret Flies of the Czech and Slovak Fly-Tiers ( My Favorite Book)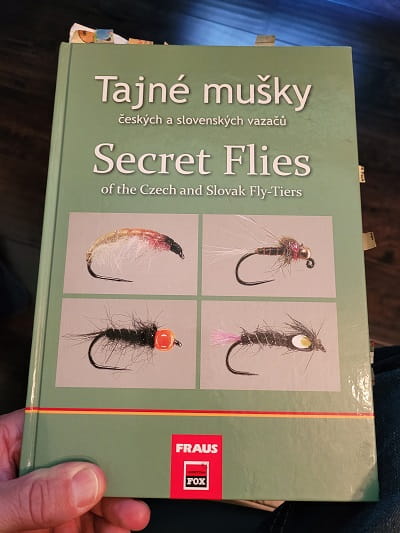 This book is full of unique flies tied by world-class competition fly anglers.
The only problem with this book is it's very hard to get, and it might even be out of print now, so if you find a copy, buy it quickly.
This is my all-time favorite book for modern fly patterns. Many of these fly patterns are top flies for me and my guide clients.
I even recommend some of these on my page 29 Best Trout Flies,
17 More Great Fly Tying Books to Consider
Flytyers Masterclass – Oliver Edwards
Clouser Flies
Bob's Fly Tying Tips and Techniques
The Feather Mechanic: A Fly-Tying Philosophy
Basic Fly Tying
Hairwing & Tube Flies for Salmon & Steelhead: A Comprehensive Guide for Anglers & Flytyers
Nymph Masters
101 Favorite Dry Flies: History, Tying Tips, and Fishing Strategies
The Orvis Guide to the Essential American Flies: How to Tie the Most Successful Freshwater and Saltwater Patterns
Fly Tying for Everyone
Saltwater Fly Patterns
Essential saltwater flies – Ed Jaworowski
The Flytiers Companion
The Fly Tying Artist: Creative Patterns for Common Hatches
Trout Flies – Dave Hughs – Trout Flies
Essential Flies for the Great Lakes Region
Fly Fishing Evolution: Advanced Strategies for Dry Fly, Nymph, and Streamer Fishing – George Daniel
The Best Fly Tying Books Q&A
If you have a question or a recommendation for the best fly tying books, let us know in the comments below.
Tight lines
Graham