River fishing guides are experts at the methods and the spots in their area and they can offer you many things that make their daily fees well worth it.
Are You Really Doing It Right?
I think back about all the methods and things that I did for many years that were ineffective. I practiced these methods for years without knowing there were better ways. I won't even use these methods now and I definitely would not teach my clients them because I know there are far more effective methods available.
River Fishing Guides: The Experts You Can Trust
A great river fishing guide can cut your learning curve down by years and it can actually save you a lot of money.
I think back at all the junk hooks, bad flies, wrong rods and reels, and other gear I bought when I first started.
A good river fishing guide has already figured out what works and that is what they will teach you.
With all the information on the internet, I see tons of bad advice. I know it's bad because I know what I am doing, but new anglers don't know what is good advice and what isn't.
A good river fishing guide will use the right gear, right methods, and be in the right spots, and that is what they can teach you.
With a good river fishing guide, you will get the right advice because the advice comes from years of research and trial and error.
Read all the books you want, watch all the YouTube videos you want, nothing beats having someone standing beside you all day watching you, seeing where you need improvement, and then coaching you along. I good river fishing guide can be invaluable!
Tips When Hiring Guides
My number one tip when getting out with a good river guide is to be observant, ask lots of questions, and be open-minded. Being prepared for your trips helps too.
Also, be patient and make sure your expectations are not too high. After all, pro athletes didn't become great after just one time out with a coach, it takes years of coaching and practice.
The good news is that fishing is not that complicated so you can learn a lot in a very short time with a guide.
This page is a work in progress and I will be adding new guides as fast as I possibly can.
If you have recommendations for a great guide in your area, let me know in the comments section below.
Should You Tip A Fishing Guide and How Much?
Every fishing guide is going to have a different opinion on this but the general rule is that yes, you should tip your fishing guide10 to 25% if they provide good service.
Good service doesn't mean lots of fish, sometimes the fish are there but they just don't bite. If your guide teaches you a lot, works hard for you, and does everything possible to try and get those fish to bite, then that is good service.
I have always said this I still believe that tips are not expected or are they required but they are always appreciated. I know many guides that feel exactly this way so don't feel like you must tip your guide if you are short on cash or are already over your budget.
Don't let not being able to afford to pay a tip to be the reason why you don't hire a guide!
Ohio Fishing Guides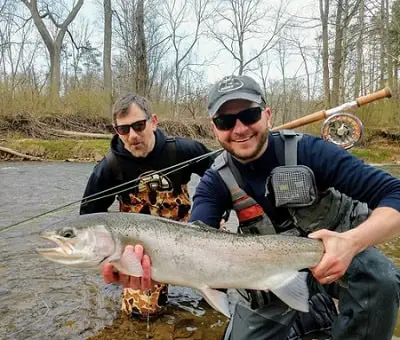 Pennsylvania Fishing Guides
Coming Soon
Michigan Fishing Guides
Coming Soon
New York Fishing Guides
Coming Soon
Ontario Fishing Guides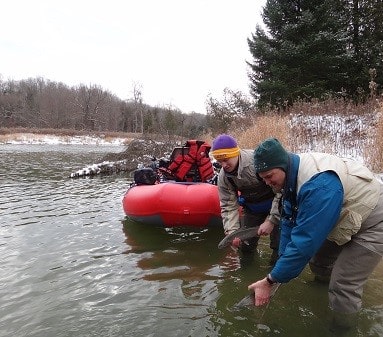 A Perfect Drift Guide Company has been Southern Ontario's top river guide service for over 12 years.
The guides there specialize in Fly fishing, Centerpin fishing, and Spin fishing for trout, steelhead, and salmon.
They guide 13 of Ontario's best trout and steelhead rivers.