Skamania Steelhead: A Complete Fishing Guide
The Skamania Steelhead is a unique summer migrating steelhead developed by the State of Washington hatchery using wild stocks on the Washougal River. Adult Skamania steelhead are found on the west coast and on select rivers of great lakes.
These summer migrating steelhead trout provide anglers with fishing opportunities but only if anglers know where, when, and how to catch them. This article will help with that.
What Is A Skamania Steelhead?
Skamania steelhead are a sub-species of traditional winter running steelhead. They are a summer run steelhead.
Though they are often confused with salmon because they enter the river so early, but Skamania and all the other steelhead varieties are actually rainbow trout.
The difference between Skamania steelhead and a similar-sized rainbow is the Skamania are anadromous, meaning they spend a portion of their life cycle in the ocean or in some cases the Great Lakes.
Rainbow trout are an entirely freshwater species that stay in the rivers and do not migrate out.
Skamania are found in the Great Lakes region with heavy concentrations in the waters flowing into Lake Michigan, and the new york side of Lake Ontario, as well as throughout the waters of the Northwest in the Columbia River drainage.
Skamania now populate many rivers thanks to the efforts of hatchery staff at hatheries on the west coast rivers and around the great lakes region.
In some areas, especially on the west coast, like other wild steelhead, the state will protect these wild steelhead with zero harvest regulations for the wild steelhead.
How Are Skamania Steelhead Different Than Winter Steelhead?
Physically they are almost identical, but behaviorally, they are very different.
Sexually mature winter run steelhead move in from the Ocean or the Great Lakes, back to the stream they were hatched from November to March, with the spawn taking place in the spring.
These steelhead are more mature and larger becuase they spend more time feeding in the ocean or great lakes.
Skamania is a summer run variety of steelhead that will start migrating back to their birthplace as less sexually mature steelhead as early as May. Once they arrive back in their home waters, Skamania tend to find refuge in deep pools and grow to spawning size in the river until they spawn in early spring.
A June run steelhead won't often spawn until February or March. Because Skamania steelhead enter less mature they bite almost any bait which makes them easy to catch and they fight hard when hooked. Make sure your drag is set properly with these fish.
In appearance, an educated angler and river guide can tell the difference between a Skamania and winter run steelhead just by looking at them.
Skamania tend to have long narrow bodies with oversized tails compared to the more rounded compact bodies of winter run steelhead. In many cases, the Skamania Steelhead almost look like a stretched-out steelhead.
Another difference that many anglers will attest to is that Skamania are known to be very acrobatic, and when hooked, it's normal for them to make many high jumps and long runs. Many anglers would say that they jump a lot more than winter-run steelhead.
When Do Skamania Steelhead Enter The Rivers?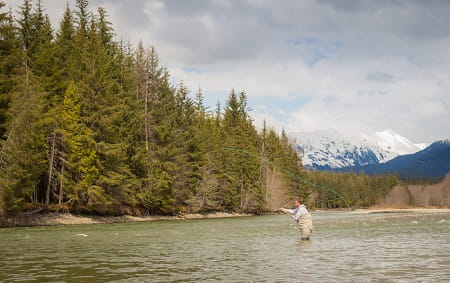 Both the Pacific Skamania that are anadromous, and the entirely freshwater Skamania of the Great Lakes Basin can enter rivers beginning in late Spring or as early as May in some areas and under the right conditions.
More will enter in July, August, and September, and anglers may find themselves hooking into these hard fighting steelhead while fishing for Chinook salmon. This early summer run steelhead often begins to run shortly after the winter steelhead spawn has just ended in the spring and the best times will be July and August after rains or cool nights.
Shore and river mouth anglers will start hooking Skamania in early to mid-May as they start to congregate closer to the rivers.
The best times for Skamania fishing from the shores, piers, and river mouths are in the morning or at dusk since they prefer to move into shore and up the rivers during low light hours.
The best times up the river are also early morning and evening or on cloudy and cool days.
What Triggers The Runs?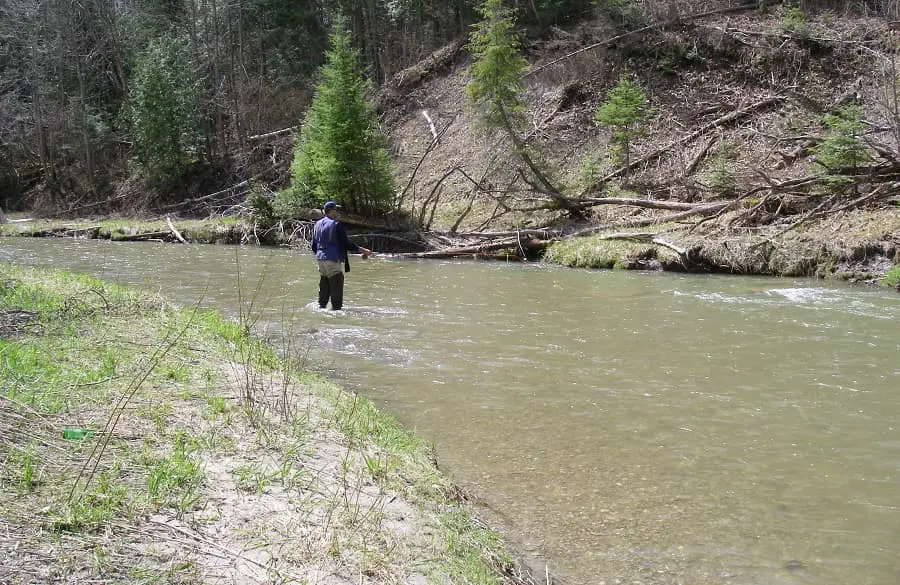 There is a lot of speculation, and not much clear scientific evidence to determine why Skamania begin their run in the summer months.
Like other summer run steelhead, the biggest determination seems to be the size of the fish itself.
The thought is that smaller fish can navigate smaller streams easier than large ones can, and this means they can reach better spawning grounds further up the stream.
However, older Skamania can get very large and over 15 pounds and still be capable of navigating hundreds of miles of river, but even a 15-pound steelhead in June is still smaller than it would be in December.
Because summer-run fish can continue to grow in freshwater to reach spawning size, some believe that geographic location is an indicator for summer-run fish.
Swimming nearly a thousand miles to spawn in Idaho or Montana at a swimming rate of seven miles per day means they need to make an early start if they're going to make the spawn on time.
Both water temperatures and water levels can trigger them to start their migration. Water temperature may be ideal in late spring so some will run then, but in August, warmer waters can slow the spawning run down in some rivers until the water temperature drops again.
They also don't want to migrate up very low rivers so rains and higher water flows are better and a trigger for them to run.
When Do Skamania Steelhead Actually Spawn?
Skamania spawn around the same time as many winter run steelhead, which is in the early spring. January to March are the heaviest spawning times in the Pacific west but in the Great Lakes region that may spawn later since most river are frozen over or too cold in January and February.
Winter steelhead may still be spawning in early April or even in May in some areas.
On rare occasions, some skamania might even spawn in late fall or through the winter months providing the right temperatures.
Where Can You Catch Skamania Steelhead?
The best areas in the Great Lakes Basin for Skamania are found in Michigan and Northern Indiana as well as New York.
The best west coast areas are found in the Columbia River drainage.
Indiana Skamania Steelhead
Indiana's stocking programs for steelhead includes Skamania. Indiana hatcheries put Skamania into some of their bigger rivers after collecting eggs and raising them to a select size. The Bodine state fish hatchery is the top hatchery for Skamania.
Anglers will start to see Skamania moving into streams in June.
Michigan Skamania Steelhead
Michigan DNR stocks Skamania into some of their bigger rivers of west Michigan which can provide a good summer steelhead fishery close to Michigan City. Anglers may find Skamania from Southern Lake Michigan to Northern large Michigan tributaries.
Just north of Michigan City are big rivers like the St Joseph River which some say might be the best Skamania river in the great lakes region. For guide trips near and north of Michigan City Contact John from Get Bent Guide Service.
Eastern shorelines of Michigan might have some Skamaina but West Michigan rivers are much better. I believe most stocking takes place on West Michigan Rivers.
Because of this, fishing for Skamania in Lake Michigan is much better than fishing in Lake Huron. June through late August can be a good time to fish Lake Michigan. For charter boat trips and northwest Michigan river trips check out Fire Plug Charters.
The fight on these large rivers requires strong line on, strong rods, and a good reel with a good drag. July can be a good month for Michigan.
Some of the best fishing is in the shallow areas of Lake Michigan where the tributaries enter the lake. Trolling, shore fishing, and even casting from piers can get strikes.
New York Skamania Steelhead
Upstate New York DNR stocks Skamania into the Salmon River and other close by rivers may typically see some stray Skamania as well. These stocked fish have provided an almost year-round fishing opportunity and reports of caught Skamania are good from June to October.
These fish feed and grow big in Lake Ontario before heading back into the rivers. Be sure you use the right size line and leader for these strong fish.
Also, the salmon river get large runs of lake run brown trout and salmon in September and October and it's common for the Skamania to gorge on salmon and brown trout eggs.
I have caught many steelhead in the riffles or pool just below spawning salmon.
It is uncertain if there is much natural reproduction in these great lakes rivers.
At one time, Ontario, Canada, stocked Skamania into some of the better colder steelhead rivers, but they gave up due to low returns, and since few were caught it's pretty clear that there is very little natural reproduction occurring.
If you end up catching a Skamania in Ontario, it's likely a stray from Michigan.
On the West Coast, the Columbia River and its hundreds of tributaries are the places go on both the American side of the drainage to the south and the Canadian drainage flowing down from the north.
What Are The Best Skamania Steelhead Rivers?
You can find a stray Skamania in many tributaries of the Columbia River, but the best areas calculated by total catch are in these Washington State rivers.
Lewis River
Little White Salmon
Wind River west coast
Cowlitz River
Kalama River
Lewis River
North Fork
Toutle River
For steelhead fishing on these river and areas check out:
Lake Michigan tops all the other areas around the great lakes for Skamania fishing, with rivers and streams draining into Michigan's favorite steelhead areas where anglers might spot Skamania on their summer run.
The best Michigan rivers For Skamania are:
Trail Creek near Michigan City
Little Calumet River
Salt Creek
Coffee Creek
Manistee Rivers
Pere Marquette
The Salmon River in New York is another option for Skamaia fishing.
Skamania Steelhead Fishing: Targeting Them
This is partly due to fish moving up the river so fast. One day an area can be great and the next day it can be dead. Guides like me know to move and follow the fish.
Often the first steelhead will enter the rivers in June or July under higher water conditions and often when the water is slightly stained. This is a good time to target fish in the lower section of the river.
Target them below rapids which is where they will hold and rest before shooting up the river.
After each rain, try the lower river sections, but if it has not rained for a while, smart anglers will try further up the river. Many anglers look for a slight green tint in the water, evidence of snow melt in the mountains above as the best time to catch Skamania.
In August and September, many summer run steelhead will be held up in deeper pools or areas with colder water.
Anglers are smart to look for summer steelhead that may be held up near the headwaters of larger rivers, in deep holes, or below the river mouths of small cold creeks. These creek mouths are often the best area to catch steelhead during the heat of the summer. During the summer, anglers trout fishing in the upper reaches may often hook into these big fish.
In lower summer waters, the steelhead will also be found near boulders, logs, and even in faster rapids hiding from the sun and predators. They will also try to avoid warm water, so springs or spring upwellings in the river are good. Shaded areas where the river runs through thick forests can be good.
As fall progresses, the majority of Skamania will be up the river holding in larger pools where they will feed on minnows, eggs from spawning salmon or trout, and flies. Fish behind spawning salmon as the Skamania strain steelhead will sit behind the salmon and feeds on any salmon eggs that drift off the beds.
Salmon eggs and egg imitations are the best bait when fished below salmon.
Steelhead will feed heavily once in the rivers as this allows them to sexually mature and get bigger before they spawn. Typically, they can't get enough eggs so a well-presented egg pattern will hook more fish for you.
Best Methods For Skamania Steelhead
Steelhead are all the same species, with subtle variations.
The Skamania in general is longer, and tapered, compare to the football shape of most steelhead, but they eat the same things, and they hit the same lures and bait.
There are many different methods of catching Skamania during the summer months, and again near the spawn.
Lure Fishing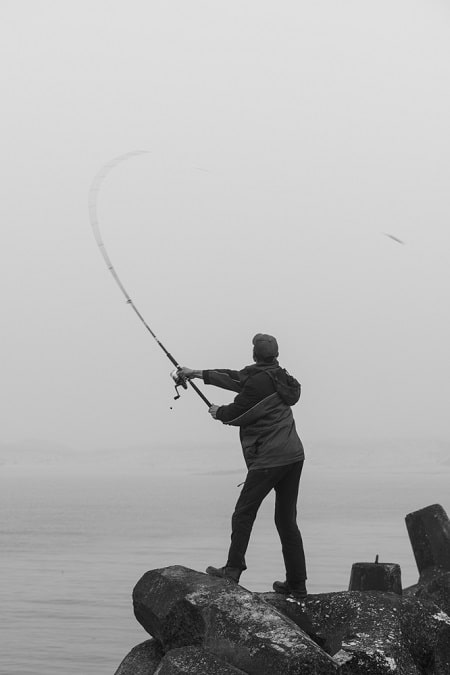 If a rainbow will hit it, odds are a steelhead will too.
The best Skamania lures are spinners, with the Blue Fox Vibrax, the Panther Martin, and the Mepps Aglia the top ones in this category.
You can lure fish with spinning rods or baitcasting reels.
Other very good lures include crankbaits like Rapalas and plugs like Kwikfish. Check out Lure Fishing For Steelhead for tips and methods.
Lure fishing can be good both in the river or out in the lake.
Drift Fishing – Drift Fishing Can Mean Two Things.
Drifting down the river in a boat using methods like back driving where you are letting the current do the work for you while you bait and boat move along with the current is the essence of drift fishing.
You can do this from a float tube, kayak. See River Fishing Boats, where I discuss some of the best inexpensive river boats and methods used by anglers and guides.
The other meaning of drift fishing is casting your line, weight, and bait out into the current and letting it drift naturally down the river while you stand on the bank or wade into the river.
This method is used a lot more by the majority of anglers. Learn more about this effective method at Drift Fishing For Steelhead.
Plunking
Plunking is another method of steelhead fishing used around the great lakes and on the west coast. It's another term for bottom fishing, but this time with a heavier weight since you want your weight to anchor to the bottom and not move.
Tie a clear leader with live bait three to four feet above a heavy weight and cast it into a channel, then wait.
Both river and shore anglers will use this method. I see many anglers at the mouths of the rivers using the plunking method when steelhead fishing.
For more on this method, check out Plunkin For Steelhead.
Bobber Doggin
This is a combination of bottom bouncing and float fishing that is useful in heavy current areas.
The idea is to let a float move the bait with the current, with this method of steelhead fishing, the float basically pulls the weight and bait along.
Bobber doggin is a somewhat newer steelhead fishing method, and I just did an article discussing it in detail and I provide my opinion on why it's good or not.
For more on this method, check out Bobber Doggin: How To Do It.
Bottom Bouncing
Bottom bouncing is a steelhead fishing method I use a lot. It's also referred to as a drop shot steelhead fishing because one of the bottom bouncing rigs has the weight below the bait. You cast and retrieve with a slight jerking action to keep the bait moving, and the weight ideally won't bind up with weeds.
This methods is very similar to Drift Fishing, however, I like it better in smaller and shallower water and in pocket water. With this method, you can keep your baits in the strike zone for the majority of the drift.
For more on Bottom Bouncing, see Bottom Bouncing For Steelhead, Trout, and Salmon
Float Fishing
Like the most effective steelhead fishing method whether you fish the great lakes or the west coast.
It is also perhaps the most popular Skamania style of fishing.
Float fishing means suspending your bait below a float which sets your bait at the same level as the fish, keeps it in the strike zone longer, and allows you to control the speed better, which all encourages strikes. For more on this method, see Float Fishing.
Float fishing can be done with a spinning rod, spinning reels, baitcasters, but it's hard to argue that the most effective way to float fish is with a Centerpin reel. For more, check out Centerpin Fishing.
Fly Fishing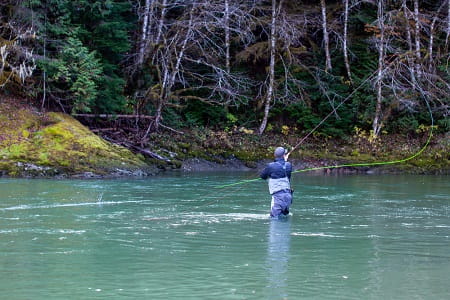 Fly fishing is a preferred method by a lot of west coast and great lakes fishing guides. Fly fishing can be a great way to catch Skamania.
Because Skamania are in the river during the summer month there are aquatic insect hatches and they will key in on this food source.
They will feed on Nymphs below the surface and will even take dry flies off the surface making them a favorite for guys that want the experience of catch big steelhead on the surface.
You can Spey fish with Spey flies, streamer fishing is also very effective, and anglers can also do indicator nymphing or Euro nymphing.
For more on all of these types of fly fishing methods as well as great steelhead flies, check out our article Fly Fishing For Steelhead.
Jig Fishing
Not the most popular method of steelhead fishing, but jig fishing for steelhead and salmon can be very effective if you know how to do it and which jigs are best.
This is an art form of angling. The fisherman and the jig must work together in various water conditions to mimic the movement of a bait fish. See Jig Fishing For Steelhead.
Best Baits For Skamania
Fish eggs like spawn sacs or skein, beads, flies, worms, and small minnows that are live or dead will work on all steelhead, including Skamania.
For more on baits, check out Best Steelhead Baits, where I cover all the best baits and provide tips on how to make them better.
Skamania Steelhead Q&A
That wraps up this article on Skamania Steelhead Fishing, but if you have any questions, comments, or advice, let us know in the comments sections below.
 Tight Lines,
Graham