Idaho Steelhead Fishing: A Complete Guide

If you are interested in Idaho steelhead fishing, then look no further, as our steelhead guides have put together a complete guide on fishing steelhead in Idaho.
Idaho has some great steelhead fishing and some famous rivers like the Salmon river which is well known for great Idaho steelhead fishing. All methods work for steelhead here, and we cover them all.
About Idaho Steelhead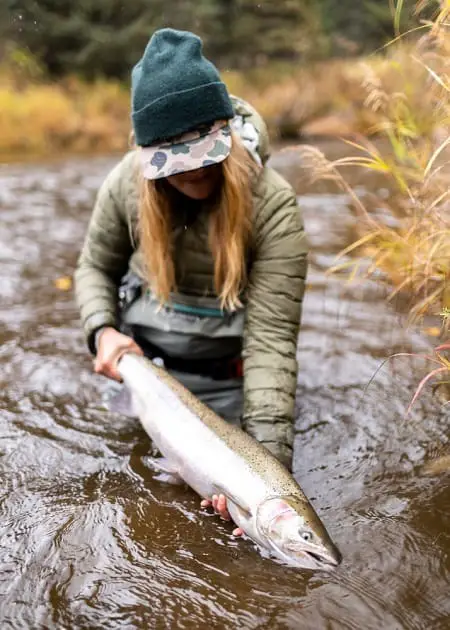 Idaho Steelhead fishing offers you two choices – wild ocean-run steelhead and stocked fish from hatcheries.
Steelhead are basically sea-run rainbow trout.
They swim to the ocean after hatching and then return to their home river to spawn a few years later.
Unlike salmon, they do not die after spawning, and they can return to the ocean and return again to spawn another time or two.
The record for steelhead in Idaho is 30.13 pounds from the Clearwater River.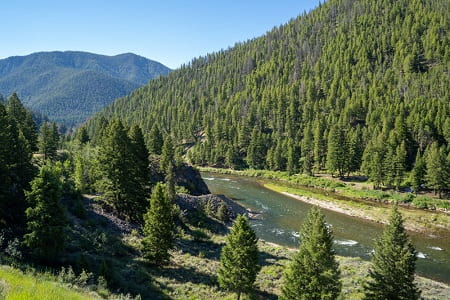 Wild Steelhead – Available on the Salmon River, Snake River, and the Clearwater.
Stocked Steelhead – Available on the Salmon River, Snake River, Clearwater, plus the Boise River and other rivers.
Steelhead fishing in Idaho has two other options. A-run and B-run steelhead. There is a difference in the fish you target, and it is important.
A-run steelhead spend less time in the ocean and return early in the year – July and August. You find them on the Snake River and Salmon River. Generally, expect an A-run steelhead to be in the 4-6 pound range and max out around 24 inches.
If you are into trophy steelhead fishing in Idaho, you want the B-run steelhead. They stay in the ocean longer and grow larger. You fish them on the Clearwater and some of the creeks and tributaries of the Salmon River.
A "B-run" Steelhead is 10-13 pounds and maxes out around 34 inches. They show up later in the season – August and September.
Some steelhead spend an additional year in the ocean, and those can reach landing weights of 20 pounds and 37 inches in length. These are also B-run steelhead, and they are the stuff of legends.
Idaho Steelhead Fishing Rules, Licence, Permits, Tags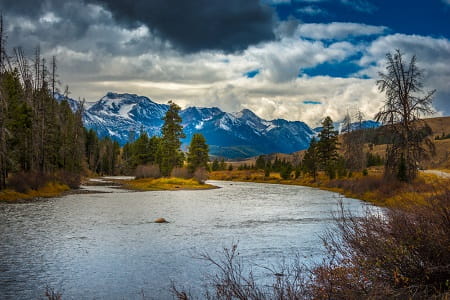 Steelhead fishing in Idaho requires a fishing license if you are over 14. If you are from out-of-state and are under 14 years, you must go with someone who has a fishing license.
You will also need a special license (tags/stamps) to fish for steelhead in Idaho on top of your regular fishing license – an extra $15.
Limits– Nine is the max number of steelhead you can have in your possession. You can take no more than three fish per day and no more than 20 fish for the entire season. Of note: There are two seasons meaning a max of 20 fish per season. 
Best Time To Fish Steelhead In Idaho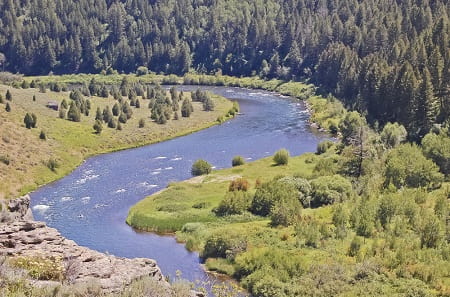 Due to the way the fishing seasons fall, there is almost always a "best" time to fish steelhead in Idaho.
The season begins in July and winds down at the end of April. May and June are closed.
The Ice Flow – Winter months are cold and icy slush on the rivers slows the fish migration down. If you know where those pools are and you are willing to brave the winter weather, you can limit out quickly. The natural spawning cycle may run from July/August until May.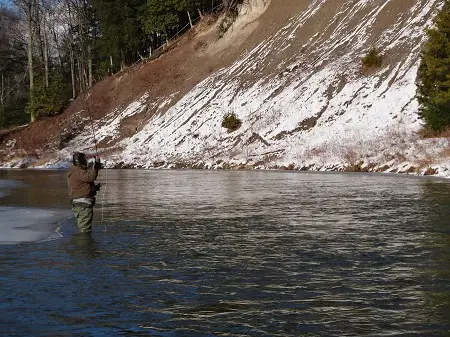 The fall fishing season for steelhead on the Snake and Clearwater rivers begins on July 1, and August 1 on the Salmon River.
However, the best time to fish for steelhead is September through March when more fish are in the water. If you've booked an Idaho guided steelhead fishing trip, check with your guide about the best times.
Salmon River – Mid-September and October are peak fishing and February and March are peak runs for spring. 
Snake River – September through December is the "hot" time, though you can find fish in the Snake in July. 
Clearwater River – October and November are good months on the Clearwater with February starting the spring peak. A good bet for tackle fishing.
Spring Steelhead Fishing In Idaho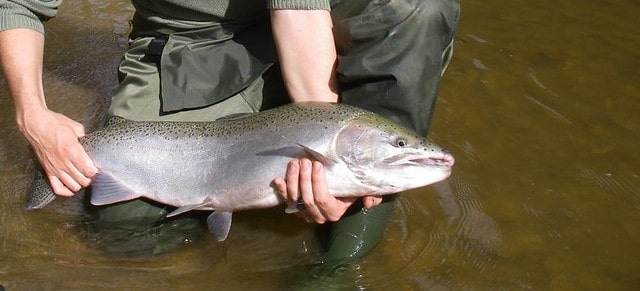 The spring steelhead fishing season opens on January 1 in most areas. It runs until April 30th and closes for May and June. 
The best spring fishing begins in mid-February and March due to the drop in ice in the water.
Knowing where the fish are each month is important. Salmon River steelhead fishing in spring is best with steelhead fishing guides. They will know where the fish are and how to access them – walk and wade, drift boats, etc. Guides make the difference even for those of you who are pros.
Summer Steelhead Fishing In Idaho
The steelhead season closes in May – Opening again in July or August. Early season fishing means A-Run steelhead are smaller. The B-run steelhead begin to show up in August and then not in high numbers until September. 
Fall Steelhead Fishing In Idaho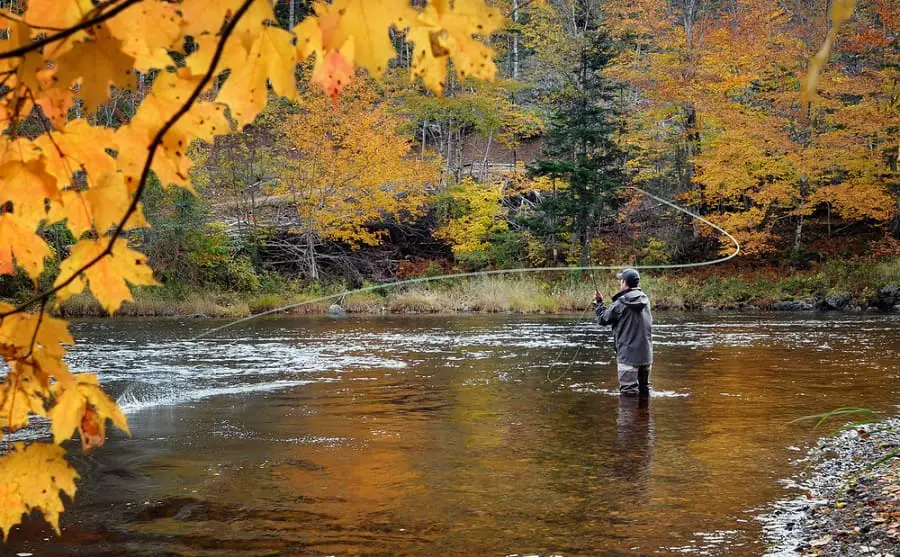 The seasons start in July and August but don't expect a lot of fish until late August and September. If you are targeting big trophy fish, you want to head to the Clearwater River in late September through December.
You can also find B-run steelhead on the Salmon River Tributaries. Again, steelhead fishing guides are a good bet.
Winter Steelhead Fishing in Idaho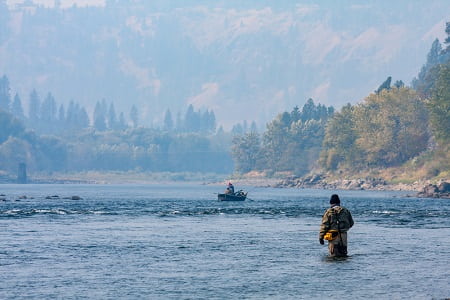 The Fall season for steelhead fishing including Salmon River steelhead fishing, Salmon River Canyon, Clearwater River, and the Snake – ends on December 31.
Winter fishing steelhead is worth the trip if you can dial in the fish.
The best opportunity will be Clearwater River steelhead fishing with a steelhead guide. Later in the winter, the water is icy and can become slushy, which stops the fish from completing their spawning run.
Early winter is the best opportunity before conditions become too icy and the consistent water temperatures disappear.
Best Steelhead Rivers In Idaho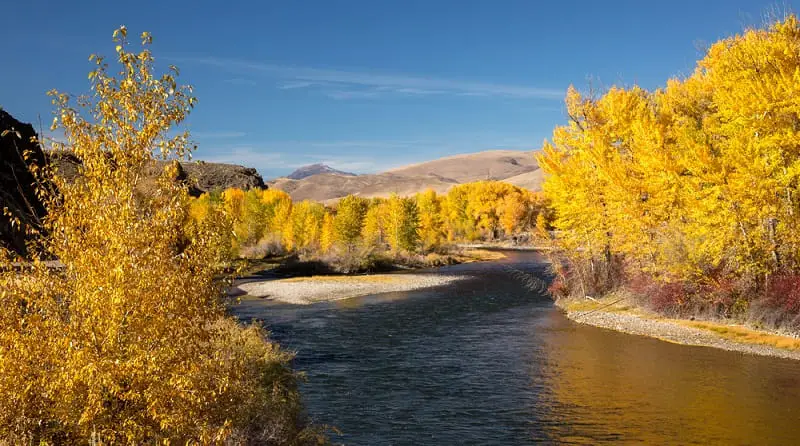 The three best river steelhead fishing in Idaho include the Salmon, Snake, and Clearwater Rivers. You can fish the tributaries throughout the season – later in the season for the Clearwater River.
Methods For Idaho Steelhead Fishing
There are a bunch of techniques used in the Pacific Northwest that anglers should learn. Some of these techniques will be more effective than others.
Fly Fishing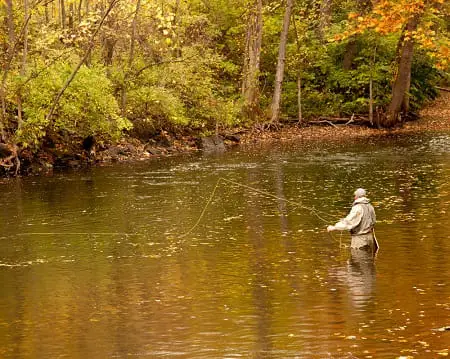 Tossing flies for steelhead is world-class in Idaho. The breathtaking scenery and the trophy fish make this a sport of kings.
Aim for egg pattern flies, nymphs, and leeches which are all good examples of steelhead flies for Idaho.
Local fishing guides usually supply flies that are suitable for each river you fish – walk and wade or drift boats with a fishing outfitter are options.
Float Fishing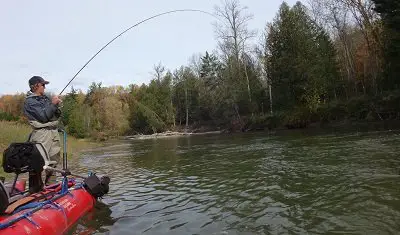 Float fishing is also a top tactic for fishing Idaho steelhead.
Floating means you rig your rod with a bobber or "float" and suspend the bait below the bobber but not on the bottom.
This technique allows the bait to float in the current and presents the food to the fish in a natural way. It is a subtle trick that entices the fish to strike.
Spin Fishing
Many anglers use spinning reels and rods when steelhead fishing in Idaho, and they use them with multiple methods.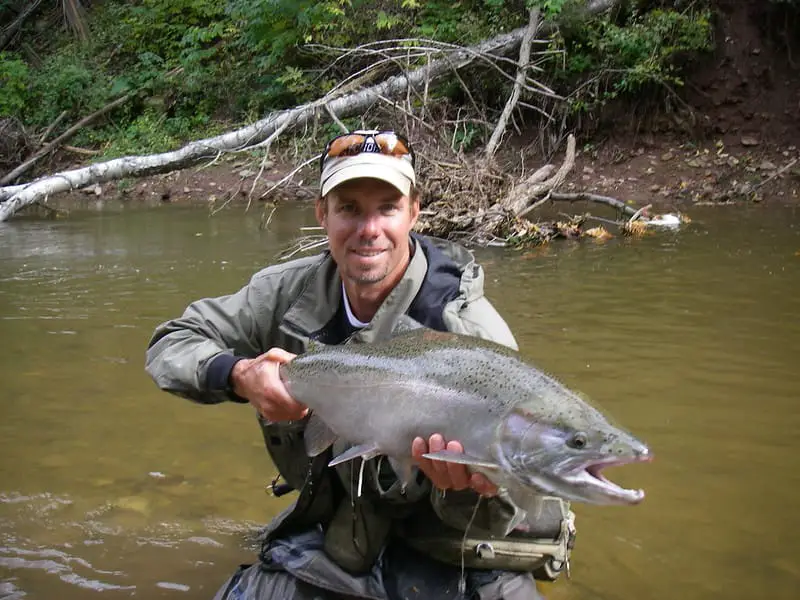 Lure Fishing
Lure Fishing – like salmon, spoons are a good bet for lures. Worm mimics, egg beads, spinners, and plugs are also an option.
It's a good idea to have an arsenal of options as some may work better from month to month and season to season.
Lures can be very effective if you use the right ones and you know how to use them, which means multiple things, including how to cover the water, the action of the lures, and getting the right depth. I discuss all of these at Lure Fishing For Steelhead.
Jig Fishing
Fishing steelhead with jigs is not very common, however, it can be very effective and there are veteran anglers and river guides using jigs for steelhead, salmon, and trout with great success.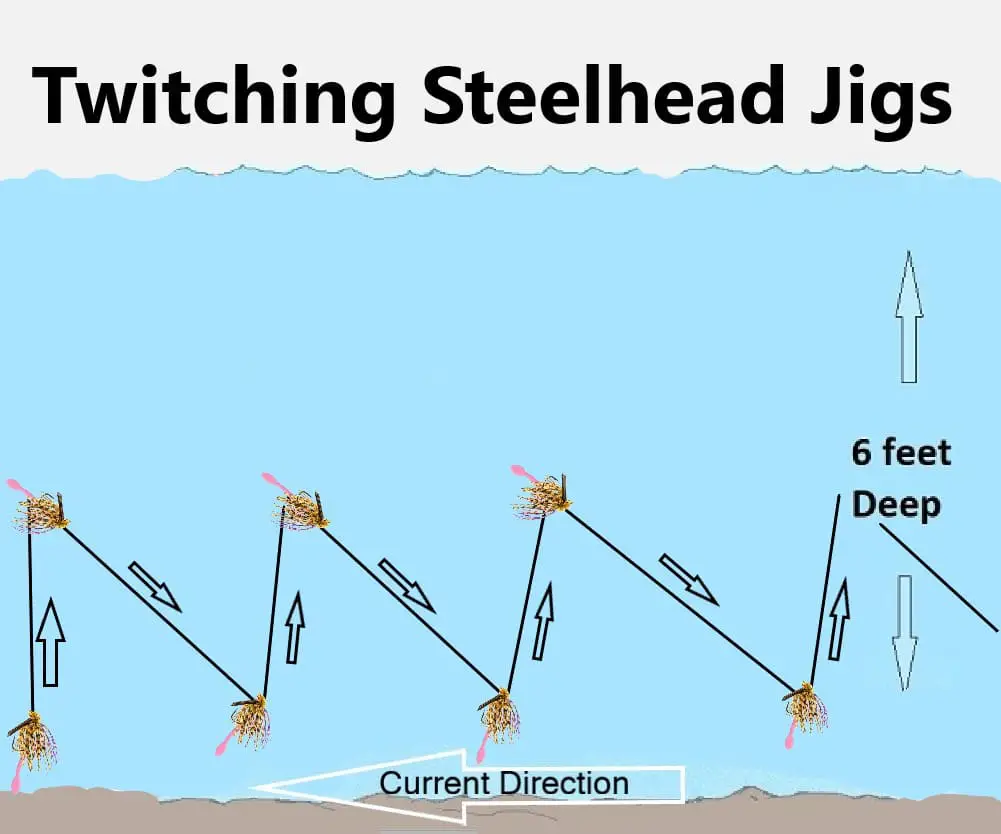 I use them when guiding clients, and at times they are hard to beat.
There are multiple ways to fish them which can include drifting jigs below a float or when drift fishing or bottom bouncing, but you can also cast them and jig and twitch them.
See Jig Fishing For Steelhead for the best jigs and best methods.
Bait Fishing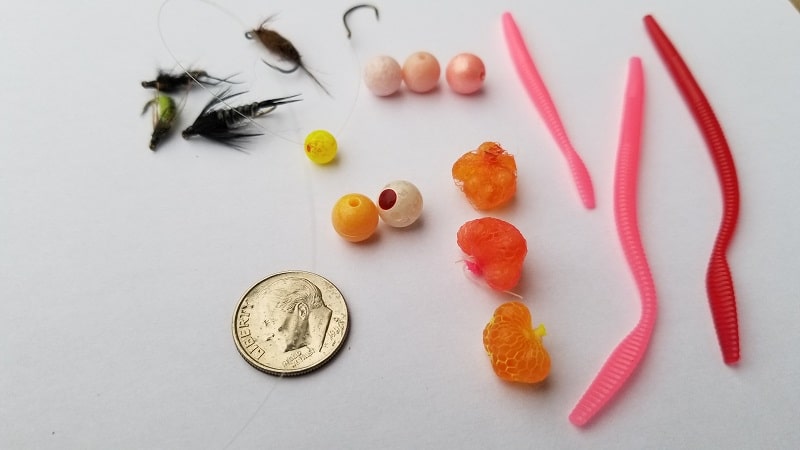 Bait Fishing – methods include bottom bouncing, float fishing, drift fishing, plunking, and bobber doggin for river steelhead.
See the bait fishing methods below.
Bobber Doggin
Bobber Doggin: Bobber doggin is similar to float fishing except that your float drags the weight and bait down the river. I discuss this method and provide my opinion and conclusion about this new method. See Bobber Doggin.
Drift Fishing And Bottom Bouncing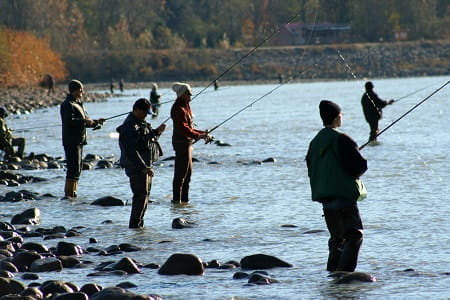 Drift Fishing and Bottom Bouncing: These are two popular methods that are very similar.
Drift fishing is best on bigger rivers, longer casts, and faster currents.
Bottom bouncing is best on smaller sections of the river, pocket water, and shallower runs. Both are very effective.
Plunking For Idaho Steelhead
Plunking: A stationary method where you cast a bait and a very heavy weight that anchors and hold your bait in place near the bottom. You then simply wait for the steelhead to swim by. It works in all types of water. See Punking For Steelhead.
Best Baits For Idaho Steelhead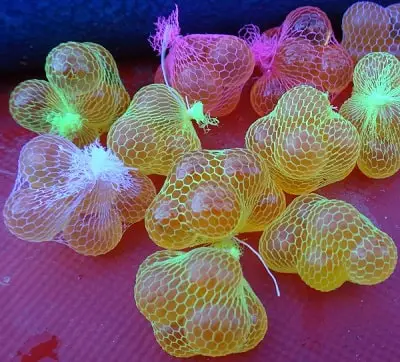 Idaho prohibits live baits that swim. No minnows or insects may be used.
If you want to use live baits for steelhead, you can use worms, including wax worms.
Pink worms are one of the best baits including nightcrawlers for your fishing trip.
Salmon roe or eggs are another very effective bait. Trout and salmon fry have to compete for resources and steelhead will remove free-floating salmon eggs. Skeins or netballs are effective.
See 11 Best Baits For Steelhead.
3 Best Idaho Steelhead Guides
Idaho Steelhead Guides – Salmon River steelhead fishing with many options to define your trip – single day or all week. Five-star ratings.
Salmon River Anglers – Five-star ratings – out of Sawtooth Valley – fly fishing and fly fishing school – Single-day fishing trips or multiday opportunities.
Headwaters Fly Fishing Guides – Out of Stanly featuring half or full-day fishing adventures. 4.9 stars with plenty of positive reviews. Explore all of the Salmon River.
3 Best Idaho Steelhead Lodges
Teton Valley Lodge – All-inclusive fishing resort – out of Driggs ID, they offer guided trout and steelhead fishing trips on the Snake River.
Three Rivers Ranch – Access to Rivers and lakes throughout Idaho with a focus on the Snake River. Fly fishing and camping with guides, guided fishing trips, and plenty of comforts at the lodge.
Steelhead Inn – out of Lucile, ID – Steelhead fly fishing – Salmon River – Access to guides and a good spot for DIY anglers. Year-round access to good fishing conditions.
Where Is The Best Steelhead Fishing In Idaho To DYI?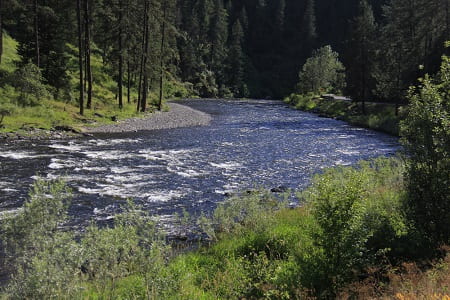 The North Fork and South Fork of the Clearwater River offer access for those who want to DIY fish.
Late fall and early March are prime times. Bring your own tackle, flies, and gear, and dress for the season.
If you are worried about the environment and fishing during the colder time of year, guides are available.
Drift Boats and Jet boats Fishing Trips
Most anglers won't have a drift boat or a jet boat but there are other options that I will discuss.
Some of the bigger Idaho Steelhead rivers and the largest undamed rivers are big enough for jet boats and drift boats, and many guides will offer jet boat and drift boat trips.
The advantage is you will be able to fish more river miles and see the most spectacular wilderness all in a single trip.
Inflatable pontoon boats and inflatable rafts are a great way for regular anglers to drift down many rivers. Even some guides will use these rafts since they can get into even very small and hard to get places that the jet boats and drift boats can't access.
Using these smaller inflatable boats is generally safe and they can get you into less pressure water and actually help you catch more fish. I discuss these boat in more detail on my page River Fishing Boats: Catch More Fish With A Boat.
Can You Keep Wild Steelhead In Idaho?
The current regulations state that you are not permitted to keep wild steelhead in Idaho.
A limited number of hatchery fish may be kept, but please check the regulations for the area or river that you want to fish.
Do You Need A Steelhead Permit In Idaho?
You need a special license ($15 additional fees) to fish for Idaho steelhead.
Idaho Steelhead Fishing Q&A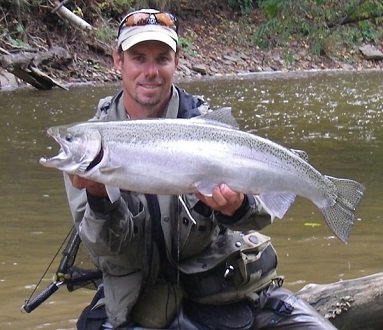 That concludes our article but check back soon because we will be updating this as we bring on more local river guides for this area.
If you have questions or some advice on Idaho steelhead fishing, let us know in the comments section below.
Tight Lines
Graham