Steelhead Fishing Washington: A Complete Guide
This Steelhead fishing Washington article is a complete guide with information and images provided by river guides. This ensures you get accurate and better information than what you will find on other websites related to Washington Steelhead Fishing.
Many Anglers will claim that Washington is one of the best states for steelhead fishing, and they could be right. There are two seasons, Steelhead fishing Washington has summer and winter steelhead and Washington steelhead fishing is highly regulated to ensure a great fishery.
What does this mean? All wild steelhead are catch-and-release only. Hatchery steelhead are keepers if they are over 20 inches long and then you are only allowed two per day. You can fish steelhead year-round, but the best months are August through January.
We will discuss the where, when, and how of Steelhead Fishing In Washington.
Washington Steelhead Fishing Rules, Licence, Permits, Tags
Steelhead Fishing in Washington State is very regulated and things can change from season to season and year to year so we recommend that you do NOT rely on us for regulations but instead you check the official Washington state fishing regulations.
All fishing in Washington State requires a fishing license if you are over the age of 15. Steelhead fishing in Washington also requires a catch card which you must return to the Washington Department of Fish and Wildlife.
Washington has a long list of license options including combination licenses. If you are only interested in Washington steelhead fishing then the single freshwater fishing license will do.
If you plan to target other fish including shellfish, you will need a combination license. The first catch card is included with your fishing license and additional cards run about $13 each.
In the past, Washington State anglers were required to purchase an "Endorsement" which is similar to a tag or stamp in other states. They dropped that requirement in 2019 along the Columbia River and the greater Columbia River system.
Steelhead fishing in Washington is highly regulated and the regulations change often. It is advised that you check with the Department of Fish and Wildlife before you fish as the season may close suddenly.
Best Steelhead Rivers In Washington By Area
"Best" is a key term as all wild steelhead must be released. If you plan to keep what you catch, you want to focus on the stocked populations. Washington state is one of the last great steelhead fisheries.
There are many rivers throughout the state that have runs of wild and stocked steelhead. Therefore, sometimes the best river is the one closest to you.
For some anglers, the best steelhead rivers in Washington are the ones where they can keep some fish, for others, the best steelhead rivers in Washington are the ones with the most fish, or the biggest fish.
For some anglers, the best steelhead rivers in Washington are the ones that offer solitude.
Puget Sound Region
The Skykomish River is one of the best areas within the Puget Sound watershed to fish Washington Steelhead fishing.
At just 29 miles long, it has one of the largest summer runs and winter steelhead runs in the area. Jun and July are peak for the Summer steelhead runs and December and January are peak months for winter runs of steelhead trout.
This is a smaller river making it wadable in summer and perfect for fly fishing or spin casting. It also has access to guided fishing trips or for those who want to DIY fish.
North Puget Sound Area Steelhead
For small stream Washington steelhead fishing the North Puget Sound area offers stocked streams such as the Tokul Creek, Stillaguamish River, and Snoqualmie River.
Expect fish from both the summer and winter runs.
The smaller rivers are havens for fly fishing or you can dial in the fish with special techniques such as floats.
South Puget Sound Steelhead
There are multiple good rivers in the South Puget Sound area that are accessible and will provide anglers with good opportunities for multi-fish days.
The Deschutes River
The Deschutes River system offers both summer and winter runs of Washington steelhead trout.
The average steelhead on the Deschutes River is 4-8 pounds with bigger fish being rare but in the 10-12 pound range.
The steelhead trout here are top water feeders making the Deschutes River a haven for fly fishing.
The Nisqually River
The Nisqually River has a reputation for trophy steelhead with a September and October peak. for Winter run steelhead. A guided fishing trip on the Nisqually River is your best bet to target big trophy steelhead.
The Duwamish River
The Duwamish River is also a haven for planted steelhead both summer and winter run varieties.
Tributaries, such as Icy Creek are also planted and make an awesome fall and winter steelhead destination. The area is great for tossing flies for nice-sized fish.
North Olympic Peninsula Steelhead
The Hoko River, Sekiu River, and Dungeness Rivers are all stocked and those would be the top three places to target steelhead in the North Olympic Peninsula.
Hoko River State Park is a destination for DIY Washington steelhead fishing. The Hoko River is the best option as the others have smaller volumes of stocked steelhead.
Drift boat fishing is popular and guides are available, though there are DIY spots where the fishing is usually good.
West Olympic Peninsula Steelhead
The Sol Duc River is one of the best areas for wild fish. It is almost a guided river as the water is risky for boats and access from the banks is difficult. If you can find a guide, you can expect amazing winter runs of steelhead.
The Calawah River is near the Sol Duc River and offers easier access and the same level of fishing.
Willapa Bay Steelhead Rivers
Southern Washington fishing is the Willapa Bay with its many steelhead rivers. Those include:
North River
Naselle River
Gray's River
Willapa River
Access to wild or hatchery steelhead with options for guided fishing or DIY access. Good for both summer and winter steelhead.
Columbia River Region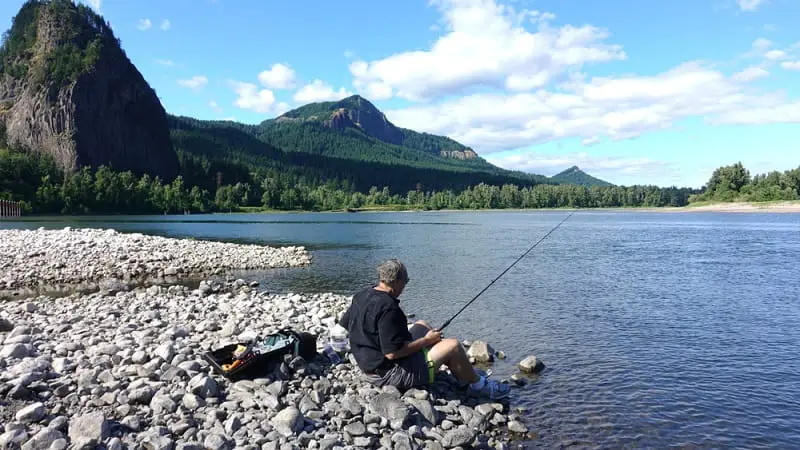 The Columbia River is a massive river that looks more like a lake than a river on the lower end. The Columbia is a major steelhead destination for anglers looking for summer steelhead and winter steelhead.
Late May through July are the peak months for shore fishing and drifting for summer steelhead. The mouth to around the Vancouver area is the best place to fish in late May and June. Winter steelhead can be caught in November through to May.
The upper and middle Columbia River areas have runs of steelhead and can be productive for the angler who wants a quiet day targeting holes and riffles.
Lower Columbia River Tributaries
The Columbia River is wide and there is a lot of water to cover when fishing for steelhead. If you are fishing from shore you probably want to hit the tributaries that empty into the Columbia River.
These tributaries are narrower, and often wadable and you can pinpoint where the fish are more easily. The Cowlitz River, Toutle River, Coweeman River, Kalama River, and Lewis River all offer options for steelhead anglers.
The Kalama and Lewis Rivers are lower Columbia waters and their seasonal runs are smaller.
Columbia River Gorge Steelhead
The Klickitat River and the Little White Salmon River are the two river tributaries off the Columbia River Gorge.
These rivers produce fair runs of summer steelhead with July and August being peak months.
Eastern Washington Steelhead Fishing
The Snake River is a key steelhead watershed. It is the gateway for sea-run steelhead to migrate into Idaho and eventually connect to the ClearWater River in Idaho. That makes it a steelhead gateway and an excellent option for fishing the Eastern Washington Steelhead Fishing.
The dams along the Snake are popular for trolling and there are four of them. Early Fall – September and October – are peak months when the numbers of fish increase dramatically.
The upper Snake River in Washington is active from Fall into Winter.
The Snake River is the top choice here, but close second options can include the Methow River and the Wenatchee River.
Both offer large stocked populations of Steelhead. For those of you who want a quieter fishing adventure, you can do well on the Walla Walla River and the Tucannon River- both offering stocked steelhead with peaks being the Fall months.
The Methow River
The 80 mile long Methow River is a major steelhead tributary of the Columbia River in northern Washington.

Float fishing, drift fishing, and fly fishing are the most common methods for steelhead fishing on the Methow River.
The Methow River has one of the highest return rates of wild steelhead in Washington state, with an average catch rate between 15-20%.
Experienced boat anglers will also have success using techniques such as backtrolling plugs, side drifting egg sacs, or casting lures such as spinners, spoons, and crankbaits.
Fishing from a drift boat allows anglers to access more of the river than wading does, which provides a greater opportunity for success.
Steelhead season on the Methow runs from October through April on the Methow River, so it's important to plan your trip accordingly. During this time period, water temperatures range from 48°F (9°C).
Best baits for Methow River steelhead will include eggs sacs, skein, beads, worms, and flies. See more great steelhead baits on my page Best Steelhead Baits.
Many of the same flies I recommend on my page best flies for steelhead will work on the Methow River steelhead. Try Wooly buggers, egg-sucking leeches, zonkers, mayfly and stonefly imitations, worm patterns, and egg patterns.
UPDATE: In the past, the Methow River has one of the highest return rates of wild steelhead in Washington state but things have changed so special fishing regulations on steelhead now apply and they can change from year to year.
Hopefully, it will be back to normal regulations and good fishing with the recent stocking efforts.
If you are new to the Methow River you could try the stretch from Lower Burma Road to Gold Creek, but again check the fishing regs.
For a guide in the area check out: Washington Fly Fishing Guides (brazdasflyfishing.com)
Washington Coast Region
The Washington Coast region includes two watersheds of merit – the Grays Harbor and the Chehalis River basin. The best locations are the lower sections and as you head upriver or you want to focus on the tributaries.
The other option for the WA coastal region is the Wynoochee River. Peak seasons are early summer – June and July – and a second run in December and January. The Wynoochee River is heavily stocked with summer and winter steelhead.
On the Chehalis River, you can hit the Satsop River tributary along the lower section where you will find a smaller river with more options for fishing. Walk and wade and drift boats can be effective ways to access the fish here.
Another tributary of the Chehalis River is the Skookumchuck River. The Skookumchuck River has a hatchery on it and you can fish below the hatchery as allowed. The Skookumchuck River is about 45-miles long and runs through southwest Washington. March is the peak season here with access to fish beginning in January.
The Humptulips River has a smaller number of fish but can make for a quieter fishing experience in June and July when everyone else is scrambling to find the best spot on other rivers.
Grays Harbor Area Steelhead
Grays Harbor is just 90 minutes from Olympia making it an easy day fishing trip or guided fishing for steelhead. There is also a prolific population of steelhead here. Focus on the areas of the bay where rivers empty into it. The Humptulips River mouth is a key spot. You can also book charter boats, guides, or fish from the piers. The East side of the Bay is where you find the mouth to the Chehalis River and more options for steelhead fishing in Washington.
Best Time To Fish Steelhead In Washington
July and August are peak months for fishing for Washington Steelhead during the summer fish runs. Again in December and January for winter run fish. The peak runs tend to be later the farther inland you go and they may change slightly depending on whether you are fishing a main river system or a tributary.
Spring Steelhead Fishing In Washington
Many of the rivers close on March 1 or early in the year. The Cowlitz River is one that is often open and the winter run steelhead is available on the Cowlitz. March and April are the times when the sea steelhead begins to gather. They are feeding and fattening up and in May many of those begin to mass near the bays for access to their spawning rivers.
April and May be good times for a saltwater charter or guided fishing trip that targets saltwater steelhead. Be sure to check with the Washington Department of Fish and Wildlife for coastal closure for steelhead.
Summer Steelhead Fishing In Washington
Summer is perhaps the best time of year to steelhead fish in Washington rivers. The warmer water means the fish are active and feisty. They are feeding as they move upstream and that means they will hit flies, lures, and bait. July and August remain the peak months for much of the Summer run steelhead.
River options for Summer steelhead include:
Skykomish River
Sky River
Snohomish River
Calawah River
Wynoochee River
Cowlitz River
Fall Steelhead Fishing In Washington
Fall and Winter steelhead fishing begins in August when the winter steelhead begins to show up in the rivers in enough numbers to make it a full day of fishing. You can target them by fly fishing or with a spinning rod but keep in mind that wild winter steelhead are catch and release only. Some of the best rivers include:
Skykomish River
Hoko River
Bogachiel River (Olympic peninsula)
Calawah River
Wynoochee River
Skookumchuck River
Cowlitz River
Tributaries are often a good bet in the fall.
Winter Steelhead Fishing in Washington
Winter steelhead includes fall fishing, though there is a crossing-over period where the summer steelhead and winter steelhead are both in the rivers at the same time. The best rivers include:
Skykomish River
Wynoochee River 
Skookumchuck River 
Hoko River
The following rivers have good winter steelhead runs too.
Bogachiel River (Olympic peninsula)
Calawah River
Skookumchuck River
Cowlitz River
Best Steelhead Rivers In Washington
The best options for hatchery steelhead and wild winter steelhead remain the following:
Skykomish River (good steelhead fishing year-round.)
Wynoochee River 
Skookumchuck River 
Hoko River
Washington's coastal rivers are often where you find the wild fish and inland you find the summer run steelhead. If you have limited time to fish any of these four rivers will likely have larger runs of steelhead and most are perfect for either fly fishing or spinning rods.
Other options include rivers along Washington's Olympic Peninsula where you will find hatchery steelhead and wild fish. Washington State remains one of the top fisheries for steelhead throughout the Pacific Northwest.
Methods For Washington Steelhead Fishing
Fly Fishing
Fly fishing remains one of the biggest options for trout fishing and steelhead are trout – rainbow trout that spend part of their life in the ocean. Often anglers will seek out smaller streams and tributaries but fly fishing continues to be a good option for hatchery steelhead and wild fish on larger rivers.
Float Fishing
Float fishing uses a bobber to hold the lure or bait in the strike zone. Steelhead rest on the bottom often in holes but they love colors – bright reds, oranges, yellows, and even greens. They will leave their hole and strike anything that looks like roe in the water. Float fishing allows you to cast upstream so that the currents drift the lure or bait downstream in a natural way that helps increase the odds of steelhead striking your line.
Spin Fishing
Spin fishing uses a spinning rod for cast and retrieve fishing using lures or baits. You can use a spinning rod for float fishing, plunking, or drift fishing.
Best Baits For Washington Steelhead
Salmon roe remains the best bait for Washington steelhead. Trout eggs are also an option that works well. If you are using worms, big pink worms work best. Summer steelhead also will take larger insects such as dragonfly naiads. If you are fly fishing, use egg patterns, leech patterns, and wet fly naiads.
3 Best Washington Steelhead Guides
Gaffey's Fishing Guide Service – 5-star Google reviews – multi-river fishing trips including the lower Olympic Peninsula.
Brazda's Fly Fishing – Olympic Peninsula – Open Year Round for steelhead, trout, and Salmon. 5-star reviews on Google.
Rip Some Lips Guide Service – 5-star Google reviews – Western Washington – professional and customer oriented.
3 Best Washington Steelhead Lodges
Wild Duc Lodge – Olympic Peninsula – Multi-river guided steelhead trips – Self-service home with room for ten. – Olympic National Park
3-Rivers Resort – Cabin style and perfect for the DIY angler – Olympic Peninsula – Guided fishing available.
Steelhead Ranch – On the Klickitat River – Summer steelhead trips – day trips and overnight trips including lodging.
Where Is The Best Steelhead Fishing In Washington To DYI?
It is hard to beat the Skykomish for shore steelhead fishing. The area around Reiter Pond Hatchery offers top fishing with plenty of shore access. Also near Gold Bar is the High Bridge. You can hit the North Fork of the Skykomish River near Index and find awesome fishing spots for DIY anglers.
The Green River between Kent and Auburn offers DIY access for fishing for Washington Steelhead. The Green River is in South Puget Sound and has summer and winter runs of fish.
The Hoko River – North Olympic Peninsula has DIY access points along the Hoko-Ozette road above the town of Sekiu.
Can You Keep Wild Steelhead In Washington?
For the 2023 season, wild steelhead are catch-and-release only. This is due to low returns and low water situations in the spawning rivers. It pays to check often with the Washington Department of Fish and Wildlife about the status of steelhead fishing. The species is viewed as highly important.
Do You Need A Steelhead Permit In Washington?
As of 2019 you no longer need a special permit to fish for Washington steelhead. What you will need is a catch card so that you can log the fish you take and submit that back to the Washington Department of Fish and Wildlife. You will also need a license either a freshwater license or a comb license for salt and freshwater fishing.
Steelhead Fishing Washington Q&A
I hope to update this page soon, so check back to see the updates and images from our local Washington river guides. If you have any questions or advice on steelhead fishing Washington, let us know in the comments sections below.
Tight Lines,
Graham