Summer Steelhead Fishing Michigan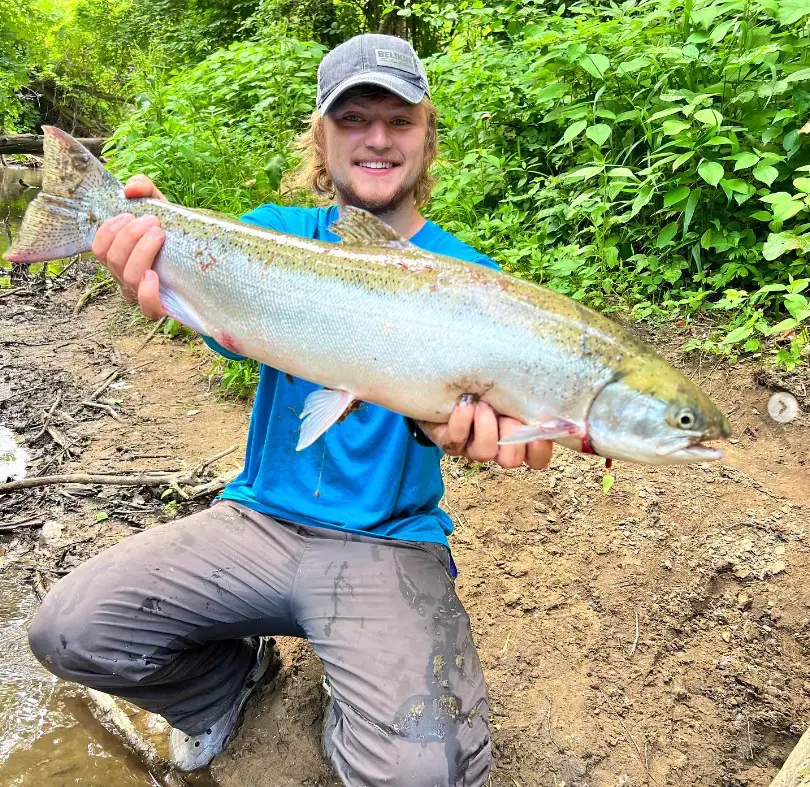 This article on summer steelhead fishing Michigan is a collaborative effort with Michigan river guides and the guys at SBS Outdoor Action that fish for summer steelhead. Along with some great info and tips from these guys, I'll also provide links to some great videos of summer steelhead fishing in Michigan.
For Summer Steelhead Fishing Michigan, anglers need to know when they run, where they run, and how to catch these awesome summer steelhead if they want to be successful. Summer steelhead fishing in Michigan is a bit of a mystery for many anglers but it doesn't have to be.
As you probably already know, all our articles are brought to you by guides who are experts in these topics. This is to ensure that you always get the best up-to-date information and methods that work.
Summer Steelhead Fishing Michigan
Not everywhere around the can you enjoy steelhead in the rivers during the summer, but In Michigan, there can be good fun fishing on some select rivers with most of the summer steelhead weighing 5 to 15 pounds.
Michigan stocks a summer run strain of steelhead known as Skamania that will enter some rivers starting in June and they will remain in the rivers until early spring.
I remember the first stockings around 20 years ago and remember seeing my first Skamania.
This unique strain of steelhead was introduced to many rivers around the great lakes to create a summer steelhead fishery in the rivers. Nobody knew what the outcome would be. Some areas continued stocking Skamania while other areas stopped. Luckily, Michigan is still stocking Skamania in good numbers.
Now, only some select rivers get stocked and will have good summer steelhead runs which provide good fishing even in the hotter summer months.
The cool water temps of the rivers allow the steelhead to be active and they will constantly feed and chase down lures and baits.
The Best Time to Fish
On cooler spring years, some Skamania start entering Michigan rivers as early as May and with peak numbers from June to September.
Late spring and summer rains increase river flows, which presents an excellent opportunity to fish for summer steelhead fishing in Michigan.
Often the best time for summer steelhead fishing after rains in July and September.
However, this summer strain is not mature enough for spawning yet when they enter which makes them unique from the winter run steelhead. Not all summer run steelhead are Skamania.
Skamania and other summer run steelhead undergo a staging period in the rivers before finally spawning in the early springtime. The long staging period allows anglers an ample opportunity to enjoy the run and it allows the steelhead to travel long distances and to get very far up the rivers.
Summer steelhead runs are highly dependent on river flow and water temperature.
Generally, the best time for fishing would be June and July, as the run peaks with many summer steelheads heading into the Michigan rivers.
August is hotter and dryer, so the runs sometimes slow down until cooler nights and rains trigger more to run.
Pier Fishing For Michigan Summer Steelhead
Anglers will start catching Summer run steelhead out from the river mouths and off the piers starting in June.
This can be a good spot for summer steelhead anytime from June to October.
Summer steelhead will often move into the areas of the river mouths and hold there until the conditions are ideal for them to start running the rivers.
Often ideal conditions are when river levels are high due to rains and in the evening when the rivers cool.
Anglers will do well when casting lures like spoons, spinners, jigs, and crankbaits. I discuss these baits and fishing methods on my page Lure Fishing For Steelhead.
Bait works well and most anglers will use the plunking method or slip floats.
Watch the guys at SBS Outdoor action catch some Michigan summer steelhead from the pier.
Lake Michigan Summer Steelhead Fishing
Summer steelhead fishing doesn't always mean summer run fish. There are lots of winter steelhead, salmon, great lakes brown trout, and lake trout available out in the lake.
Anglers with their own boats will troll using spoons, plugs, and cut baits.
Other anglers can take advantage of the many charter boats like Fire Plug Charters.
Charter captains know the right depths and areas to find summer steelhead.
Many of them will even troll deep for salmon and lake trout and higher in the water column for steelhead at the same time.
The Best Rivers to Fish
The Great Lakes are one of the most popular fishing spots for winter-run steelhead, but only a few rivers will have Skamania steelhead. These are some good options for summer steelhead fishing in Michigan.
Pere Marquette River
Listed as a National Scenic Waterway, the Pere Marquette River holds the best scenic view, has summer run steelhead. winter run steelhead, good numbers of salmon, as well as resident brown trout, and lake-run migratory brown trout.
It is a blue-ribbon fishery, visited by many anglers as it offers excellent steelhead runs.
Big Manistee River
The Big Manistee River has many recreational activities, and fishing for steelhead and salmon are the most popular.
It is considered one of the best trout and steelhead fisheries east of the Rocky Mountains. The Tippy Dam along the Manistee River is one of Michigan's most accessible spots for summer steelhead fishing.
Good salmon and great lakes brown trout fishing is found throughout the river. For the Manistee and Muskegon river guide contact Alex at Fire Plug Charters.
Grand River
The Grand River is Michigan's longest river and one of the most significant tributaries of Lake Michigan. Fishing spots along the Grand River allow anglers to fish with views of the buildings and city life.
The grand river gets runs of steelhead and salmon.
Muskegon River
The Muskegon River is home to an abundant number of wildlife, including the summer steelhead runs.
Being the second-longest river in Michigan, it has become a popular fishing spot for many anglers in search of summer steelhead, winter steelhead, and salmon.
St. Joseph River
The St. Joseph River is home to an abundant number of Skamania steelhead due to the large and current stocking, and anglers will start experiencing summer steelhead fishing starting in June.
Some say this is the best summer steelhead fishing in Michigan and possibly anywhere in the great lakes region.
The Best Methods
In Michigan, summer steelhead are often active, feeding, and can be caught using multiple fishing methods.
Float Fishing
The float fishing method involves a long 10 to 14-foot fishing rod, bait, and float.
The float, also known as a bobber, allows the angler to keep the bait suspended at varying depths.
Float fishing is a popular technique for beginning anglers and experts. One of my specialties is teaching and guiding with floats for steelhead, trout, and salmon.
Anglers can float fish with spinning reels, Baitcasting reels, or best is the Centerpin reel. Float fishing with Centerpin reels might be new for some anglers but I've been doing if for over 30 years and it is the most effective way to float fishing on most steelhead rivers.
I explain why at Centerpin Fishing For Beginners, or for more advanced anglers, check out Centerpin Fishing For Steelhead: Tips and Tactics Used By Guides.
The best spots for float fishing for Michigan summer steelhead would be the more significant, deeper pools with average depths of 3 to 15 feet.
For float fishing, the best practice would be to place your bait in the correct strike zone, which is often near the bottom of the river and you do this by adjusting the leader below your float.
Anglers that know how to float fish well, and have the proper leader setup will catch ten times more steelhead.
For more on the float fishing method check out: Float Fishing For Steelhead: Guide Methods.
Fly Fishing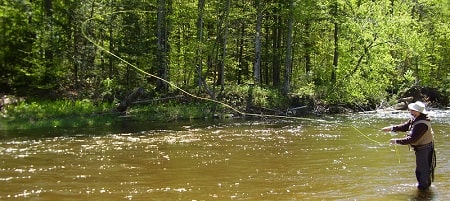 Fly fishing, in general, makes use of artificial flies, which usually include nymphs, egg flies, and streamers.
Summer steelhead are known to even take dry flies which is pretty damn exciting.
I've been fishing dry flies for brown trout and rainbows and have had big summer steelhead grab my fly which is always a surprise.
Fly fishing is a popular method used by many anglers in Michigan. There are three common methods of fly fishing for steelhead that will work, they include Nymphing, Streamer fishing, and Spey fishing.
The right fly, leader set up, and the right size tippet, combined with the right fishing spot are essential factors for a successful fly-fishing experience. I discuss all of this in my article Fly Fishing For Steelhead.
Spin Fishing
Spin fishing uses a spinning lure to attract the attention of the summer steelheads. Summer steelhead is known for its long runs, so an adequate spin fishing gear should have a line that is solid and long enough to hold a steelhead.
Check out our articles:
Other Methods For Summer Steelhead Fishing in Michigan
Anglers fishing the rivers will also use still fishing and drift fishing methods and will change based on the area and type of river.
As an example, larger rivers that are fairly deep are often fished using the Drift Fishing Method.
Pocket water, shallower and smaller spots fish best using the Bottom Bouncing Method.
Even Bobber Doggin is starting to show up on some of the Michigan rivers. If you have not heard of this yet, check out Bobber Doggin For Steelhead, and Salmon.
The Best Baits, Flies, and Lures
An active summer steelhead will feed on almost anything and is quickly attracted to the right baits that could represent their natural food.
Baits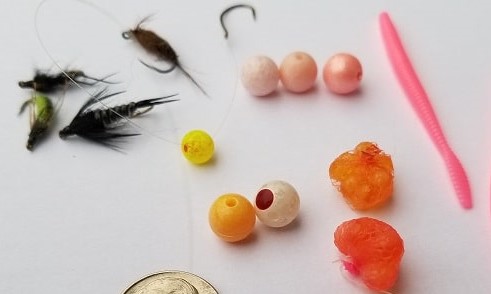 For steelhead fishing, the most popular baits are roe and fish eggs but during the summer these might not be your best option.
Sure, go ahead and try eggs but there are not many trout and salmon eggs in the rivers at this time so other baits like worms, flies, grubs, and maggots might be better options.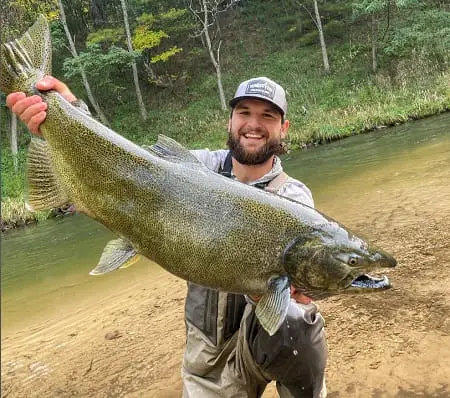 The exception is late summer if early runs of salmon are in the river and starting to spawn, which does happen, in which case summer steelhead are known to hunt for eggs.
You will often find the steelhead behind big salmon in September, October, and November.
Other popular baits include small crayfish, worms, leeches, and minnows. See 11 Best Baits For Steelhead.
Summer Flies For Steelhead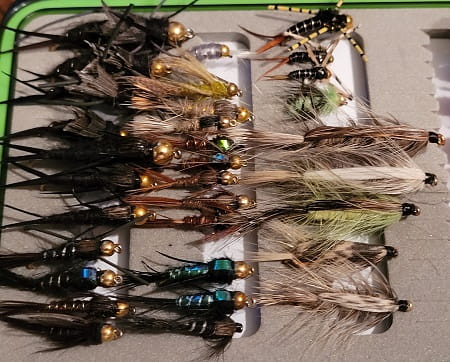 Artificial flies have been a popular tool for attracting steelhead.
Currently, there are many types available on the market, varying in pattern, size, and material.
For steelhead fishing, popular flies used are nymphs, wet flies, streamers, and egg patterns.
Because there are not as many salmon or trout eggs drifting in the river during the summer months and because aquatic insects are readily available and active, nymphs and worm patterns can often be the best flies for summer steelhead.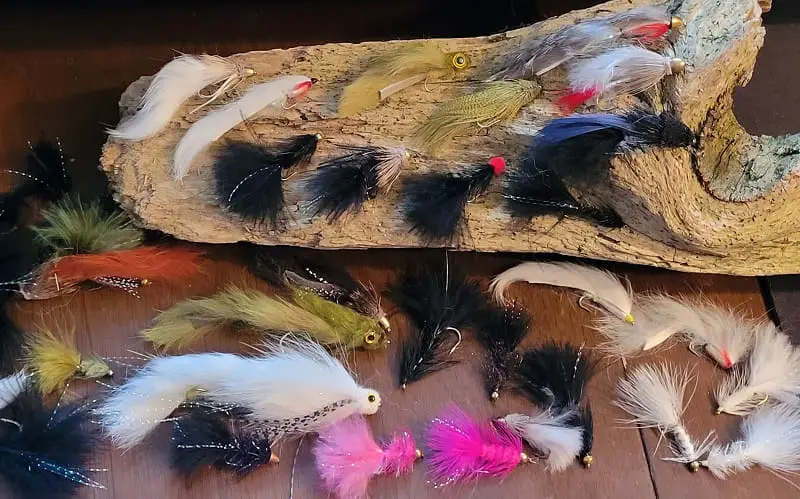 Summer is also a great time for swinging streamers and Spey flies or casting and retrieving or stripping in streamers.
You might even end up catching some big resident brown trout since they love streamers too.
Because steelhead are aggressive at this time of year large flashy streamer can be a good option, however, more natural colors like black, olive, tans, and whites can also be good options.
If you are new to this method check out Streamer Fishing For Steelhead.
Streamer flies like Woolly Buggers and Egg sucking leeches can also be fished under a float or with the drift fishing method.
Flies with flash and movement can also be used to stimulate the steelhead's curiosity. Check out Best Flies For Steelhead.
Lures
The most effective lures for Michigan steelhead fishing are crankbaits, spoons, spinners, and plugs.
Many different colors and sizes will work when summer steelhead fishing in Michigan.
Since they are aggressive in the summer, big and bright lures can work well..
Check out Lure Fishing For Steelhead, which discusses the methods guides use, the most effective lures, the best sizes, the best colors, suitable gear and setups for fishing lures, as well as how to fish them properly in different conditions.
The Best Fishing Opportunities
The riverbanks are not the only best spots for summer steelhead fishing. Summer also kicks off an exciting pier fishing experience.
Lower River Fishing Opportunities
In some rivers, the steelhead will hang around the lower river making piers and lower sections of the river good spots.
On other rivers the lower river will only be good if you are there as the steelhead are moving through, otherwise, summer steelhead will move fast through the warmer lower river to get to cooler water in the upper reaches.
Many summer steelhead will congregate around river mouths and shorelines close to the river and some will move into the river during low light hours and move back out if the conditions are not suitable, meaning the river is too low or too warm.
Low light hours in the morning and evening are the best times to fish anywhere in the river but especially so in the lower section as the steelhead generally move into the river during the darker hours of the day. The exception might be cloudy days.
I mentioned that angler fishing bait out in the lake or river mouth will use the Plunking Method but this method can work anywhere in the river as long as the summer steelhead are moving through.
Other common pier fishing spots in Michigan are Detroit, Grand Haven, Ludington, Escanaba, Holland, and St. Ignace. These piers offer good relaxation during the summer, providing extended strolling areas and a good view of the waters.
Summer Fishing Rules and Regulations
Michigan is a large state rich with many migratory species, making many fishing opportunities accessible to experienced anglers and beginners. Since rules and regulations can change for summer steelhead fishing in Michigan it's best that you check online for the river you want to fish.
And Michigan summer steelhead fishing is undoubtedly a remarkable experience that has kept many anglers on the hook.
Summer Steelhead Fishing Michigan Q&A
That concludes this article on Summer Steelhead Fishing Michigan but if you have any questions or some advice you would like to share, let us know in the comments section below.
Tight Lines,
Graham