5 Best Spinning Reels For Steelhead Fishing: 2023 Buyers Guide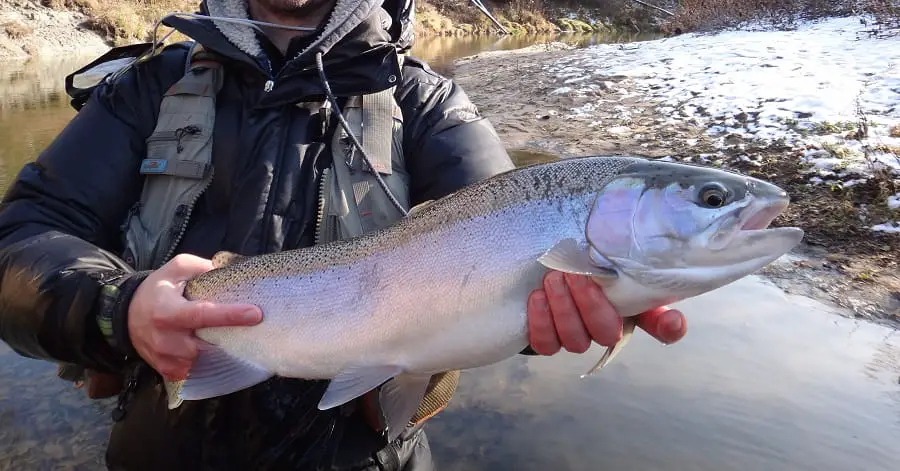 I have been getting a lot of requests about the best spinning reels for steelhead so I've decided to do an article the spinning reels that I use, tested, and recommend. Many of our guides, myself included will use spinning reels when guiding for steelhead, and salmon, and trout, and it's not just the size of the reel that matters.
The best spinning reels for steelhead are ones that have a smooth strong drag that can handle the fast long runs of steelhead. A spinning reel that holds plenty of line is also very important and you can find all of that on reels like the Shimano Stradic reel.
The Shimano Stradic is a mid-priced spinning reel that is loved by experienced steelhead anglers and many guides and for that reason, I have to say the best spinning reel for steelhead is the Shimano Stradic in size 3000, however, the size of the reel need to be matched to the size of the river and the steelhead.
Now, I know the Stradic may not be in your budget, or you may want an even better reel, so when it comes to the best reel for steelhead there are other things to consider, which are all discussed below.
This page contains affiliate links. If you buy something through one of these links we may make a small commission which is at no cost to you. Commissions allow us to continue to bring you great content. Thank you for your support. Affiliate Policy
The Best Spinning Reels For Steelhead: What's Best For You
Before you buy any spinning reel for steelhead you should seriously consider these things.
Reel Size For Steelhead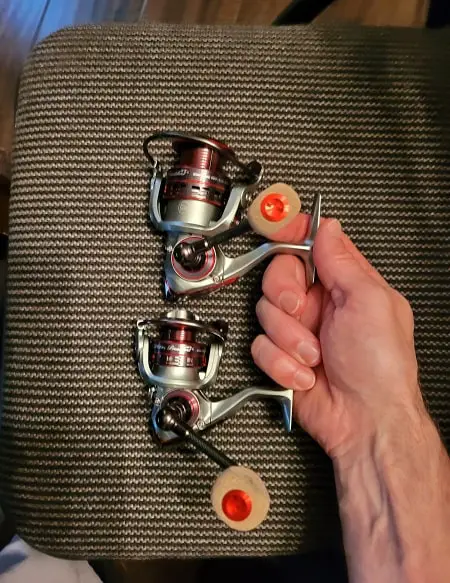 Your reel size will depend on the average size of the steelhead you will be fishing, the size of the river, and how much line you might need to present your bait or lure, or to fight the fish properly.
It's the size of the spool and how much line it will hold that is most important and not so much the actual size of the reel.
However, a larger reel is required if you want a larger spool with a higher line capacity.
When buying a spinning reel for most steelhead rivers, you want a reel that can hold at least 150 yards of 10-pound test monofilament line. See Type OF River Below
Gears and Drag: The Most Important Part Of A Great Steelhead Spinning Reel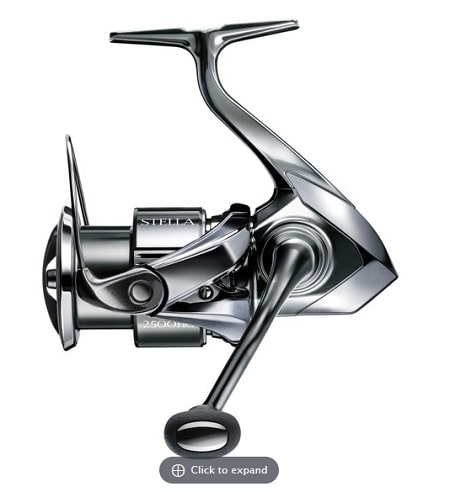 Cheaper reels will have inconsistent drag systems that are not smooth, and they may also have gearing not capable of reeling in big steelhead.
A smooth drag can make all the difference when you are fighting that trophy of a lifetime steelhead.
And, the better the gears the more line uptake you will have and the longer your reel will last.
You will also need a heavy enough drag of at least 20 pounds. This is more important on the bigger rivers and bigger steelhead. However, remember that often, your leader is your weakest link, and rarely do we fish more than 18-pound leaders.
Type Of River
The type of river, or should I say the size of the river matters a lot when deciding on the right spinning reel for steelhead.
What I mean is that if I'm fishing a great lakes steelhead creek that's 30 feet wide, I can probably get away with a size 20 or 25 (size 2000 – 2500) spinning reel because often you are fishing steelhead in confined spots.
Even if the steelhead does run far up or down the river you can chase them, therefore you really don't require a large reel with a large line capacity.
However, when fishing very large rivers like the Niagara River or the Frazer River, or many of the West Coast steelhead rivers, you might consider a steelhead spinning reel in a size 40 / 4000 spinning reel. The primary benefits of a 4000 size reel on very large rivers are that they holds more line and a have a stronger drag.
This is good since anglers on the larger faster flowing river will use heavier and thicker lines.
These larger rivers can have fast flows and lots of room for a steelhead to run 300 feet across the river. And, if the steelhead decides to bolt down the river, you may not have the ability to chase them, and this is where a good drag combined with lots of line that will tire them out is a must.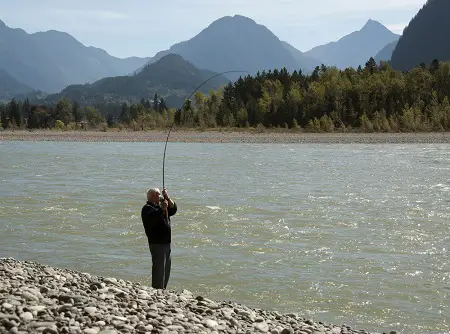 The downside to using a 4000 to 5000-size reel is that many anglers find it to be too big and bulky for all-day-long fishing.
Anglers that use 4000-sized reels say they are a bit too big for smaller to medium-sized rivers.
For most rivers around the great lakes region, a size 25 to 35 (2500 to 3500) spinning reel for steelhead is good. I use 30 and 35 when guiding for steelhead. For most west coast rivers, a size 30 to 35 (3000 to 3500) spinning reel for steelhead is best.
Size Of Steelhead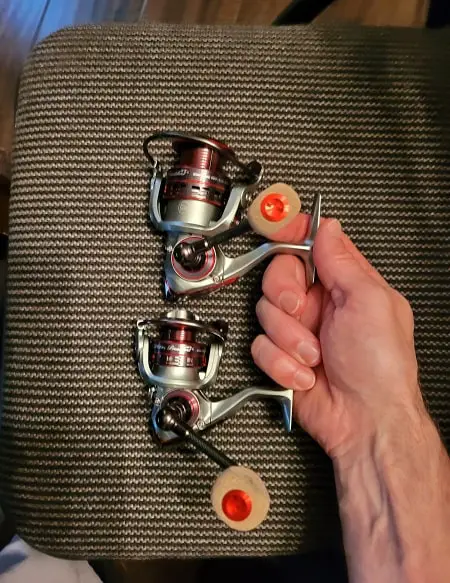 The average size of the steelhead in your rivers can also be a factor to consider.
On some rivers, like the ones you find in Lake Superior, Ohio, and Pennsylvania, the steelhead are on the smaller side, averaging 5 to 8 pounds. For this size steelhead, especially on the smaller rivers a size 30 would be good.
On Lake Ontario rivers or west coast rivers where the average steelhead is much larger, a 3500/ 35 or a 40/4000 spinning reel is best for steelhead fishing.
If you fish the river mouths frequently and cast out into the ocean or great lakes, you may require a different size steelhead spinning reel that has a lot of line capacity since steelhead in the lake or ocean have full energy and a ton of room to swim far.
So for lake and ocean fishing where you might be casting from shore or fishing a river mouth, I would recommend a 40 to 4500 (4000 to 4500) size spinning reel for steelhead.
In the meantime, I discuss the best reels for steelhead when float fishing on my page 4 Best Spinning Reels For Float Fishing. I use these same reels for lure fishing and for bottom bouncing and drift fishing for steelhead so check it out.
If there's a chance that there might be some salmon in the river when you are fishing for steelhead often, you can see the best reels for salmon at Best Reels For Salmon Fishing.
I also have reels that I use for trout since trout spinning reels are often smaller and don;t have the same drag and line capacity requirements.
The 5 Best Steelhead Reels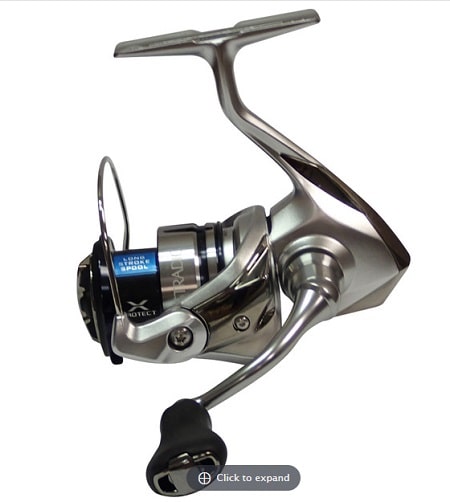 Pro Tip: When researching the steelhead spinning reels I noticed that FishUSA.com almost always had the best price.
The Best Spinning Reel For Steelhead Q&A
There are a lot of decent reels that could be considered the best spinning reels for steelhead, but the ones I listed are proven and recommended reels.
If you have a question, comment, or suggestion for a good steelhead spinning reel, let me know in the comments section below.
Tight Lines
Graham