6 Best Trout Spinning Reels Of 2023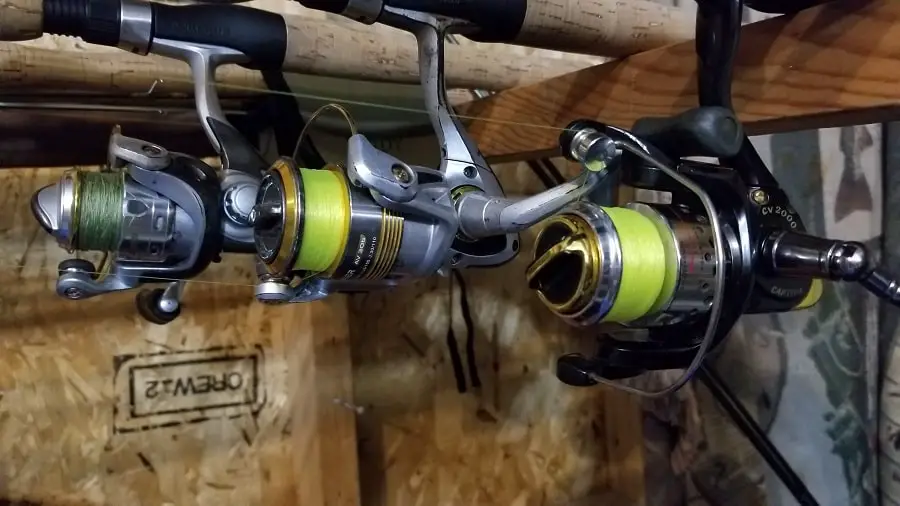 I've spent a lot of time testing trout spinning reels while on the water as a guide or fishing with buddies. I've also sold spinning reels to many new and advanced trout in my tackle store, so I know which reels the guys like.
After much consideration, I compiled the following list of what makes a good reel good for trout fishing, and what you should consider when looking for the best spinning reel for trout fishing in your area.
A good trout spinning reel will be the right size for trout fishing, it will have enough line capacity in case you hook into a large trout, and it will have a smooth drag system which will greatly increase your chance of landing bigger trout.
This page contains affiliate links. If you buy something through one of these links we may make a small commission which is at no cost to you. Commissions allow us to continue to bring you great content. Thank you for your support. Affiliate Policy
Our Top Picks
Shimano Stradic FL – Best Overall
Pflueger President XT – Best Reviewed
Shimano Vanford – Best Lightweight Spinning Reel
Shimano Syncopate FG Spinning Reel – Best super low budget reel
Pflueger President Spinning Reel – Best Under $75.00
Shimano Stella FK – Best High End
What We Look For In Spinning Reels For Trout
To me, there are five key elements of a good spinning reel for trout. The following five aspects can help most trout anglers choose the best spinning reel to land a big trout.
What Size Spinning Reel Is Best For Trout?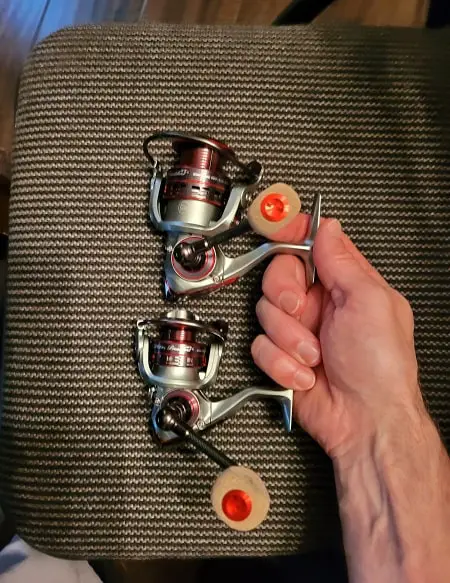 The best sized spinning reel for trout is a size 20, also known in some brands as a size 2000. The size 20 will work on most small to mid-sized trout streams.
Choosing a great reel starts with choosing one with plenty of line capacity. You want a reel that matches the size fish that you are targeting.
For most rainbow or brown trout, that is between about 2 pounds and up to 10 pounds for very large ones that might strike your lure.
I often prefer between size 2000 and size 3000 reels that hold at least 125 yards and preferably more line that is rated for between 6- and 10-pound test.
You also should have a reel that can hold its own against the occasional big predator. You never know with a big catfish, pike, or maybe even an alligator gar might decide to take an interest in your presentation and strike.
Even though you are not targeting them, you still want to land a freakishly big fish so that you can enjoy battling it to shore, your boat, or a net before releasing it.
The Drag System Required For Trout
When you do hook into a bigger fish, you need more than good line and rod action to land it.
A smooth drag system that will help you tire out a bigger fish will help you to land one that is much larger than the line rating on your reel.
You should pay attention to the max drag to ensure that it is capable of supporting your trout fishing without falling apart while you are battling a larger fish.
The best trout spinning reels have a sealed drag system that is lubricated so that it keeps water and dirt out while enabling the drag to tire out the fish.
The drag system is ever more important if you are also looking for the best reels for steelhead or the best reels for salmon since those fish are bigger and they pull faster and harder than most trout.
Roller Bearing Quality
The best trout reels rely on roller bearing quality to improve your feel and ability to reel in your catch with less noise and greater feel.
Roller bearings that resist corrosion and especially those that are sealed help to give you a smooth reel for line retrieval so that you can feel the line and lure. Sealed stainless steel bearings make it easier to keep out water and dirt while ensuring consistently smooth line retrieval while reeling in your catch.
Lightweight Is Good For Trout Reels
I find an ultralight setup with an appropriate rod and a lightweight reel is ideal for trout fishing. Many current reels are equipped with a carbon fiber or graphite body that is well-balanced, light, and very sturdy.
It is best to have a light and well-balanced reel with a good drag that will help you land larger trout and make casting easier and more accurate.
Good Reels Prevent Line Twist
Anglers who use a braided line on a trout reel need one that will not cause the line to twist while reeling it in. I like a sturdy reel with at least a 5.2:1 gear ratio that lays the line smoothly without putting too much twist on the line.
Few things are more frustrating while trout fishing than line that continually tangles and temporarily stops me from casting. Many of the best reels for trout fishing feature technology that prevents line twist so you can focus on catching fish instead of detangling knotted line.
Best Trout Spinning Reels Review
These are carefully chosen, tested, and proven reels suitable for trout fishing in rivers and lakes.
Shimano Stradic FL – Best Overall Trout Spinning Reel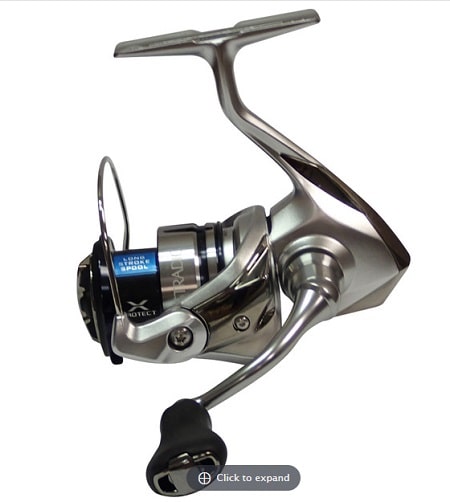 Regarding the best reels, the Shimano Stradic FL tops my list due to its gorgeous Hagane metal body, low-friction bail, and seven shielded ball bearings that enable smooth line retrieval.
The Stradic FL is the right spinning reel trout fishing fans will enjoy using again and again to target their favorite fishing hotspots.
It is very strong, rigid, and light with a balanced design that puts the center of gravity closer to the reel seat to make casting nearly effortless.
The Stradic FL has a long-stroke spool that increases line capacity and casting range, while a silent drive system reels in the line with a gear ratio of between 6.0:1 and 6.4:1.
A cross carbon drag system helps you to battle bigger fish with 20 pounds of maximum drag on the size 2500 and size 3000 reels that are nearly perfect for catching brown or rainbow trout and other popular fish.
Its combination of incredible reel build quality and excellent performance make the Stradic FL the best trout spinning reel.
Pflueger President XT – Best Reviewed Trout Fishing Reel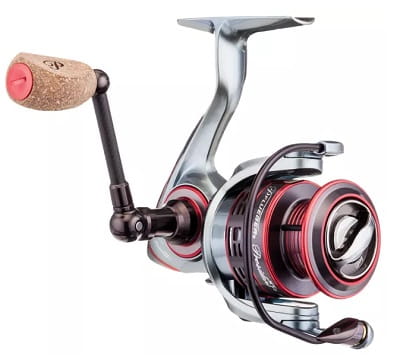 The Pflueger President XT consistently ranks among the best-rated trout reels due to its exceptional quality and relatively affordable price.
The President XT is not cheap, but you easily could spend double its cost or more on a spinning reel for trout that does not perform any better.
The President XT has sealed and lubricated drag washers, 10 corrosion-resistant bearings, and a lightweight but strong aluminum spool and main shaft.
The President XT also has lots of line capacity with a spool that holds up to 190 yards of 8-pound test braided line and 130 yards of mono. Its smooth casting, 6.2:1 gear ratio, and anti-slip rubber cork knob make it a strong candidate for the best reel to use when you want to catch trout and other great fish.
Shimano Vanford – Best Lightweight Trout Spinning Reel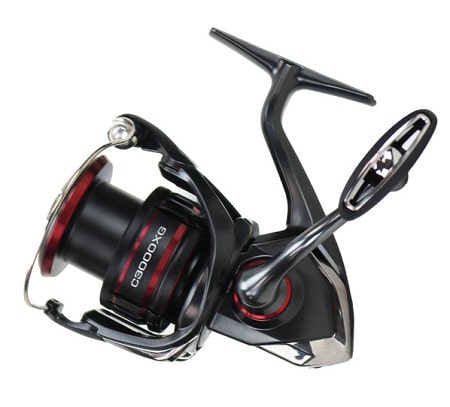 Shimano packs its Vanford reel with lots of premium technology to make it one of the best reels for trout fishing.
A MagnumLite rotor makes it a lot easier to reel in your catch with a HAGANE gear with an impressive 6.4:1 gear ratio on its size 3000 reel and 6.1:1 on the size 2000.
Eight bearings help to ensure you get smooth line retrieval with a long-stroke spool that extends your casting range and lays the line on smoothly while retrieving it.
A carbon fiber body keeps the reel lightweight and perfect for using light line to cast light lures into your favorite honey hole packed full of trout.
A buttery smooth drag system gives you up to 24 pounds of max drag, which is plenty to land very big steelhead and other larger river fish. The 3000 reel size has a line capacity of up to 200 yards of 10-pound test braided line and the 2000 up to 140 yards of the same line.
Shimano Syncopate FG Spinning Reel – Best Low Budget Trout Reel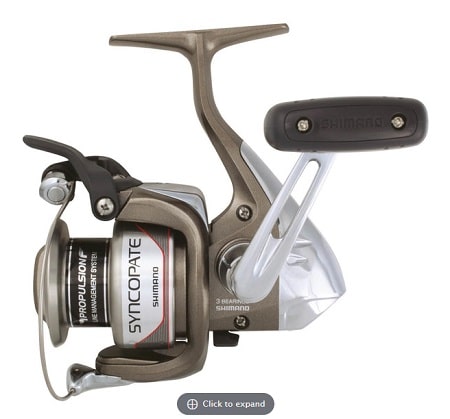 If you are on a seriously low budget, or if you want a back up reel, or a reel for the kids and you know they are rough on reels then the Shimanon Syncopate is a good option.
For a reel under $40.00 this reel even gets a lot of good reviews. But remember, you get what you pay for, so this reel will not be as smooth to reel and the drag system and not great when compared to higher-end reels like the Shimano Stradic.
The Shimano Syncopate FG has a graphite reel body and four shielded bearings that make it viable for saltwater as well as freshwater fishing.
The imminently affordable reel features a Quickfire II casting system that lets you use your index finger on the same hand holding the rod to grasp the line and trigger that opens the bail for easy one-handed casting.
The Syncopate FG is a very solid reel with a ported handle, aluminum spool, and propulsion management system with a new lip design that enables longer casts and prevents backlash and knotting.
A "varispeed" reeling system uses an oscillation cam that lays the line evenly and helps to prevent bird's nests and knotted lines when casting. I recommend the size 2500 reel for trout fishing due to its max drag of 7 pounds, line capacity that holds up to 200 yards of 6-pound test monofilament, and even more if you use braided line.
Pflueger President Spinning Reel – Best Trout Reel Under $75.00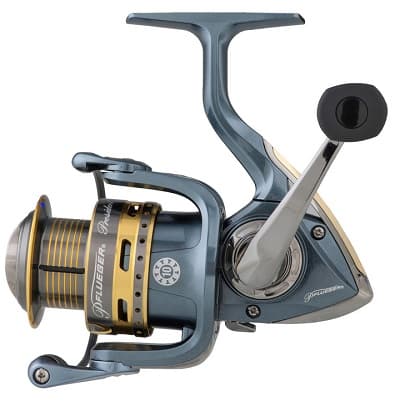 I am a big fan of the Pflueger President line of spinning reels and own several and I recommend it as the best budget spinning reel available. And, based on the great reviews it gets, many other anglers agree.
It is a well-built reel with a graphite body and rotor and ten stainless steel bearings that make line retrieval very smooth.
A 5.2:1 gear ratio reels in line quickly, and a sealed drag system that contains lubricated and sealed drag washers a 10 pounds of max drag helps you to land bigger fish.
The size 30 reel is a versatile reel that is ideal for trout fishing and has a line capacity of up to 190 yards of 8-pound test braided line or 130 yards of monofilament.
Other larger and smaller sizes are available and help to make the Pflueger President one of the best spinning reels for landing big rainbow trout and other species.
Shimano Stella FK – Best Of The Best Trout Spinning Reel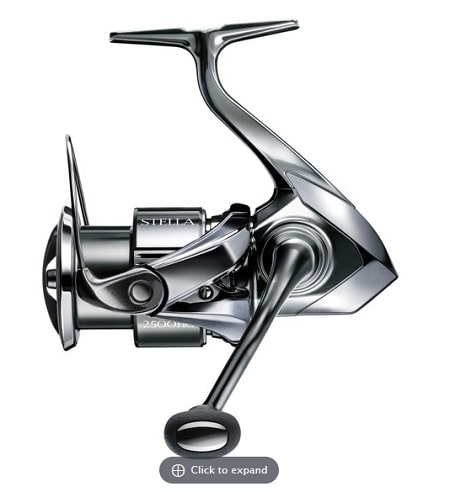 If money is no barrier for you to obtain the best spinning reels for trout, you should give the Shimano Stella FK a good, hard look.
New-age CI4 carbon fiber makes the reel lighter and 2.5 times stronger than other carbon fiber reels.
Hagane metal gears and MicroModule II ensure incredibly smooth operation and reduce sound while a long-stroke enables longer casts and lots of line capacity.
The reel has a very fast and durable 6.4:1 gear ratio on the size 30 reel with a maximum drag of 20 pounds. Rubber gaskets protect the sealed drag against water and dirt, while a dual-bearing X-ship pinion system supports the pinion gear on both of its ends.
The pinion system enables very smooth line retrievals, while a total of 13 bearings ensure the reel is as smooth as any other and likely more so. Shimano packs a lot of highly advanced technology into its top-of-the-line reel for trout fishing.
When doing research for these reels, I noticed that prices from FishUSA.com where often 5 to 20% cheaper than Bass Pro Shop and Amazon. Now prices can change at anytime, but that's what I see now at the time of writing this.
The Best Trout Spinning Reels
If you have any questions or want to share your experience with these reels, or if you have another good trout spinning reel that you really like, let us know in the comments section below.
Tight Lines,
Graham