5 Best Reels For Salmon Fishing: 2023 Buyers Guides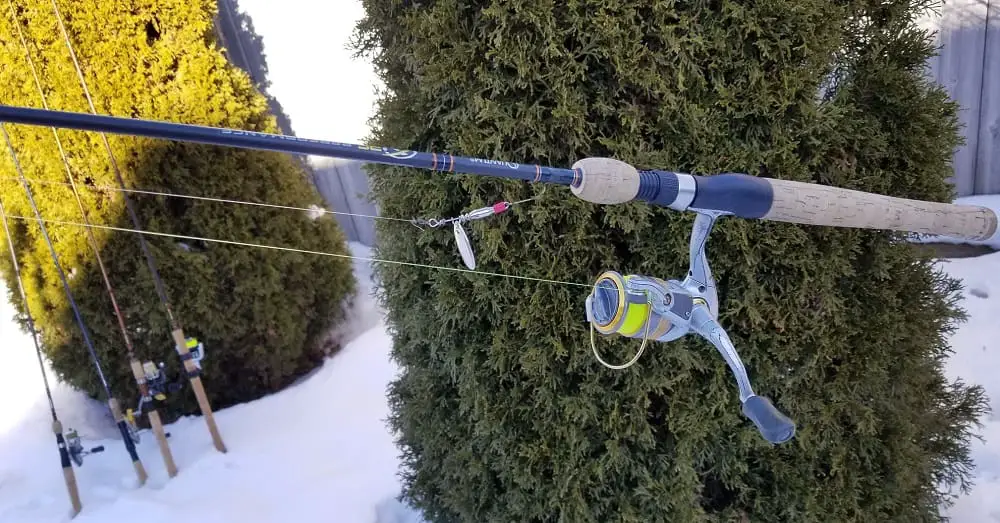 One of my new guides is getting set up to start guiding for salmon fishing and he asked me what spinning reels should he buy that are suitable for salmon fishing. I get this question a lot from clients as well so this article is all about the best reels for salmon fishing on great lakes rivers.
Spinning reels for salmon must hold enough line, have a smooth drag, and have a wide spool that allows the line to come off smoothly for a better presentation. The best spinning reels for salmon fishing are the Shimano Stradic FL, the Abu Garcia Revo SX 30, or the Pflueger Supreme XT 30X.
If you are considering buying a reel for salmon fishing you will want a reel that also has bearings that won't get stripped on the first big salmon and you want one that has a drag that is strong enough to hold the salmon.
Many of the cheaper reels just can't handle big salmon, but I will recommend some of the best reels for salmon from about $70.00 to $700.00.
This page contains affiliate links. If you buy something through one of these links we may make a small commission which is at no cost to you. Commissions allow us to continue to bring you great content. Thank you for your support. Affiliate Policy
A Smooth Drag Is A Must On A Salmon Reel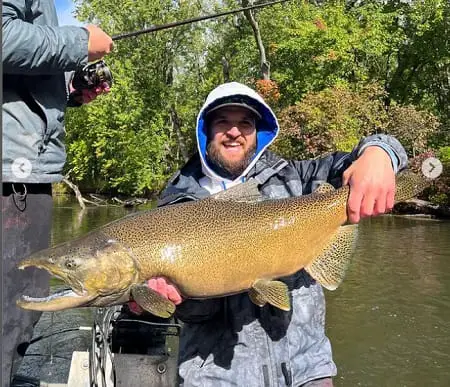 Not all spinning reels are created equal and not all sizes of spinning reels should be used when fishing for salmon.
I have seen reels with sticky inconsistent drags that cause lines to break, rip hooks out of the salmon's mouths, and even break rods.
For salmon fishing, it is important to get a reel that has a nice smooth and consistent drag system that can handle big fish.
A sticky drag is one where the drag will come off the spool for a second or two at one pressure and then loosen, then tighten again, and again, again and again. You can easily spot the guys with these reels because their rod tips jump up and down as the pressure tightens and then loosens over and over again.
The opposite of a sticky or inconsistent drag is a smooth drag that comes off the reel at the same pressure all the time and these are the types of reels that will help you catch more salmon. A good smooth drag is a must!
Best Size Of Reel For Salmon Fishing
Spinning reels are usually rated by the thousands or by the tens. How they are rated depends on the brand of reel. As an example, a size 1000 reel is the same as another brand's size 10, or a 3500 size reel is the same size as a size 35.
Shimano, for example, lists their reels from 1000 to 6000, whereas Abu Garcia lists the reels from 10 to 60. (10 = 1000)
Line Capacity Is Important
When it comes to reel sizes it's the line capacity of the reel that's most important.
When purchasing a spinning reel for salmon, I recommend getting one that can hold a minimum of 150 yards of 10 pound test. However, as you will see below, how much line you will need depends on the type of river you fish.
Reel Size: River Size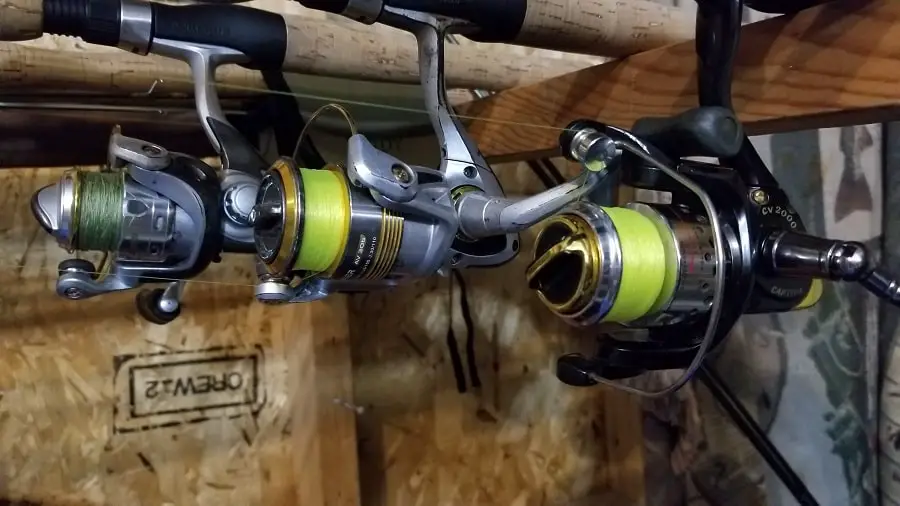 I'm not a big fan of giant reels for salmon fishing around the great lakes region and I tend to use reels suitable for the rivers that I'll be fishing.
I see guys using spinning reels in the 5000 and 6000 sizes on small rivers which i think is overkill.
Unless you are fishing large fast rivers like the Niagara River or the big BC or Alaska rivers where you may not be able to walk the banks to chase a huge salmon, reels of this size are not good. They are heavy and awkward when casting and when float fishing.
On a smaller river that might be 30 to 60 feet wide on average, I would use a smaller reel of 3000 to 4000.
On these smaller rivers, the salmon are often confined to smaller spots, or if they decide to run up or down the river, you can run after them. Therefore you will not need a larger reel with a large line capacity like you would find on a size 5000.
I have caught plenty of 20lb to 35lb and even some possible 40-pound salmon on 3000 and 3500 sized reels. I have never had a salmon take all of my line even on a size 3000 reel.
Most of the time I would say that the best reels for salmon are the 3500 or 4000 size reels which are great for most great lakes rivers where you are able to walk the bank and chase running salmon if you need to.
The 3000 and 3500 sizes are also great for steelhead fishing on small to mid-sized rivers.
When fishing salmon on some of the bigger rivers or for guys that might be fishing off the piers, the best reels for salmon are a 4000, 4500, or 5000 sized reel.
Baitcast Reels
Baitcasting reels are preferred for some methods like back bouncing, back trolling, and ocean trolling for salmon.
This article is all about the best spinning reels for salmon so if you are interested in a baitcasting reel. Check out the 11 Best Baitcasting Reels For Salmon.
The 5 Best Reels For Salmon Fishing
Before I get into the best reels for salmon fishing, I just want to say that there is no substitute for knowledge, so if you don't have a clue on how to fish lures for salmon, or how to float fish for salmon, or even how to setup up a leader for salmon, none of these reels are going to help you catch more salmon.
Make sure you check out my page How To Fish For Salmon to be sure you are doing it correctly and effectively.
#1 Shimano Stradic: The Best Salmon Reel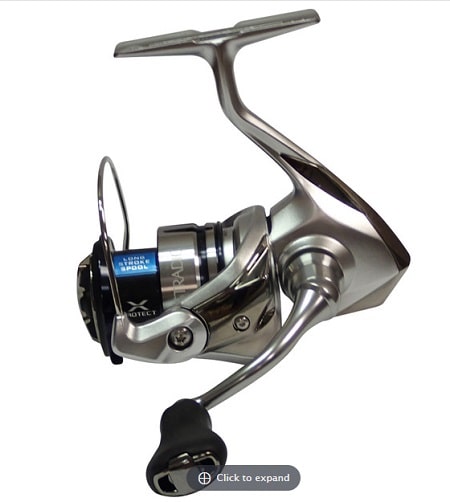 The Shimano Stradic is likely the best reel for salmon fishing that I have ever used and I know other guides and other anglers that swear by this reel when fishing for salmon or steelhead.
I have been fishing with Shimano Stradic reels for what feels like 20 years now. Ok, maybe not that long, but I would think I started using Shimano Stradic reels over ten years ago, or so long ago I can't even remember how long it's been.
The old models were great for salmon and steelhead fishing, but the newer ones are even better with an improved and super smooth drag system along with improved bearings, improved gearing, better, bails, a better spool, and I think they are even lighter than the older models.
The Shimano Stradic is a proven reel and is a very popular reel used by many top anglers for great lakes salmon and steelhead which is why I would say that it is for sure one of the best reels for salmon fishing on the Great Lakes and on the west coast.
I recommend the Shimano Stradic FL 4000 or 4500 size if you just want a reel for salmon, and the for both steelhead and salmon, consider the 3500 size.
#2 The Shimano Stella FJ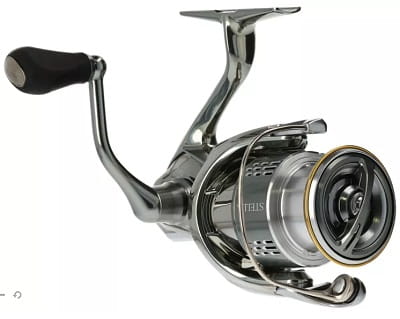 Even better than the Shimano Stradic is the Shimano Stella FJ Spinning Reel and the only reason I did not recommend it as the #1 salmon reel is that this is a reel that 90% of guys wouldn't buy simply because it sells for about $320.
The last time I looked it was on sale at FishUSA.com.
However, if you are the type of guy that wants the best of the best and can afford this reel then go for it, it's a fantastic reel for both saltwater and freshwater salmon.
Consider this reel in the 4000 model size when fishing for salmon around the great lakes in both rivers and in the lakes or on the piers.
The Abu Revo SX 40 For Salmon Fishing
Another good reel for salmon fishing that is under $180.00 is the Abu Garcia Revo SX 30. You can get this reel at some retailers for about $169.00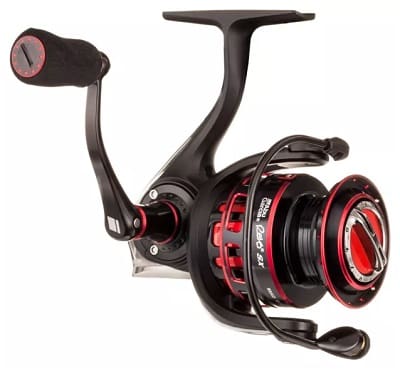 This is a lightweight reel with bearings that can handle any salmon and a spool that casts lures across rivers.
I have had a bunch of Abu reels over the year and they are super smooth.
When salmon fishing I like this reel in the 40 size but for both salmon and steelhead fishing on small to medium-sized rivers I prefer the 30 size.
Insert Molded C6 carbon body
1-piece aluminum gearbox
Computer-optimized machined aluminum gears
Lightweight graphite rotor with Everlast bail
Rocket line management system
Braid-ready machined aluminum spool
8 stainless steel HPCR bearings + 1 roller bearing
K-Clutch anti-reverse
Carbon Matrix hybrid drag system
Pflueger President XT Spinning Reel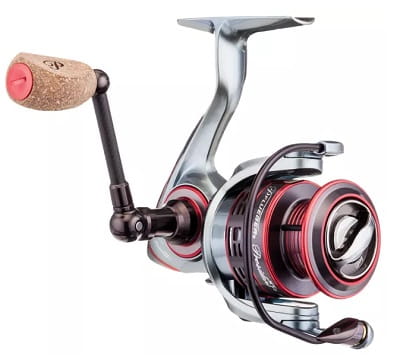 The Pflueger President XT Spinning Reel is one of the best reels for salmon under $100.00.
At this price range, you start risking salmon doing damage to your gears or your drag system but this reel should be able to handle many big salmon.
I recommend this reel in the 35 or 40 sizes.
This reel sells for around $89.00 at FishUSA.com
Pflueger President Spinning Reel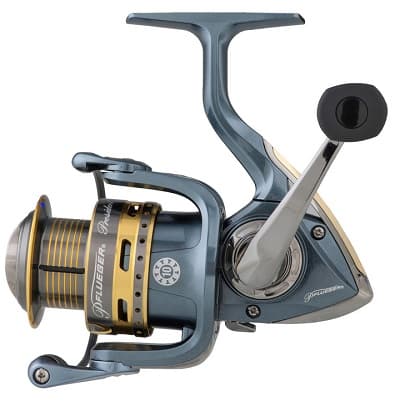 The Pflueger President Spinning Reel is for those anglers on a really tight budget and wants a really well-liked reel with tons of great reviews that sells for about $60.00.
I would not use a reel under this price or quality for salmon fishing. You can get this reel at FishUSA.com for about $70.00
The Best Salmon Reels On Amazon
I have old and new clients ask about reels they found on Amazon. They will often send me links to a bunch that they found that have lots of good reviews.
I'm going to be straight up and honest with you, there are a ton of reels, rods, and other fishing products with lots of reviews on Amazon that are just crap! I really don't know how they get so many good reviews but I suspect that most reviews are coming from new anglers that wouldn't know the difference between a salmon rod and a bass rod, or there are just a lot of shady and fake reviews.
When you buy from Amazon just stick with brand name reels and avoid the no-name China crap.
Since I know guys will ask, these are the best salmon reels that I would recommend on Amazon.
5 Best Salmon Reels On Amazon are:
Got A Question About The Best Reels For Salmon Fishing
That sums up the best reels for salmon fishing. I'd love to hear from you so if you have a question, comment or a recommended reel for salmon fishing let me know in the comments section below.
Tight Lines
Graham