61 Best Great Lakes Steelhead Rivers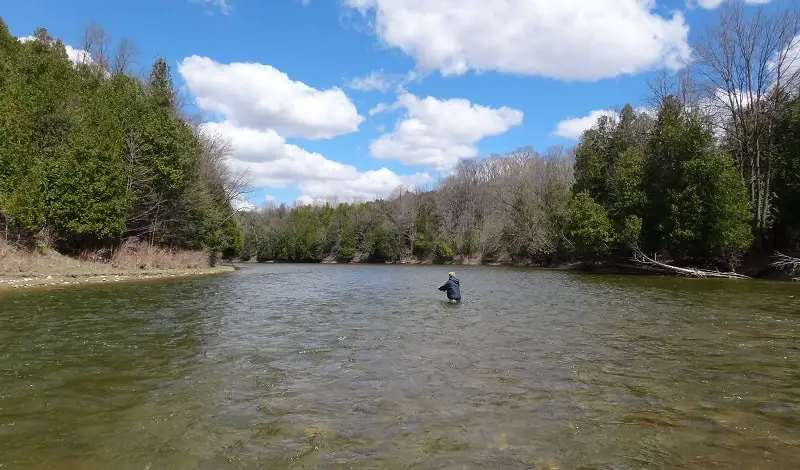 Every state around the great lakes and the shorelines of the province of Ontario have great steelhead rivers and as steelhead river guide and a steelhead angler of over 37 years, I have fished most of them. In this article, I will list over 65 of the best great lakes steelhead rivers.
There are hundreds of rivers, and streams that flow into the great lakes that have runs of steelhead, and the best steelhead rivers are the rivers that have the biggest runs of steelhead and have enough access that anglers can actually fish for them.
Some anglers will prefer to fish big rivers where the fish fight harder and have lots of room to run, while other anglers will prefer smaller rivers and creeks that concentrate the fish which can make catching them easier.
The Best Great Lakes Steelhead Rivers Are:
There are over 65 great steelhead rivers spread out across the great lakes region and these can be small rivers like the Wilmot Creek in Ontario Canada which is less than 20 feet wide near the mouth but still gets over 15,000 steelhead some years, or very large rivers like the Niagara River or the St Mary's River that could have steelhead runs over 30,000 steelhead a year.
There are some other good steelhead rivers that I will have missed on this list but if I listed every creek or stream that I know of that gets good runs of steelhead there would be over 100 rivers on this list. Only the top 61 rivers are on this list.
Best Steelhead Rivers Of New York
New York state is split into two sections with some rivers getting Lake Ontario run steelhead and other rivers getting Lake Erie steelhead.
Some of the best New York rivers are:
Lake Ontario River:
Oswego River
18 Mile Creek – Lake Ontario
Niagara River, NY /ONT
Lake Erie Rivers – New York
See more information on steelhead fishing in New York and the steelhead river there on my page Steelhead Fishing NY: Catch More Steelhead.
Pennsylvania's Best Steelhead Rivers
Pennsylvania has many great rivers that are in an area known as Steelhead Alley. These are smaller rivers but many can get huge runs of steelhead thanks to very impressive stocking.
Some of the best rivers for Pennsylvania steelhead anglers to try are:
Twenty Mile Creek, PA / NY
16 Mile Creek, PA
Elk Creek, PA
Walnut Creek, PA
Four Mile Creek
Best Ohio Steelhead Rivers
Some Ohio steelhead rivers get hundreds of thousands of steelhead stocked in them every year which has made for some really great steelhead fishing.
Some great Ohio Steelhead rivers include:
Rocky River
Grand River – Ohio
Chagrin River
Conneaut Creek
For more on Ohio's 8 best steelhead rivers check out my page Best Ohio Steelhead Rivers: Access Maps And Best Methods and for everything you need to know about chasing steelhead in Ohio, check out Steelhead Fishing Ohio: Guide Tips And Advice.
Michigan's Best Steelhead Rivers
Michigan has steelhead rivers flowing into Lake Huron, Lake Michigan and Lake Superior and this state could arguably have the best steelhead fishing in the great lakes area.
Some of the best steelhead rivers found in Michigan are:
Lake Huron Rivers:
Rifle River
Au Gres River
Au Sable River
St.Mary's River
Lake Michigan Rivers:
Muskegon River
Pere Marquette River
White River
Little Manistee River
Manistee River
Bear Creek
Betsie River
Platte River
Lake Superior Rivers – Michigan
Two Hearted River
Huron River
Ontonagon River
Wisconsin's Best Steelhead Rivers
Wisconsin is not an area that you would think of for steelhead fishing but it does have some good steelhead rivers.
Some of the best rivers in the area include:
Brule River
Sheboygan River
Milwaukee River
Float fishing Wisconsin rivers is an effective method you should try if you are out that way.
Ontario's Best Steelhead Rivers
Ontario Canada has more steelhead shorelines and more steelhead rivers than any one state.
Ontario's steelhead range goes from the St.Lawrence River in the east to the west end of Lake Superior, which I think is thousands of miles. To travel from one end to the other would be over 10 hours of drive time.
For more detailed information on Ontario rivers and methods to fish them, check out Ontario Steelhead Rivers
Some of the best steelhead rivers in Ontario are:
Lake Ontario Rivers – Ontario Side
Ganaraska River
Wilmot Creek
Bowmanville Creek
Oshawa Creek
Duffins Creek
Humber River
Credit River
Bronte Creek
Niagara River – Canadian Side
Lake Erie Rivers – Ontario
Grand River – Ontario
Big Creek
Lake Huron – Ontario Side
Bayfield Creek
Nine Mile Creek
Maitland River
Saugeen River
Sauble River
Georgian Bay – Lake Huron
Sydenham River
Bighead River
Beaver River
Nottawasaga River
Cold Water Creek
Lake Superior Rivers – Ontario Side
Michipicoten River
Steel River
Gravel River
Cypress River
Jackpine River
Minnesota Steelhead Rivers
Minnesota's north shore of Lake Superior has approximately 60 streams and rivers that anglers can fish for steelhead. Many of the rivers in the area are smaller and short and have waterfalls or barriers preventing steelhead access to the upper reaches.
Therefore most of the steelhead fishing occurs in the lower section of the streams.
Most of these streams will have low baseflows and will only get small runs of steelhead that occur during high water. These steelheads are often strays from larger river systems.
Of the 60 rivers and streams, about 20 of them will get substantial runs of steelhead that will provide good angling opportunities from fall to spring.
The best rivers for good steelhead fishing in Minnesota are:
Knife River
Brule River
Sucker River
Baptism River
Poplar River
Best Great Lakes Steelhead Rivers
I hope this gives you some good choices for finding and fishing the best steelhead rivers in your area.
If you have a question or comment or a suggestion on other great lakes rivers, be sure to let me and others know in the comments section below.
Tight Lines
Graham