Grand River Steelhead Fishing (Ontario's Grand River)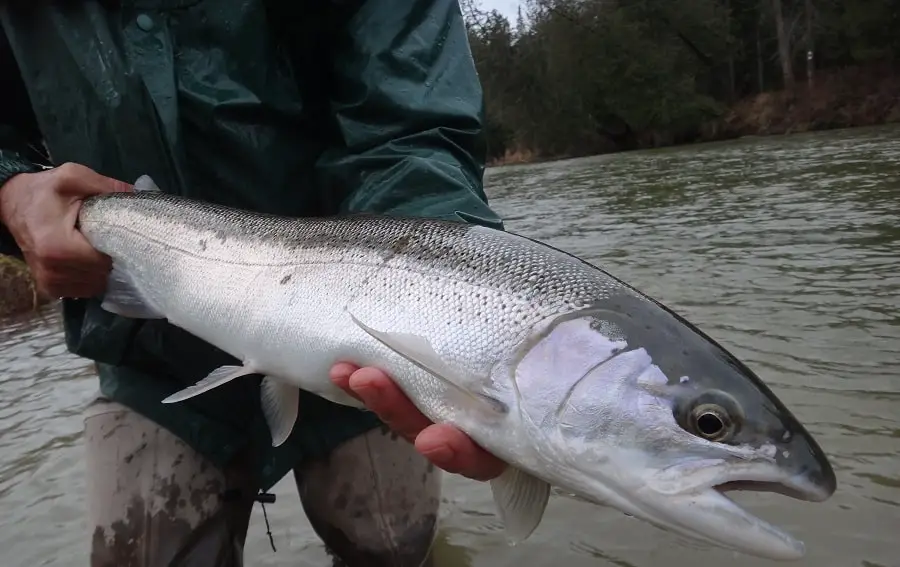 GRAND RIVER STEELHEAD FISHING
Grand River steelhead fishing has become very popular in Ontario Canada and anglers from all over the country and the USA visit the Lower Grand River to catch the big wild Grand River steelhead. I and some of my guide friends have been fishing and guiding this river for almost 20 years and have seen it go from almost no steelhead to a great steelhead fishery.
Whether you are from Ontario or the USA, if you like to fish for strong wild steelhead on larger rivers, then you need to check out Ontario's Grand River Steelhead. Most fishing methods work on the Grand River steelhead and there is plenty of room to fish.
LOWER GRAND RIVER STEELHEAD
You can find the Grand River steelhead in the lower part of this river from about the town of Paris to Lake Erie. Anglers coming from the USA you can get to some good steelhead water in about 90 minutes from Buffalo, NY.
Due to multiple dams between Paris and Kitchener, the steelhead have access to about 100 kilometers of the lower Grand River and a few good spawning tributaries.
This is a big river averaging over 100 feet wide in many sections below Brantford. This is one of Ontario's largest steelhead rivers and that can be intimidating to many angles but with the proper methods and some tips provided here, we can help get you into more steelhead.
The steelhead are more active when the weather and the river is colder and will start showing up in small numbers in late September and stay until May.
Fresh steelhead from the lake can have a silver color with black dots all over their body and a pink or red stripe right down the side.
The steelhead of the Grand River are primarily wild with some stray stocked steelhead from the USA side of the lake. Unlike the stocked steelhead found on the USA side, the wild steelhead of the Grand River tend to be very strong fish.
The Grand River steelhead is also known to be some of the more challenging fish to catch due to its incredible stamina and strength, which makes it one of the favorite fish to pursue by the anglers in this region.
The young steelhead will migrate out of the Grand River after a few years after being born up the river or in one of the tributaries of the Grand River and they will come back once again to spawn after one or two years in Lake Erie.
Some Grand River steelhead will spawn 2 to 3 times over a 10-year life span and these large mature steelhead that can be over 15 pounds can be caught on the Lower Grand River.
WHEN TO FISH FOR THE GRAND RIVER STEELHEAD?
As of this time, February 2022, anglers can fish for Grand River steelhead from the 4th Saturday in April until December 31st. There are times when the most fish will be in the river and I will discuss that below.
GRAND RIVER STEELHEAD FISHING IN SPRING
The first time during the year you can start fishing Grand River steelhead and the tributaries of the Grand River around Paris Ontario is after the trout opener which is the 4th Saturday in April (Check the official OMNR regulations for current rules).
Anglers will often catch steelhead in the area around Brantford, Cambridge, and Paris below the dams and spread throughout this section until Mid-May.
Some straggler steelhead will drop out of the smaller colder tributaries and into the Grand River through the month of May and this can be a good opportunity for anglers to be on the river catching steelhead with no other anglers around.
GRAND RIVER STEELHEAD FISHING IN FALL
Steelhead fishing on Grand River is excellent in the fall and this is when most anglers and river guides prefer to fish for them.
Steelhead will start entering the grand river in small numbers after cool nights and cool rains. The number of steelhead will improve after cold rains and the river gets around 60F later in Mid-October. This is also when you will find the most crowds on the river.
November and early December can be fantastic and the crowds will start to disappear later in November. good numbers of Steelhead will continue to enter the river until it starts to freeze in late December or January. You can fish the lower river below the Paris dam until December 31st, check the fishing regulation to confirm this.
FISHING METHODS FOR THE GRAND RIVER STEELHEAD
There are different methods for fishing the Grand River steelhead that anglers use, and depending on the area of the river and your style of fishing, you may want to pick one over the other.
FLY FISHING FOR GRAND RIVER STEELHEAD
Fly fishing is one of the most popular methods for catching Grand River steelhead and anglers can use nymphing methods or Spey fishing methods with good success.
The Lower Grand River is a favorite river amongst anglers the like to Spey fish and swing flies for steelhead because of its size. There is a lot of great water to swing flies in the area below Paris to Cayuga.
If fly fishing is your thing or you want to get into it, check out my page on Fly Fishing For Great Lakes Steelhead where I discuss the proven tactics and best flies used by me and other guides around the great lakes region.
SPIN FISHING FOR GRAND RIVER STEELHEAD
Many anglers use spinning reels and rods to cast lures or to float fish, or even drift fish for steelhead. Using longer rods and reels will help when fishing for steelhead on this big river.
FLOAT FISHING FOR GRAND RIVER STEELHEAD
The float fishing method using spinning reels or spinning reels is perfect for rivers like the Grand River which has long runs and more depth.
The bait is suspended below the float/bobber, and depending on the depth of the water, it can go from 2 feet to 12 feet when fishing for steelhead on the Grand River.
If you are not sure which method is best for you, check out my article Steelhead Fishing – Most Effective Methods For Steelhead.
BEST BAIT FOR THE GRAND RIVER STEELHEAD
When it comes to catching Grand River steelhead, you need to pick the best bait for the job to succeed. There are four types of baits that are highly effective when fishing steelhead on Grand River Ontario. These are Roe, Flies, Beads, and Worms.
STEELHEAD BAIT #1 – ROE
Roe is one of the most popular types of bait that people use when fishing Grand River steelhead in Ontario, and many anglers have it as their go-to choice when fishing for steelhead on most rivers including the Grand.
Depending on the water clarity and light conditions, small to large spawn sacs will be needed.
STEELHEAD BAIT #2 – FLIES
Another option is to use flies as bait either under a float or with a fly rod. Since every Grand River steelhead eats flies from young until adulthood, flies can be very effective when other baits aren't. Flies, like stonefly and pheasant tail nymphs and Caddis Larva, are all solid choices when fishing for steelhead on Grand River, and you should always have some with you.
STEELHEAD BAIT #3 – BEADS
You can also use beads as bait to attract the fish's attention and catch more Grand River steelhead. Beads have become very popular with angles and guides and somedays beads are my top producing baits.
6mm beads can be great in the winter and in the spring but I prefer 8mm beads most of the time.
Beads come in different colors, and since they emulate the size and color of real trout and salmon eggs, they work great almost all the time for steelhead.
STEELHEAD BAIT #4 – WORMS
Using worms as bait can help you get better results when fishing for steelhead on Grand River since worms are part of a steelheads diet.
You can use both live or plastic worms to catch Grand River steelhead but I prefer 3 to 4-inch pink, red, and brown plastic worms.
HOW TO FIND FISHING REPORTS FOR GRAND RIVER STEELHEAD?
It is difficult to find fishing reports for the Grand River steelhead on the internet and many guys are close-liped about how the river is fishing.
It's always best to fish after rains as the river starts dropping and clearing. Depending on the amount of rain and the time of year it can sometimes take 5 to 10 days before the river clears.
What I do is use the water flow charts to see when the river goes from a good flow to flood and back again and then I show up just as the river is getting back to normal levels. you can check out the Grand River Conservation website for flow information.
REGULATIONS FOR FISHING GRAND RIVER STEELHEAD
The lower and upper Grand River have some special regulations with rules on baits, hooks, catch limits, and fish sanctuaries.
When fishing for steelhead on Grand River, you must follow all the fishing regulations and know what not to do when you try to catch fish during the year.
These rules and regulations are updated every year in the Ontario Guide for Recreational Fishing, available to everyone on their official website.
With the help of this guide, you will learn how to stay compliant with all the regulations when fishing for steelhead on Grand River and avoid breaking any laws set by the government when it comes to catching fish during every season of the year.
You can find all the information in this guide, including details about fishing licenses, catch limits, open seasons for fishing steelhead on Grand River, and more.
FISHING MAPS FOR GRAND RIVER STEELHEAD
You can also use a fishing map to start fishing for steelhead on the Grand River and discover the best places to catch fish in Ontario.
Doing this can help you get better results when angling in the Grand River and guide you in the right direction when you don't know where to start.
Check out this Fishing Map when you want to catch a Grand River steelhead.
Grand River Steelhead Fishing
If you have a question, comment, or tips you would like to share on Grand River steelhead fishing let us know in the comments section below.
Tight Lines,
Graham