Canadaway Creek Steelhead Fishing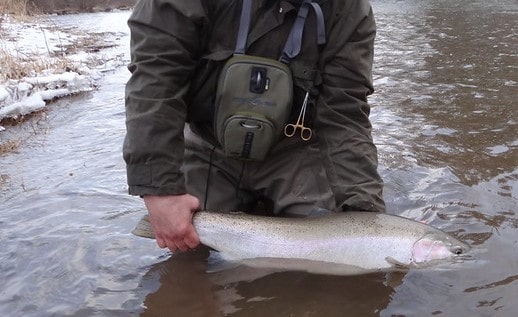 I really enjoy fishing Canadaway Creek when other rivers are high or not fishing well which is when Canadaway Creek steelhead fishing is often at it's best.
Canadaway Creek is a beautiful little gem and classic steelhead river in Western New York. Canadaway Creek steelhead fishing can be excellent if you know when to fish it and what methods river guides and top anglers use.
Canadaway Creek Steelhead Fishing
Some of the best steelhead fishing in New York State takes place here and anglers can catch steelhead seven months of the year in Canadaway Creek.
Canadaway Creek is a small-sized creek located in Chautauqua County, just 1.8 miles from Dunkirk and Fredonia, in New York, United States.
Canadaway Creek provides some impressive steelhead fishing from October through to late April, every year. The steelhead contained in this creek are averagely sized ranging from four to twelve pounds, with an average steelhead being around 4 to 5 pounds.
Canadaway Creek is a typical shale and slate-bottom tributary of Lake Erie that is part of Steelhead Alley. The creek benefits from generous smolt stockings by NYS-DEC and strays from other nearby creeks like Chautauqua Creek, Walnut Creek, Cattaraugus Creek, and Silver Creek.
There is also some natural steelhead reproduction in Canadaway Creek that adds to great Canadaway Creek Steelhead fishing.
Best Time For Canadaway Steelhead Fishing
Similar to other tributaries of Lake Erie, Canadaway Creek gets steelhead runs starting in the fall and ending in the spring.
However, Canadaway Creek steelhead fishing is often best one to three days after significant rains or as the water levels start to drop. This is when the steelhead will be in the river in good numbers, and they will be less spooked and will feed on a well presented bait, lure, or fly. 
Fall Steelhead Fishing On Canadaway Creek
I prefer to fish this creek in late fall since this is when healthy strong fall run steelhead make their way up the rivers and provide excellent fishing for steelhead on Canadaway Creek. The fall steelhead fishing on Canadaway Creek begins with a few fish showing up in September, peaking in november and through early December.
Towards the end of September and in October, as the water temperature begins to cool down, the steelhead begin to enter in more significant numbers, especially after rains raise the river water levels. 
The advent of heavy fall rains will trigger big steelhead runs each time it rains. Normally, the bigger the rains the more steelhead will enter the river. If the water is muddy it usually takes 24 to 48 hours for this river to clear up enough that the steelhead can see your bait, and this is the best time to fish for steelhead on Canadaway Creek.
Landing many steelhead during the fall season is very possible if you understand the right techniques to use as well as when and where to fish combined with the right baits for fall steelhead.
There are some tactics, presentations, and nuances of Fall Steelhead Fishing and as a guide, I adapt to the conditions to keep my clients on the fish.
Winter Steelhead Fishing the Canadaway Creek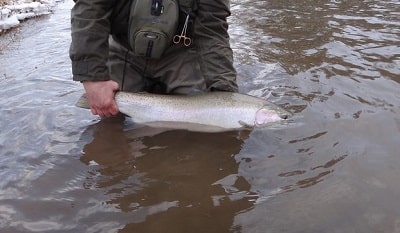 This winter season is characterized by cold weather and very cold water which tends to slow the metabolism of steelhead and changes their feeding and movement patterns. 
There are some days during the season when the cold weather can be so extreme that it makes the steelhead sluggish and inactive and it can even be difficult for anglers to stay warm.
When this happens, Canadaway Creek steelhead fishing becomes difficult but there can be good days and even good times throughout the day that can be great fishing.
On the other hand, winter steelhead fishing on Canadaway Creek can still be rewarding because the crowds during this period will be minimal and the steelhead will be less pressured. If you know the right time and location to be on the water during the winter, you're up for a great steelhead catch.
During the winter steelhead will find it difficult to find natural food sources so they can actually be hungry and will eat any food they lay eyes on, especially at certain times of the day.
Ultimately, with the right tricks and tactics, anglers can land many steelhead during this season so if you want to learn how to catch steelhead in the winter more consistently, you can check out my page on Winter Steelhead Fishing.
Spring Steelhead Fishing the Canadaway Creek
A number of anglers and guides consider spring as one of the best times to fish for Steelhead in Canadaway Creek and for good reasons.
During this spring period, the extremely cold weather of the winter is gradually beginning to warm up, and this triggers snowmelt and rising waters and therefore a great run of steelhead.
The steelhead become more active with the warming water temperatures and will be more willing to grab a bite of your bait. There is also a lot more food in the river as the higher flows along with giant ice chucks scraping bottom and flipping rocks release more aquatic insects into the current.
Steelhead usually have the urge to spawn during this period, and so are bound to run up from where they have been holding in the river as more will come in from Lake Erie and this makes for some fantastic Canadaway Creek Steelhead Fishing.
Towards the end of spring, when the steelhead have finished spawning, they are usually very hungry and will often take on whatever passes by them as they make their way back to the big lake.
I split spring into 3 stages of steelhead fishing and knowing these stages, what they will feed on, and where they feed has been critical to my success as an angler and spring steelhead guide. I discuss my spring tactics, best baits, best methods, and tips on my page Spring Steelhead Fishing.
Best Methods for Canadaway Creek Steelhead Fishing
River guides and good steelhead anglers know that not all fishing methods are effective when fishing for steelhead in the Canadaway Creek or any other creek in the great lakes area.
I fish with many of the most effective methods and use the best techniques with each method. The method you use might simply be your favorite method, which is ok as long as you do it well. These are the best methods for Canadaway Creek steelhead fishing.
Fly Fishing the Canadaway Creek
Fly fishing is a very popular and effective method for fishing steelhead in Lake Erie tributaries and Canadaway is not an exception. Canadaway Creek is easily fished with fly rods and fly lines. 
The most common type of this fishing for steelhead on Canadaway Creek is indicator nymphing. Different guides and anglers will have different preferences, but for me, I often like to go for nymphing and you can find out more about how I carry out effective nymphing on my page: Nymphing for Steelhead.
Other effective types of fly fishing you want to consider are Euro Nymphing and to be honest, and on smaller creeks like Canadaway Creek this method is often more effective than all other nymphing methods. If you want to more about this method, check out my page Euro Nymphing Steelhead: Everything You Need To Know.
There are other methods that I use that are effective on Canadaway Creek and all around the great lakes, For more information on these methods check out my page Fly Fishing For Steelhead: Great Lakes Style.
Float Fishing And Centerpin Fishing Canadaway Creek
Float fishing can be done using a spinning reel or a more effective reel would be a Centerpin reel.
Centerpin fishing for steelhead is popular simply because it is such an effective method for fishing steelhead on small to medium-sized streams like Canadaway Creek. Float fishing is a technique that essentially allows anglers to naturally present any bait under a float.
A Centerpin reel can be used alongside a long rod, a quality line, a good stream float to present your bait to steelhead, which some anglers will refer to as just "float fishing".
Bear in mind that not all centerpin reels are created equal. I have over the years used some good ones and some bad ones. For advice and recommendations on how to choose a great centerpin, see my article 5 Best Centerpin Reels of 2022.
With a good Centerpin reel, you can smoothly and effortlessly feed the line out and you can also control the speed of the line thereby controlling the speed of your float and the bait.
I have told thousands of my clients over the last 20 years of guiding that I believe speed control, which means the speed of your bait, is one of the most important factors for catching more steelhead, trout, and salmon on rivers.
From my years of experience in guiding and fishing for steelhead with Centerpin, I can confidently say that it is one of the most productive ways to catch steelhead in rivers such as Canadaway Creek. I discuss tips and tricks that I and other river guides use to be successful when centerpin fishing for steelhead on my page Centerpin Fishing For Steelhead: 13 Tips From Expert Guides
Spin Fishing Canadaway Creek Steelhead
Spin fishing is generally an angling technique that involves the use of spinning rods and reels when casting lures and or when using floats in a way that entices the steelhead to bite.
Spin fishing essentially works by casting lures into the water and then reeling back in. The movement of lures back and forth through the water is believed to imitate an injured or swimming baitfish. 
When spin fishing for steelhead, there are a number of methods to use such as jig fishing, casting lures, plunking, and bottom bouncing. Some of these methods will be more effective than others at catching steelhead depending on river conditions and the spot you are fishing.
Also, bear in mind that your presentation, choice of rods, and lures go a long way to determining the outcome of your fishing. For more on spin fishing for steelhead and what I use to achieve successful spin fishing for steelhead more effectively, check out my page Spin Fishing For Steelhead – 5 Most Effective Methods Used By Guides.
Best Flies, Baits, and Lures 
Flies are not just for fly fishing. Fishing for steelhead with flies is one way to guarantee more fish in your net and anglers can fish flies under a float or with a fly rod and reel. Flies are one of the most effective and off course popular baits anglers can use to catch steelhead in tributaries such as Canadaway Creek. 
There are different flies to use (different sizes and patterns) and will depend on different conditions and at different times and seasons of the year.
My best flies for fishing for steelhead on Canadaway Creek are Stonefly Nymph, the woolly bugger, the yarn egg, the San Juan worm,  and the Prince Nymph. These flies can be used with a fly rod, under a float with a float rod or a spinning rod, and with a method known as Bottom Bouncing. You can see all these methods and more on my page Steelhead Fishing – Most Effective Methods For Steelhead.
For more flies, you can check out my page on 19 Most Effective Steelhead Flies. There, I discuss tips on fishing these best flies for steelhead, when and I fish them to maximize my steelhead catch.
Best Natural Baits For Canadaway Creek Steelhead Fishing
The best steelhead bait will go a long way to increase the amount of steelhead you catch at the end of the day.
Bear in mind that your choice of steelhead bait will depend on the clarity and flow of water, the steelhead's activity level, and the time of year. For this reason, no one bait can be considered the "best bait" until you try a bunch and figure out what the steelhead wants to eat that day and under those conditions.
My secret weapon for fishing rivers with steelhead that is being hammered all day by hundreds of roe bag guys is plastic worms. Plastic or rubber worms come in different colors and sizes that you should have in your gear bag or fishing vest.
I discuss my best and most productive worms brands, colors, sizes, and some effective tactics on my page Fishing With Worms – 10 Guide Tips For More Trout And Steelhead.
If you are not fishing with worms, you are missing out!
Best Lures For Canadaway Creek Steelhead Fishing
In my personal opinion, the best lures for steelhead are spoons, artificial eggs, spinners, crankbaits, and plugs. All of these lures used correctly can be very fun and effective.
Plugs can be used on steelhead, and will be most effective on the larger rivers.
Like many other types of baits, the best steelhead lures will depend on different types of water and river conditions. I discuss more about my best lures for steelhead, and how to effectively use them on my page 4 Best Lures For Steelhead – A Pro Guides Recommendations.
Stream Flows On Canadaway Creek Dictate The Runs
Canadaway Creek steelhead fishing also depends on stream flows. So it pays to monitor information on the river conditions and data on real-time streamflow. To do so, you'll want to check the USGS Canadaway Creek flow gauge.
Since it is a medium-sized creek, the average run-off time after it floods from large rains or snowmelt might take a few days to get back to normal flow level. As long as you can see the bottom in 12 inches of water you should be good to go. 14 to 20 inches for clarity is excellent.
Super clear water can make fishing tough so using the right methods and right baits for this type of condition is important. I discuss the best baits for clear and dirty waters on my Best Steelhead Baits page.
Canadaway Creek is best fished as the streamflow approaches the normal level and historical norms. This means that flows that are considerably above or below historical norms (as displayed on the streamflow chart) may not present ideal fishing conditions.
Best Access Points for Canadaway Creek Steelhead Fishing
Canadaway Creek presents a great steelhead fishing experience for anglers. Much more than its high-quality steelhead run and the amount of public access on this creek. 
You'll find 1.6 miles of access along the Canadaway Creek Wildlife Management Area, located on the outskirts of Griswold, New York. There is also public access along Temple Rd/W. Lake Road and Route 5 are maintained by the NYSDEC.
Your go-to resource when it comes to designated Canadaway Creek steelhead fishing areas is the Canadaway Creek Wildlife Management Area Map.
Canadaway Creek Steelhead Fishing – Q&A
I hope this article provides you with enough intel to get you into some good Canadaway Creek Steelhead fishing. If I missed something or if you have a question, tip, or comment, let me know in the comments section below.
Tight Lines,
Graham