Kalamazoo River Steelhead Fishing And Salmon Fishing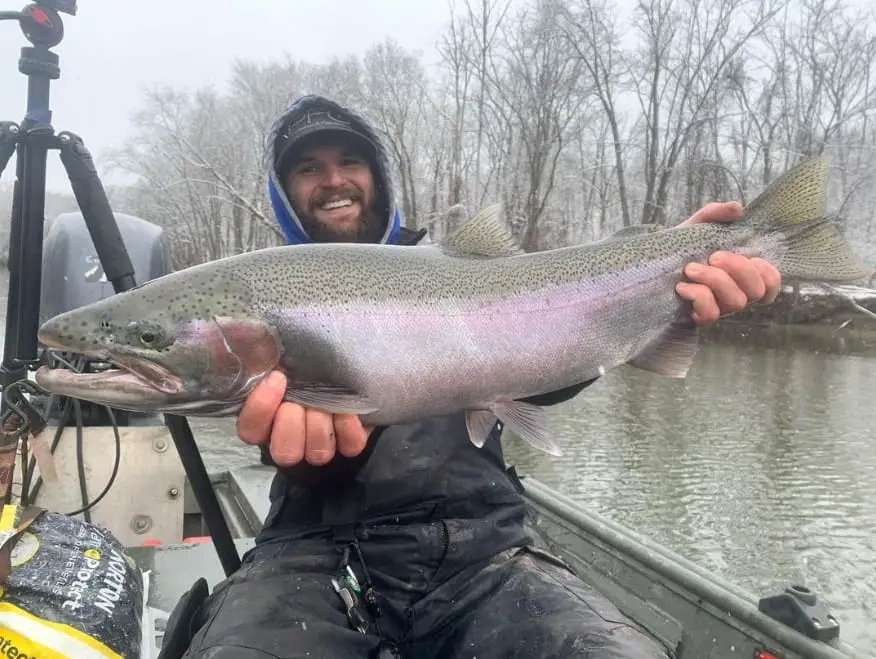 Kalamazoo River steelhead fishing provides adrenaline for anglers of all skill levels. But the Kalamazoo River has its challenges, but don't worry, this guide should give you some insight on how, where, and when to fish steelhead on the Kalamazoo River.
The Kalamazoo River also has good fishing for salmon starting in late August and peaking in October. Sometimes the steelhead and salmon will be in the river together, making for some exciting fishing.
The Allegan Dam limits further upriver migration of steelhead and salmon. There are a few good spots along the river to try and some good methods to consider.
About the Kalamazoo River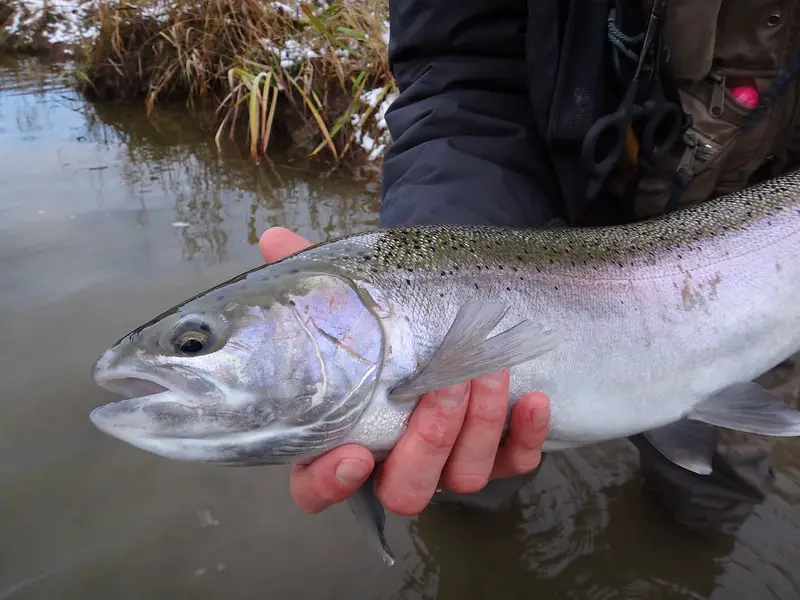 The Kalamazoo River is located in the state of Michigan about an 80 minute drive north of Michigan City. It rises in Hillsdale County, flows in a WNW direction, and ends in Lake Michigan. 
With its North and South branch, the Kalamazoo River is big river starting in Hillsdale County as a spring-fed pond and flowing in a WNW direction for 175 miles, eventually ending in Lake Michigan near Saugatuck.
The Kalamazoo River played an important historical role as a major artery for transportation and a power source for numerous grist mills and hydroelectric dams.
Nowadays, the only boats you can spot are recreational canoes, kayaks, or small fishing boats.
It is also a popular destination for anglers hoping to catch bass, coho salmon, chinook salmon, walleye, catfish, and the famous Kalamazoo River steelhead.
Some tributaries, which I will discuss below, also offer opportunities for steelhead, salmon, rainbow trout, brown trout, and brook trout.
About the Kalamazoo River Steelhead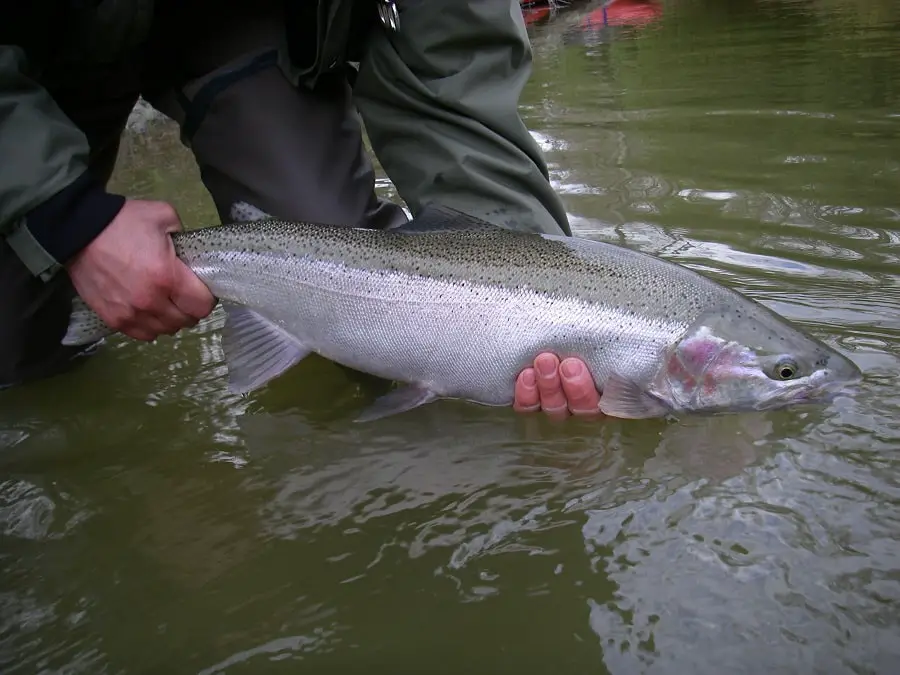 The Kalamazoo River is one of the best steelhead waters in southwest Michigan. This Kalamazoo River is stocked annually with about 15,000 Michigan strain steelhead in early spring. 
Summer run Skamania steelhead also wander into the Kalamazoo River from Lake Michigan, but they most probably originate from the St Joseph River. Some Skamania steelhead locals, too, but they are a minority.
Michigan Steelhead – Steelhead is a name for migratory rainbow trout. These fish are born in rivers, but unlike their close relatives, the rainbow trout, they spend the better portion of their lives in the Great Lakes or the ocean.
Most Michigan steelhead will spawn in March or April, however, some will enter the Kalamazoo River starting in Spetember and continue each month until the spring.
Experienced Kalamazoo steelhead anglers describe these fish as fierce, muscular, and aggressive. They never go down without a fight and they are a challenge in the big water that can be littered with wood and logs.
The Best Access Points for the Kalamazoo River Steelhead Fishing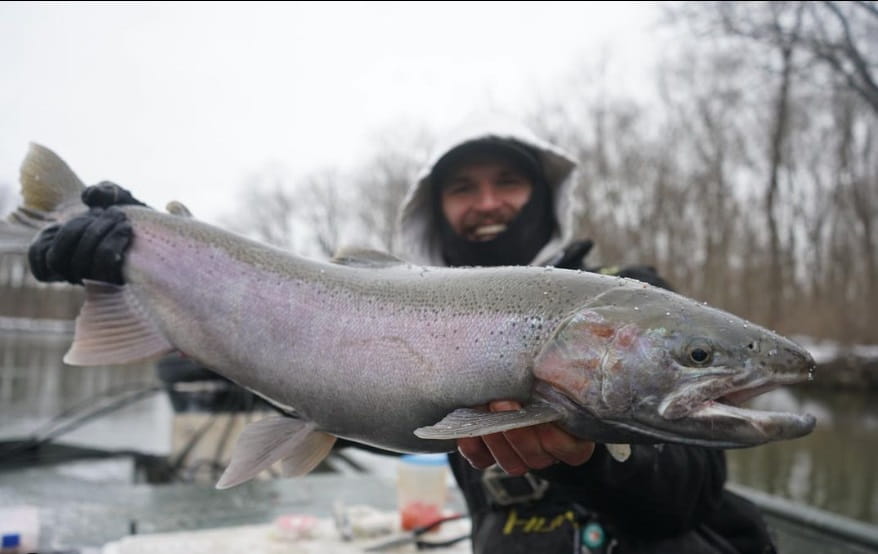 Rabbit River Junction Area: When the river is in good shape and not dirty or too high, there are a few good places for fishing for steelhead on Kalamazoo River. The juncture with the Rabbit River is a spot many anglers like to try as it's a halfway point between Allegan Dam and Lake Michigan.
The Dam: Allegan Dam launch site is a good area to put and boat in to fish the 4 to 5 miles below the dam. This section below the dam is another hotspot for steelhead. As mentioned, the dam stops the steelhead and salmon from getting further up the river.
During cold spells, fish run upriver and stop near the Allegan Dam to wait out the cold. This area is usually ice-free in winter and delivers dependable winter Kalamazoo steelhead fishing.
Although there is bank access at the dam, wading can be challenging. Many anglers prefer to fish from a boat below the dam.
Be very careful when fishing this river from a boat. While it can be done, you really need to watch for logs, logs and more logs.
As for current, the first half mile below the dam can be a little swift, but things slow considerably from there, and the majority of the river below is slower current. If you decide to try a small boat on this upper section of the river, be cautious and aware.
M89 Fishing Access and Boat Launch: This spot on the Kalamazoo River, where M89 crosses the river below the Allegen County Dam, provides a convenient location for anglers to enjoy their fishing endeavors.
Situated on the Kalamazoo River, this access point is easily accessible from M89, offering convenient entry to the river for fishing enthusiasts. A parking lot and boat launch are available here.
Bank angling can be tough due to the forest and trees, as wellas the deep banks but it is fishable.
New Richmond Bridge Park: Situated downriver, the park area has a boat launch and a parking area and is best fished by boat.
Kalamaoo River Tributaries
Three small tributary streams that flow into the lower Kalamazoo River, namely Mann, Bear, and Sand Creeks, are classified as high-quality cold water streams and can be fished for steelhead, trout, and salmon anglers.
The mouths of these creeks can and should be fished since steelhead can stack up at the mouths before heading up the tributary. These can be hotspots on an otherwise large and intimidating river.
Mann and Sand Creeks are known for their population of brook trout, which clearly shows the quality of the river and the cold temperatures that steelhead will find attractive.
While Bear Creek is predominantly inhabited by brown trout, it can be good fishing for salmon and steelhead when they are in. In addition to natural reproduction, Bear Creek receives an annual stocking of brown trout.
These tribs all serve as successful spawning grounds for steelhead and salmon and add to the wild fish populations of the Kalamazoo River.
Sand and Bear Creeks have documented the reproduction of coho salmon, brown trout, brook trout, and rainbow trout.
While Mann Creek has not been surveyed for natural reproduction, it is evident that brook trout reproduction occurs, and the likelihood of steelhead and coho reproduction is high there.
Among the three streams, Bear Creek attracts the most fishing activity. Its location within the Allegan State Game Area ensures easy access for anglers, and the stocking program adds to its appeal for trout fishing enthusiasts.
Due to its small size, Sand Creek does not experience heavy angling pressure.
Mann Creek, on the other hand, receives moderate fishing pressure primarily due to its dense vegetation along the banks, making fishing challenging.
Is Kalamazoo River Wadable?
The Kalamazoo River is wadable, but more so upstream from M-89 than down from the dam. M 89 is about four river miles below the Allegen County Dam and primarily only on the inside of the bends though, since on the outside of the bends it's often ten feet deep only three feet out from shore.
Wading most of the Kalamazoo River can be treacherous due to deep water at the banks, however, there are a few spots where you can cast lures, float fish, or still fish from the bank. Often, the hardest part is landing big steelhead with the deep banks and many trees along the bank.
For bank fishing on the Kalamazoo River, find any open area without logs or wood along the bank and have a long-handled net so you don't need to get into the water.
Many bank anglers will fish below the many bridges and target steelhead passing through.
The Best Time for the Kalamazoo River Steelhead Fishing
Since there are some Skamania steelhead in the river, there is the potential to catch steelhead 12 months of the year. However, most steelhead are in the river from October to late April.
The Kalamazoo River Steelhead Fishing in Spring (March, April, May)
Even though you can start fishing in late February as the spring steelhead starts to arrive in good numbers, March, April, and early May are the best times of the year for Kalamazoo River steelhead fishing.
If you are lucky, and the water is at the right temperature and good clarity, you can catch multiple steelhead a day.
The Kalamazoo River Steelhead Fishing in Late Fall & Winter (October, November, December)
The best time to start Kalamazoo River steelhead fishing is the end of October. Steelhead fishing is on fire during November and early December.  
Midwinter Kalamazoo River fishing opportunities exist since steelhead tend to settle in for the winter by congregating at the Allegan Dam, which doesn't; always freeze.
Lower sections will freeze during the winter.
The Best Fishing Methods for Catching the Kalamazoo River Steelhead
There are a few good methods to fish for steelhead on the Kalamazoo River.
Float Fishing: A popular method is to drift bait under a float which is known as float fishing, and on many rivers, this is the most effective method for catching steelhead and salmon. Find areas that are 6 to 12 feet deep and get your bait close to the bottom. Since the water is slow, set the hook and the first sign of your float moving.
Plunking: Plunking is a still fishing method where you cast out, allow the weight to anchor the bait near the bottom, and then wait for passing fish to grab your bait.
Lure Fishing: Lure fishing is a very popular and effective way to fish for steelhead on the Kalamazoo River. Casting spinners, spoons, crankbaits, and plugs in open areas can be very effective.
Best Baits For Kalamazoo Steelhead And Salmon
The most productive baits for Kalamazoo River steelhead fishing are spawn sacs, skein chunks, beads, worms, and artificial flies.
There are plenty of other good baits, which you can see on my page Best Baits For Steelhead.
Final Tips On Kalamazoo River Steelhead Fishing
If you are a rookie or are intimidated by such a large river, try fishing the tributaries first, or better yet, you can always contact the local fishing guide service.
You might also find weekly Michigan fishing reports and updates from Fisheries staff and conservation officers online. They should give you an idea of what is happening in most waters in the area, including the Kalamazoo River.  
Finally, you must have a Michigan fishing license. You can find one at most bait and tackle shops or purchase it online.
If you have questions or advice on Kalamazoo River steelhead fishing let us know in the comments section below.
Tight Lines
Graham