Steelhead Fishing NY: Catch More Steelhead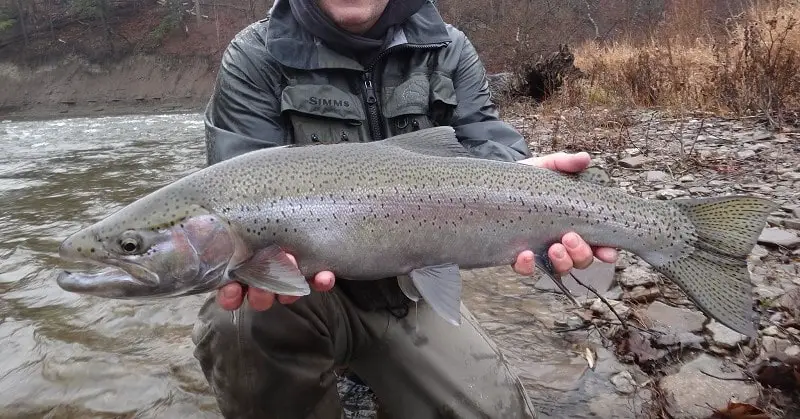 I have been steelhead fishing NY for almost 20 years and although it's not one of the states that I guide the methods that I use and teach my clients on other great lakes and rivers work equally well. This article on steelhead fishing NY combines my tactics and the tactics and tips of other steelhead river guides of New York. 
New York is known for its Steelhead runs, and every year thousands of anglers flock to the state's tributaries to hook these monster trout. Steelhead fishing in NY requires anglers to adapt to changing water patterns, temperatures, and seasons. Using these guide techniques will help you catch them.
Steelhead Fishing in NY can be challenging and exciting for anglers of all levels. If you want to get in on some Steelhead fishing in NY action, read on for some my helpful tips and advice.
Steelhead Fishing NY
Steelhead are plentiful in New York and combined with some very beautiful rivers and easy access, it's easy to see why these giant trout attract so many anglers to these waters.
Before you head out for some Steelhead Fishing in NY, make sure you are properly prepared and that you understand these fish and how to catch them, because although new york steelhead are plentiful at times, they can also be a challenge for unprepared anglers.
The New York steelhead are stocked by the millions into the rivers flowing into Lake Ontario and Lake Erie which helps create this fantastic fishery.
Some steelhead are also able to reproduce and are born wild in the rivers. The baby Steelhead instinctually migrate through these tributaries during their migration to the great lakes, where they will feed and grow big for 1 to 3 years before heading back to the tributaries to spawn as large adults. 
This migration of adult steelhead up the rivers is when thousands of anglers visit these tributaries to fish.
Each year anglers from other states and from Canada also travel to take advantage of Steelhead fishing NY, and for a chance to hook a monster-sized steelhead during one of the many Steelhead runs.
Upstate New York steelhead fishing is split into two regions. Region one is the shoreline of Lake Ontario, and region two is the shoreline of Lake Erie south of the city of Buffalo. Both regions have great steelhead rivers that rival or are arguably better than some of the famous West Coast steelhead rivers.
The Lake Ontario side of upstate New York has many great rivers, including some that might be the best steelhead rivers in the great lakes region or even in the world.
The Lake Erie side of New York also has many great steelhead rivers and is part of what is called Steelhead Alley. Steelhead Alley is an area with numerous tributaries all within close proximity that run into the great lakes. Steelhead Alley runs from Buffalo New York in the east to Ohio in the west.
Every year, the rivers in Steelhead Alley are stocked with over 500,000 steelheads averaging about eight inches long and this makes for some fantastic steelhead fishing. 
For more information about steelhead Alley and fishing in Pennsylvania and Ohio, check out my page Steelhead Alley Fishing: Tactics And Tips From Guides.
Best Time Fish For Steelhead In NY
The NY steelhead fishing season runs from early fall to late spring. The steelhead season typically starts around late September with cooler nights or cold rains and runs through early May which is when most steelhead are finished spawning and have headed back to the lake to recover.
While you can fish for Steelhead any time during this season, it's important to know what to expect during each season and to learn which methods and baits work best at different times. 
Even the tactics used by the guides change from season to season and anglers that don't know how to adapt will struggle to catch steelhead. There is a lot to know if you want to stay on the steelhead in each season.
Spring Steelhead Fishing In NY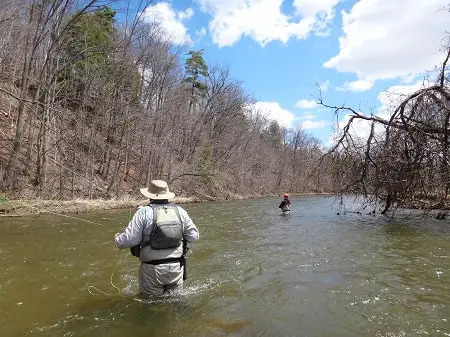 Many people consider spring one of the best times to fish for Steelhead in NY.
This is because the water temperatures are gradually getting warmer which triggers the spring runs, and the steelhead that are already in the river from runs in the fall and winter will start to become more active and are more willing to take your bait. 
Spring is also when most steelhead have the urge to spawn which forces them to run up the rivers regardless of great conditions.
Spring is also a time when the steelhead that are already finished spawning are starting to recover and are usually very hungry and will often eat everything that passes by them as they slowly make their way back to the big lake.
I split the spring steelhead into 3 groups to help my clients understand the steelhead better which helps them catch more fish.
Group one steelhead are fresh steelhead just came into the river the lake and they are silver, aggressive, and full of energy. These fish start their runs with the snow melts and when the deep freeze of winter is finally over. These first-run steelhead provide anglers with great fights and sometimes days of many fish landed. 
Group two are the steelhead that are up on the spawning beds spawning. These steelhead should be left alone to spawn and make more steelhead for future runs. These spawning steelhead spend a lot of time on the beds spawning and competing with other steelhead so when they are hooked by an angler they are already tired and they fight poorly. They also taste like crap for those anglers that wish to harvest them.
Unfortunately, new and inexperienced anglers will target these spawning steelhead simply because they can see them up in the shallow water where they spawn and they think they are easy to catch.
Unfortunately, these anglers do not realize that these fish on the spawning bed have zero interest in eating and that the steelhead holding in the pools above and below the spawning steelhead are much more likely to eat and they fight better too.
I don't know how many times I've walked by an angler targeting 3 or 4 steelhead in 2 feet of water on a spawning bed and walked to the pool below them to fish and after an hour I would hook multiple fish while at the same time the angler fishing for the spawning fish hasn't caught one.
Spawning fish usually have no interest in feeding so they won't bite and therefore most steelhead that are caught on the spawning beds are snagged in the body or mouth.
The other thing with spawning steelhead is that they are in very shallow water and they can see the angler fishing for them and the go lockjaw, which is another reason they won't eat.
It's always best to resist the urge to fish for steelhead on the spawning beds and target resting and feeding fish in the pools instead.
Group 3 are steelhead that have already spawned and are heading back to the lake. Some anglers call these steelhead "dropbacks".
These drop-back steelhead are always hungry, are often very aggressive, and they fight much better than steelhead on the spawning beds do. These fish are often found later in the spring and can offer excellent angling.
For more information, best baits, best methods, and tips, check out my page Spring Steelhead Fishing
Fall Steelhead Fishing In NY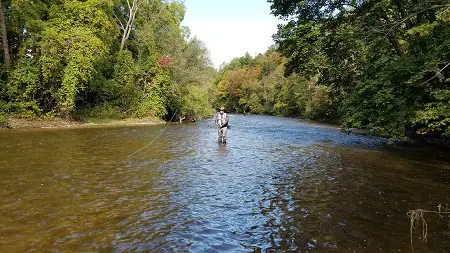 Steelhead start to run the rivers in early fall, often starting in early to mid-September, but because the water tends to still be warm during early September, their numbers are usually low.
As the nights become colder and the water temperatures cool down in late September, through October, and November, more Steelhead start entering the rivers in larger numbers. 
The cold nights and the cold rains of October will trigger the big runs. Every year the fall runs are different due to weather patterns. One fall might have 10 big runs due to 10 heavy rainfalls, while other falls might be drier and only have smaller rains so you might have 50 small runs instead. 
Either way, fall steelhead fishing is my favorite time to fish and to guide for great lakes steelhead. These fall steelheads are big, strong, and healthy from feeding all summer in the lake, they are aggressive and they are often the hardest fishing steelhead of the year.
Late October into early November is an ideal time for fall steelhead fishing because the water is cold enough to motivate the steelhead to run but still warm enough that the fish are moving and are very active and willing to eat. I change tactics in the fall as the water gets colder and so should you.
Where the steelhead hold in the river in early October, and when they are most active or when they eat, and which methods that work best then, are often different than they are in late November or in December. 
Not knowing how to adapt as the water gets colder is why many anglers really struggle to catch steelhead as the water gets colder, but for me and my guides, 20 fish days are not uncommon even on the coldest days in December but you need to follow our simple rules.
For more information, guide tips, and tactics to stay on the steelhead at all times during the late fall steelhead run, check out my page Fall Fishing For Steelhead.
Winter Steelhead Fishing In NY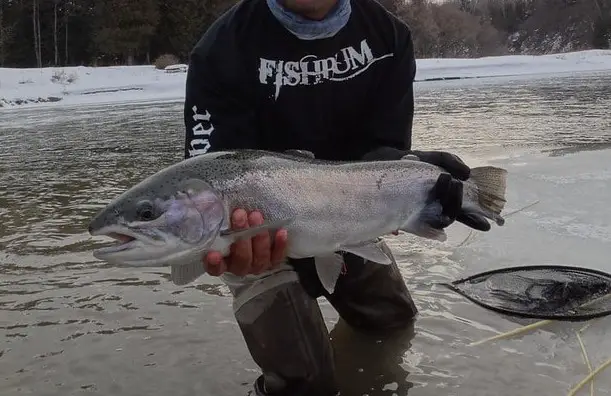 The migratory winter run strain of steelhead consists of what some call the Washington Steelhead strain, however, there can be other strains mixed in since strains of steelhead from the Canadian side of Lake Ontario like the Ganaraska strain might migrate up the Salmon River too. 
You will still see a lot of Steelhead in the river during the winter months, but you will also notice that they are not as active and are less likely to feed.
That doesn't mean you can't hook some nice Steelhead in the Winter months because the truth is that this can be a great time of the year to catch lots of big steelhead.
Winter steelhead fishing in NY just means it's a little colder and you need to when to be on the water. Knowing when and where to fish for winter steelhead can really improve your success.
You may also have trouble fishing some of the more shallow creeks and streams in New York since these smaller creeks may freeze over first in the winter. There are some New York rivers that practically stay ice-free all winter.
The good news is that the steelhead at this time will have a harder time finding natural food during the winter, so if you can get them interested and moving, they will be hungry and should be willing to bite your bait.
My article Winter Steelhead Fishing explains how to consistently catch steelhead even in the coldest water. Knowing my tips and tricks that I use to keep my clients catching lots of steelhead is included on that page as well as my tips to stay warmer and safe.
Steelhead Fishing Regulations
New York does have regulations or fishing rules that apply to Steelhead fishing.
These regulations include information about fishing hours, season dates, tackle restrictions, fishing licenses, and fishing locations you can or cannot fish at different times.
You can find an extensive list of regulations on the New York Department Of Environmental Conservation website.
The Best Methods For Catching Steelhead In NY
Some fishing methods for steelhead work better than others when it comes to fishing New York rivers and streams for Steelheads.
My experience when fishing many of the New York steelhead rivers is that some anglers catch lots of steelhead but most don't. Why is this?
This is true all around the great lakes and it's often a result of using the wrong method at the wrong time, or simply just a lack of knowledge of how to fish for steelhead and what to use.
Almost every time I go and fish or guide on a great lake's river, I see anglers using old out-of-date methods that just work poorly.
Here are some methods to try if you want to be successful when fishing for.
Fly Fishing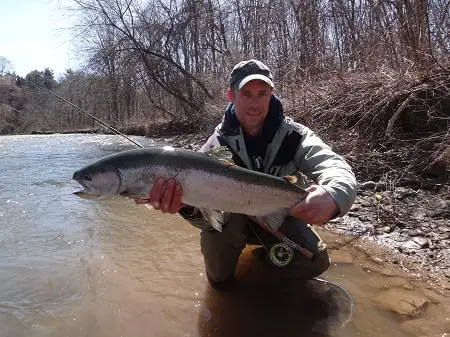 Many fishermen prefer fly fishing for Steelhead in New York, and this is a method that works well in all seasons and on most rivers.
The catch is that you need to know how to do it well.
If you are not catching steelhead when fly fishing, I highly recommend you check out my article Fly Fishing For Steelhead: Great Lakes Style. The methods, flies, tips, and tricks that I share have been proven to work exceptionally well on New York Rivers.
Rivers that have particularly deep waters may give you some problems when fly fishing so I recommend sticking to rivers that average 3 to 8 feet deep which is almost all of the New York steelhead rivers.
Steelhead should be eager to hit on flies any time of year and on all NY steelhead rivers. you just need to be sure that you are using the right flies and that you present them properly. 
When fly fishing, it's a good idea to bring a variety of different types of flies with you so you can adapt to different water conditions or different feeding patterns. A fly that worked yesterday in slightly dirty water might not work in the clearer water.
You should also use different fly techniques. Spey fishing is a popular fly fishing technique that works well when fishing for Steelheads in New York's bigger tributaries. Rivers like the Salmon River, Oswego, and 18-mile creeks can be fished with Spey rods.
Nymph Fishing for steelhead is usually the most effective way to catch steelhead with a fly rod. In shallow water or when fishing pocket water I prefer a little known nymphing method known as Euro Nymphing. 
If done right and if used in the right type of water, Euro Nymphing can be the most effective way to catch lots of steelhead in a single day on a fly rod. If you are not familiar with Euro nymphing, Euro nymphing is a method that is used by all the top tournament fly anglers and top fly guides because it often can't be beat.
I have adapted the Euro nymphing methods used by the pros to be able to catch great lakes steelhead consistently. For detailed information on this method check out my page on Euro Nymphing For Steelhead.
The most common way to nymph for steelhead is known as indicator fishing. Done right this can be the most effective method of fishing steelhead in bigger deeper pools and runs. For more information on the best steelhead flies and my steelhead leader setup, check out my page Nymphing For Great Lakes Steelhead.
Best Flies For NY Steelhead Fishing
There are some flies that work better than others when fishing for Steelhead in New York and these are some popular ones to try. Anglers will want to bring one of each type so you can switch them out and find out which ones the fish prefer the most in the area and in the current water conditions. Here are some of the top 10 flies to use.
Nuke Egg Fly #10 in colors: cheese yellow, pink, peach, orange, and chartreuse for dirty water.
Copper John nymph size 8 to 10
Egg Sucking Leech in size 6 to 8: same colors as the Nuke Egg fly usually with a black or olive body.
Woolly bugger in sizes 8 to 10 in colors white, black, olive, and purple.
Grapefruit Head Leech ( for swinging or stripping in)
White Beadhead Crystal Bugger – # 10 in colors white, black, olive, and purple.
Senyo's Shaggy Minnow (For swinging or stripping)
Crystal Egg Fly in size 8 to 10 – Same colors as the Nuke Egg Fly
Blood Dot Egg Fly in size 8 to 10 – same colors as the Nuke Egg fly usually with a black or olive
Psycho Prince size 8 – 12
For more top flies check out my page 19 Most Effective Steelhead Flies and my page Winter Steelhead Flies: 11 Must Have Guide Flies
Float Fishing
Float fishing might be your best option in almost all NY rivers simply because it is so effective at presenting baits like minnows, salmon eggs, worms, and beads.
The float keeps your bait suspended off the bottom but still close to the bottom of the river or stream regardless of how fast the water is moving. Since the steelhead are almost always on the bottom you can keep your bait suspended in their strike zone for a long time.
This is also a good method if you are fishing in the late fall and winter when the waters are cold and a slower presentation is required. Steelhead tend to move to deeper and slower water in very cold temperatures, and they will be more likely to strike at something that falls down to their level and is moving very slow.
Float fishing can be done with spinning reels, and baitcasting reels, but nothing beats float fishing with Centerpin reels.
If Centerpin fishing is something you are interested in or you want to improve and catch more steelhead with a Centerpin reel, check out Centerpin Fishing For Beginners: 20 Steps From A Top Guide.
For detailed info on how to float fish and the methods and gear that the expert guides use, check out my page on Float Fishing: Tips From A Pro River Guide For More Trout.
Bottom Bouncing 
Bottom bouncing allows you to get your bait to the bottom of the river or stream without a float. Some anglers know this as drift fishing as well.
This method can be particularly effective in cold water when the fish have moved deeper and is a good method to test the water to see where the fish are holding.
This method is also more likely to get the attention of the fish holding in pocket water and is a great way to get them to bite. In fact, when the steelhead are in the shallower pockets and pools or holding in the fast water behind rocks, anglers that know how to bottom bounce well will catch more than the float anglers will.
I discuss both traditional style bottom bouncing methods that are used in shallow and deep water, and the advanced bottom bouncing methods that I use when I am guiding on my page Bottom Bouncing – 5 Proven Guide Tips For More Fish
Drift Fishing
If you are fishing with light tackle and longer rods, drift fishing can be effective. This method is when you cast your bait out into the current with some weight on your line and no float and you let it drift along with the current. You maintain a semi-tight line to help detect strikes as the bait bumps and bounces along the bottom.
Finding the right speed is the most important factor.
This method is not used as much as float fishing because it can be more difficult to detect strikes. Where this method shines is when fishing water over 15 feet deep where it's difficult to use a float.
Some anglers will add extra weights to purposely slow and drag their presentation down. This drag-style drift method works well when you use a floating bait or spinning type lure.
For more info on this method check out my page Drift Fishing For Steelhead.
Best Baits And Lures For Steelhead Fishing
When Steelhead fishing NY, it's a good idea to have plenty of different baits available so you can interchange them as needed to adapt to water conditions or the fish's preference. Make sure you have some of these in your tackle box.
Live Bait
Eggs
Worms
Beads
Flies
Minnows
Grubs
If you want to know my favorite steelhead baits and which baits are the most effective in all seasons and under different water conditions, as well as my tips on how to make these baits more effective, and how I figure out which baits are best, check out my very popular page Best Baits For Steelhead.
Lure Fishing For Steelhead In New York
Lure fishing for Steelhead in New York can be a lot of fun and is often very effective. There are a lot of great steelhead rivers in New York that are suitable for casting lures.
Knowing which lures to use, when to use them and how to fish them will greatly increase the amount of steelhead that you catch.
For starters, anglers should have these lures when fishing steelhead in New York.
Lures
Small spoons
Crankbait lures
Spinners
Jigs
Plugs
For more information on lure fishing, which sizes and colors are best, and my secret lure that most anglers forget about, check out my page 4 Best Lures For Steelhead – A Pro Guides Recommendations.
Best Steelhead Rivers In NY
New York is a part of Steelhead Alley. Each year, Ohio, Pennsylvania, and New York stock the tributaries of Steelhead Alley with hundreds of thousands of trout making it one of the best areas in the world to fish for steelhead.
There are also many great steelhead rivers east of the Niagara River along the south shore of Lake Ontario that have stocked and wild steelhead. Some of these Lake Ontario rivers get very big runs of big steelhead. Some of these rivers are so good for steelhead and salmon that I hear that they have even closed off sections of rivers for Presidents of the United States to come and fish.
Here are some of the best rivers in New York for Steelhead fishing. Maps of these rivers can be found here.
Cattaraugus Creek
Oswego River
Salmon River
Niagara River
Genesee River
There are over 50 more rivers and streams in New York where anglers can fish for steelhead and I discuss them in more detail on my page Best Steelhead Rivers Of New York.
Water Levels On NY Tributaries
Before you head out for some New York Steelhead fishing, it's a good idea to check out the water levels of the New York rivers that you are planning to fish. 
Rivers that are too low might be void of any steelhead, and rivers that are too high might be muddy, dangerous, or just impossible to fish.
Knowing when the rivers come up and how fast they drop back to fishable levels can help you predict the steelhead runs.
All the guides and top anglers use the Water levels charts and so should you. You can find current river conditions for stream flows on the USGS National Water Information website.
Fishing Steelhead NY Conclusion
There is a lot more to fishing steelhead NY and I will be expanding this page in 2022. If you have any tips or advice, or any questions to share about Steelhead Fishing in NY, leave a comment below. 
If you enjoyed this article and found it helpful, be sure to let us know.
Tight Lines,
Graham