Steelhead Fishing Western NY: 11 Best Streams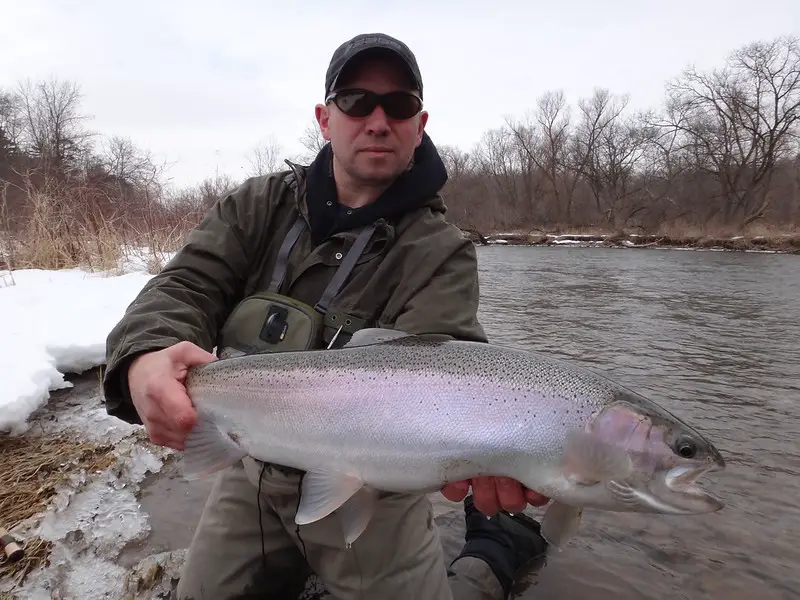 Steelhead fishing Western NY area is good in late fall, winter, and May, especially if you know where to go and what to use.
Western New York has two of the top 5 steelhead rivers in the entire state of NY. These rivers are known for large numbers of steelhead and the steelhead caught here are often big.
But don't just focus on those two rivers because, at times those rivers might be dirty or just not fishing well, which is when other streams could be great.
Lower Niagara River
 The Lower Niagara River presents anglers with plenty of exciting fishing opportunities and is likely the best Steelhead fishing Western NY area has to offer.
The river's waters flow ferociously between Niagara Falls and Lewiston, then settle into a calmer pace between Lewiston and Lake Ontario.
The Lower Niagara River is known for its fantastic steelhead runs, especially in the fall and spring. However, you can also find some fish in winter if you are willing to tolerate the chilly weather and know where to look.
The river has several access points, such as Sand Docks in Lewiston, Whirlpool, and Devils Hole State.
I discuss fishing the upper Niagara River in my article Steelhead Fishing Buffalo Area.
Chautauqua Creek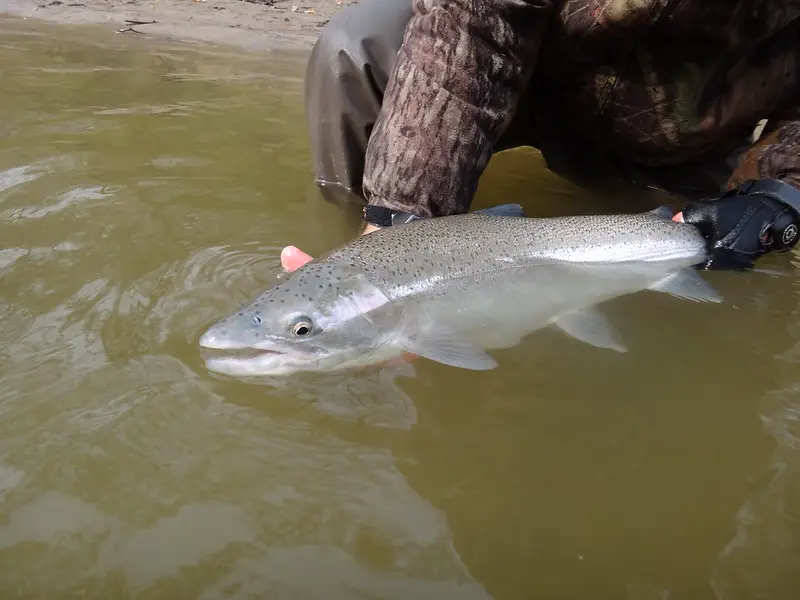 Chautauqua Creek is another good steelhead stream in Western New York. The creek starts in Sherman, New York, and winds its way into Lake Erie. In total, the creek system spans about 15 miles.
However, only five of these miles have fishable grounds. The best fishing spots on the creek are found in the Westfield Water Works Village. During the fishing season in fall and spring, it is not uncommon for anglers to find 10-pound, 30-inch steelhead.
The creek also presents anglers with a fantastic sport fishing opportunity 1.3 miles above the Westfield Waterworks Dam. However, beware that this is a catch-and-release-only section, and anglers are only allowed to use artificial lures.
Cattaraugus Creek
The Cattaraugus Creek is one of Western New York's largest fishing areas, spanning over 34 miles and about 100 feet wide. It runs from Lake Erie to Springville Dam.
It is considered the best steelhead stream in Western New York for fly fishing and float fishing and is one of the top 5 steelhead rivers in New York State.
The area near the lake has some slow-moving water, while the Zoar Valley Area has fast-moving rapids. The varying water speeds make the river ideal for anglers who prefer to fish in shifting water conditions.
The Creek is quite a famous steelhead fishing Western New York destination, which means it has a lot of fishing pressure. This is particularly so during the peak fishing seasons of fall, winter, and spring.
If you prefer to fish in solitude in smaller water pockets, you can try the following smaller creeks:
Spooner Brook
Coon Brook
Waterman Brook
Clear Creek
 Additionally, beware that some of the fishing grounds in the creek fall in Seneca Location of Indian Lands. Fishing here requires you to get a license for fishing in the reserved area.
Eighteen Mile Creek
 The Eighteen Mile Creek has 15 miles of decent steelhead runs and is one of the best fishing locations in Western New York.
It is smaller than the Cattaraugus Creek, but it has plenty of steelhead and good spots to try.
Its shale and rocky bottom mix make it ideal steelhead water for fly fishing, float fishing, and fishing with lures.
Walnut and Silver Creeks
 The Walnut and Silver Creeks offer 14 miles of fishing grounds which are perfect for upstream steelhead fishing in Western New York. Both are found in Chautauqua County near Dunkirk.
Canadaway Creek
 This 6-mile creek runs from Lake Erie to the Laona Falls. The falls act as a barrier, preventing the steelhead from migrating farther upstream. As such, you will find fantastic runs on this creek.
Best Fishing Methods for Steelhead in Western NY
 The best steelhead fishing techniques in Western New York are:
Fly fishing
Streamer fishing
Spin fishing
Float Fishing
Plunking
If you want to learn more about each of these methods and the best bait, best lures, and best flies for NY streams, be sure to check out Fishing For Steelhead.
The Bottom Line on Steelhead Fishing Western, NY
Western NY has numerous steelhead fishing opportunities, but anglers should know the fishing regulations for the area. From the mighty Lower Niagara River to the tiny Walnut Creek, this area of the state is brimming with fishing options.
Steelhead Fishing Western NY
If you have a question or would like to share some advice on steelhead fishing Western NY area, let us know in the comments below.
Tight Lines
Graham