Steelhead Fishing Buffalo NY: 8 Best Steelhead Spots
You probably wouldn't think steelhead fishing Buffalo and area would be good but Lake Erie has a lot of steelhead thanks to good stocking efforts from New York and neighboring states. Stocking combined with plenty of creeks provides many good steelhead fishing opportunities within 30 minutes of Buffalo NY.
This article will discuss the eight best streams for steelhead fishing in Buffalo NY area, with information on access, times, effective methods, and the best baits.
About Steelhead Fishing Buffalo And Area
Steelhead fishing Buffalo NY consists of bank fishing and boat fishing on many large and small streams flowing into Lake Erie. Even the smallest creeks have the potential for wandering steelhead.
On top of that, Buffalo is situated on the banks of the Niagara River, which is one of the best steelhead rivers in the world.
You can also fish many nearby Western New York rivers and streams that get good steelhead runs, like Buffalo Creek, 18 Mile Creek, and Cattaraugus Creek.
Lower Niagara River
The lower Niagara River offers some of Buffalo's best steelhead fishing spots. You will find lucrative angling opportunities from Niagara Falls to Lake Ontario.
You need to find slow waters along the river for shoreline fishing, such as the area above Lewiston. However, if you are looking for deeper waters where you can only fish in a boat, the region above or below Lewiston can be good fishing.
One of the best things about fishing in this river is its numerous access points. These include:
Whirlpool State Park
Devil's Hole State Park
Lewiston Sand Docks
Fort Niagara State Park
The Niagara River will have small runs of steelhead entering with the salmon as early as September and it will get much better fishing from November to December.
It can be excellent fishing on warmer days in January and February as the steelhead will stay in the river all winter.
Spring fishing is also excellent and some of the biggest steelhead are in the river during the spring. Steelhead in this river can get over 20 pounds.
There are reports of steelhead being caught by boat and shore anglers as late as early June but often most of the steelhead fishing is finished by late May.
There are a lot of steelhead guides on the Niagara River.
Upper Niagara River Steelhead Fishing
In the upper section of the river, anglers can catch steelhead and lake run browns. However, fewer anglers specifically target these species in this area compared to the lower river.
It's worth noting that the stocking program for browns and steelhead in New York State has reduced their numbers.
During the spring and fall seasons, some anglers have reported success in catching steelhead off the walls and near the head of the river, although the numbers may not be as plentiful as in Lake Ontario.
Another productive area is back drifting flat fish along the Canadian shoreline from the Peace Bridge to Thompson's Hole, where anglers have caught plenty of rainbow trout and steelhead.
In the stretch from Fort Erie to the International Bridge, anglers have found a mix of Lakers, Browns, Rainbows, and Walleye.
Effective methods in this area include back trolling Kwikfish, using sacks or skein and swimbaits on a three-way rig, or drifting buckskin jigs tipped with minnows during the fall and spring seasons.
Anchoring at Thompson's Hole with minnows, spawn sacs, or casting crankbaits can yield good results.
Additionally, in the spring and fall, anglers have reported success with Rapalas and other crankbaits along the Canadian side wall for catching rainbows and walleye. Anglers have had success catching steelhead off the wall from the headwaters down to the foot of the Ferry, with the Peace Bridge hole being a particularly productive spot when using spawn sacks.
Cattaraugus Creek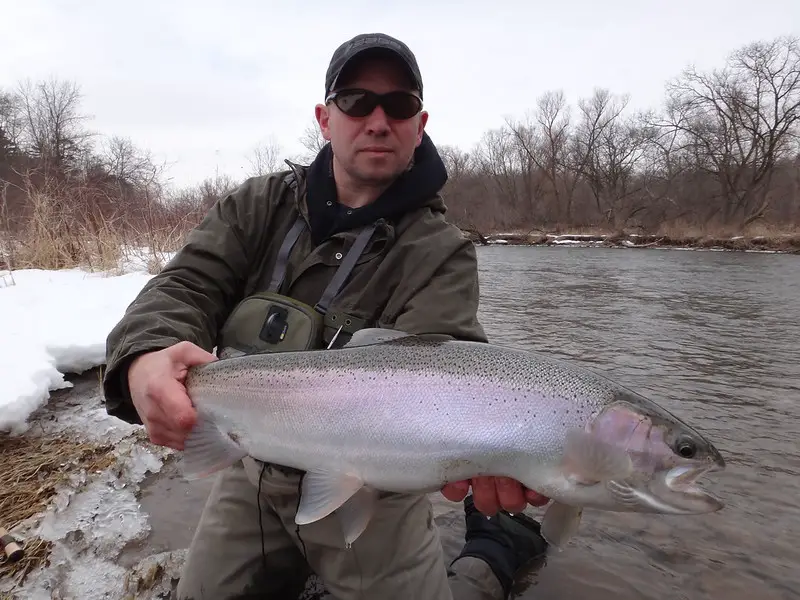 Cattaraugus Creek ranks as one of the best Buffalo area steelhead rivers and it boasts some of the biggest runs in the state. Locals call it the "Catt". Reports of anglers catching over 30 steelhead a day are common during peak times which are late fall.
Although called a creek, do not be fooled. This is a good-sized river averaging 40 to 50 feet wide all the way up to the Dam in Springfield.
Spring can be good once the river water levels drop and clear, but this river can often be dirty a lot or even stay dirty for most of the spring.
Should you arrive to a dirty river, you could fish nearby Walnut Creek or Silver Creek, or 18 Mile Creek.
The steelhead section runs from Lake Erie to Springville Dam, providing 34 miles of fishing opportunities. However, there is talk of opening the dam to allow further steelhead access.
Cattaraugus Creek is also rather dynamic, with wide sections, slow water, fast water, and some very scenic cliffs and forests.
Near the lake is where you will find slower waters which are good for float fishing and casting lures. However, as you move further from Lake Erie, the water gathers speed with a rocky bottom, making steelhead fishing excellent for most methods. This upper sections is a favorite of the fly anglers and many fishing guides.
You will also find some small tributaries along this creek, some of which include:
Clear Creek
Coon Brook
Spooner Brook
 You can use the following access points to reach the fishing spots:
Scobby Hill Dam
Hanover Launch Ramp
Morton's Corner Road
18 Mile Creek
18 Mile Creek flowing into Lake Erie is a famous steelhead fishing location thanks to lucrative fish runs occurring in the fall, starting in late September and peaking in November. Not to be confused by Eighteen Mile Creek the flows into Lake Ontario, which by the way is another good creek for fishing.
The spring runs start in early March and can be good to early May.
This is also one of the larger rivers in this part of the state, providing anglers with over 15 miles of fantastic fishing grounds.
Eighteen Mile Creek has some of the state's best steelhead runs, starting mid-fall to spring. You can access this creek through the South Creek Road.
Chautauqua Creek
This is yet another well-known fishing spot near Buffalo, New York. It offers anglers a solid 15 miles of steelhead fishing spots. However, only about 8.5 miles have public fishing rights, so seek the landowner's permission before fishing on private land.
The best access route to this creek is through the Westfield Waterworks Dam Passage.
Buffalo River Steelhead Fishing
Buffalo River is very close to the city limits and it can have decent steelhead runs in the main river and its tributaries.
This river was once known to be very polluted and not worth fishing but it has been cleaned up and now gets annual runs of steelhead, particularly during late fall and mid-spring.
Buffalo River flows from Western New York to the eastern end of Lake Erie at Erie County. This river has steelhead tributaries, Cayuga Creek, Buffalo Creek, and Cazenovia Creek.
To get to the river, use the following access points:
Bailey Avenue Peninsula
Red Jacket River Front Park
Harlem Road Fishing Access Point
Seneca Bluffs Natural Habitat Park
There is limited access but anglers can try fishing West Seneca Buffalo Creek fishing and hiking area which is just below the blossom dam which is as far as steelhead can migrate on this creek.
Cazenovia Creek Steelhead Fishing
Cazenovia Creek is a Buffalo River tributary that gets steelhead runs, which can be fished in the lower west branch to the falls at west falls and to the dam on the east branch in east Aurora near center street.
There is limited access due to private property, but there is public fishing access at Cazenovia Creek Park.
Cayuga Creek Steelhead Fishing
The Buffalo River splits into two, with the north branch being Cayuga Creek and the south branch being Buffalo Creek.
Cayuga Creek is another tributary of the Buffalo River with steelhead fishing up to the Como Park Lake Dam. There is access at J.C. Stiglmeier Park, Como Lake County Park.
The Best Methods for Steelhead Fishing in Buffalo, New York
Fly Fishing
Fly fishing for steelhead in BuffaloCreek is an effective method since the river is well suited for Nymphing and streamer fishing and the steelhead here are very receptive to eating well-presented flies.
Be sure you know how to fly fish for steelhead and are using my most productive steelhead flies.
Spey Fishing
Spey fishing is a great method for catching some steelhead, especially if you are pressed for a backcast room in your fishing location. The Cattaraugus Creek is great for spey fishing.
Streamer Fishing
Streamer fishing is another good method that will work on all the streams around Buffalo, including the upper and lower Niagara River.
Float Fishing
Float fishing is likely going to be the most effective method overall and in most streams. Drifting the pools with a good bait will provide the most success.
Float fishing with slip float on the Niagara River is a good way to cover water.
Drift Fishing
Drift fishing is another good method for fishing larger rivers with after currents like the Niagara River.
Plunking
Plunking is a popular still fishing method used a lot on the Niagara River as well as the lower section of most streams. It is also good the mouth of the rivers and when fishing the shorelines of Lake Erie.
Lure Fishing
Lure fishing is going to be a good method on any of these rivers, as well as at the mouths and shorelines of Lake Erie.
Best Baits
As with most steelhead tributaries around the great lakes regions, effective baits include:
Salmon and Trout Eggs: Salmon and trout eggs tied into spawn sacs are great for steelhead using the float fishing and plunking methods.
Beads: Beads are a salmon egg imitation that is very popular for steelhead
Artificail Flies: Flies can also be used with float fishing methods and are a very good option for steelhead
Minnows: Due to the abundance of baitfish in the Niagara River, using live or dead minnows is often very effective.
Be sure you are aware of the fishing regulations for the area by checking out the DEC website.
Steelhead Fishing Buffalo and Area Q&A
For more on the best methods and best baits, be sure to check out Steelhead Fishing NY.
If you have any questions, comments, or suggestions regarding steelhead fishing Buffalo and surrounding areas, please let us know in the comments section below.
Tight Lines,
Graham