18 Mile Creek Steelhead Fishing: Lake Erie NY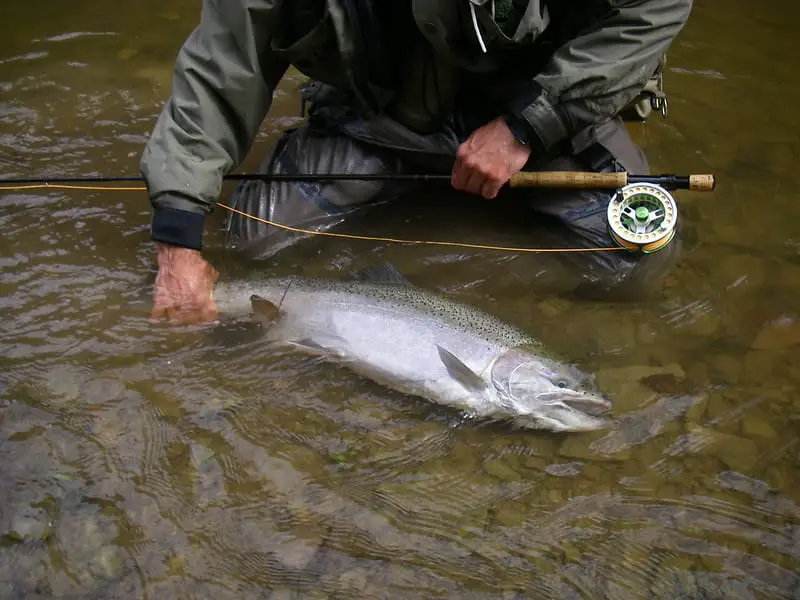 18 Mile Creek Steelhead Fishing is up there with many other great Lake Erie steelhead tributaries, and it is one of my favorite Lake Erie tributaries to fish.
If you are reading this, I know you want to catch more steelhead and learn more about 18 Mile Creek steelhead fishing, so in this article, I'll provide my steelhead guide perspective and share tips and tricks to help you fish and catch more steelhead on 18 Mile Creek.
The Two Eighteen Mile Creeks
But don't confuse this 18 Mile Creek with another creek of the same name that flows into Lake Ontario at the mouth of Olcott Harbor just west of the Rochester Steelhead rivers.
On the other hand, the 18 Mile Creek of Lake Erie runs to the falls below the Route 62 Bridge and includes the towns of Hamburg, Eden, Evans, North Collins, Orchard Park, Boston, Colden, and Concord, covering 273.8 miles of waterways.
About 18 Mile Creek Steelhead Fishing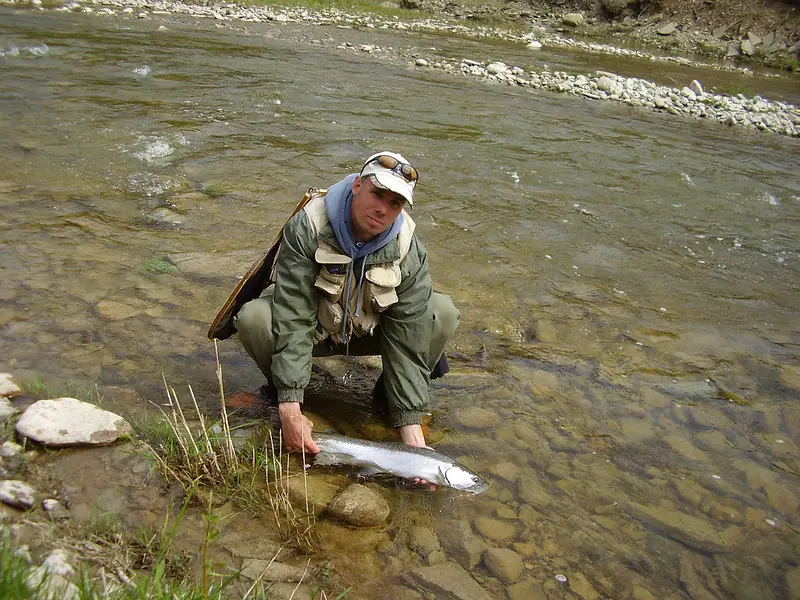 The 18 Mile Creek near Hamburg in Erie County is a vast, meandering stream with spring-fed headwater tributaries and two forks that are good for steelhead fishing. Eighteen Mile Creek is the second-largest tributary of Lake Erie in New York State, and the steelhead fishing on this river can be very good, provided you know where, when, and how to fish it.
The 18 Mile Creek that flows into Lake Erie, and the one this article is about, brings anglers from all over the state during the colder months when the steelhead start to arrive in good numbers.
Eighteen Mile Creek provides good fishing opportunities for anglers and fishermen from the Buffalo Area, which is why it's also included in my article Best Steelhead Rivers Near Buffalo.
From mid-October to early May, the creek supports an impressive run of 18 Mile Creek steelhead. The river's principal tributary, the South Branch, passes through mostly undeveloped gorges, and combined, these two streams provide about 13 miles of angling opportunity.
The state has designated it a significant coastal fish and wildlife habitat area as well as special catch and release sections.
The area is open for public fishing, where people can try to catch steelhead, smallmouth bass, and others in over 1.4 miles of water.
What To Expect When Fishing 18 Mile Creek?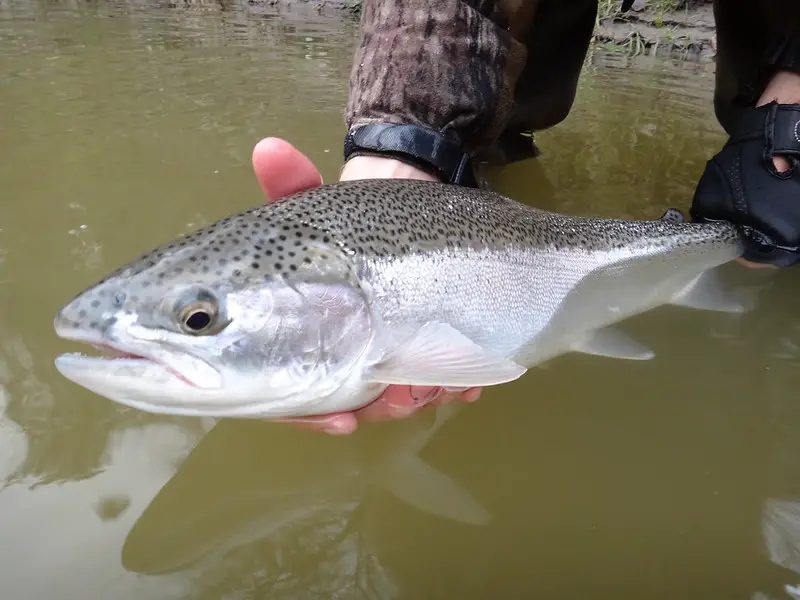 During your 18 Mile Creek steelhead fishing trip, you will encounter a variety of fish, such as steelhead, rock bass, brown trout, sucker, catfish, smallmouth bass, and carp. Most of these freshwater fish will be found in the lower river near the mouth. The brown trout and steelhead will be upriver in the faster colder sections.
Despite all the different species found in 18 Mile Creek, the most popular fish that people come for is the 18 Mile Creek steelhead.
The trails can be tricky and slippery, and since 18 Mile Creek is shale and rocky bottom, it can be tricky to navigate in some parts. Be cautious of ledges that drop into deep water when wading in murky water.
But most areas are accessible enough that you can easily walk and find the best spots for fishing for steelhead on 18 Mile Creek.
Access For 18 Mile Creek Steelhead Fishing
Unquestionably, the 18 Mile Creek is a hotspot for fishing. However, since the creek is home to many fossils remains, certain parts have been called "critical environmental areas,", especially in the southern area. So, be sure you follow regulations and fish only on public fishing grounds.
You will be able to find many spots for fishing for steelhead on 18 Mile Creek, and you can walk through most of them easily.
Lake Shore Road: To fish nearthe mouth of the river, there is a designated parking area at the bridge of Lake Shore Road.
18 Mile Creel County Park: However, if you want the best access, start at 18 Mile Creek County Park. It features a catch and release area with artificial lures only.
South Creek Road and Townline Rd: There is designated bank access or anglers and parking along South Creek Road and Porter road intersection. You can also find a parking area on Townline Road bridge.
You may also find access at some of the bridges. And if you are willing to walk, you can access other areas through hiking trails that run about five miles long within 18 Mile Creek County Park.
But bear in mind that the upper portion of the creek near the headwaters is prohibited since it has been developed into a nature preserve. Check out the DEC map for access spots and info.
Also, on the main branch of 18 Mile Creek there is an impassible waterfalls so there are no steelhead above it. The fall are a few mile upriver of the 18 Mile Creek Count Park.
When's the Best Time for 18 Mile Creek Steelhead Fishing?
Some people fish for brown trout throughout the year at 18 Mile Creek. But if you come for steelhead, the best time is from mid-October to early May, when it's spawning season.
Through these months, the fall season offers the best time for fishing because of the ideal water temperature. And fish are plentiful during this time. However, because this kind of fish Always best to say steelhead, it's the topic and it's better for SEO loves cold water, winter is also a perfect season for fishing for steelhead on 18 Mile Creek.
If you choose 18 Mile Creek steelhead fishing during the summer months, it's best to find deeper areas and spots where the water is cooler around the creek. Or you can go on cloudy days, in the early morning, or at night. There is no steelhead in the river in Summer, it's for bass and other warm water species.
What's the Best Method for Fishing for Steelhead on 18 Mile Creek?
Because of the creek's ideal water levels and plenty of runs, 18 Mile Creek fishing methods are float, fly, bottom bouncing, and lure fishing.
Float Fishing 18 Mile Creek Steelhead
Float fishing is an effective method for fishing steelhead on 18 Mile Creek fishing anywhere the water level is between three and 13 feet. Float fishing might be the most popular method, especially when fishing the bigger pools.
Fly Fishing 18 Mile Creek Steelhead
Fly fishing is best in waters between two and eight feet deep. It is also more challenging and fun to fish using this method. Nymphing with indicators is the most common method, but I do extremely well fishing shallower runs and pocket water when Euro Nymphing.
There are also sections of the river where stripping in streamers will work, and a few sections and pools are suitable to swing a fly.
Bottom Bouncing
Some anglers who fish shallower areas of the creek and fish pocket water section will use and prefer the old-school method of bottom bouncing.
However, among the four best methods for 18 Mile Creek steelhead fishing, the favorite remains to be lure fishing.
Plunking 18 Mile Creek
Plunking is a still fishing method used mostly in the lower river, at the mouth of the river, and for casting out into Lake Erie. This still fishing method uses a heavy weight to anchor your bait near the bottom and it usually has a floating bait.
Lure Fishing for Steelhead on 18 Mile Creek
Lure fishing is popular, effective, and one of the more exciting methods for 18 Mile Creek steelhead fishing. It gives anglers more opportunities for hard hits and multiple steelhead.
Anglers do well casting the slow water at the mouth of the rivers, and when casting Little Cleo spoons out into Lake Erie.
Up the rivers, I cast lures in the deeper pools when they are not crowded with float fishermen or fly fishermen.
Here are four of the best lures for 18 Mile Creek steelhead fishing:
Spinners: Blue Fox Vibrax are my go-to spinners, but Mepps and Panther Martin spinners are effective.
KwikFish: I like Kwikfish when the steelhead want a slower presentation and use them a lot in the winter.
Spoons: Spoon fishing For Steelhead is kinda my secret weapon. Sure plenty of anglers fish the mouth of the river and cast out into Lake Erie, but I do very well with spoons in the upper river, especially in the larger pools. I have some unique methods for catching steelhead on spoons.
Crankbaits: Crankbaits are fantastic for steelhead whether you fish the slower water at the mouth or you fish the pools and runs in the upper river.
Check out my page on Lure Fishing For Steelhead where I tell you my unique methods for fishing steelhead with various lures, what my best lures are, as well as my tips and advice on things like how to improve your retrieve with lures and how to cover the water effectively.
Best Baits For 18 Mile Creek Steelhead
I don't want to get into too much detail on the best baits since I have a full article on the best steelhead baits, but I'll list the most effective baits I use.
Spawn Sacs: This is the most common bait and it is very effective.
Beads: A great imitation for salmon eggs
Worms: Both line and plastic steelhead worms are great and are often my most effective bait for steelhead.
Artificial Flies: There are so many good flies that catch steelhead, such as woolly buggers and egg-sucking leeches, Stonelfy Nymphs, Pheasant Tail Nymphs, and Egg patterns.
Regulations for 18 Mile Creek Steelhead Fishing
In New York, a valid fishing license is a requirement for all people aged 16 and older. So whether you're a resident of the state or not, sport fishing licenses are available to you.
And you can get information about the 18 Mile Creek and Lake Erie regulations from this site: https://www.eregulations.com/newyork/fishing/lake-erie-tributaries-regulations.
18 Mile Creek Steelhead Fishing Q&A
As we come to a close, I'd like to take a moment to express my appreciation for being a part of this incredible journey together. Your unwavering passion for the sport of angling is what unites us as a community of dedicated anglers.
Whether you have questions or personal advice to share about 18 Mile Creek Steelhead Fishing, I encourage you to leave a comment below.
Let's continue to grow and learn from each other, fostering a strong sense of camaraderie as we embrace our mutual love for this sport.
Tight Lines,
Graham