Best Bait For NY Steelhead: Baits The Guides Use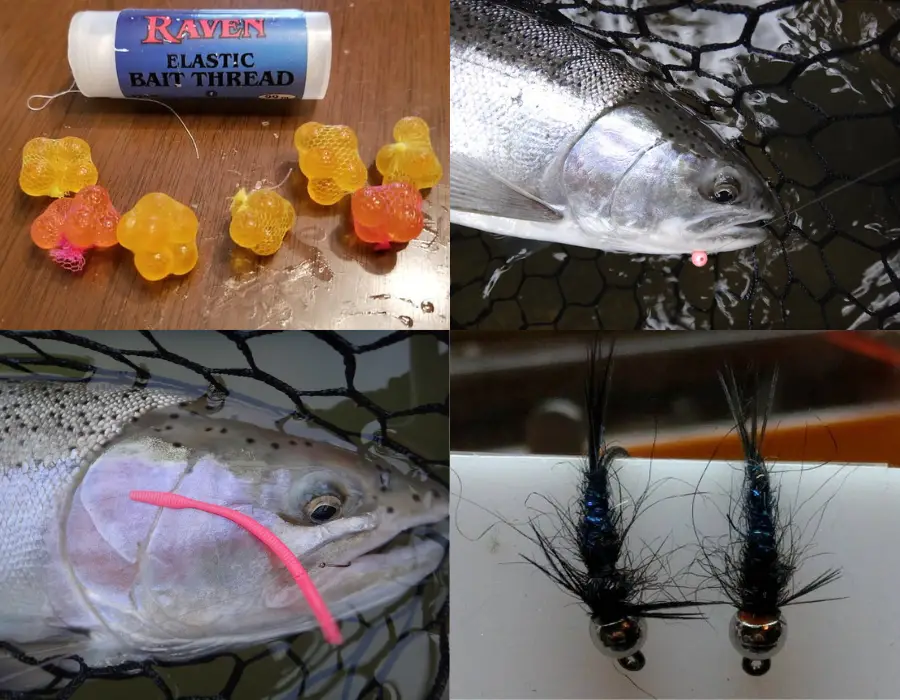 There are many things that New York river guides do to maximize the amount of steelhead their clients catch, and one of those things is having the best bait for NY steelhead on their client's hook. We discuss what guides and top anglers consider the best bait for New York steelhead and the different types, colors, and sizes that will work best.
The best baits for NY steelhead are eggs, worms, and flies. These are three baits that are hard to beat even under the toughest conditions, River guides will use different types, colors, and sizes based on the conditions. Eggs can include, spawn sacs, hard and soft beads, as well as skein eggs.
I have always said that guiding is a thinking game, and so is fishing for steelhead. As a guide, I am constantly observing everything around me to determine clues as to what will make the steelhead bite more.
I am always trying different baits, different sizes, and different colors to see how the fish react. I may change baits based on the water clarity, water temperature, or any other environmental changes.
If I don't make the necessary changes, my clients may not catch as many fish as they could.
The Best Bait For NY Steelhead
I have multiple guides on staff, and there have been many days when my guides will tell me that one bait caught most of the fish for them. It might be that one color or a specific size or type of bait was hot based on the conditions, but a day or two later all that can change.
This is why it's impossible for me to say that just one bait is the best bait for NY steelhead.
Steelhead can react differently to a bait for many reasons, which is why when someone says and believes that a bait like spawn sacs is the best bait I will disagree.
I know that spawn sacs are a good bait, but I also know that they are not always going to be your best bait and that at times other baits will be much better.
The problem is that many anglers get stuck in a rut and will only use spawn bags because that has what has worked for them in the past, but, unfortunately, that mentality limits their success.
So let's dig into the best baits for NY steelhead and find out what the guides and top anglers are using.
Flies Are One Of The Best Baits For NY Steelhead

When a steelhead is young, it learns that aquatic insects are a nutritious and abundant food source, and even as adults, most steelhead will eat a well-presented fly that it sees. This makes artificial flies one of the best steelhead baits for New York Rivers.
It is important to note that the name fly, as used in steelhead fishing, refers to various aquatic insects. An artificial fly can imitate eggs, leeches, baitfish like minnows, and nymphs.
Flies are some of the most versatile baits for steelhead fishing because steelhead will feed on flies all year long which means flies will often work just as well in January as they will in May.
You can also fish with flies with spinning rods, centerpin rods, and with fly rods.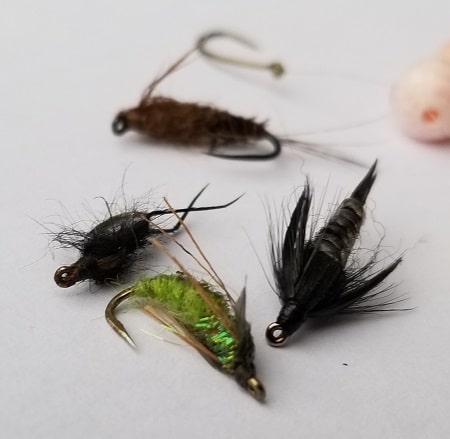 You can opt to tie natural flies like the Caddis larva fly or the Stonefly or custom and attractor patterns ones like the Comet, Rainbow Warrior, or the Frenchie Fly.
You also want to use bigger flies tied in bright colors in murky water. For low, clear water, natural colors work best and smaller flies are usually better.
Experienced steelhead guides will rotate through colors and sizes to find out what the steelhead wants.
Another tip to make your flies effective is to add a tungsten or brass bead or a hotspot. The bead allows your fly to sink fast and stay in the strike zone longer and the flash from the bead grabs their attention. The hotspot will also grab their attention.
In my opinion, often a gold or silver bead flies can be 50% more effective.
Some of the most effective flies for nymphing, float fishing, or bottom bouncing are:
Egg Flies
stonefly nymph
Steelhead worm
Pheasant tail nymph and variations
Hare's Ear nymph and variations
Woolly Buggers
Egg Sucking Leach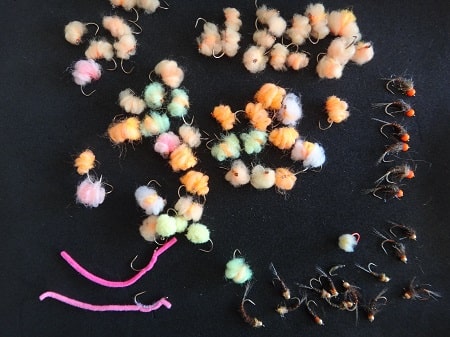 For more great flies, as well as when to use them based on conditions, and how to set them up, check out my page 13 Most Effective Steelhead Flies.
There are times when flies will be more effective than all other bait for NY steelhead.
GUIDE TIP: So why did I list flies as one of the best bait for NY steelhead. The truth is that most anglers will use eggs and in my experience when everyone around me is using eggs many steelhead will turn off of eggs.
They see egg sac after eggs sac go by them for hours. There is no urgency for them to feed, and since
Spawn, Spawn Sacs, Roe Bags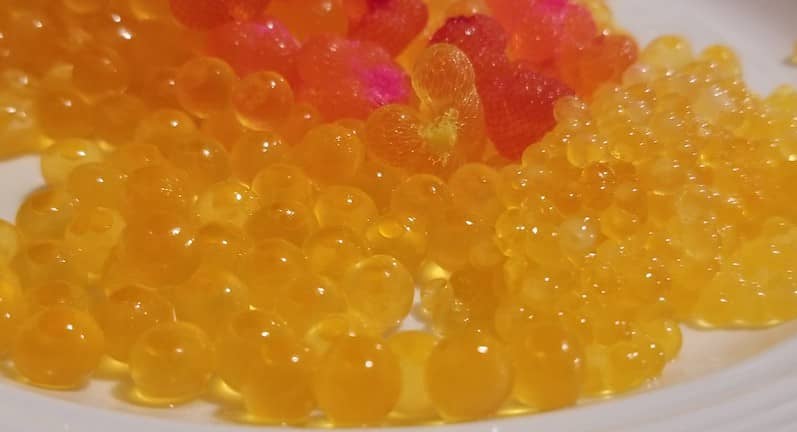 Also known as roe, roe bags, egg sacks, whatever you call it, spawn consists of several eggs tied in a special mesh or netting to make a bag or sack of eggs. Egg sacs are undoubtedly, an excellent bait for catching steelhead in New York rivers.
Anglers who swear by spawn as their choice of steelhead bait argue that it is so effective because of its natural scent and vibrant colors.
Although most people believe that roe is the best bait for NY steelhead, this is not always the case. Sometimes, circumstances call for a different bait.
If you use roe on a fishing spot for long without much success, always try another bait before leaving that area. Sometimes, steelhead get tired of seeing spawn, especially if your neighbors are using it too.
In such cases, running a bead or worm through the area might spark the steelhead's curiosity, leading them to bite your worm or fly.
You can also use a single egg instead of a spawn bag. Like roe, single eggs have a natural scent and sink quickly. Steelhead will always attack solitary salmon eggs out of instinct, which is why this is one of the best baits for NY steelhead.
Beads Are A Great Steelhead Bait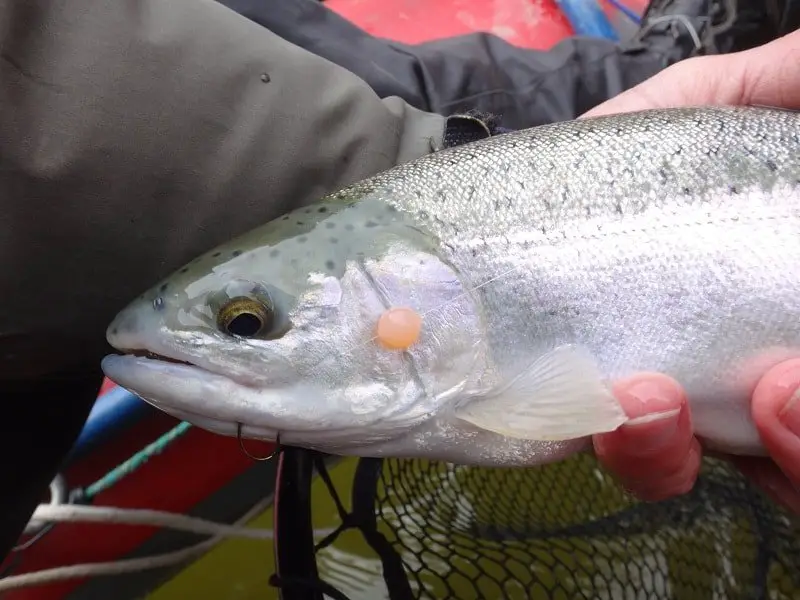 Another classic bead that works in New York rivers is the bead. It resembles a single salmon egg, which is why it is so effective. Beads can be the best bait for NY steelhead.
When choosing beads for steelhead fishing in New York, pick the 8 mm ones. This is because salmon eggs average that size, meaning the steelhead will instantly mistake your bead for a salmon egg.
Also, be careful with the color of your beads. For murky waters, pick brightly colored beads that will stand out. In clear, low water, muted colors work best as they have a more realistic appearance.
Worms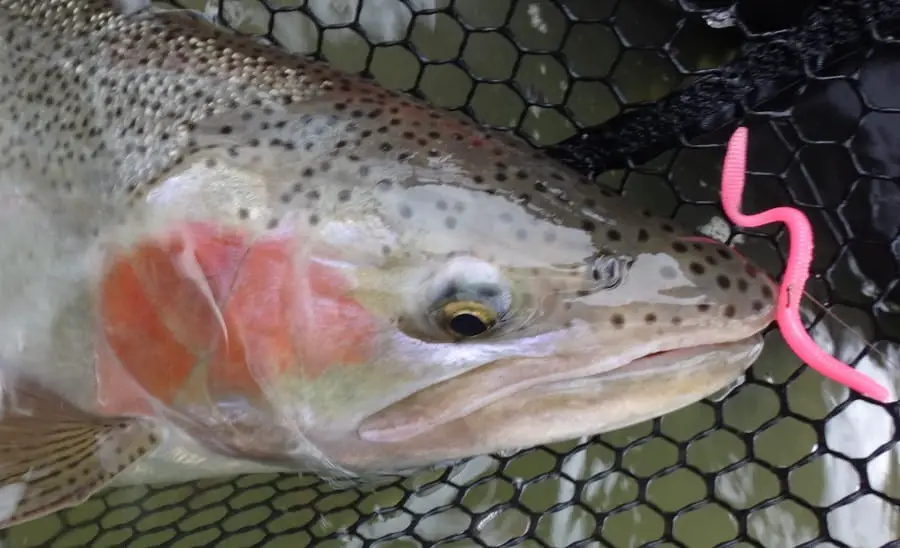 Worms are a personal favorite of mine when it comes to my most effective bait for NY steelhead. This is because they have a large profile, come in various colors, and are a favorite meal for the fish.
Both plastic and real worms work well in New York rivers and they can often be more effective than other baits in stained water. On average, 3-4 inches long worms are the most effective since real worms are about that size.
GUIDE TIP: I learned this little trick from another guide. I have done well with full-size dew worms or 5 to 6-inch plastic worms but I use them in a specific way.
I will often use or rotate through multiple baits in a pool to determine what the steelhead wants. If none of my baits work, or I have caught multiple steelhead but they stop bitting the other baits, as a last resort I will run a full-size 6 to 10-inch dew worm through the spot before I leave to the next spot.
Often, a giant bait like this can tempt one or two inactive fish that won't hit smaller baits.
I describe fishing with worms, how to rig them, and my most effective plastic worms on my page Fishing With Worms For Trout and Steelhead: 10 Guide Tips.
Good Alternative Steelhead Baits
Worms, Beads, Flies, and Spawn, are the top four bait for NY steelhead, but there are times when other baits like leeches, grubs, plastics, jigs, and even minnows will work.
I discuss all the most effective steelhead baits for great lakes steelhead on my page Best Steelhead Baits.
Final Thoughts On The Best Bait For NY Steelhead
It is difficult to isolate any one bait as the best for steelhead fishing because water conditions change often and environmental changes can affect fish feeding behavior.
However, worms, roe, flies, and beads are among the best baits for NY steelhead so be sure to try them out on your next fishing trip to New York.
If you have a question, comment, or tip about the best bait for Ny steelhead, let me know in the comments section below.
Tight Lines,
Graham