Steelhead Fishing Rochester NY: 5 Good Options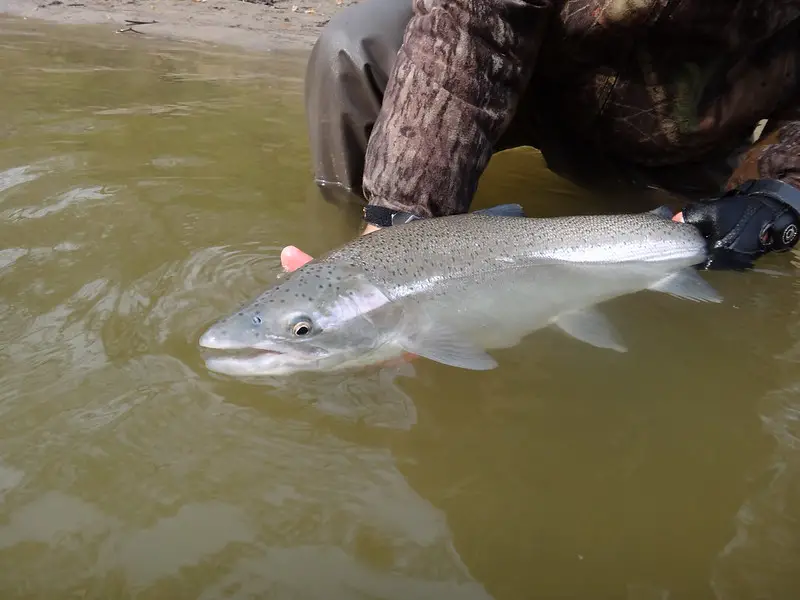 Steelhead fishing Rochester NY area is pretty great, considering the large and small steelhead stream of the area.
In fact, some say this is a steelhead Mecca. Not to mention that the steelhead are sometimes mixed in with some big lake-run brown trout and some huge salmon which return in very large numbers.
So, let's discuss the best rivers, the best methods, and the baits for steelhead fishing Rochester NY area.
Genesee River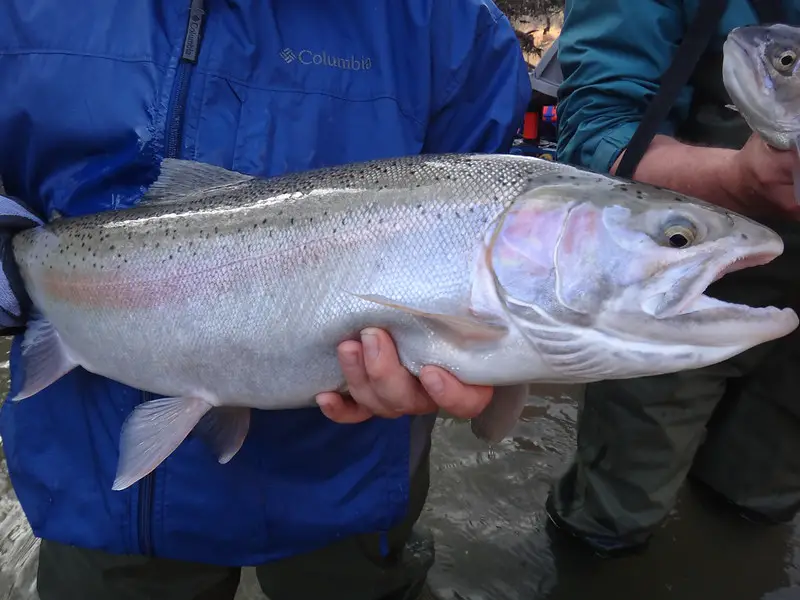 The Genesee River is the best place for steelhead fishing Rochester, NY. The river flows right through the heart of Rochester City and offers anglers 6 miles of fishing grounds.
You will find the best fishing spots between the mouth of the river and the Rochester Lower Falls.
The New York Department of Environmental Conservation stocks this river yearly with over 22,000 steelhead fingerlings. It's no wonder the river has fantastic steelhead runs annually.
Spring is the best time to fish steelhead in the Genesee River. The fish spawn during this season, and the pre-spawn post-spawn fish are usually hungry. This makes them susceptible to biting at your lures and baits.
Moreover, the rising water temperatures after Rochester's harsh winters stimulate the fish into feeding, making them almost easy to catch. As a result, you can start angling for the steelhead as early as late February. However, late March and April are prime time.
Some steelhead runs occur in May, and finding 10-pound steelhead during this month is quite common. How early the steelhead run and how late they stay in the river depends on the season.
Warmer and dryer than normal springs will see earlier runs with steelhead moving out of the rivers faster. This is the norm on all NY steelhead rivers. While cols late spring will start the runs later and see steelhead still in some rivers in mid-May
You can also come steelhead fishing in the Genesee River in the fall. The falling temperatures and rising water levels after the summer heat trigger the fish to run into the river from the Lake. You may see small runs of steelhead coming up with salmon in September, but the bigger runs start at the end of October and into November.
Every year, near the mouth of the Genesee River, the New York State Department of Environmental Conservation undertakes a significant stocking effort in Lake Ontario. They release more than 155,000 chinook salmon, 22,100 steelhead, and 22,000 coho salmon into the lake.
This heavy stocking results in a ton of salmon in the river starting in September, so the action can be fast and furious. The steelhead will often hold at the back of the pools or behind the salmon picking up stray salmon eggs.
Fishing with small spawn sacs, single eggs, and beads can be very effective for the steelhead and the salmon.
December fishing for steelhead can also be fantastic, with some of the largest and most steelhead in the river.
Choose the fishing spots near the river banks to make the most of your steelhead fishing trip on the Genesee River.
There are some rules and regulations for this lower part of the river.
You can access the river through the City of Rochester Trailer Launch. Check the DEC link for a good fishing map and other regulations.
Sandy Creek – West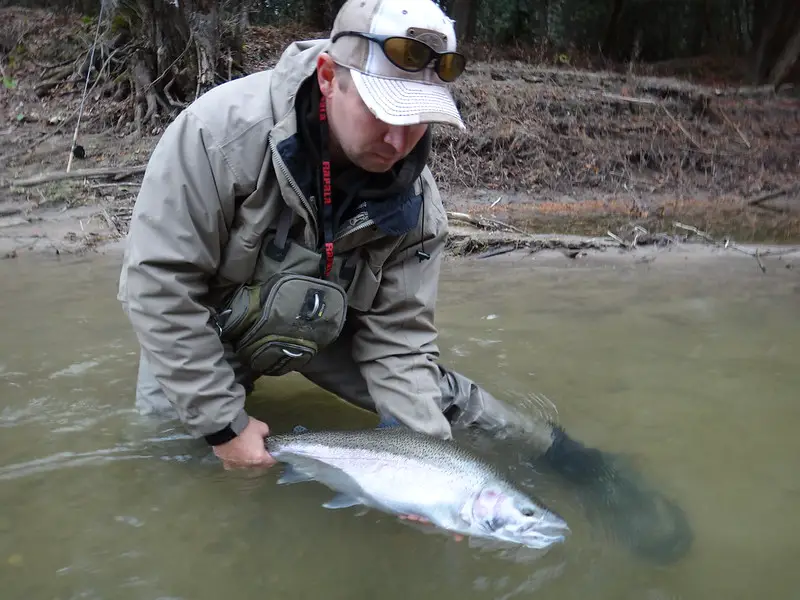 Steelhead fishing Rochester area includes Sandy Creek, which is located about 18 minutes drive from Rochester in Orleans and Monroe Counties and is a picturesque stream that flows into Lake Ontario.
Not to be mixed up with South Sandy Creek and North Sandy Creek, which are located East of Rocester and are also good steelhead rivers.
Anglers will find excellent fishing opportunities on Sandy Creek in the fall when runs of coho salmon, brown trout, and chinook salmon occur and the steelhead will follow.
Additionally, late fall and early spring bring large runs of steelhead for anglers to target.
To further enhance the fish populations and fishing experience, the New York State Department of Environmental Conservation conducts an annual stocking program in Sandy Creek. Over 100,000 chinook salmon, 26,000 coho salmon, and 14,650 steelhead are stocked each year, which is impressive considering this is not a huge river.
This stocking makes for some awesome steelhead fishing only a short drive from Rochester.
It's important to note that Lake Ontario tributary regulations apply in Sandy Creek, ensuring responsible fishing practices are followed.
Public Fishing Rights are in place on Sandy Creek. These easements grant anglers the exclusive right to fish and traverse along the stream bank, typically a 33-foot strip on one or both sides of the stream. It's important to note that this right is strictly for fishing purposes, and no other activities are permitted. In order to maintain this privilege, it is crucial to treat the land with utmost respect and care.
Demonstrating courtesy and respect towards landowners and their property is essential for ensuring their continued cooperation and support.
Check out these location maps provided are intended to assist anglers in locating PFR segments and may not have survey-level accuracy.
Irondequoit Creek: Steelhead Fishing Rochester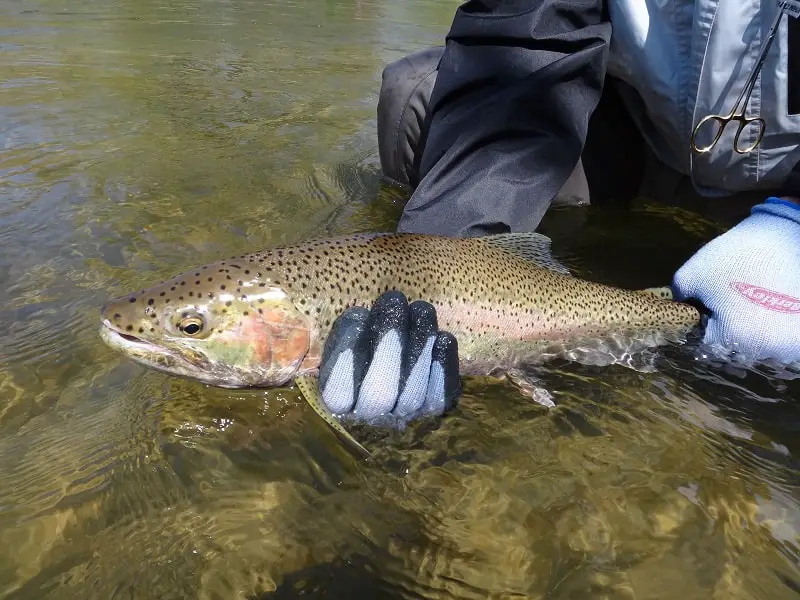 Steelhead fishing RochesterJust east of Rochester is Irondequoit Creek. It's smaller in size compared to other creeks and rivers in the area. Anglers can fish from shore or boat Irondequoit Bay where it enters Lake Ontario.
Although less popular, Irondequoit Creek holds a well-deserved reputation as one of the better steelhead streams in New York State.
While the Public Fishing Rights areas along the creek are limited, anglers can still enjoy ample access thanks to various city, town, and county parks located along Irondequoit Creek. See the fishing access map.
To further enhance the fishing experience, the New York State Department of Environmental Conservation annually stocks 27,500 steelhead and 7,600 brown trout in Irondequoit Creek, including the release of over 1,500 two-year-old fish.
Additionally, Monroe County carries out its own stocking program by releasing brown trout into the section of Irondequoit Creek within Powder Mill Park.
Upstream of Powder Mill Park, wild brown trout can be found.
Slater Creek
When steelhead fishing Rochester area, try Slater Creek, which is located merely 4.5 miles from Irondequoit in Monroe County, New York.
Slater Creek is a small stream where anglers will find some migratory species such as steelhead, coho salmon, chinook salmon, and brown trout.
Whether you prefer baitcasting, spinning, or fly fishing, you find some good water to fish. If there are good flows coming out of Slater Creek in spring and fall, casting spoons like Little Cleos and Crankbaits at the mouth or out into Lake Ontario can be good for browns, steelhead, and salmon.
Creeks Near Rochester
I'm going to be argumentative here and say that almost all creeks in the area will get runs of steelhead in the spring when the creeks are flooded and flowing at their highest. They may not get a huge run of steelhead, but stragglers moving up into these creeks are not uncommon.
There are also several small creeks in the area that have decent to good trout fishing to:
Irondequoit Creek
Slater Creek
Bald Eagle Creek
Sandy Creek
West Creek / Salmon Creek
Four Mile Creek
Oatka Creek – Brown trout only, but it is worth fishing
Spring Creek – Brown trout with some rainbows, it's a tributary to Oatka Creek
Although these creeks may not be best known for their steelhead runs, they still get a decent amount of the fish species, particularly in spring and winter.
The Best Steelhead Fishing Methods for Rochester, NY
There are a bunch of fishing methods that will work in the Rocester area streams.
Fly Fishing
Fly fishing is undoubtedly one of the most effective methods of catching steelhead on the many streams in the area. The fish regard flies as a nutritious meal, so they will opportunistically feed on well presented flies.
The most common fly fishing method is Nymphing with an indicator. However, in faster and shallower sections less than 4 feet deep, my most productive method is Euro Nymphing for steelhead.
Be sure to use a bobber stop for the best results.
Spin Fishing
If you want to fish the deeper parts of the Genesee River, consider using the spin fishing method with lures, floats, drift fishing, or the plunking method.
Spin fishing is the most popular method in the area and is a great way for beginners to get started with steelhead fishing.
Float Fishing
Suspending a bait below a float and making long controlled drift down the river is a great way to catch steelhead on all the streams in the Rocester area that are 3 feet deep or deeper.
The Final Word on Steelhead Fishing Rochester, NY
The Genesee River offers the best steelhead fishing Rochester, NY opportunities. You can also try the Casterline Pond and other smaller creeks for a quiet fishing session. Consider fly fishing, Spey fishing, and spin fishing for the best results.
If you have a question or would like to share some advice on steelhead fishing Rochester NY area, let me know in the comment section below.
Tight Lines
Graham