North Sandy Creek (Sandy Creek) Steelhead Fishing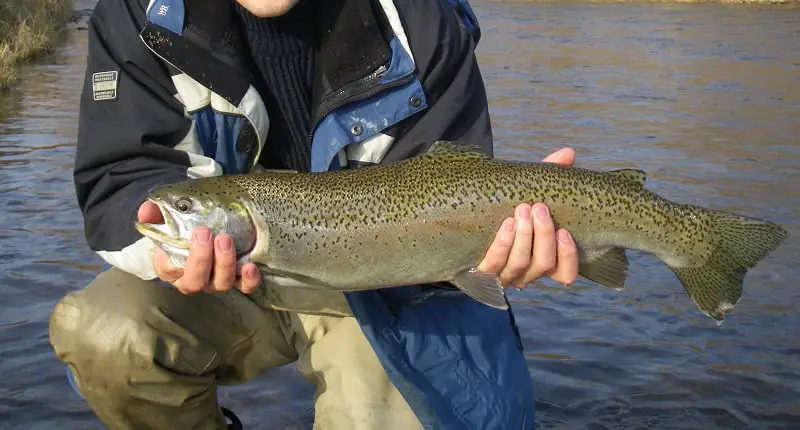 North Sandy Creek steelhead fishing is good from October until April. Most fishing methods such as fly fishing and float fishing can be very effective for steelhead on North Sandy Creek. Steelhead averages 5 to 7 pounds and can be plentiful.
North Sandy Creek which is also known as just Sandy Creek is a small to medium-sized tributary to Lake Ontario, located in Jefferson County just north of the town of Ellisburg. Every year, the North Sandy Creek presents quality and impressive runs of steelhead, and with good access, it attracts anglers from far and wide.
North Sandy Creek Steelhead Fishing
North Sandy Creek has a shallow depth of water and is known for providing very memorable steelhead fishing in New York. The best fishing and best access are in the lower 5 miles of the river.
This is one creek that does not receive steelhead stocking but luckily gets to enjoy stray steelhead from other nearby rivers such as the famous Salmon River.
Although North Sandy Creek is mostly known for its quality steelhead, other species of fish found in this North Sandy Creek include chinook salmon, brown trout, coho salmon, and maybe Atlantic salmon.
Do not be fooled by the size of this North Sandy Creek, as long as there are high water levels, you will find some decent runs of North Sandy Creek steelhead. North Sandy Creek is known to provide some great steelhead fishing so we included it in our article the Best Steelhead Rivers In New York.
Best Time for North Sandy Creek Steelhead Fishing
The North Sandy Creek enjoys steelhead runs most months of the year. However, there are certain times of the month, referred to as prime months, when anglers will enjoy the most North Sandy steelhead fishing.  
North Sandy Creek Steelhead Fishing in Fall
Fall presents one of the best times for steelhead fishing for steelhead in North Sandy Creek, NY. This is when stray steelhead begin to enter the Creek; from October through December. Typical of the fall season, steelhead during this time are very active and aggressive as a result of feeding in Lake Ontario. 
The most aggressive steelhead are usually the easiest to catch. However, the speed and power of the steelhead when hooked is mind-blowing. You have to make sure your fishing gear is up to the challenge, as any flaw in your gear will result in losing the fish.
For recommendations on steelhead fishing gear, you can check out my page on River Fishing Gear:
The big rains of September will start the steelhead entering the river but t steelhead runs are usually sporadic during early fall and will gradually get bigger as we approach the middle and end of October. Rains and higher water trigger the runs on this river.
Steelhead runs get better as November rains hit North Sandy Creek. Experienced anglers begin to look forward to when the North Sandy Creek begins to clear. This is when you get the most out of fishing in the fall as long as the right techniques and baits are employed.
I discuss how to take advantage of the fall season to land more steelhead on my page: Fall Steelhead Fishing. In that article, you will learn how steelhead are affected by water temps, changes in their holding spots and what and when they will feed, and how weather conditions affect their feeding, as well as the methods used by guides and anglers.
North Sandy Creek Steelhead Fishing in Winter
The winter season also presents one of the best conditions for North Sandy Creek fishing. Winter, as we all know, comes with icy and plunging temperatures which do not go well with both steelhead and anglers.
During this time, steelhead activity is usually stalled, which reduces the odds that they will bite on any bait presented at them but there are methods that will produce fish.
River guides and anglers that are knowledgeable about how steelhead behave during different temperatures and river conditions are the ones that excel during this time.
While most anglers would avoid the North Sandy Creek steelhead at this time, there are those like me who love guiding and fishing through this season. There's usually less pressure, and this translates to a good steelhead fishing experience.
There are times within these icy and cold weather conditions when the river will experience stability in temperatures, and it's during these times when anglers will land some good steelhead.
Ultimately, fishing during the winter can be good if you adapt and adjust your fishing methods and tactics particular to winter steelhead. I have taken the time to discuss extensively how to achieve this, and more, and you can find the article on my page: Winter Steelhead Fishing.
North Sandy Creek Steelhead Fishing in Spring
The spring marks the end of the icy and plunging temperatures of winter, and the water gradually warms up. This is good news for the North Sandy Creek steelhead anglers, as the previously sluggish steelhead begin to move into the river and will be willing to grab your bait; the result is nothing short of a great run of steelhead.
Steelhead anglers are usually excited during this time, as it is another time when they can again target some big and aggressive steelhead to are willing to bite.
Bear in mind that this is the time when steelhead have the urge to spawn, which presents more fishing opportunities to anglers. However, to maximize your success when fishing for steelhead on North Sandy Creek, you have to be careful to use the right baits and tactics, as not all steelhead fishing methods will yield the same result during this time.
I discuss how to get the most out of spring steelhead fishing – the best baits and tactics on my page Spring Steelhead Fishing.
Best Methods for Fishing the North Sandy Creek Steelhead
There are many methods anglers use to fish for steelhead. Not all methods work for all rivers, streams, and creeks of New York. Some methods will obviously work better than others, below are some methods you want to try in order to be successful when steelhead fishing.
Bottom Bouncing
This is one North Sandy Creek steelhead fishing method that has been really misunderstood and under-utilized.
Bottom bouncing is a steelhead fishing method that helps you get your bait down to the bottom of the water without the use of a float. Similar to drift fishing, you cast your line out on the water and allow the bait to sink with the help of a weight.
The bait bounces its way down the river and freely drifts along the bottom of the river, which is where the fishing method gets its name "bottom bouncing".
Bottom bouncing is great for water bodies where float fishing is not so effective. Bottom Bouncing excels when fishing for steelhead in shallow water, fast moving water, pocket water, and when they are holding at the bottom of the river in deep holes.
To learn more about how bottom bouncing works, and how it helps you up your steelhead fishing game, you can check out my page: Bottom Bouncing: 5 Proven Tips for More Fish.
Float Fishing
Float fishing works well on all NY rivers, streams, and creeks. Float fishing is one of the most effective ways an angler can present a bait below a float in bigger and slower spots in the river. You can learn how to do this well by reading my page Float Fishing For Steelhead – How River Guides Do It
My favorite baits when float fishing and when bottom bouncing are usually those that work for all seasons. Bear in mind that some baits are effective in specific seasons. If you want to know how I make my choice of best baits, you can look at my page: Best Baits for Steelhead.
Float fishing can be done with the use of centerpin reels or spinning reels all known as float reels.
There are good reels and there are junk reels. It is important that you use the right float reels for the best possible steelhead catch. If you are going to use centerpin reels, I discuss what makes a good centerpin reel and the best ones that I have used on my page: 5 Best Centerpin Reels of 2022.
If on the other hand, you prefer spinning reels when float fishing and when bottom bouncing, then you want to check out my recommended options on my page: Best Spinning Reels For Steelhead.
The secret of float fishing lies in knowing how to walk your float through the drift, controlling your speed, making the right adjustments to your floats. I discuss all these and more on my page: Float Fishing: Tips from a Pro River Guide.
Best Access Points
There are a number of public access points available for fishing for steelhead on North Sandy Creek. As mentioned before, the best access is in the 5 miles of the creek up from Lake Ontario with additional access on Lakeview Wildlife Management Area down-
stream of Route 3. 
For more on the dedicated North Sandy Creek fishing areas, you should look up the Sandy Creek Publishing Fishing Rights Map.
Streamflow
When It comes to knowing the best time to step out for steelhead fishing in North Sandy Creek, the streamflow and water levels of North Sandy Creek are a big factor to consider because most steelhead will enter the river once the river rises after rains or snowmelt.
As the creek clears enough for the steelhead to see your bait, the fishing can become fantastic. 
Your go-to resource for the current conditions of North Sandy Creek is the USGS stream gauge at Adams, NY. Be sure to look up the water levels and only step out when they are high enough.
Rules and Regulations
North Sandy Creek is one steelhead fishing location that has rules and regulations for fishing on it. It is important that you check these state rules and regulations.
To start with, the state of New York requires people who are 16 years and above to have a valid fishing license – whether resident or non-resident.
There are also days that come with busier waters and special regulations.
If you are interested in trying North Sandy Creek Steelhead Fishing, you can learn more about how to get started and can access the fishing rules and regulations of North Sandy Creek through the New York State Department of Environmental Conservation.
North Sandy Creek Steelhead Fishing Q&A
This article on North Sandy Creek Steelhead Fishing is meant to be the best resource on the internet but it can be better with your questions, and advice on fishing this river which you can leave in the comments section below.
Tight Lines
Graham