Oatka Creek Fishing : A New York Trout Stream
You may have heard about Oatka Creek fishing and wondered if it's any good, or what fish are available. Well, as some already know Oatka Creek has some really good brown trout fishing and this guide will give you a better understanding of where and when to fish.
About Oatka Creek Fishing
Hidden within the heart of Monroe and Genesee Counties, the petite and picturesque Oatka Creek is a great little trout stream for both novice and seasoned anglers. Oatka Creek is a tributary of the Genesee River.
A popular spot, spanning about 1.7 miles, within Oatka Creek County Park in the Town of Wheatland, is where anglers will find a good population of wild brown trout and stocked brown brout. Some brown trout will reach sizes up to 20 inches, while the average brown trout is 10 to 14 inches.
Not just that, Oatka Creek is also home to a variety of warm-water dwellers like the elusive black bass or the agressive northern pike. You're most likely to find these species in the middle and lower sections where the water tends to stay warmer and the pools are bigger, deeper, and slower. These species make every fishing trip to this creek a thrill-filled surprise!
For a richer angling experience, the New York State Department of Environmental Conservation adds around 11,200 brown trout each year in carefully chosen regions of Oatka Trail Road in Genesee County and Scottsville Village Park in Monroe County.
Remember, there are special rules to maintain the beauty and natural balance of Oatka Creek. Be sure to check the Special Regulations by County for Region 8 (Monroe and Genesee Counties) in the Fishing Regulations for the specifics.
Oatka Creek is divided into three significant portions, one of which is the Spring Creek tributary. The highlight of Spring Creek is the Caledonia trout hatchery, which marked the first successful introduction of brown trout in North America.
Fishing The Lower Section Of Oatka Creek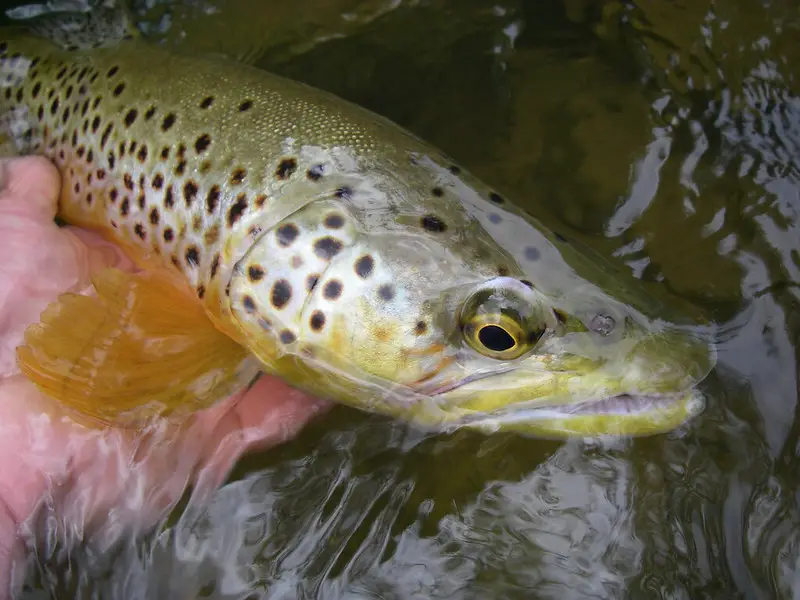 Oatka Creek fishing on the lower segment beyond LeRoy offers the most prefered waters for fly fishing with good angler access. The DEC is nice enough to provide Oatka Creek fishing maps for each of these sections.
Here, you can fish in two tiny sections. Navigating through the warm and cool pockets of Oatka Creek, you'll come across varying water quality, and regions governed by catch-and-release or artificial bait-only regulations.
Be mindful of the seasonal openings of certain areas before you plan your fishing expedition.
Oatka Creek is teeming with wild and stocked brown trout and, if you're lucky, you might spot a rainbow trout too.
Fishing The Mid-Section Of Oatka Creek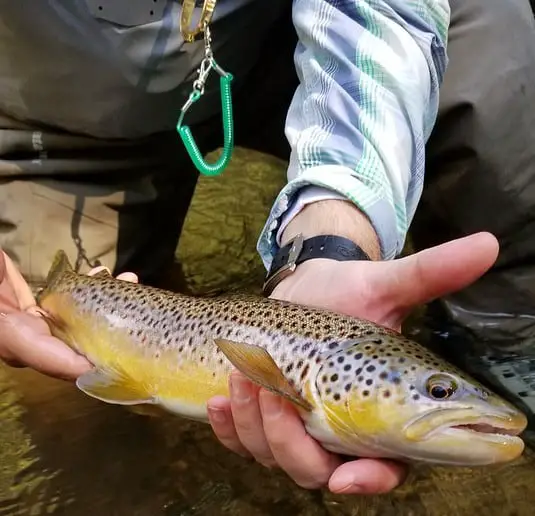 The middle part of Oatka Creek tends to be too warm for trout in the summer. However, some trout will move to this section to hold over in the winter.
Two locations worth checking out are Blue Hole and Spring Creek, cooled by two streams carrying spring water. Here, trophy trout fishing is possible.
Oatka Creek fishing between Union Street and Wheatland Center Road is where you'll find a year-round, catch-and-release-only zone, allowing only artificial lures, but there are some big fish in this section of the river.
Another spot near Bowerman Road to Union Street and from Wheatland to the Spring Creek mouth is only open from October 16 to March 31, also abiding by artificial lure only and catch-and-release rules.
Spring Creek Area
For an unmatched fishing experience, and if you don't mind sharing the space, try the region below the hatchery in Spring Creek. Here, crystal-clear waters teem with beautiful brown trout.
Public access for about 1,000 feet is available, offering catch-and-release, artificial lure-only fishing.
The spring hatches attract fish with midges, caddisflies, and aquatic insects, making spring a great season. Spring Creek is worth visiting during the fall or spring, although it might be a bit crowded.
Best Times For Fishing Oatka Creek
Regardless of when you choose to try Oatka Creek fishing, access to popular fishing spots at Oatka Creek is generally easy and you can fish Oatka Creek all year. Remember, Fishing regulations and rules can change, so be sure you check the fishing regulations before you go and fish.
Spring Fishing Oatka Creek
Spring trout fishing is good on most river, but it can be excellent on Oatka creek.
If the excitement of multiple trout is what you want, you will get good numbers of trout from spring to early summer after the stocking and the long winter. You will also get good bug hatches and I find the fish to be more aggressive, making this the ideal time to arrange a fly fishing adventure.
Summer Fishing Oatka Creek
Summer trout fishing can be good and bad on Oatka Creek, but if you follow these tips you can do well.
Despite being a favorite among fellow anglers, you can find small stream sections canopied by trees and bushes in the headwaters, providing a cool haven for some great fishing in the summer.
Sections receiving spring water inflow provide the best fishing during the summer months.
On hot days, fish early or late in the day. It's normal for the first 3 to 5 hours to have nice cold water and active trout before the sun warms up the creek too much.
Fall Fishing Oatka Creek
Barring the sections mentioned above, you can fish at Oatka Creek throughout the year.
Unrestricted areas offer the best fishing for big browns during the fall. However, some sections peak during certain seasons.
If you aim to target some of Oatka Creeks trophy brown trout, schedule your trip towards the end of the year.
Winter Fishing Oatka Creek
Surprisingly, winter months are also excellent for fishing at Oatka Creek. Thanks to its sufficient water supply, the creek rarely freezes, especially during mild winters. Keep an eye out for areas that are only open during winter, and seize the opportunity to fish there.
Oatka Creek Fishing Q&A
With every visit to Oatka Creek, you'll witness a vibrant ecosystem thriving with a diverse array of fish. Whether you're a first-time fisherman or a seasoned angler, the experience you gain here will be nothing short of extraordinary.
If you have a question or some advice you would like to share about Oatka Creek fishing, let us know in the comments sections below.
Tight Lines
Graham