Spring Trout Fishing: Tips And Advice From River Guides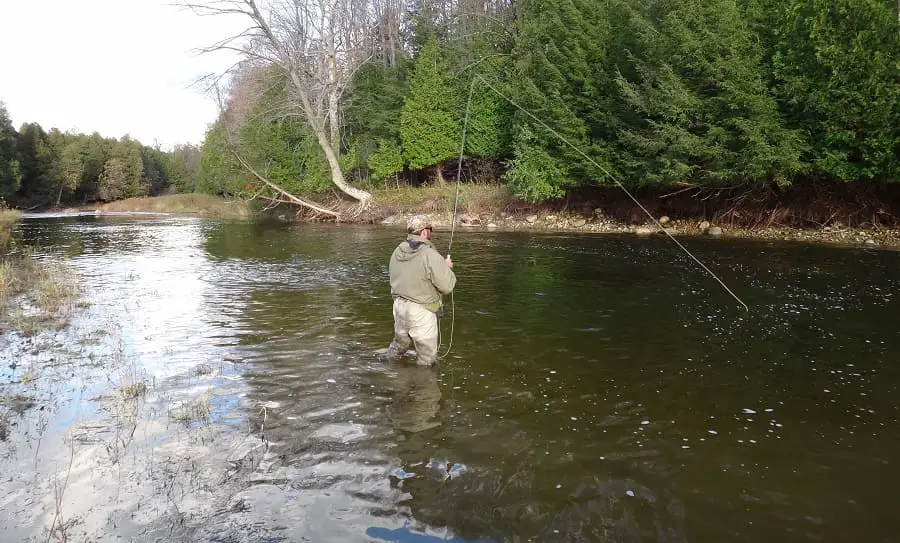 Spring trout fishing can be the best time of the year to catch trout and these are tips and advice from river fishing guides on how they catch more trout when fishing in the spring.
After a long winter when trout were mostly dormant and hard to catch, spring trout fishing is when the water starts to warm and the aquatic insects start to hatch, and it's when the hungry trout start to become more active and start feeding. This is a great time to be on the water fishing.
Along with all the great information here about spring trout fishing, I also include my most valuable guide tip to catching more trout, steelhead, and salmon at any time of the year.
This page contains affiliate links. If you buy something through one of these links we may make a small commission which is at no cost to you. Commissions allow us to continue to bring you great content. Thank you for your support. Affiliate Policy
When Does Spring Trout Fishing Begin?
Spring trout fishing begins at different times and it can depend on a few different things..
Spring trout fishing starts in some areas just after the rivers become ice-free and as soon as you can fish the open river. In other areas, spring fishing for trout begins when the water temperatures start to rise up into the high 40s and 50s which is when trout actively start feeding.
In some areas of the country, spring trout fishing starts when the official trout season begins and that means anglers need to wait until the fishing regulations allow them to start fishing for trout.
Spring Trout Fishing Means Cold Water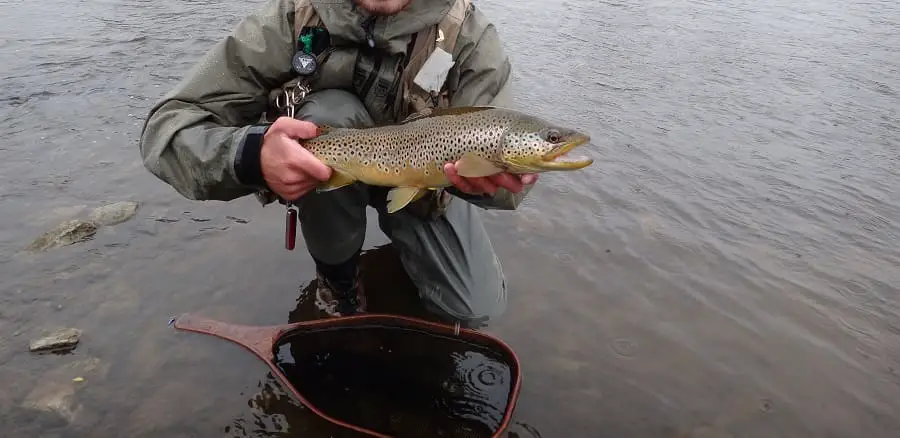 Spring trout fishing means cold water and cold water makes the trout dormant and feed less.
Trout fishing in the spring is often best done on warmer sunny days. These are the days when the water will warm up the most and both the trout and the bugs will start to become active. Picking your days wisely in early spring will mean more fish on the line.
The Best Time Of Day To Fish For Spring Trout
Most trout anglers would agree that the best time of the day to fish for trout would be in the early morning hours, but when fishing in the spring the best time of day to fish for spring trout is often later in the morning and in the afternoon.
The reason for this it's that the water gets very cold overnight and the dropping water temperatures make the trout inactive. As the sun starts to warm the air and the water the trout can start to become more active. Even a temperature rise of 1 or 2 degrees can make trout active at this time of year.
What Do Trout Eat In Early Spring?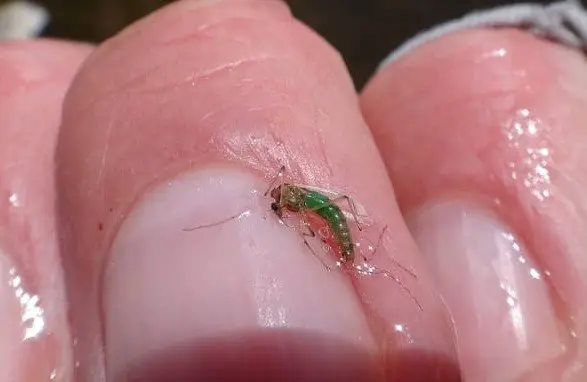 Once the trout start to become more active in the spring they will start to feed on anything that they can. The most abundant source of food in the spring is aquatic insects and fish eggs.
The aquatic insects of early spring tend to be small like the midge in the picture but larger flies can work too.
What Do Trout Eat In Late Spring?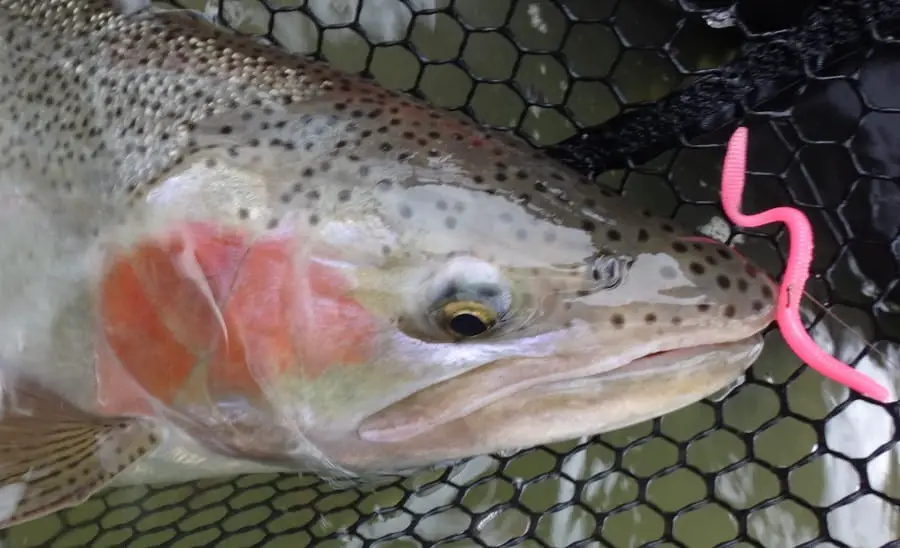 As the water starts to warm up the trout will become more active and more aggressive and they may start to target larger faster-moving food sources like minnows, sculpins, and crawfish. Trout will also feed heavily on insects which will be more abundant as the season progresses.
Some river fish species like suckers and rainbow trout will spawn in the spring and the eggs of these fish will be a great food source for trout and that means they will be a great option for bait. Make sure you use the right hook when using eggs as bait.
I discuss using eggs on my page Spawn Bags – Guide Secrets For More Fish and I also talk about a great alternative to reel eggs on my page Fishing With Beads: 5 Guide Tips For More Fish
Later in the spring, it's also common to see a lot of worms which are a great food source for trout.
Locating Trout During The Spring
Trout will hold in different sections of the river at different times of the year. Some will even migrate 20 miles or more to more suitable water.
I have seen radio transmitter tracking studies that showed big brown trout would move over 10 miles to winter over in big deep pools and then move back to within 3 feet of where they were living the year before.
Trout will also move daily and it will depend on water temps and food sources. I have witnessed hundreds of times very big trout that will move up from deep parts of a big pool where they will rest to the head of a pool that is 1 or 2 feet deep so they can be the first in line to eat.
I've also witnessed fish that will hold in the deeper slower water in the spring when the water is very cold to shallower water when the water warms a few degrees in the middle of the day or a few days later.
Colder inactive spring trout will hold in deeper slower sections of the river and more active fish might move shallower to feed.
My rule of thumb is to fish deeper slower water when the trout are inactive and then try faster shallower water when they are more active.
Tactics For Spring Trout
I use a number of tactics for spring trout fishing and I will often change my tactics depending on the river conditions. It's often better to use slow-moving tactics when the water is really cold and leave the faster tactics like lure fishing to the warmer days when the trout are most active.
Spring Fly Fishing For Trout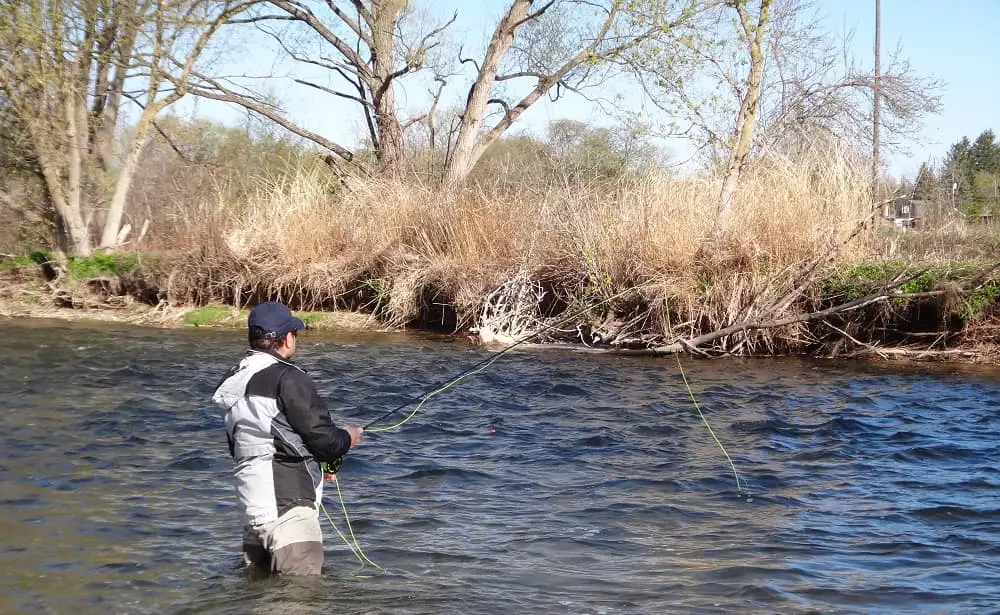 Spring fly fishing for trout is a great way to target trout in colder and warmer water. With fly fishing, you can easily imitate the aquatic insect using a method called nymph fishing.
You can get more information on nymphing for trout on my page Indicator Nymphing: 13 Tips From An Expert River Guide.
When the water is a bit warmer and the trout are more active you can use streamer flies to imitate baitfish.
I tend to use very small flies for spring trout fishing. The best trout flies that I like are:
Check out my page for the best Spring Trout Flies
Spin Fishing With Flies
Just because you don't fly fish you can still use flies. I use flies when float fishing and when bottom bouncing which are two methods I discuss below.
You can also check out my page How To Fish Flies With Spinning Gear: 2 Best Methods
Float Fishing For Spring Trout
Float fishing is a great way of spring trout fishing because you can present your bait to the trout at a slower speed. Float fishing allows you to also keep your bait in the strike zone longer and both of these factors can be great on trout that are still a little inactive.
Float fishing can be the most effective method in rivers that are 3 feet deep to 10 feet deep and it can be great in both slow and fast water.
Float fishing can be done using a spinning reel or a Centerpin reel and your chances of catching trout greatly depend on how well you do float fishing. There is more to float fishing than just casting a float in the water and watching it go.
To see how to do float fishing better, go to my webpage Float Fishing For Trout – An Expert Guides Best Tips
Bottom Bouncing For Spring Trout
Bottom bouncing for trout is great any time of the year and it is the best method to use in water under 3 feet deep. The great thing with bottom bouncing for spring trout is that you can use super small flies or larger baits like spawn sacs.
I use and teach an advanced bottom bouncing method that is far better than traditional bottom bouncing. You can see that method and other tips about bottom bouncing on my page Bottom Bouncing – 5 Proven Guide Tips For More Fish
Lure Fishing For Spring Trout
When the water starts to warm up a bit, spring trout fishing with lures can be an excellent option. Even if the water is still very cold some lures will have a great enticing wobble and move slow enough that trout will still grab the lure.
I discuss my favorite trout and steelhead lures and my tactics for lure fishing for trout on my page Lure Fishing For Trout: Tactics From A Pro River Guide.
Also, check out my page Best Trout Lures For Spring
Best Bait For Spring Trout
The best bait for spring trout fishing will depend on the conditions. In the early spring cold water, I like to use small flies and small egg imitations as well as small pink plastic worms. As the water warms, these same baits will work but I will also try lures, leeches, jigs, minnows, and worms.
Other favorite spring trout baits include:
For more on my favorite trout baits check out my page Best Trout Bait – The Only 5 Baits You Will Ever Need
Spring To Summer Transition For More Trout
I wish the great spring trout fishing could last all year but it doesn't and that means potentially difficult trout fishing in the summer. If you transition and make the required changes you can keep catching trout all summer.
I actually enjoy summer fishing because there are far fewer anglers on the river and the trout still have to eat. This means there are more big hungry trout for me and my clients and for you if you know what I know. Trout change spots and can migrate to colder water, and they even feed differently during the summer.
Lucky for you I discuss everything you need to know on my page trout fishing in the summer.
My Most Valuable Tip For More Trout
I promised you I would include my most valuable tip for catching more trout, steelhead, and salmon so here it is. It's not uncommon for anglers to read something on the internet or get advice from another angler or even a guide and run out and do it.
The problem is that I believe fishing is a process and every part of the process has to be done correctly or the advice you get could be useless.
As an example, if a guide like me says, When the water is cold I catch all my fish on dime-sized spawn bags fished slowly under a float in the deepest or slowest parts of the pool.
That is great advice, and it's very accurate because I do catch a lot of trout on small spawn bags in cold water, but it only goes so far and could be literally useless information for you even if every fish in the pool will eat a dime-sized spawn bag.
You could take that info and go put on a perfectly tied spawn bag on the wrong hook and that could mean nothing will eat your spawn bag, or you could have a perfect spawn bag and a perfect hook but your leader is so thick that it spooks every fish. Maybe you have the perfect hook, the perfect leader, and great spawn but if you fish it poorly you still won't catch fish.
The fishing process that I talk about is about getting every single piece of the process perfect otherwise, if even one piece of the process is wrong it could literally mean no fish. I have seen this happen hundreds of times.
Got A Question About Spring Trout Fishing
I hope to make this article on spring trout fishing even better, so with your questions, comments, and tips that you leave in the comment section below, this will continue to be the best article on the web for anglers that want to know more about trout fishing in the spring.
Tight Lines,
Graham