Ashtabula River Steelhead Fishing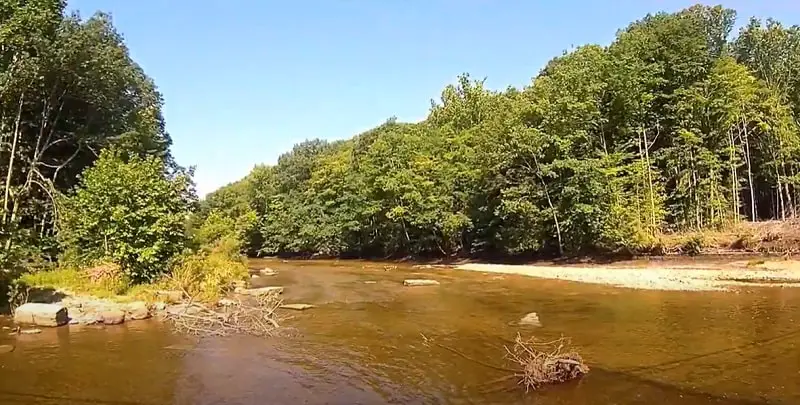 I have had the opportunity for Ashtabula River Steelhead Fishing on many occasions and this is one great river. This article discusses the river and the fishing methods used by local river guides.
Ashtabula River Steelhead fishing starts to get good in mid-October until December and then really picks up for the spring steelhead runs in late February and all through March and April. Using the methods of river guide will ensure more steelhead in the net.
Ashtabula River Steelhead Fishing: The River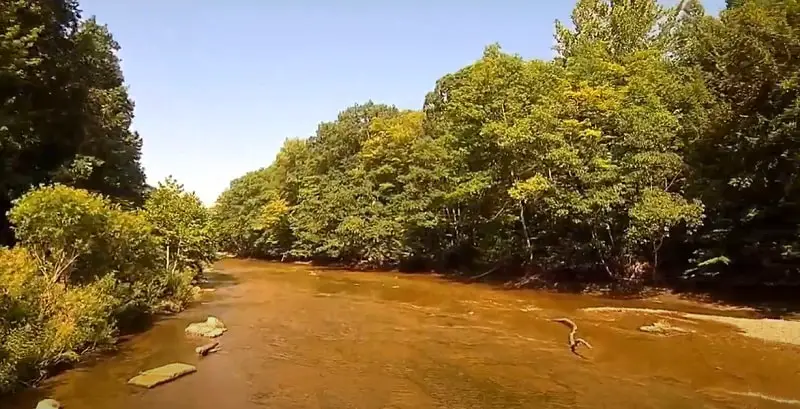 Ashtabula River is an Ohio Scenic River and a tributary to Lake Erie in Steelhead Alley. The Ashtabula River is a medium-sized river with a shale-bottom, located northeast of Cleveland in Ashtabula County, OH.
The Ashtabula River is 40 miles long and features a draining capacity of 137 square miles, and prides itself on having generous contributions from smaller tributaries and feeder streams. The Ashtabula River is one of the tributaries of Lake Erie that receives steelhead stockings from the Ohio's Department of Natural Resources
Ashtabula River Steelhead Fishing can be excellent since the Ashtabula River is home to some of the largest steelhead trout in the state. The Ashtabula River also presents popular species of fish such as Smallmouth bass, and Walleye. This obviously makes the Ashtabula River a prime destination for fishing in Steelhead Alley.
Ashtabula Steelhead fishing is easy with good access and with most methods being effective.
Best Time for River Steelhead Fishing
Ashtabula River is no doubt home to some of the world's best steelhead fishing. There are certain times when Steelhead Fishing the Ashtabula River is at its peak.
Ashtabula Steelhead Fishing in Fall
The fall season marks the beginning of steelhead migration to spawn. Steelhead begin to enter the river in September through December as a result of their urge to spawn and from hence keep moving upstream. Anglers take advantage of this behavior to get a hold of these silver bullets.
Ashtabula steelhead fishing during the fall season is usually one experience to look forward to, as steelhead during this time are known to put up a spectacular and hook-breaking fight.
Anglers with the appropriate steelhead fishing methods, tactics, and baits, are bound to catch a lot of steelhead this season. If you want to learn how I and other professional guides do it, check out my page Fall Fishing For Steelhead.
Ashtabula Steelhead Fishing in Winter
With the winter season comes extremely cold weather and the impact can be seen in the Ashtabula River as steelhead become sluggish and inactive. Steelhead during this time begin to move to deep and slow waters of the rivers. Most anglers will avoid this season because of the extreme cold weather. 
The winter season however presents one of the prime periods of steelhead fishing in Ashtabula River, despite the unique arduous challenges it presents. 
There are times when the river experiences stable temperatures and therefore allows for a great Ashtabula River steelhead catch. Another reason I believe this season is best for steelhead fishing the Ashtabula River is the low fishing pressure by anglers. This means that there will be a lot of steelhead contained in the river with only a few anglers around. That is how rewarding it can get.
Anglers who understand how steelhead behave during the cold weather conditions of winter are up for a great steelhead catch. I have a guide where I discuss the tactics and methods I and other professional guides use to successfully fish for winter steelhead. You can check it out on my page Winter Steelhead Fishing.
Ashtabula Steelhead Fishing in Spring
The spring season comes with warm weather and temperature. This causes the melting of the snow and ice associated with winter and brings alive the metabolism of the Ashtabula River steelhead.
Steelhead begin to gradually regain their aggressiveness and get a chance to finally approach their spawning grounds or hatcheries. The result is nothing short of a generous spring run of steelhead and a great Ashtabula steelhead fishing opportunity for anglers.
If you are planning to fish the Ashtabula River for steelhead in spring and want to know how to do so successfully, you can check it out on my page Spring Steelhead Fishing. Here, I discuss the various stages of the spring steelhead run, best tactics, and methods to catch more steelhead like a pro.
Stream Flows On The Ashtabula Dictate The Runs
Typical of any Ohio tributary, the streamflow and water levels go a long way to help determine the best time for Ashtabula River steelhead fishing.
Bear in mind that unlike many other tributaries, there is no water gauge in the Ashtabula River, and this makes its water unable to be measured. However, since it is one of the smallest steelhead rivers in Ohio, it will clear and get back to normal flow level after a large rain event before most others.
For real-time data on the streamflow of the river, you should check out the USGS Ashtabula River flow gauge, near Ashtabula city, OH.
Best Access Points for Ashtabula River Steelhead Fishing
When it comes down to the designated Ashtabula River steelhead fishing areas, you want to check out the Ohio DNR Fishing Map of the Ashtabula River. There's no doubt that the Ashtabula River in Ohio has a number of locations and public access spots to facilitate the fishing experiences of anglers and people looking to fish the river.
Some of the Ohio DNR designated steelhead fishing areas for Ashtabula River include: Walnut Beach Breakwall, Stanhope Kelloggsville Rd. bridge, Indian Trial Park, Cedarquist Park, Haddock Rd. ford, and Harpersfield Covered Bridge Metropark.
Best Methods To Catch Cuyahoga River Steelhead
There are a number of steelhead fishing methods to consider for the Ashtabula River.
Fly Fishing Ashtabula River
One of the best methods for Ashtabula River Steelhead fishing, in my professional opinion, is fly fishing.
In all my years of Ashtabula steelhead fishing, fly fishing has provided the best results. I have compiled a list of my favorite flies on my page 5 Best Flies For Steelhead – An Expert Guides Advice.
There are a variety of ways to fly fish the Ashtabula River steelhead depending on your preference and water conditions. I discuss in detail how fly fishing for steelhead works, the best setups, and baits that are most effective in my page Fly Fishing For Steelhead: Great Lakes Style.
Float Fishing
Float fishing might be the most popular method for Ashtabula River steelhead fishing and for good reason, it works.
There are lots of good spots suitable to float fish on this river. For more information on how to float fish and my recommendations on the best floats, best baits and how to get a great presentation with a float, check out my page Float Fishing For Steelhead.
Bottom Bouncing
Another steelhead fishing method worth noting is bottom bouncing. This method allows you to present your bait and catch steelhead in the Ashtabula River without a float.
My favorite choice of bait can be seen on my page Best Steelhead Baits. This method works great in medium-sized waters with shallow, fast, and small pockets inappropriate for float fishing.
For more detail on how to land a great catch with bottom bouncing in Ashtabula River, check out my page on Bottom Bouncing – 5 Proven Guide Tips for More Fish.
Ashtabula River Fishing Q&A
That sums up our article on Ashtabula River fishing. If you have any questions, comments, or advice let me and readers know in the comments section below.
Tight Lines
Graham