Best River Fishing Rods Of 2023: Trout And Steelhead Rods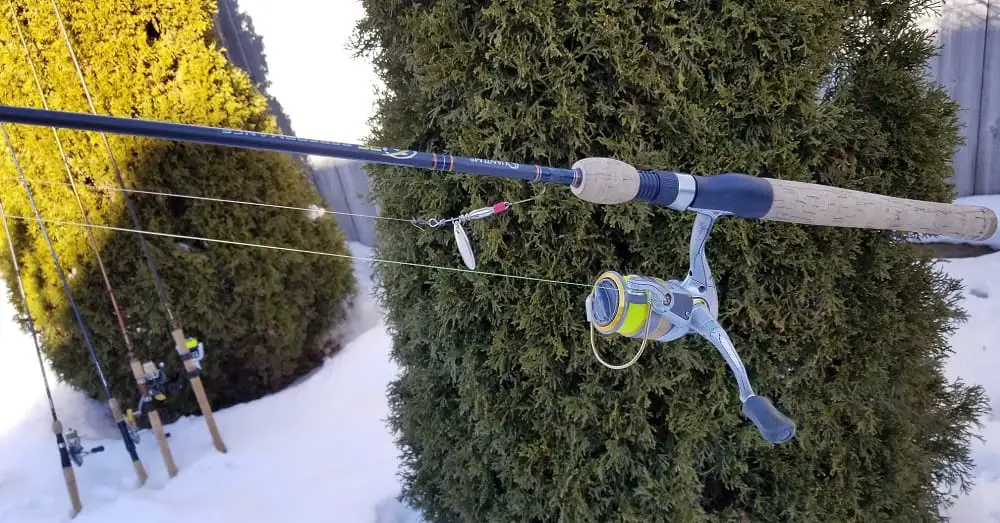 Best River Fishing Rods For Trout And Steelhead
As a full-time river guide, I'm always being asked what the best river fishing rods are, so I put this page together for my clients and my friends, and my readers.
River fishing rods should be light, flexible, and durable. Anglers use different rods for river fishing depending on the method and for different fish. I prefer a 7 to 9-foot river rod for lures and a 9 to 13-foot rod for float fishing or bottom bouncing methods.
When it comes to the best river fishing rods there are four different types of rods to choose from. Spinning rods are the most common rods for trout and steelhead fishing and this is what this article is all about.
Then there are baitcasting rods which are also known as just casting rods, and there are fly fishing rods, and then there are Centerpin fishing rods which can also be called float rods. If Centerpin and float rods are what you are interested in, you can check out my page 5 Best Centerpin Rods.
This page contains affiliate links. If you buy something through one of these links we may make a small commission which is at no cost to you. Commissions allow us to continue to bring you great content. Thank you for your support. Affiliate Policy
Quick Pick – Best River Rod For Trout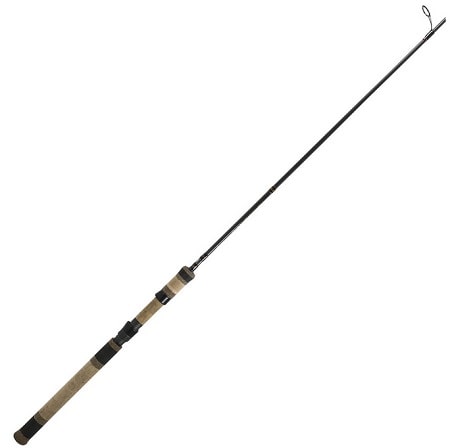 Best General Purpose Trout Rod – Spinning Rod
The best trout rod for fishing in small to mid-sized rivers that is good for multiple methods is the 8 foot Okuma Guide Select Pro Trout Spinning Rod. The ultralight is great for most trout.
This rod is available in most locations for under $120.00
Quick Pick – Best River Rod For Steelhead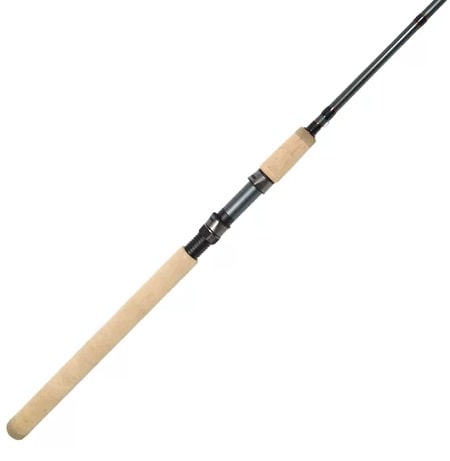 Best Steelhead Rod
Okuma SST New Generation Spinning Rod
The 9'6 medium-light, model # SST-S-962MLa might be one of the best general-purpose steelhead rods that I have used for great lakes steelhead fishing.
You can cast lures or float fishing with this rod.
The other great thing about the Okuma SST New Generation rod is that there are lots of options and models for trout, steelhead, and salmon.
The 7'6 Ultralight SST is a great choice for smaller rivers and trout.
The 9'6″ light makes a good trout and a good light steelhead rod suitable for float fishing and casting lures.
The 10'6 medium-light is a good small to mid-sized river rod for trout and steelhead.
There are many other rod choices listed below because some rods that are better in some situations and in different types of water. I will discuss all the different options to help you choose the best rod for you.
River Fishing Rod Ratings For Action and Power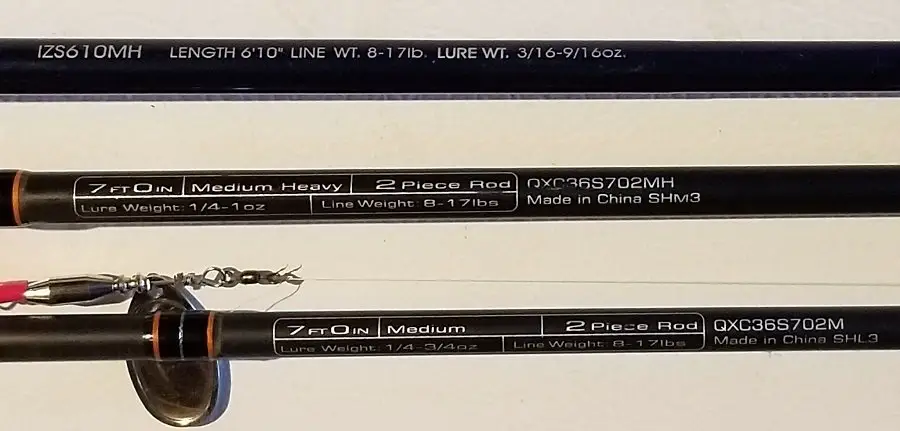 Trout rods come rated by action and by power. The action refers to where the rod starts to bend easily and it matters most when casting. The power rating refers to how much weight is needed to bend the rod and that matters most when fighting the fish.
Often the best river fishing rods will fit in the Ultralight to Medium range.
Fast Action Trout Rods: A fast action trout rod will be stiffer on the bottom 2/3rds of the rod and will be softer and bend more at the top 1/3 rd of the rod. A fast-action trout rod will still bend down closer to the handle but it will take a lot more weight to get it to bend there. Fast action trout rods are great for fast long casts and are better for hook sets. Most ultralight small trout rods will be fast action rods.
Slow Action Trout Rods: A slow action trout rod will be softer all the way through the whole rod blank, and it will start bending closer to the handle all the way to the tip in a more even bend. Softer slow-action trout rods might be better for casting baits like worms where you need a softer lob type of cast. You will see more of the bigger longer steelhead float rods being closer to slow-medium action.
In the old days (about 30 years ago) we used to call these soft whippy rods "noodle rods".
Medium Action Trout Rods: Medium action trout rods will bend somewhere between a fast and slow action trout rod.
Extra-Fast Action Trout Rods: There is also such a thing as extra fast rods which are generally very stiff rods almost right to the tip of the rod. I'm not a huge fan of these rods for trout so stick with a fast or medium-fast river fishing rod.
When it comes to the power of a rod it generally means the strength or power of a rod.
Heavy Power River Fishing Rods: A fishing rod that is rated as heavy, extra-heavy, or medium-heavy will not bend as easily as a light power trout rod will.
It will take a lot of pressure on a big fish to bend a heavy or extra heavy rod fully. Many of my old musky rods were heavy or extra-heavy rods because I was casting lures over 10 inches and I was fishing fish over 30 pounds.
Heavy and extra-heavy rods are ones you might use in a river for really large fish like king salmon or very large ocean-run steelhead. Heavy rods will usually have a line rating of 16-pounds and higher. A heavy power rod would be a good choice for west coast salmon but not for your regular trout or great lakes steelhead.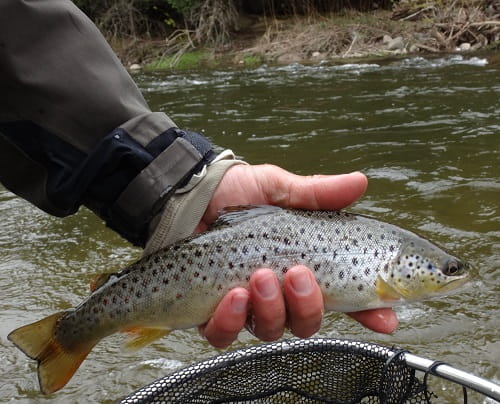 A small 6 to 10 inch trout won't even bend a heavy rod and you won't feel much of the fight.
Medium Power Rod: This will be a softer rod that will bend more easily and would be used on medium-sized fish like west coast steelhead or great lakes salmon.
I would use a medium power rod for bigger trout and on great lakes steelhead on very large and faster-flowing rivers like the Niagara River.
Medium Light Rod: This would be the river fishing rod that I would use for most trout in rivers that are 20 to 80 feet wide. It's a good-sized trout rod because it will be light enough to fish all day, and will provide a good hook set, and still have enough backbone power to control most inland trout and steelhead.
Light Power Rods: Light power and ultralight power rods are the best rods for small trout in small rivers of 10 feet wide or less. These light trout rods make fishing for little trout easy and fun and they can handle even some larger trout up to 5 pounds.
Note: Many float rods designed for steelhead are rated a bit different and on some brands, a 13 foot light or medium-light rod will be fine for great lakes steelhead.
Rod Length For River Fishing Rods.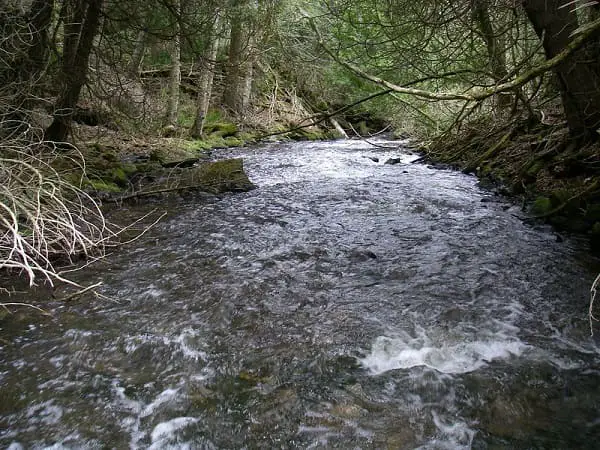 Small River Fishing For Trout: If you fish a lot of small creeks under 10 feet wide or you fish rivers where most of the trout are under 10 inches then a 5 to 6-foot light or ultra-light trout rod like the 5 foot ultralight St.Croix Premier trout rod is a great idea.
These small trout rods are easier to cast and to play a fish when there is a lot of bushes, trees, or tall grass around. Fighting small fish on these small trout rods can be a lot of fun.
I fish some creaks that are so small that I can jump across them, they might average 3 feet wide. These little hidden gems can be full of trout and even some big ones too, and most anglers will ignore them. For these super tiny creeks, a 4 or 5-foot ultralight trout rod is a good river fishing rod.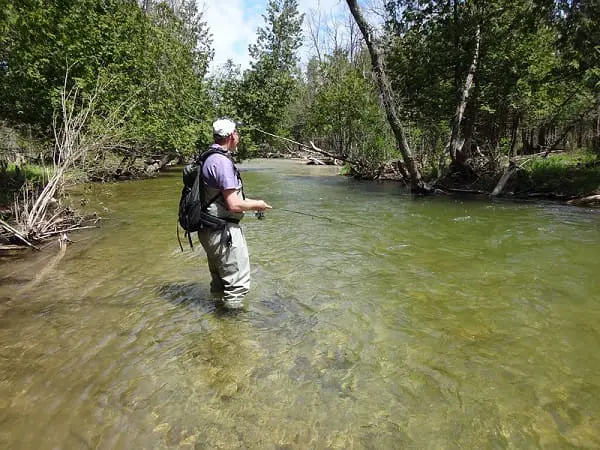 Small To Medium Sized Trout Creeks/Rivers: I personally like long trout rods up to 10 feet for fishing rivers like the one you see in the picture. If the river is open and not choked with trees hanging off the bank I prefer a light action 8′ or 10-foot trout rod like the 8.5″ St.Croix Premier Trout Rod.
I like these longer rods because they are fun to use and they allow me to float fish or bottom bounce or throw lures if I want to.
Some anglers find casting lures with a 10-foot rod difficult so for just casting lures in a river that is 15 feet wide or bigger you could use a good 7 to 9-foot light action trout rod especially if most of the fish are under 14 inches. FYI, longer trout rods will generally cast farther but they get caught in overhanging trees more often and require a longer casting stroke.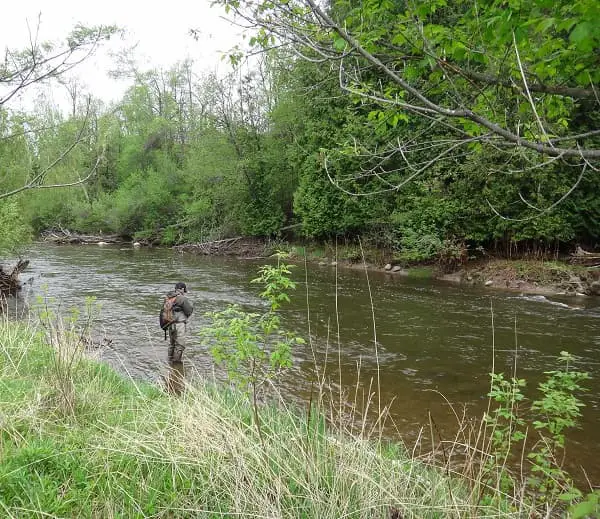 On rivers of 20 feet to 50 feet, I prefer a 9 to 11-foot trout rod for casting lures and for float fishing, however, a rod between 7 and 9 feet is still better for lure fishing.
The longer trout rod gives me more reach and is better for float fishing in bigger pools.
A longer trout rod also acts like a big shock absorber when fighting fish on very light leaders. Light leaders are sometimes required when fishing very clear trout rivers.
If I'm fishing trout, I will stay with a light action rod, but if I'm fishing Great Lake's steelhead, I will go with a medium-light or a medium rod.
Spinning Rods For River Fishing
Here is a table that will help you determine what the best river fishing rod is for your type of fishing.
| | | | |
| --- | --- | --- | --- |
| | | | |
| 5 to 6 foot - UltraLight Action | Small creeks that are 3 to 10 feet wide | | Small floats, small baits, small lures, little weight |
| 6 to 7.6 foot Light power - medium to fast action - | Best in Small creeks and rivers from 8 to 20 feet wide | Suitable for 6" to 20" Trout | Small lures up to 4  inches, small to medium floats, most sized baits with light weights |
| 7 to 9 foot Med-Light to medium power with medium to fast action. | Best for larger creeks and rivers- 16 to 60 feet wide | Suitable for trout from 10" to 30 inches | Medium to large lures, medium to large floats, any sized bait with a fair amount of  weight |
| 9 to 11 foot Med-Light to medium power with medium to fast action. | Best all around rod - good for rivers that are 16 to 80+ feet wide | Good for trout of all sizes up to 20 pounds - Med-lihGood for great lakes steelhead | Medium To large floats, any sized bait with a fair amount of  weight |
| 11 to 14 foot Med-Light to medium power with medium  action. | Best rod for bigger rivers of 30 to 100+ feet wide | This is a big trout rod. It's best for bigger trout and steelhead over 16" | Best rods for float fishing with floats and weights of any size. |
| 9 to 11 foot Medium to medium heavy with medium to meduim fast action | Best rod for bigger rivers of 30 to 100+ feet wide | This is a rod for west coast steelhead and great lakes salmon | |
| 11 to 14 foot Medium to medium heavy with medium action | Best rod for bigger rivers of 30 to 100+ feet wide | This is a rod for big west coast steelhead and salmon | Best for float fishing rivers on the West Coast |
These Are The Best River Fishing Rods
If I was to go buy a rod right now or if I was to recommend a rod for one of my clients, this is what I would tell them.
Best Economy River Fishing Rods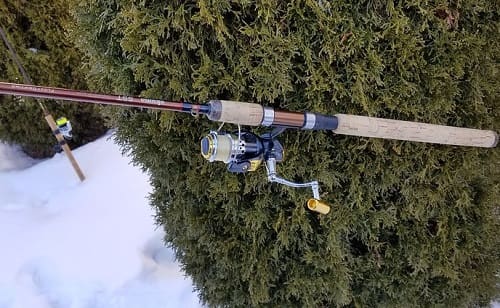 I consider an economy trout rod one that sells for under $80.00 dollars.
Let me just tell you that I have three trout rods under $50.00, and they have been good so far. Therefore I would say that you can get a decent trout rod for under $50.00 especially if they are on sale.
But, remember that you get what you pay for because there are some crappy rods under $50.00 too.
I would not recommend a rod under $50 for steelhead or salmon. These big fish are just too big and too strong for a cheap rod, and you will likely be disappointed, and based on my experience and user review on these cheap rods, your chances of breaking the rod are high.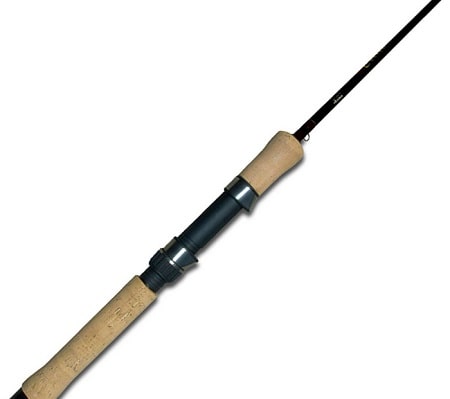 Best Economy Trout Rod – Under $50.00
The Okuma Celilo Spinning Rod is a great choice for trout anglers on a serious budget.
It sells for under $45.00 at most locations and it gets great reviews.
The ultra-small 4'6″ to 5'6″ rods are good for tiny creeks or the 8-foot ultralight trout rod which I really like on bigger trout rivers and when float fishing.
MY CHOICE – Okuma SST Spinning Trout Rod is the river fishing rod that I use the most when guiding with spinning reels on very small creeks. The 5'6″ Ultralight is fun to use on those very small trout creeks that have a lot of bush and overhanging trees. The 7-foot ultralight is good on bigger creeks. This rod ranges from about $59 up to $100. See below for more on this great rod.
Best Under $40.00 – Check out the Daiwa Spinmatic D Spinning Rod at FishUSA.com – HERE – The 5'6″ ultralight Spinmatic trout rod is great for tiny streams under 10 wide with lots of bush and where tight casting is required. I have a few clients and friend let me try this rod. The 7'6″ or 8-foot rod is good for bigger trout rivers where longer casts are required.
BEST FOR STEELHEAD – I could not find a rod under $70 that I felt comfortable recommending, but I have been using the 10'6″ Okuma SST Cork Grip Spinning Rod for years when guiding for steelhead, and I found it for only $75.00 at CHECK PRICE.
---
Mid-Priced River Fishing Rods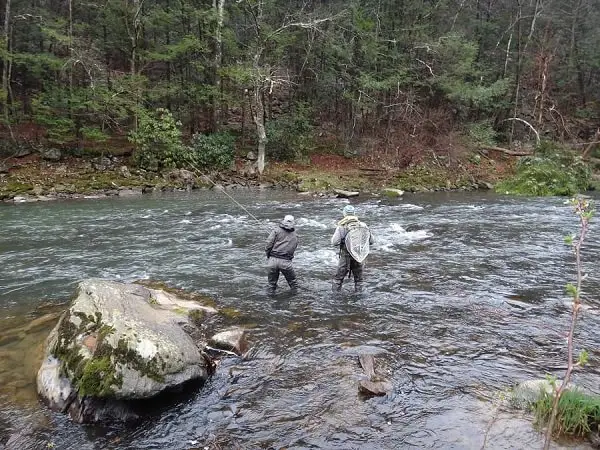 I guided for 10 years with the St.Croix Premier Spinning Rods and owned 5 or 6 of them. I also sold a lot of them when I owned my tackle store and they got great reviews then, and they still do today.
The St.Croix company was always great to deal with if there was ever a problem. The best part is that I think that most of their rods are still made in the USA.
The St.Croix Premier trout rods were great to fish with and are very strong and durable, which is great for dealing with all the river fishing abuse that can happen. If I needed a new trout rod for guiding this would be my first choice.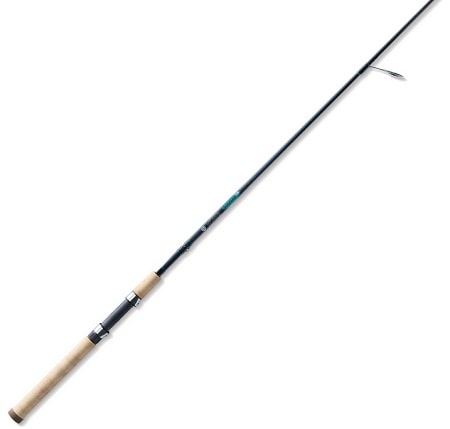 Best Mid Priced Rod $129.00 – $229.00
The St.Croix Premier 5-foot and 6-foot ultralight rods are great for small streams, but the 8'6″ light trout rod is the best mid-priced trout rod for float fishing and for casting lures on bigger trout rivers over 20 feet wide.
You can check pricing at Bass Pro Shops-HERE or at Amazon-HERE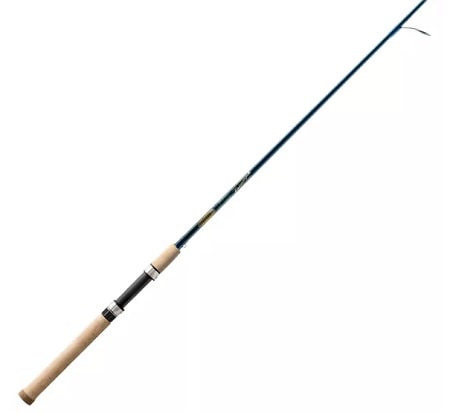 Best Float Rod For Trout Fishing
It's hard to find a good long float rod light enough for trout.
The St. Croix Triumph Salmon & Steelhead Spinning Rod has a 10'6 ultra light rod that good for small to mid-sized trout rivers.
Another great option if you want a step up from the Triumph rod is the St. Croix Avid Trout rod. The 5 or 6-foot ultralight Avid trout rod is great for small creeks and the 8 foot light rod makes a great bigger trout river fishing rod for casting lures and floats. You can check out the price at FishUSA.com – HERE or at Amazon – HERE
For a good mid-high priced steelhead or big trout rod that is suitable for multiple methods, check out the 10-foot med-light G. Loomis E6X Steelhead Spinning Rod model number E6X 1203-2S STFR at FishUSA.com – HERE.
Another good option for a steelhead spinning rod if all you want to do is float fishing is the 12'6″ Med-Light Raven Helix Float Rod from FishUSA.com – HERE which you can pick up for under $180.00. You could also drift fish or bottom bounce with this rod.
Float Rods For River Fishing
If you are mostly into float fishing for trout and steelhead or even salmon, you can use a spinning reel on a Centerpin rod.
If this is your thing, you can also check out my 5 Float Rods page.
Spinning Reels For Trout Rods
Make sure you put the right size reel on your rod and that it's balanced out properly.
You want a reel that is suitable for the size of the rod, the size of the river, and the size of the fish. Check out my page on the Best Spinning Reels For River Fishing for what I recommend.
For bottom bouncing methods, including my advanced bottom bouncing technique, check my page on Bottom Bouncing – 5 Proven Guide Tips For More Fish
Got A Question About River Fishing Rods
I've had the opportunity to fish with a lot of trout rods and steelhead rods over the last 20 years of guiding but I'm sure there are some river fishing rods that I haven't used yet.
If you have a question, comment or a recommendation for a great river fishing rod let me and the readers know in the comment section below.
Tight Lines,
Graham