About Oregon Steelhead
When you go steelhead fishing in Oregon's rivers, you have two options – Summer steelhead and Winter steelhead. Summer steelhead tend to be smaller, but not always and they are most likely found inland from the sheltered coastal Oregon rivers.
Winter steelhead are often larger – they stay in the ocean longer and appear later in the late fall and winter months. You find them nearer to the oceans in coastal rivers and tributary waters.
The Oregon state record for steelhead is 35 pounds, 8 ounces – landed on the Columbia River.
Oregon Steelhead Fishing Rules, Licence, Permits, Tags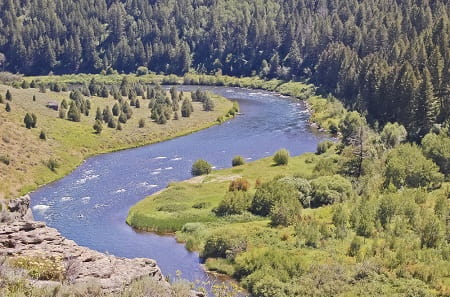 Oregon has a massive amount of rules and regulations for steelhead fishing. They range from the size of hook you use to the types of baits allowed, to harvest limits, and even how you rig your line. For example:
In Oregon, if you float fish, the leader cannot be more than 36 inches long.
In some areas, anti-snagging rules are in place which means that your leader must be less than 18 inches long. You also cannot use live bait with few exceptions. Bait is defined as dead or eggs. Hook gaps for steelhead fishing must be under one inch for single hooks and 9/16 of an inch for treble hooks – those on lures included.
Licensing – Not only do you need a fishing license in Oregon you also need a hatchery harvest and report card along with a steelhead stamp. If you are fishing in the Columbia River Basin you also need an endorsement.
Youths aged 12-17 must have a fishing license.
Boat licensing is required for nonmotorized boats as well as for motorized boats and you may need additional permits for parking or access to certain areas.
Licensing information is found on the Department of Fish and Wildlife page.
Steelhead, Salmon, and Trout fishing regulations are also found on the Department of Fish and Wildlife page.
Best Time To Fish Steelhead In Oregon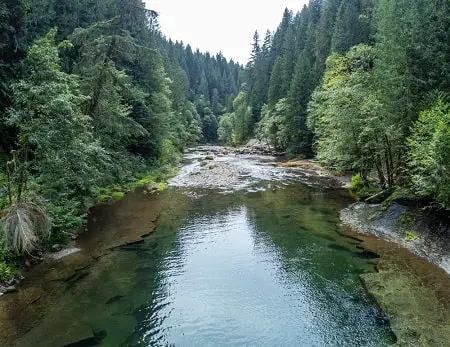 The best time for Oregon steelhead fishing occurs twice per year – late spring and late fall. The reason is that summer steelhead and winter steelhead runs cross.
In late spring, the end of winter steelhead fishing runs are winding down but in some years, the summer steelhead fishing runs are just beginning.
In late fall when the summer steelhead fishing runs are ending or slowing, the winter steelhead runs are starting to peak.
Spring Steelhead Fishing In Oregon
Spring steelhead fishing in Oregon is strong. It is one of the best times of year to go steelhead fishing in Oregon's rivers. Expect that in the Northeastern part of Oregon, the steelhead runs from last year are just finishing their spawning runs.
In the western Oregon rivers, the winter steelhead are increasing in population.
Also in the western part of Oregon, the summer steelhead are beginning their runs for this year. From the Northeastern rivers to the Western shores, spring steelhead fishing in Oregon is peaking.
Summer Steelhead Fishing In Oregon
As summer sets in, the last year's run of wild winter steelhead have finished their run and the summer steelhead run has populated the rivers in Western Oregon and are making their way eastwards into the Columbia River Valley.
Summer is a wonderful time to fish steelhead from the coastal waters to the Columbia River Valley. Summer-run steelhead begin their upstream migration as early as May.
It is also important to note that summer steelhead usually swim the farthest from the ocean. They are smaller than winter steelhead and they use the extra time in freshwater to finish growing. For those reasons, you can almost fish for steelhead any time of the year if you know where they are.
At the end of summer, the winter steelhead may begin their upstream migration. There is often an overlap between winter steelhead and summer steelhead making late spring and early fall a perfect time for steelhead fishing.
As the summer progresses, the summer steelhead are moving farther east and north. By the time the winter steelhead runs begin, most of the summer steelhead are well inland. Target summer steelhead in the Columbia River area.
Coastal steelhead rivers include:
Wilson River
Nestucca River
Siletz River
Umpqua River
Rogue River – heavily regulated
Inland and Columbia River Basin rivers include:
Snake River
Umpqua River
John Day River
Hood River
Sandy River
The Columbia River Basin is one of the most heavily fished steelhead areas
Fall Steelhead Fishing In Oregon
One of the best times of year for steelhead fishing are the fall months. There is an overlap of summer steelhead and winter steelhead so you get the best of both worlds.
By fall the summer steelhead are inland and the winter steelhead are in the coastal rivers along western Oregon.
Coastal Rivers such as the Wilson River are a haven for summer steelhead fishing but that is not in comparison to winter steelhead fishing. In the fall, before the rains have come, the rivers are low and the water is clear. Approach fishing spots carefully as the steelhead will see you coming.
Many anglers dress in greens to avoid spooking the fish. Opt for muted colors if fishing with lures and be prepared to pull steelhead out of their holes with floats and bait balls.
Winter Steelhead Fishing in Oregon
A wild winter steelhead fishing trip in Oregon is the stuff of legends. If you have hopes of breaking the record for steelhead in OR, it will be with wild winter steelhead. They grow much larger than the summer steelhead simply because they stay in the saltwater longer.
However, winter steelhead fishing in Oregon is for both summer steelhead and winter steelhead. You will find the wild fish nearer to the coast and the summer steelhead in the eastern rivers and Columbia River Basin. Some of the best fish that enter Idaho via Oregon do so along the Snake River.
That is an ideal fishing destination for steelhead anglers and one of the most prolific steelhead rivers around. Many of these are hatchery fish though some are anadromous.
The winter runs of steelhead begin around November and finish their spawning runs in April.
Best Steelhead Rivers In Oregon
There are many quality steelhead rivers in Oregon and they are one of the prime reasons why the steelhead fishing here is so robust all year round. There is not a terrible month of the year for steelhead fishing in Oregon.
You just have to know where the fish are. If you are new to the vast state of Oregon and fishing here, a guide will be an asset. Some of the best rivers for fishing steelhead in Oregon include:
Nestucca River – 57 miles long – a coastal river in the northwest OR.
Columbia River – 1243 miles long – spans Oregon, Washington, and Idaho.
Umpqua River – 111 miles long – it begins just off I5 near Roseburg and empties into Winchester Bay.
Snake River – A massive river that flows into the Columbia River. It runs through Oregon, parts of Washington, and into Idaho.
Rogue River – 215 miles long it flows from the Cascade Range to the coast.
Deschutes River – 252 miles long and flows along the eastern side of the Cascade Range where it empties into the Columbia River.
Almost everywhere you might be in Oregon, you will find a fairly good quality steelhead or rainbow trout river. Timing, though, is everything.
Methods For Oregon Steelhead Fishing
Fly Fishing
Fly fishing is the perfect art for rainbow trout and steelhead. The fishing season is really all year long and you can find many smaller tributaries and creeks that feed into the major rivers that are perfect for tossing flies to steelhead trout.
Wooly Bugger flies are one of the best and they work well on salmon too. Steelhead like bright colors when the water is deep and less flamboyant colors when the water is slow and clear.
It is also important to consider the time of year when you fish steelhead. Match-the-hatch is the mantra for fly fishing and it pays off with steelhead fishing in Oregon. Every month is an opportunity to target these big trout and to do that effectively your fly patterns must change with the season.
Float Fishing
Float fishing uses a bobber or float to suspend your bait or lure above the bottom and in the strike zone. Float fishing is a wonderful tool to pull steelhead out of holes where they rest and stage for the next leg of their spawning run. Salmon roe is an excellent bait for float fishing.
Spin Fishing
Cast and retrieve or drift lures along the bottom are two techniques for spin fishing. The same rules apply to spin fishing as float fishing in terms of lure color and brightness. Blue streamers, orange spoons, and rattle baits are all viable options.
Drifting
Drifting or drift fishing is a spin fishing technique where you cast upriver and allow the current to roll your sinker and bait or lure downstream. It is one of the most natural presentations of bait for fish and works well for steelhead, especially those staging below a riffle.
Plunking
Plunking is almost the opposite of drifting. Instead of the bait or lure drifting down the current, the line is set up to hold the bait in place. You "Plunk" it in and that's where it stays.
Best Baits For Oregon Steelhead
Hands down the best bait for steelhead will be salmon roe. You can fish with net balls – loose eggs tied into a netting ball and then threaded onto your hook. You can fish salmon roe in the skein – eggs are held by the connective tissue taken from a female fish. Skein is a more natural way to present eggs as bait.
If you happen to land a female steelhead with roe, use it for bait. It is equally attractive as salmon roe.
Nightcrawlers and pink worms are the next best bait for steelhead. They work well in float fishing or drifting.
3 Best Oregon Steelhead Guides
Rogue River Sports Fishing – SW Oregon – Multi-river options including the Rogue and Umpqua rivers. USCG licensed.
Ben Parker's Guide Service – Out of Oregon City – Multi-river options – Salmon, steelhead, and Sturgeon – 25 years experience – parties up to six anglers.
Bob Rees' Oregon Fishing Guide – Out of Tillamook, OR – NW Oregon fishing – steelhead, salmon, and saltwater fishing – Native Oregonian and guiding since 1991.
3 Best Oregon Steelhead Lodges
Umpqua's Last Resort – Family-friendly and perfect for DIY anglers. You are a short walk to the North Fork of the Umpqua River. You can also book with local guides. Plenty of activities here for kids and adults.
Eagle Rock Lodge – Off the McKenzie Highway at Vita, OR – McKenzie River fishing – DIY or Drift Boat fishing with local guides. Steelhead, Trout, and Salmon are just steps from your room. Plus – Open year-round with winter deals for lodging making it a great spot for fall and winter steelhead fishing.
Steamboat Inn – Off the Umpqua Highway at Idleyld, OR – It is a fisherman's haven – rustic charm, easy access to fishing, gourmet meals, and guided fishing. This is a Fly-fishing only segment of the Umpqua River -8-15 pound steelhead.
Where Is The Best Steelhead Fishing In Oregon To DYI?
You can DIY fish almost everywhere in Oregon. The Columbia River Basin offers many options for DIY fishing – Troutdale and Kelly Point are two options for fishing the Columbia River.
Umpqua River – Above Rock Creek are plenty of access points for those who fly fish – this is a fly fishing-only section of the river. Above Slide Creek Dam are more access points for anglers of all fishing styles.
Rogue River – There are several parks along the river that all offer DIY access for steelhead fishing. They include the – Matson Park around the city of Bend, Valley of the Rogue State Park, and Griffin Park.
Wherever you are in Oregon, there is a quality steelhead stream or river not far and most have public access.
Can You Keep Wild Steelhead In Oregon?
In almost all instances, you can NOT keep wild steelhead in Oregon. I did find one river with an exception (2023) where you can keep one wild steelhead per day and no more than three per year.
This may change at any time. Therefore, it is wise for steelhead anglers to check the current Oregon Department of Fish and Wildlife regulations and emergency closures for both steelhead and the rivers in which they want to fish.
Do You Need A Steelhead Permit In Oregon?
You will need a freshwater fishing license, steelhead stamp, and hatchery report card for a fishing trip in Oregon for steelhead. In addition, other permits may also be required, such as if you fish for steelhead in the Columbia River Basin.
Oregon Steelhead Fishing Q&A
If you have a question or advice about Oregon steelhead fishing, let me us know in the comments section below.
Tight Lines,
Graham