21 Best Fishing Vests Of 2023: Recommended By River Guides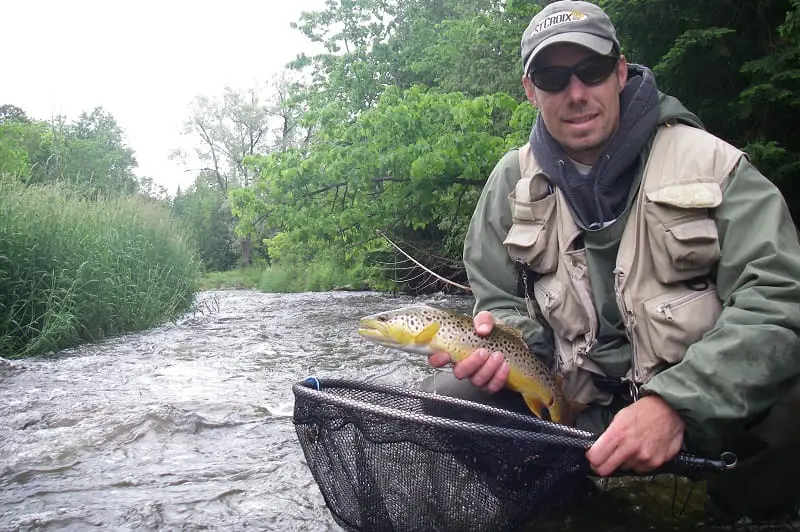 I have been using fishing vests to help me organize and carry all my fishing gear for over 37 years, and many of my clients and guide friends also wear fly fishing vests.
I have had the opportunity to not only test out many vests through my guiding business but also through my tackle store, where I tried dozens of vests from many suppliers.
The best fishing vest is the Simms Guide Vest which is a very well-designed high-end fishing vest that even guides use. One of the nicest looking and most functional fly fishing vest is the Fishpond Gore Range Tech Pack.
You can't go wrong with either of these vests but I'll list 18 vests from low-budget vests to high-end fly fishing vests.
This page contains affiliate links. If you buy something through one of these links we may make a small commission which is at no cost to you. Commissions allow us to continue to bring you great content. Thank you for your support. Affiliate Policy
Fly fishing vests, are an excellent tool for stream and boat anglers, but some vests are pretty basic while other vests are more functional.
Fishing vests are also used by kayak, canoe, and boat anglers to keep all their gear organized, and some of these vests even have built-in flotation to keep you safer on the water.
Quick Guide On The Best Fishing Vests
This is a quick reference list of the best fishing vests by category. See all the details and find out why we recommend these vests below.
Best Performance Fishing Vests
Best Mid-Range Fishing Vests
Best Standard Fishing Vests
Best Economy Fishing Vests
Best Women's Fishing Vest
Best Youth Fishing Vest
Best Fishing Vest and Pack Combo
Maxcatch Fly Fishing Backpack – Our Rating 7.5
Best Boat PFD Fishing Vests
What You Should Know Before You Buy A Fishing Vest
When looking for a good fishing vest you want to consider these things:
Fit
Comfort
Function
Durability and quality
Warranty and Customer Support
Price – budget
Some other important things to consider are the weight of the fishing vest, the material it is made from, breathability, and if it's weather-resistant or not.
If you are a river angler and you don't think that a fly fishing vest is right for you, then the only other option is a fishing pack which you can check out my page on the best fishing packs.
Once you determine if you need a pack or vest, make sure you check my list of things that every good river angler should have in their vest and packs on my page River Fishing Gear: Everything You Need To Succeed.
I, and my guides, and other anglers have experienced or seen many problems with some of these cheap quality fly fishing vests such as zippers breaking quickly, stitching coming out, and pocket flaps into lining up well with the velcro.
"however every zipper I used to open and close the pockets broke or didn't work after the first use. Quality is less than poor. Too bad. I really liked it."

Actual Customer Review
Simms Guide Vest: Most Comfortable Fishing Vest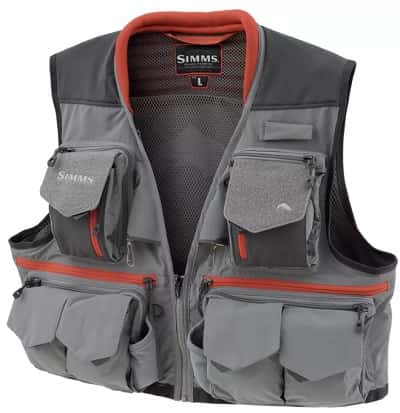 Simms has always been known for quality and performance and it's this reason that many top guides and top river anglers wear Simms products.
The Simms Guide Vest is 1 of 3 vests that I would buy today if I needed a new vest and part of that reason is the comfort of this vest.
The padded shoulders and neck are only one of the reasons that this vest is so comfortable.
The fact this vest is well built using lightweight material and is perfectly balanced so it doesn't ride up or down in the back or the front, and that many top guides have field-tested it makes it one great river vest.
It's also made weather-resistant, has maybe more pockets than any other high-performance fly fishing vests, and it's very durable.
I have found the best prices and best availability at FishUSA.com
See my full Simms Guide Vest Review which goes over all the features of this awesome fishing vest.
Other comfortable vests are the:
Orvis Men's PRO Fishing Vest – Padded collar and shoulders
Fishpond Men's Upstream Tech Vest – Padded shoulder and adjustable shoulder and waist straps for a better fit
Simms Men's Tributary Fishing Vest: Best Traditional Fishing Vest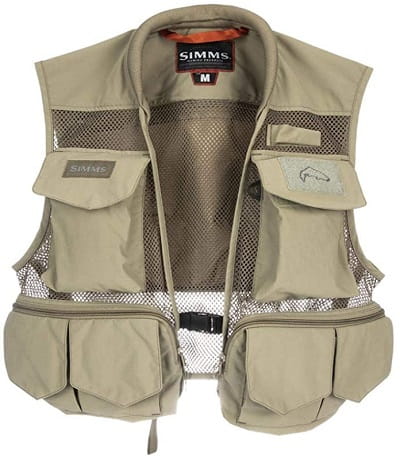 The Simms Tributary Fishing Vest is a great traditional style fishing vest that was built with comfort and weight in mind.
Made to be weather resistant and more breathable than other fishing vests.
9 pockets, D rings, a built-in rod holder, and a net attachment make this a good choice.
All that combined with Simms quality and warranty.
The Columbia Men's Henry's Fork V Vest and the White River Aventur1 are also good options for anglers that want a good basic fishing vest.
Fishpond Upstream Tech Vest: Best Performance Fishing Vest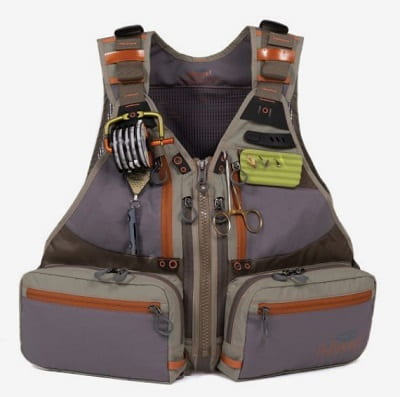 Fishpond vests are everywhere along the rivers and for good reason. They look good and they are well-built and of all the Fishpond vests the Fishpond Upstream Tech Vest is the best.
Fishpond is known for quality and functional gear as well as for being more environmentally friendly.
This vest is loaded full of features including 14 pockets, padded shoulder, adjustable shoulder straps, and waist straps.
It has a lightweight mesh interior which makes it more breathable.
It also comes with many tool attachment points, D-rings, a rod holder, and a net slot on the back so your net doesn't need to hang off your back. Plus More…
NEW! Fishpond Sagebrush Pro Mesh Fishing Vest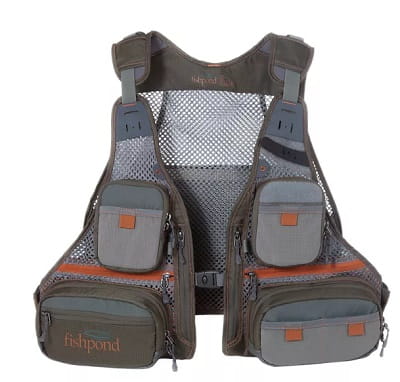 Also, check out the new Mesh Vest From Fishpond with even more pockets, lightweight with mesh for added comfort in the summer, and all the great features you would expect to find on a performance fishing vest.
Simms G3 Guide Vest Review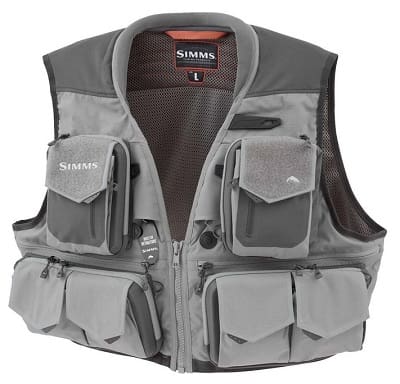 The Simms G3 Guide Vest was once the top fishing vest on the market. and was used by top anglers and river guides.
However, this G3 vest seems to now be discontinued or on its way out and replaced by the above fishing vest or it's just simply out of stock at most places including on the Simms website.
This G3 vest has 24 pockets compared to the above Simms Guide vest which has 26 pockets, and the main advantage that I can see to this vest over the above Simms vest is that it has four molded weather-resistant pockets with two on the chest and two on the waist.
Shop the Simms G3 Guide Vest.
Orvis Men's PRO Fishing Vest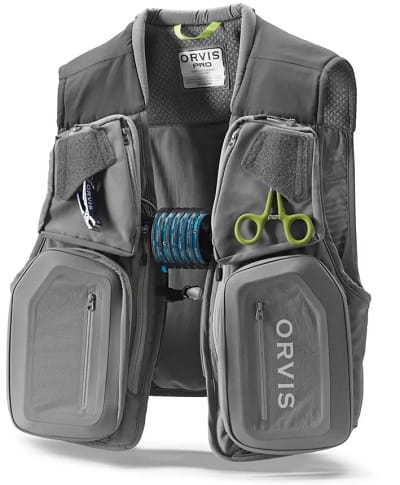 The Orvis Men's PRO Fishing Vest is one of the top fishing vests made by the very popular brand Orvis and is a vest you should consider.
It is a performance high-quality fishing vest that comes with 18 built-in pockets and is all made for comfort, function, and storage.
This vest is mostly made of abrasion-resistant nylon with a water-resistant coating while still being breathable and lightweight.
It has a padded collar, and a built-in stretch mesh interior for better comfort with pockets strategically placed from front to back and inside.
This vest comes with some cool features including six interior pockets, ten exterior pockets, two rear pockets for drinks and lunches, an Orvis custom hideaway tool port, a tri-ring net holder, two fly drying patches, and elastic loops to attach a tippet bar.
Fishpond Upstream Tech Fly Vest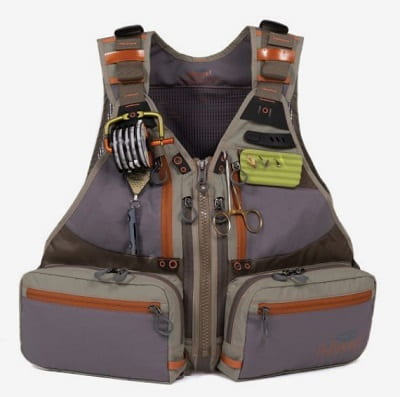 Fishpond Upstream Tech Fly Vest is one of the best vests on the market and will make any angler happy.
So many features and pockets and it's well built.
This vest is made with Comfort and durability in mind.
Best Economy Fly Fishing Vests On Amazon
If that price is over your budget these are the best economy vests on Amazon:
Testing Out The Best Fishing Vests – And The Worst!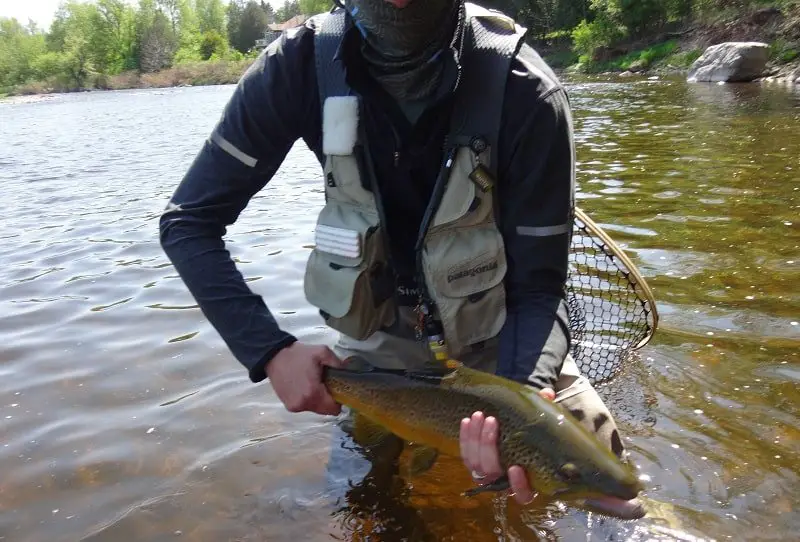 Back when I owed my fishing store I would order many new fishing vests from many different brands just to test them out on the river for a couple of weeks or even for a couple of months.
After a few years of trying out dozens of different fishing vests, I was able to narrow down the best fishing vests and the best companies to buy from. I also figured out which vests and which companies not to buy from.
The Most Comfortable Fishing Vests – Proper Fit And Comfort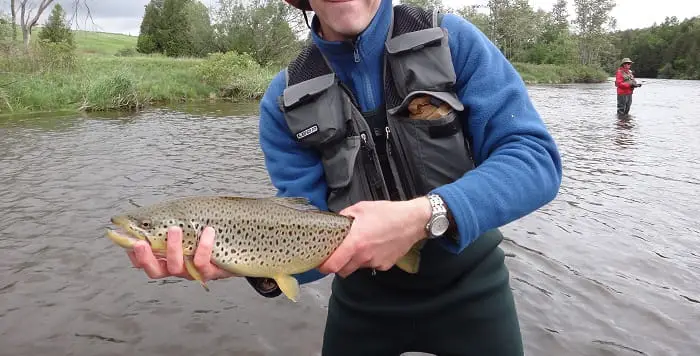 Some vests sag forward when they are full of gear in the front of the vest which is not comfortable. Once you pack in enough stuff into those front pockets the back of the vest rides up which can pull on the back of your neck and shoulders and also throw off your balance.
Some vests will have extra padding on the shoulders to provide extra comfort and they may offer a shoulder strap system to adjust the vest so it sits on your shoulders evenly and is more balanced which provides more comfort, especially after a long day on the water.
Types Of Fishing Vests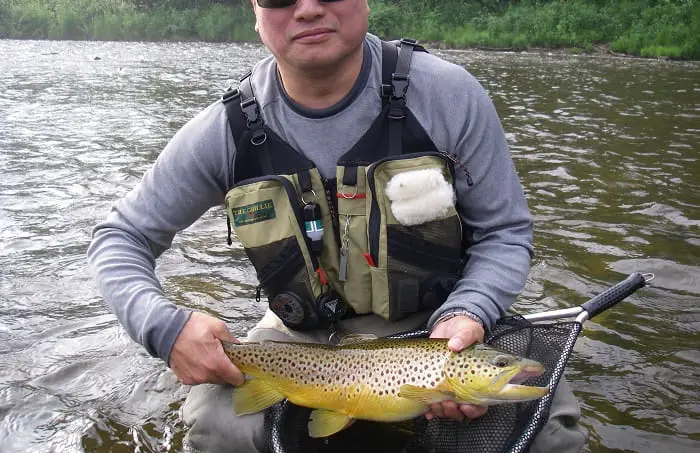 There are a few types of fishing vests to consider and depending on the type of fishing you will be doing some fishing vests might work better for you. My reviews will help you decide on which fishing vest you should buy.
As an example, an angler fishing out of a kayak might be better off using a floating safety fishing vest while a stream angler might be better with a basic river fishing vest.
I have included compatibility suggestions with each vest review below. I will also discuss the pros and cons of some fishing vests.
The Basic or Traditional Fishing Vest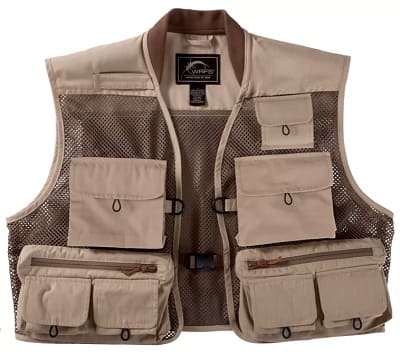 A basic fishing vest is a simple design that has no bells and whistles and is just meant to hold some of your gear.
I have heard guys call these vests traditional or standard fishing vests as well.
These basic fishing vests are often made from the least expensive materials like cotton and polyester and are often the ones that cheap brands will sell.
These basic fishing vests are what I used to wear where 30 years ago and they were all you could get back then. Now you can get all different kinds of vests.
There are some disadvantages to these traditional cotton fishing vests like being heavy when wet or many have few pockets or small pockets that are not suitable for bigger fly boxes and tackle boxes.
You won't find too many extra features on these basic fishing vests but they can still have plenty of pockets and that might be good enough for the average angler.
The White River Aventur1 fishing vest is a great basic vest made by a company that knows fishing. It has plenty of well-placed pockets and is made with a lot of mesh that won't absorb water and weigh you down.
Performance Fishing Vests: Not Just For The Experts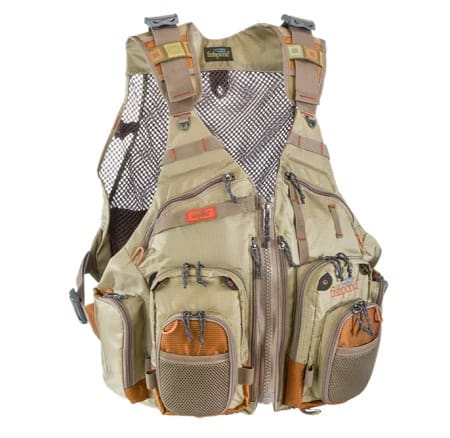 Performance fishing vests have lots of added features, lots of functional pockets, quality zippers, tool attachments, a net hook, rod holders, D-rings, and more. They are also made from lighter-weight materials that dry faster or might even be water-resistant.
Performance fishing vests are also known to some as technical vests.
Often the pockets are specifically designed for certain gear that river anglers would use and are field-tested for proper placement and function.
You may find that these performance fishing vests will be made from the best materials but you will find that they are often more expensive than a basic fishing vest. Chances are they will last longer than a basic vest and they will be superior to a basic vest so it's often worth the extra cost.
The best performance fly fishing vests on the market are:
Fishpond Men's Upstream Tech Vest – Loaded with all the features you would expect from a high-performance fishing vest which makes this the best performance fishing vest.
Fishpond Gore Range Tech Pack – 17 pockets and loaded full of features makes this one of the top 3 best fly fishing performance vests.
Simms Guide Vest – This is a fully loaded and functional performance vest and one of the best you can buy.
Vest Backpack Combo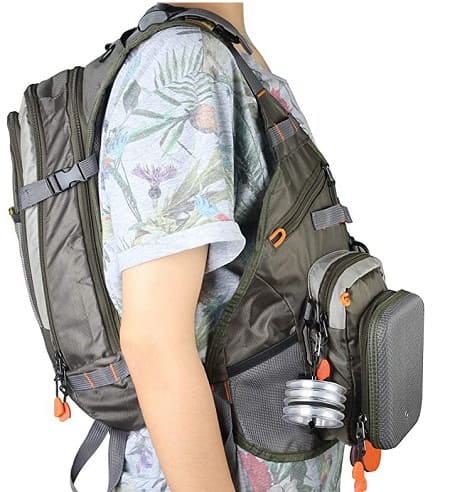 For anglers that have the need to carry a lot of gear which might include an extra sweater, gloves, rain gear, or a big lunch, a vest with a built-in backpack is a great idea.
Unfortunately, there are not many great ones on the market but the Maxcatch is one of the better ones and it sells for around $60.00.
Maxcatch Fly Fishing Backpack – gets good reviews and is what I would consider a performance time fishing vest with big zippered pockets, tool attachment rings, and lightweight and water-resistant fabric that is lined with mesh to keep you cool at all times.
Flotation Fishing Vests For Boat Anglers A Big River Anglers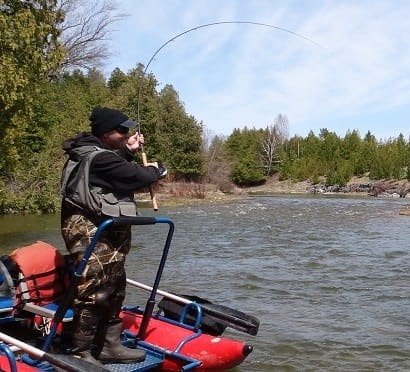 Some fishing vests can also be personal floatation vests and they are great for anglers who fish on riverboats, kayaks, or canoes, or if they fish bigger faster, and more dangerous rivers.
Check out my page on river fishing boats to see which ones are the best and how you can utilize a boat for more fish.
These floatation vests can be too warm during the summer months and they are often bulkier, and less comfortable, and they will have fewer pockets and features so I only wear one when I really need the safety of the floatation feature.
But for most anglers that fish basic trout streams, I would not recommend a floating fishing vest.
If you are an angler that can't swim and are fishing bigger rivers this could be the best vest for you.
Most of the floating vests that I have seen are not great. They are usually just a regular PFD (personal floatation device) with a couple of pockets sewn in for some of your gear. Unfortunately, they don't hold very much gear but there is a couple that stands out from the rest.
A few of my clients and one of my guide buddies have been wearing one from Bass Pro Shops.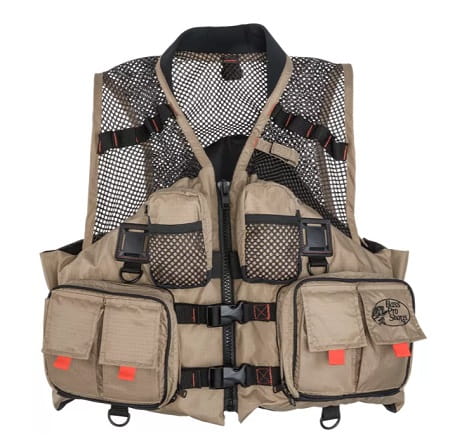 The Bass Pro Shops Tournament Fishing Mesh Life Jacket is by far the best flotation fishing vest that I have seen.
It has more pockets and well-placed pockets than any other so-called fishing life vest.
It's also built with comfort, safety, and functionality in mind. Get it at Bass Pro shops for about $59.99.
Some of the key features of this vest are:
A neoprene collar is built onto mesh shoulders which are designed for being lightweight and to keep you cooler.
PE foam for maximum flotation
2 quick release belts and a full front zipper
Multiple D-lops and accessory loops
2 lash tabs on the chest
Built-in rod holder for those kayak guys and times when you are deep wading
tool loops
8 pockets and outer hook-and-loop pockets
Handwarmer pockets
---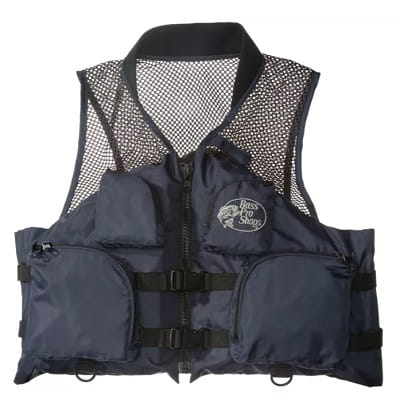 The next best floatation fishing vest is the Bass Pro Shops Deluxe Mesh Fishing Life Vest for Adults. This vest has many of the other vests features with about 4 fewer pockets.
This vest is good for the angler that carries minimal fishing gear and boxes.
This vest will cost you about $43.99 and it gets good reviews at Bass Pro Shops.
Best Fishing Vests For Kids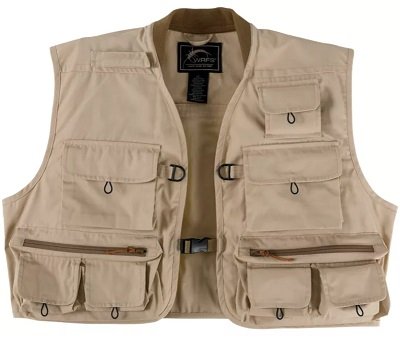 If you want a basic fishing vest consider the White River Fly Shop Aventur1 Fly Fishing Vest for Kids which will run you about $29 to $39 depending on the size.
This kid's fishing vest will hold almost everything they will need for a day on the river.
You can only get this vest at Bass Pro Shops since the white river brand is their house line of fly fishing products.
Key Features of the Aventur1 Kids Fishing vest are:
Designed and sized to fit all kids with a small, medium, and large
Available in brown or tan
10 external pockets and 2 internal pockets
Has a cool flip-down fly holder pocket
Durable build and designed with a padded collar for comfort
Has a built-in rod holder
Accessory attachments
---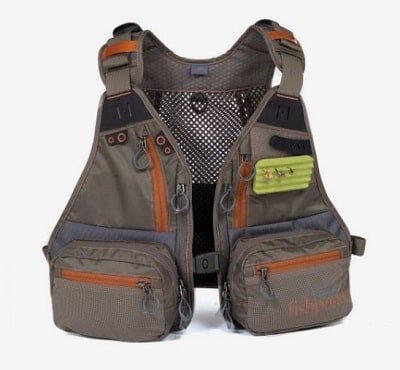 If your kid is a hard-core fishing angler that spends a lot of time on the rivers, or if you simply want the best fishing vest for kids then you should seriously consider the Fishpond Tender Foot youth vest.
If this vest was bigger even I would wear it. You can get this vest for about $99 – Check Price.
Like all fish pond products, this fishing vest is built to last and is well designed and functional.
Key features of the Tenderfoot vest are:
It's lightweight for kids with a mesh interior and back and built with the Cylcelpond ballistic fabric for durability
14 pockets of various sizes for all your boxes and tools
This vest is adjustable to fit most kids
tool attachments and loop attachment
Large stash pocket for bigger items like lunch and drinks
Net D-ring attachemnt
A built-in rod holder
Manufacturer's lifetime warranty
The Benefits Of A Good Fishing Vest.
You might be wondering why even use a fishing vest when you are river fishing?
Fishing vests are a great way to store and organize all your river fishing terminal tackle. There are plenty of pockets for your fly boxes, lure containers, bait containers, your lines, and leaders, hook containers, weights, and even stuff like your lunch and drink bottle.
You can also hang your net off the back of many fishing vests and some even come with rod holders to hold your rod when releasing a fish, taking pictures or when you need to use two hands to tie knots or change baits.
Fishing Vest Pricing
Fishing vests can range from $20 to over $200.00 and I have used dozens of river vests ranging from low-end to high-end.
The more expensive fishing vests will be more comfortable, more functional, better designed, have more pockets that are also sized better, and will be made of much higher quality materials that could even be water-resistant or waterproof.
Some fishing vests use materials that are mildew resistant and stain-resistant while other vests use materials that could mold and have mildew issues.
Water-Resistant Vests and Weatherproof Fishing Vests
Water-resistant fishing vests are a great idea to help keep all your fishing gear dry if you get stuck out in the rain.
Often, the vest itself is not waterproof simply because of all the openings that rain can get in and because they don't have a hood.
However, some brands have fishing vests with pockets on the vest that are weather resistant which is basically the same as water-resistant and the idea is that it will keep the rain out, but should you fall into the river and completely submerge the vest it will likely leak.
The benefit of a fishing vest that has weather-resistant pockets will keep your best gear from getting soaked if it rains. Things like hooks, flies, lures, and pliers can rust if they get wet and stay wet so keeping them dry is a good idea.
Some of the better fishing vests will also have zippers that are also waterproof or rust-resistant.
How To Wear A Fishing Vest
The fishing vest should always go on the outside of your clothes, outside of your jacket, and often even outside of your rain gear.
Fishing Vest Ventilation and Breathability
Some fishing vests will be cooler and have better ventilation than other vests. Some use a mesh material on the sides, back, and even on the front of the vest for better breathability.
This mesh can make the vest lighter and cooler when you are fishing during the hot days of summer.
Best Fishing Vests – Summary
Now you know all the fishing vests that are actually worth looking into that range from about $30 to over $200 dollars. Remember, you get what you pay for.
If you have a fishing vest that you really like and you want to share, tell us in the comments section below.
Tight Lines
Graham