Vermilion River Steelhead Fishing: Access Map and Tips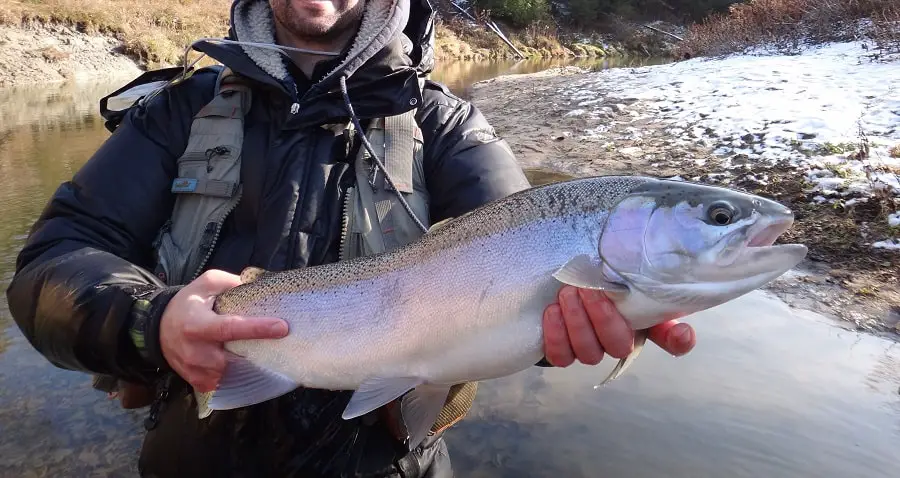 Vermilion River steelhead fishing can be exceptional at times, especially if you know how to time the steelhead runs and you use the best methods and best baits.
The Vermilion River runs through valleys, gorges, rural landscapes, and urban areas to Lake Erie. The lower river is flat and slow, but the upper sections resemble a medium to large trout river.
As one of the best Ohio steelhead rivers, it gets incredible runs of Manistee strain steelhead that are in the river from September until May. Let's find out more.
About The Vermilion River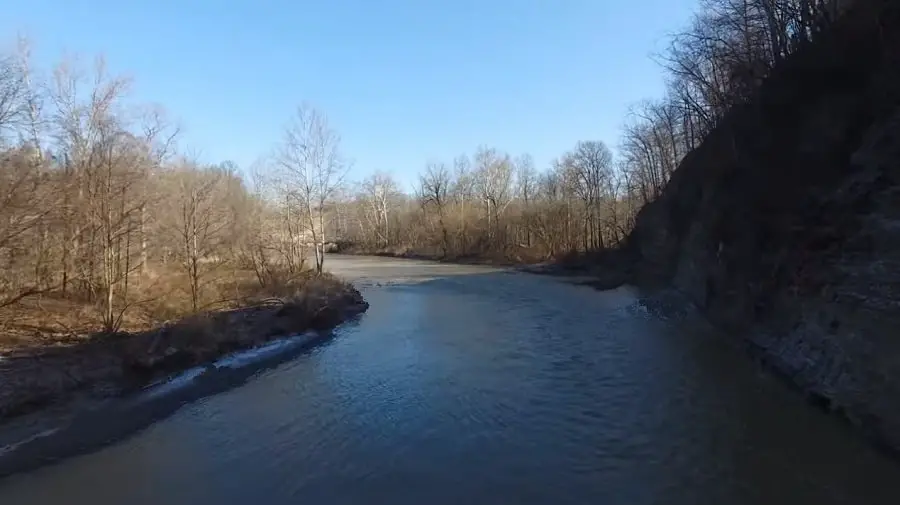 The Vermilion River, which is also known as the "V" to local anglers, is designated as one of Ohio's Scenic and Wild Rivers and is a sixty mile long tributary of Lake Erie. But to anglers, it is the best western Ohio steelhead river.
The name "Vermilion" is a color that describes the beauty of the reddish clay banks and a reddish river bottom throughout much of the river. It also contains a mostly shale and gravel bottom, and it is considered a large river by Northern Ohio standards.
The Vermilion River runs mostly through remote areas. It is heavily wooded; hence, you may need to hike before reaching the best water with the most fish. The upside is that the farther you need to hike the fewer crowds and the more solitude you will find, which often results in more steelhead.
The Vermilion River is part of a series of rivers in an area known as Steelhead Alley, which runs from New York through Pennsylvania To Ohio.
Fishing On The Vermilion River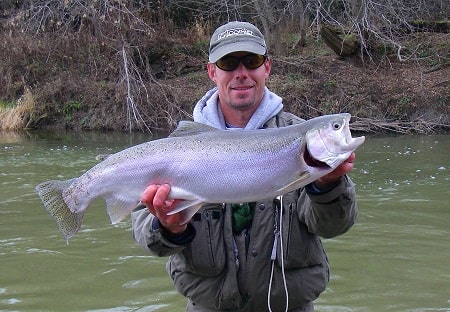 Ohio is known for its great steelhead fishing. The Vermillion gets excellent returns of adult steelhead. Most anglers prefer to walk the river along the banks and through the many public access areas. It can get crowded especially during the peak times of late October and during the spring run.
This river can also be floated in small pontoon boats, rafts, canoes or a fishing Kayak, but only during the spring or after rains in the fall and winter because the water is normally high during these seasons. The lower river near Lake Erie is flat and slow and can also be fished by boat at any time. 
The Vermilion River also boasts many deeper holes and plenty of spaces where steelhead hold during low water seasons. 
The Vermilion River becomes muddy quickly after heavy rains or snowmelt, and it can take three to five days before it becomes clear enough to fish again.
Once it becomes very clear, it can make it difficult to entice the steelhead to take your fly or bait, so during low and clear water conditions, anglers should use the same low-water steelhead methods that the guides use and focus on deeper bigger pools.
If the river is too low, many anglers will head over to the Grand River and try there. If the Vermilion River is high and muddy, it is worth checking out the Rocky River, Chagrin River, Conneaut Creek, or Ashtabula Creek, which maybe at normal flow levels since the average run-off time after a rain event is less.
Best Time To Fish Vermilion River Steelhead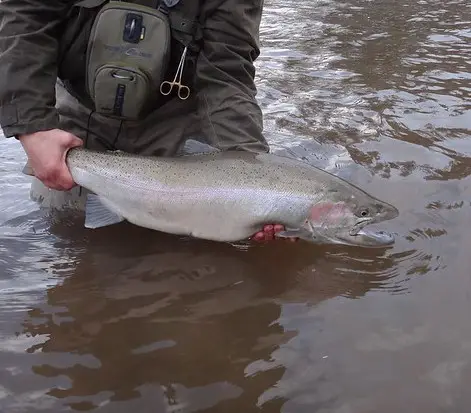 The best time to fish steelhead in the Vermilion River is from late November to April or May.
Some steelhead will enter the river as early as late September after big rains and cool nights raise the water levels and cool water temperature.
October can also have some decent sporadic steelhead runs following the rains. November and December can be the best late fall and early winter steelhead fishing.
Once the river freezes in January, steelhead fishing is limited until the spring thaw, and catching steelhead is tough.
Spring run steelhead fishing is excellent and it usually starts around late February and runs until mid-April with some steelhead hanging around into early May.
During this season, the ideal stream flow is usually between 100 to 250 CFS. 
Fishing for steelhead on the Vermilion River can be an uphill struggle, especially if you don't know the best fishing techniques and how to execute them. If you're wondering what fishing methods suit this river best, below are some Vermilion River steelhead fishing methods to consider. 
Float Fishing For Vermilion River Steelhead Fishing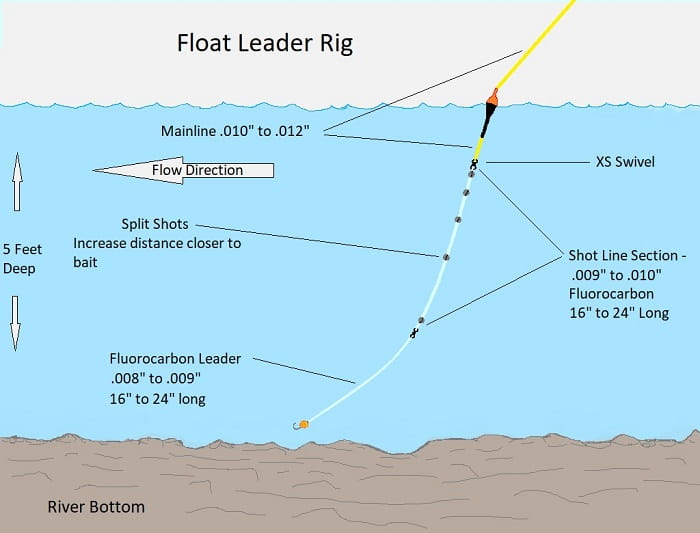 Float fishing is one of the most effective steelhead fishing methods around the Great Lakes region and this popular technique is great on the Vermilion River.
Float fishing requires good baits such as beads, spawn bags, worms, and flies. Salmon eggs or trout eggs are the most popular bait.
When float fishing, you place the bait below a float or bobber and drift it down the river. The bait should be suspended 6 inches to 12 inches off the bottom most of the time. Use the right leader and weight setup and you will catch more fish.
For catching steelhead with this technique, you will require a good float, a long rod, a good line suitable for float fishing, a good reel, and a leader containing a hook and bait. This method helps you catch a lot of fish, especially if you understand the following fundamentals of float fishing. 
Setting Your Bait Depth
You need to get your bait in the strike zone to get the best results. You should do this fast and maintain the position of the bait throughout the drift. Nevertheless, this necessitates that you identify the bottom even when you can't see it. You can do this using the methods I describe on my page, Float Fishing For Steelhead.
Covering the Water
Another basic step you should take is to cover the water effectively. Avoid fishing in the same lines repeatedly and avoid positioning yourself in the wrong spots. I discuss how to do this well in my article Effectively Covering The Water When Float Fishing.
Control Your Speed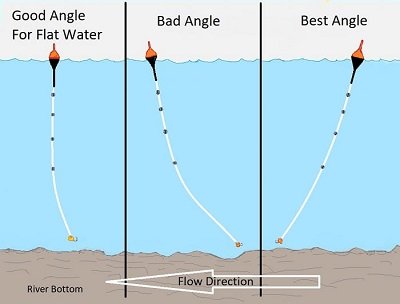 Regardless of the type of fish, you're trying to catch, when float fishing in a river, you need to master the art of controlling your bait's speed. This means ensuring the bait is moving at the speed of the bottom current, which is often slower than the surface current.
We do this with a technique called checking the float or trotting.
Based on my experience guiding for steelhead over the last 20 years, controlling your speed can increase your catch rate by ten times. I discuss speed control on my page Controlling Your Speed For More Fish When Float Fishing
Fly Fishing For Vermilion River Steelhead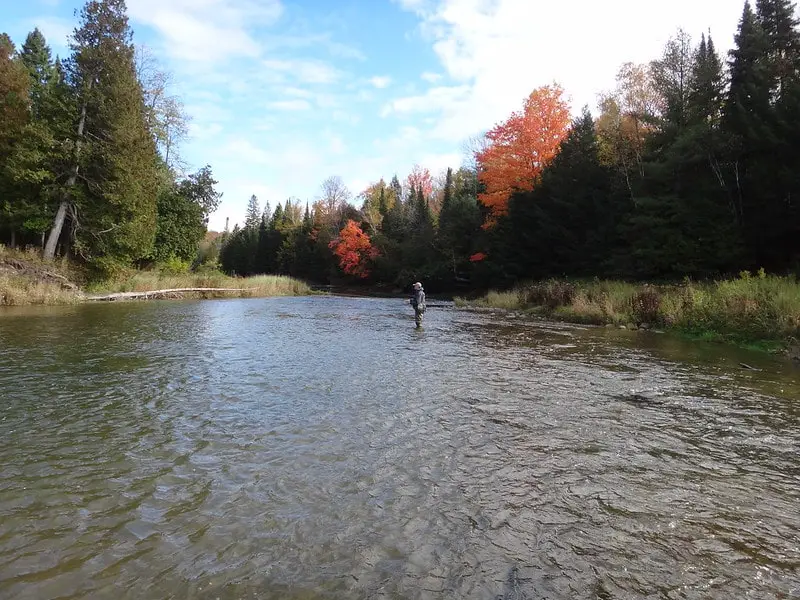 Although fly fishing can be challenging in Vermilion River, it can be quite rewarding if you get there at the right times and fish the faster river further up the river.
Fly fishing is one of the preferred methods by a lot of river guides on this river.
For catching steelhead with a fly rod, you can either use the traditional indicator nymph fishing methods, euro nymphing, or Spey Fishing methods. Streamer fishing is also good for steelhead on the Vermilion River.
Great steelhead fly fishing patterns that are good for Vermilion river steelhead include egg patterns, pheasant tail nymphs, and their variation, stonefly nymphs, and worm patterns. These are great flies for anglers to use on other great Ohio rivers like the nearby Chagrin River and Rocky River.
Fly fishermen should have fly boxes full of assorted patterns in different sizes and colors.
Best Flies Include:
Glo Bug – A great salmon Egg Imitation for indicator nymphing.
Hares Ear Nymph
Pheasant Tail Nymph
Caddis Larva
Rubber Legged Stonefly nymph
White Zonker – One of the most effective streamer patterns.
Woolly Bugger – Black, olive, and white are hot colors.
Egg Sucking leech
Hoh Boh Spey – A good streamer fly
These are good flies that will work on most Lake Erie tributaries. See 17 Best Flies For Ohio Steelhead.
Spin Fishing For Steelhead On The Vermilion River
Anglers can also use spinning gear to float fish or cast a lures, or to bottom bounce for steelhead on the Vermilion River. Plunking is a still fishing method used to fish deeper areas or out at the mouth.
Lures can be a great choice for fishing for steelhead on the Vermilion river during the spring and fall when the steelhead are active.
Some great lures to try are in-line spinners, spoons, crankbaits, Kwickfish, and even Steelhead Jigs.
For more information on fishing steelhead using lures, check out my page 4 Best Lures For Steelhead – A Pro Guides Recommendations
To see what I and other river guides recommended, check out my page River Fishing Gear: Everything You Need To Succeed In 2021
Best Vermilion River Fishing Reports?
Planning to start Vermilion River fishing? If yes, you need to access and view the best Vermilion River fishing reports for great results in your new endeavor. Some of the most lucrative reports for this great river include Mad River Outfitters and Orvis. 
Vermilion River USGS Flow Data
These two sites provide detailed information regarding baits, USGS water flow data, directions in an app, the day outlook, and effective tips. If you can't figure out the best fly patterns to use, the Vermilion River fishing reports offer you multiple patterns to choose from with their colors and sizes. 
Vermilion River Fishing Access Information and Maps
Access information and maps show you the best spots and how you can access them without much struggle. 
For instance, the Vermilion River is wooded in most places, and to get there, you will need guidance. That's why it's essential to use maps, especially if you're a new angler.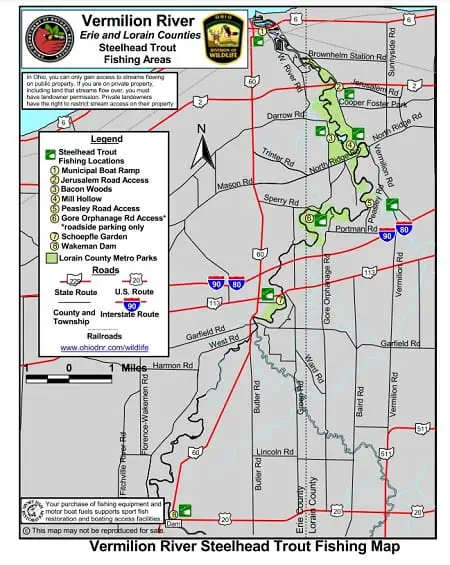 Check out the full-size fishing map provided by the Ohio DNR to learn more about the Vermilion River fishing access points and public access points. 
Some of the access points you will encounter include Jerusalem Road, Mill Hollow, Bacon Woods, Peasley Road, Schoepfle Garden, Gore Orphanage Road, Municipal Boat Ramp, and Wakeman Dam. 
Fishing Rules or Regulations
If you're fishing for steelhead on the Vermilion River for the first time, you may be wondering what law requirements you need to fish legally. Different rivers may have varying regulations depending on the authority of that place and other factors such as weather and the fish population. 
As a result, you need to study the different laws and request clear explanations where you don't understand. This will help you get the most out of the Vermilion River while preserving the wildlife in it. You will also be on the good side of the law, helping you to enjoy the river fishing without getting yourself into unexpected trouble. 
Some of the top sites you can find fishing regulations and laws of Vermilion River include the 
Vermilion River Steelhead Fishing Q&A
If you have a question or want to share your tips regarding Vermilion River steelhead fishing, let us know in the comments section below.
Tight Lines
Graham