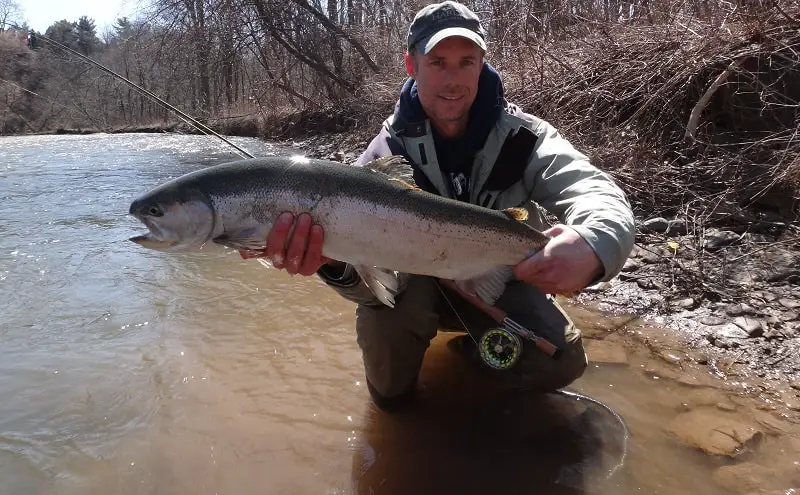 Steelhead Alley Ohio
The state of Ohio provides some of the most rewarding steelhead rivers in the Great Lakes region and there is a collection of these tributaries on the southern shore of Lake Erie that falls under what is generally known as the Steelhead Alley Ohio.
The steelhead Alley Ohio tributaries usually receive two major runs of steelhead in the Fall and Spring. Steelhead Alley Ohio consists of 8 good rivers and streams and a few smaller creeks. Steelhead can be caught using multiple effective methods.
Steelhead Alley is a stretch of land running from Niagara Falls NY to the mouth of the Detroit River MI. In this stretch of land there are dozens of great steelhead rivers all within close proximity.
About Steelhead Alley Ohio Rivers
The Steelhead Alley Ohio Rivers, enjoy some natural reproduction of steelhead, but they are annually stocked with thousands of steelhead in order to promote recreational fishing. This stocking program has made the Steelhead Alley Ohio area fantastic for steelhead fishing from late fall to mid-spring.
Steelhead that are stocked get to spend about 1 to 2 years of their juvenile years in their native Ohio freshwater rivers in order to properly develop and afterward, will make their way to Lake Erie to further develop into adulthood. 
Lake Erie provides a much richer forage which will allow for more rapid steelhead growth. When steelhead mature, they will make their way back to their native Ohio waters to enable them to spawn. Anglers usually take advantage of these returning steelhead to fish steelhead Alley Ohio rivers.
Best Ohio Steelhead Rivers
Ohio no doubt provides some great steelhead fishing, thanks to the high-quality lake-run steelhead from October to about April, which attracts lots of steelhead anglers all around the world.
I have fished almost all of the steelhead alley Ohio rivers at one time or the other with clients and friends. Most Ohio steelhead alley areas have quite a bit of access and are very easy wading.
If you are looking for the perfect destination to fish Steelhead Alley Ohio, the below list of the primary steelhead rivers in Ohio should get you started.
Grand River
Grand River is a large-sized and shale-bottom tributary of Ohio with more than 50 miles of fishable water from Harpersfield, Ohio and emptying into Lake Erie.
The Grand River Ohio receives Little Manistee steelhead stockings by the Ohio DNR annually, which return to the river each spring. Grand River is also fortunate to enjoy the fall-run of Pennsylvania strain steelhead.
Public access points to the Grand River include Belwood Village, Belwood Lake Conservation Area, Winterbourne, and Elora Gorge Conservation Area. 
Chagrin
The Chagrin River is a medium-sized state scenic Ohio tributary that is located in Northeast Ohio. The Chagrin River consists of two tributaries and enjoys a generous stocking and nice runs of steelhead annually. 
Public access points to this beautiful river include the Lake Metroparks and Cleveland, in addition to other long stretches of private water. 
Rocky River
The Rocky River is a popular steelhead fishing destination thanks to ODNR annual stockings and nice runs of steelhead. The Rocky River is a mid-sized river in the steelhead alley of Ohio, consisting of shale, silt, mud, and rock.
One of the most notable and best public access points to the Rocky River is Cleveland Metroparks. 
Conneaut Creek
Conneaut Creek is a high-quality wild and state scenic Lake Erie tributary with national recognition for one of the best steelhead fishing in Ohio. Conneaut Creek consists of over 30 miles of fishable water with boundaries extending from Ohio to Pennsylvania.
The "conny" as the locals call it, boasts several access points, but can publicly be accessed through Lakeville Park Access off Center Road and Conneaut Harbor.  
Cuyahoga River
Cuyahoga River is a large-sized, shale-bottom tributary that flows for about 100 miles, through the cities of Cleveland and Akron before finally emptying into Lake Erie.
It is interesting to know that this river does not receive stockings by the Ohio DNR, but does enjoy a generous spring run of Little Manistee steelhead which are either natural reproduction or strays from other nearby rivers.
Amongst the numerous access points, the Cuyahoga River can publicly be accessed through Brecksville (the Rt. 82 Dam) and Cleveland Metroparks (Gorge Park). 
Vermilion River
The Vermilion River is Ohio's sixty mile long tributary, located in northern Ohio and runs through five counties in parts before emptying into the Central Basin of Lake Erie in the city of Vermilion.
This river is characterized by its predominant reddish clay bank and soil bottom, which gets muddy after a heavy rain event.
The Vermilion River can be publicly accessed through Rambling River Park, Metro Parks, and Miles parcel and Otting of the Vermillion River A.M.A.  
Ashtabula River
Ashtabula River is an Ohio Scenic tributary to Lake Erie located Northeast of Cleveland, near Ashtabula and one of my favorites to fish.
The Ashtabula is a medium-size river with a shale-bottom receiving spring runs of Little Manistee steelhead. Ashtabula River houses some of the largest steelhead fisheries in the state; with other diverse populations of fish species such as brook trout and brown trout in its headwaters.
Designated access points for Ashtabula River include Walnut Beach Breakwall, Haddock Rd. ford, Stanhope Kelloggsville Rd. bridge, Indian Trail Park, Cedarquist Park,.
Arcola Creek
Arcola Creek is a tributary in steelhead alley Ohio located about 2.8 miles from Geneva-on-the-Lake, in Lake County, near Ashtabula, northeast Ohio.
This is yet another Ohio River that does not get stockings by the Ohio DNR, but annually receives a spring run of stray Manistee steelhead and some fall steelhead which are often strays from other Lake Erie rivers; thus still providing anglers with some of the best steelhead fishing.
The Arcola Creek can be publicly accessed through the Lake Metropark and beach.  
Methods And Baits For Steelhead Alley Ohio Steelhead
The best methods for steelhead fishing are Float Fishing, Fly Fishing, and lure fishing and there are plenty of baits that are effective.
Most of the guides in the areas seem to fly fish and natural looking egg imitations, and small stonefly, mayfly, and caddis patterns work well both when fly fishing or under a float.
Spin fishing and Centerpin fishing are both very popular and the typical egg sacs, worms, and beads are effective.
I discuss all the best methods and the best baits on my page Guide Tips and Advice For Steelhead Fishing Ohio
Steelhead Alley Ohio Q&A
If steelhead alley Ohio is your thing and you would like to share some tips and advice, leave a comment in the comments section below.
Tight Lines
Graham