Rocky River Steelhead Fishing: Guide Tips and Advice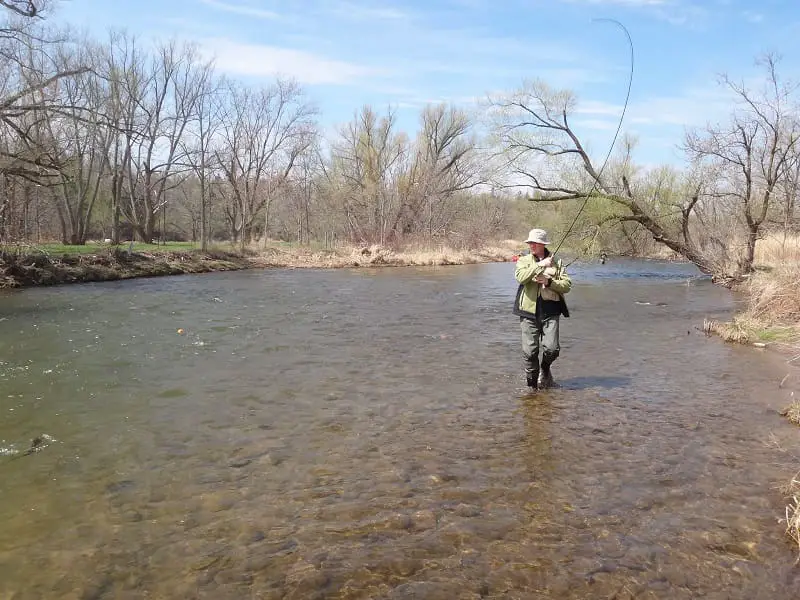 In my years as a steelhead angler, one of the rivers I enjoy fishing for steelhead is the Rocky River in Ohio. The Rocky River is a great steelhead fishing location and I often recommend Rocky River Steelhead Fishing to my clients. 
Rocky River Steelhead fishing offers one of the most rewarding steelhead fishing experiences any angler can wish for. This is largely due to the high quality of steelhead runs it receives and the amount of public access it offers to anglers. It also holds plenty of water that is perfect for steelhead.
In this post, I will share some tips on the best tactics, best access points, and best times to fish for Rocky River for steelhead; and also ways that can guarantee consistent and rewarding Rocky River Steelhead Fishing. As you read on, you will also discover fishing methods that are best for steelhead fishing the Rocky River. 
Rocky River Steelhead Fishing: Ohio
I've heard it said that the rocky river is in the top 150 best rivers to fish and it is one of the best steelhead rivers in Ohio.
The Rocky River in Ohio is characterized by its low to moderate gradient, and varying bottom of shale, silt, mud, and rock. It is located in North-eastern Ohio and runs through the western Cleveland metro area. There are scenic sections with large cliff banks and plenty of forested areas.
The Rocky River is no doubt a great steelhead fishing destination as it is one of Lake Erie tributaries that receive an annual support and stocking of Manistee strain steelhead by the Ohio DNR. 
These small steelheads will migrate out into Lake Erie after a period of development in the river, and then spend the summer out in the lake where they will grow big before returning to the river.
From October through April, the migrating steelhead will begin to find their way back to the river on a mission to spawn. While in the river they will also feed on many things that drift past them. This active feeding behavior translates to an excellent fishing opportunity for anglers looking to take advantage of Steelhead fishing the Rocky River.
Best Time for Rocky River Steelhead Fishing
The Rocky River will often have steelhead in it for 9 months of the year but there are certain times when Rocky River Steelhead Fishing is at its peak.
Fall Steelhead Fishing On The Rocky River
The fall season which runs from September through December marks the beginning of the Rocky River steelhead fishing. 
As early as mid-September, the Rocky River begins to enjoy small and sporadic runs of steelhead. The steelhead will migrate up the river with the cold nights and colder rains of the season. 
The steelhead fishing will get much better towards the end of October and into November.
This is the period when the steelhead is the most aggressive and are healthy as a result of their feeding in Lake Erie during summer. The rocky river steelhead will continue to run up the river into winter or until the river freezes solid which halts their runs.
Anglers that know how to adjust their methods, baits, and locations will catch a lot more fish. You can see how I and other guides do it on my page Fall Fishing For Ohio Steelhead.
Winter Steelhead Fishing On The Rocky River
The extremely cold period of winter makes the water cold resulting in sluggish steelhead. However, Rocky River Steelhead Fishing can still be a very rewarding experience during this period if you know how to adapt and fish for these winter steelhead.
If you plan to try out Rocky River steelhead fishing during the winter, I recommend you check out my page Winter Fishing For Ohio Steelhead where I discuss the best tactics and methods to get the most out of your steelhead fishing adventure.
Spring Fishing On The Rocky River
As the weather finally warms up, it melts the remaining snow that is left over from the winter and that causes the river to rise, thereby causing a generous push of spring steelhead. Many anglers find that mid to late February is the start of the big spring steelhead runs.
Depending on the weather, the years when we have colder and wet springs, steelhead fishing the Rocky River can still be possible as late as early May.
It is good to know the 3 stages of spring steelhead fishing and the tactics I and other guides you to maximize your success during the spring. You can see all that great information on my page Fishing For Spring Steelhead in Ohio.
Stream Flows On The Rocky Dictate The Runs
Stream flows are important and knowing when the water is too low or too high will help you determine when the best time to fish is. For stream flows on the Rocky River checkout USGS Flow reports.
The Rocky River is often best fished after big rains raise water levels and anglers will do best just as the river starts to drop and become clear enough for the steelhead to see your bait.
The Rocky River often fishes best at 150-250 CFS. The great thing about fishing Ohio is that if the Rocky River is too high or too low there are many other rivers close by. I discuss these rivers and when they fish best on my page Best Ohio Steelhead Rivers.
Best Access Points Rocky River Steelhead Fishing
The Cleveland Metroparks control most parts of the Rocky River and the areas surrounding it. This allows for quite a number of unrestricted public access to anglers looking to explore this great steelhead river.
While this access is great news, it can also be detrimental, because parts of the river or private property and with unlimited access throughout the entire river and being so close to Cleavland, this can translate to a frustratingly crowded river, especially during weekends. 
During the week, finding a good spot for yourself may not be a problem.
The Ohio DNR Fishing map of the Rocky River is your go-to resource when it comes to designated Rocky River Steelhead Fishing areas and public access points.
Some of the top spots included in this map are: Emerald Necklace Marina, Mastic Woods, Rock Cliff Spring, Madison Pool, Horse Ford, Lorain Rd Bridge, Morley Ford, Blue Bank Pools, Lagoon Dam, Cedar Point Area, South Mastic Picnic Areas, and Brookpark Overpass steelhead fishing areas.
Best Methods To Catch Rocky River Steelhead
The Rocky River is a medium-sized shallow river. The best way to catch steelhead in such a river is floating fishing,  and fly fishing.  
The float fishing method of fishing involves the use of a float for suspending your bait off the bottom with a long rod and a Centerpin reel or with spinning reels. If you are not familiar with the Centerpin reel, in my opinion, it is the best reel for float fishing and you can learn more about it at Centerpin Fishing For Beginners: 20 Steps From A Top Guide
Depending on the condition of the river, there are other ways that can prove effective or even better than float fishing. It is important that you're knowledgeable about these various methods for more flexibility and to increase your chances of a successful Rocky River Steelhead catch. 
Anglers that want to learn the best methods for fishing for Ohio steelhead should click the link.
 You can find information on more ways to catch steelhead by checking out my page: Best Way To Catch Steelhead In Rivers.
Rocky River Steelhead Fishing Conclusion
The Rocky River is no doubt a popular Steelhead Fishing destination for Ohio steelhead anglers as well as other anglers visiting from other locations.
The chances of steelhead anglers getting a bite on the Rocky River is great because it has one of the biggest high-quality runs of steelhead and has plenty of public access points and steelhead fishing areas available to anglers.
Are you are planning a Rocky River Steelhead Fishing trip? One resource you should lay your hands on is the Ohio DNR Grand River Steelhead Trout Fishing Map for more detailed information on public access points and directions to the best fishing spots.
Got A Question About Rocky River Steelhead Fishing
I hope you liked this article on Rocky River Steelhead Fishing.
If you have any questions to ask or contributions to make, kindly drop them in the comment section below. I try to respond to all questions as soon as possible and may even add your question to the post which will make it that much better.
Tight Lines
Graham