Steelhead Fishing Ohio: Guide Tips And Advice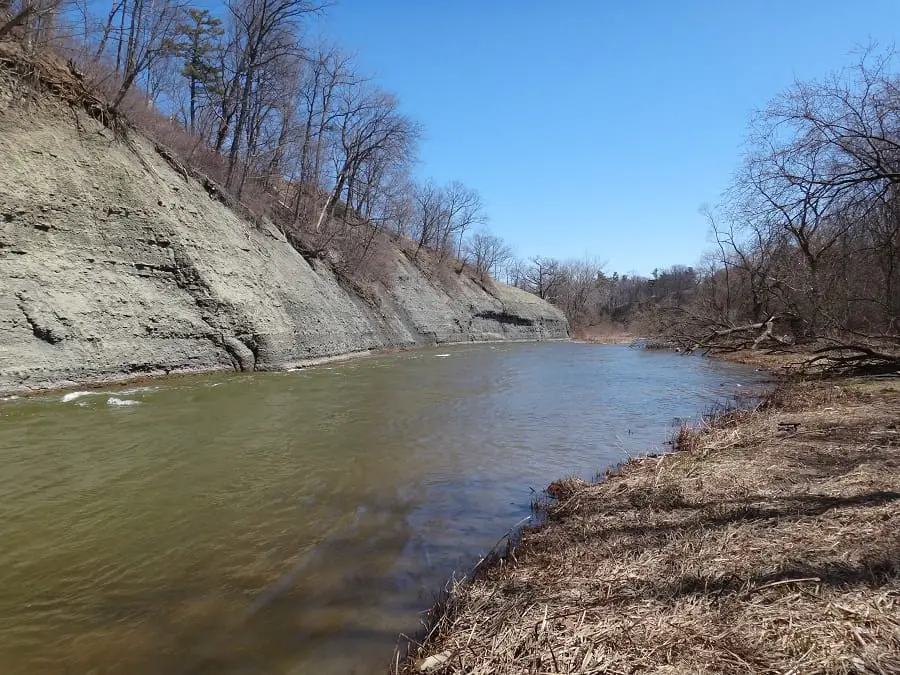 Steelhead fishing Ohio starts with the cold rains of late September and October and runs until May. I've been a river guide in the great lakes area for over 20 years and I'm going to share my and other river guides best methods, tips, and baits that we use to consistently find and catch steelhead in Ohio.
Steelhead fishing in Ohio can be done using multiple methods such as fly fishing and float fishing, or even with lures like spoons and spinners. The smart anglers know that using the same tactics and baits that the pro steelhead guides use is key to consistently catching steelhead in Ohio.
If you want to know what the guides know, then this article covers what you need to know about steelhead fishing in Ohio.
Steelhead Fishing Ohio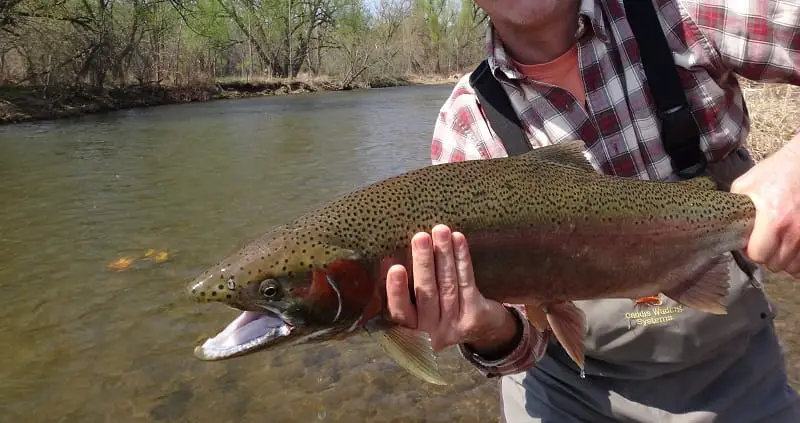 Ohio Steelhead originates from streams of the Pacific Coast states but they were introduced to the great lakes and to Ohio rivers through extensive stocking programs. Now thousands of steelhead migrate up the Ohio steelhead rivers to spawn.
After about two years of development in these streams, the smaller juvenile steelhead will migrate to Lake Erie for more rapid growth.
When they are mature adults which is after 1 or two years in the lake, they return to their native Ohio streams at about 3 to 6 pounds and they return for the purpose of spawning. This upriver migration is when most steelhead anglers will target them.
Ohio steelhead can spawn multiple times and the big steelhead over 10 pounds may have spawned 3 times before they are caught or before they die.
Generally, an average Ohio steelhead weighs between 4 and 6 pounds, but steelhead over 10 and 15 pounds do exist.
Steelhead are characterized by dark spots scattered over the entire upper body, and with a slight rainbow coloring down the lateral line. However, when the steelhead first comes into the river from the lake they can be a silver-white color.
Ohio is not a state people think of when it comes down to classic steelhead fishing. What usually comes to mind when thinking about steelhead fishing are west coast Mountain Rivers with steep forested hillside surrounds and big clean rivers. 
Ohio on the other hand, although predominantly flat, offers great fishing opportunities for anglers that want to chance steelhead and in many cases, the opportunity is there for anglers to catch far more steelhead in Ohio than they could when fishing for steelhead on the West Coast. Here's why.
Ohio rivers and streams are smaller and they get heavily stocked, and the rivers are all close enough to drive to within about 60 minutes. What this means is that thousands of steelhead will migrate up the smaller rivers of Ohio and the smaller rivers will concentrate the steelhead making it much easier to catch steelhead.
Because the rivers are also so close together, if one river is not fishing well because it's too high, too muddy, or too low, you can drive 5 to 30 minutes and find a river that might be just right for fishing.
The Best Ohio Steelhead Rivers
Furthermore, Ohio boasts around 60 rivers that are very fishable with 8 of those 60 rivers that are very good steelhead rivers that drain into Lake Erie.
With such stats, Ohio is undoubtedly one of the go-to places in the Midwest for fly-fishers and float anglers that want to try steelhead fishing in Ohio.
As an added bonus to Ohio anglers is that Ohio, Pennsylvania, and New York make up what is known as steelhead alley which is a lot of great steelhead rivers all within a few hour's drive.
I will discuss PA and NY streams and what steelhead alley is in my article Fishing Steelhead Alley
Depending on who you ask, you will often get a different opinion on what river is the best steelhead river in Ohio.
In my opinion, they are all great and they can all fish well at different times based on flows and the steelhead runs. This is a list of the best steelhead rivers in Ohio.
Grand River
Conneaut Creek
Cuyahoga River
Chagrin River
Arcola Creek
I discuss all the best Ohio steelhead rivers, the river flows, and the best times for fishing different rivers on my page Best Ohio Steelhead Rivers.
Best Time for Steelhead Fishing Ohio
For Ohio steelhead anglers, the opportunity to fish for steelhead exists from early September to early May.
As of this publication date, there is no closed season for steelhead fishing in Ohio so anglers could potentially target steelhead in the rivers 12 months of the year, however, before you go to any Ohio river we strongly advise checking the current Ohio fishing regulations in case something has recently changed.
From their runs between frigidly cold water with ice on the banks in the winter to sun-baked days in late spring. Anytime between September and May offers anglers the opportunity for some good steelhead fishing somewhere in Ohio.
However, the best time to go after steelhead will depend on the river run-off rates since high water from big rains and snowmelt is what triggers the big runs of steelhead. The bigger the rains and the later in the fall or the earlier in the spring, the more fish will enter the river.
On that note, there are three basic steelhead runs in Ohio. They are known as the spring run, the fall run, and the winter run.
As a river guide, I know that the steelhead will hold in different locations in the river depending on the time of year or the temperature of the water and it's important that anglers know this if they want to be able to consistently catch steelhead in Ohio.
I also know that to catch the steelhead consistently you need to adapt and use different methods and baits at different times. Anglers that do the same thing all year, and fish the same methods and the same baits all the time miss out on a lot of fish. It doesn't need to be this way.
It's also important to understand the rivers if you want to catch the most fish possible. What I mean is that if one river is super low and not fishing well, another river might be perfect for fishing. Ohio and many good rivers are all in close proximity so anglers can easily head to a river that might be fishing better.
Spring Steelhead Fishing Ohio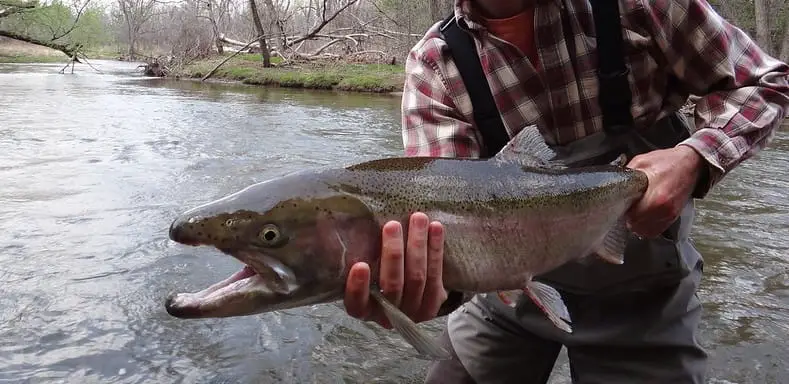 The late winter / early spring season marks the beginning of favorable conditions for steelhead and anglers. This is when it warms up enough to melt the last remaining snow and is when the river will rise to bring in thousands of spring-run steelhead.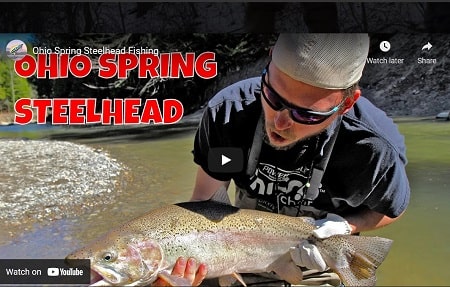 The big spring runs usually occur in Ohio rivers in late February and early March but are dependent on the weather.
During warmer winters, anglers may see fish running in early February or even some starting to run in January.
Check out my latest article Spring Steelhead Fishing Ohio: Tactics And Method Used By Guides
Fall Steelhead Fishing Ohio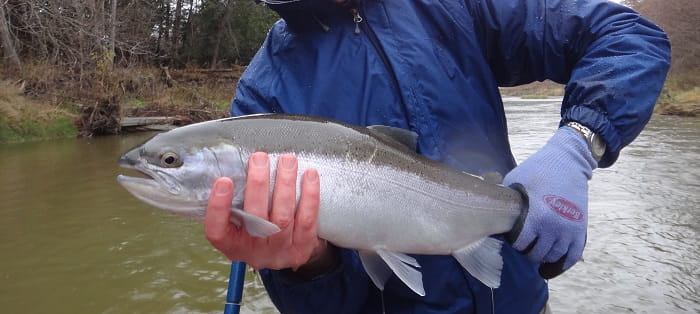 Fishing during the fall season can be some of the best steelhead fishing of the year.
The fall steelhead season is from September to late December. Fall is my favorite time of the year to fish and guide for steelhead.
The reason is that the fall steelhead that return to the river are healthy, and strong from feeding in Lake Erie all summer, and they come up the river silver and aggressive. These fall steelheads are often the best fighting fish of the year.
Most of the major rivers in Ohio receive a good run of Steelhead in the fall starting sometime in late September if the nights and the water or rains are cold enough.
There might be lots of small runs or a few big runs in the fall, which is all dependent on the fall rains and how heavy the rains are, and how often it rains.
If you plan to fish for steelhead in the fall, I recommend checking out my page Fall Steelhead Fishing Ohio: Guide Tips And Tactics.
Winter Steelhead Fishing In Ohio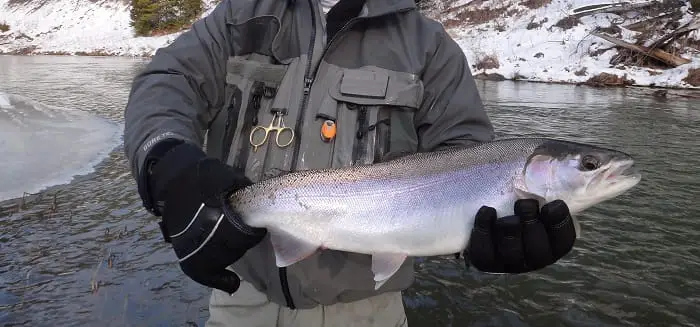 The arrival of winter is no reason to give up on steelhead fishing in Ohio. I hear it all the time, anglers say that the winter is slim pickings, but the steelhead fishing can be fantastic at this time of the year if you know what you are doing and you know where to go.
Winter steelhead fishing runs from late December to early March. Many steelheads that enter the river in the fall will hold over in the river until spring and these fish can be caught.
The reason I like fishing for winter steelhead is that there are fewer anglers on the water and there can be a lot of steelhead in the river in certain spots.
Winter Steelhead fishing is available on a lot of rivers in Ohio as long as the rivers aren't frozen, and in fact, it can be quite an experience fishing in the winter months.
Winter fishing can also be the toughest time to catch steelhead for most anglers and it's also when many anglers stop fishing for steelhead. I believe the reasons for this are that most anglers find it just too cold to fish, or because they don't understand the feeding patterns or the holding spots, or how temperature affects the steelhead, so they just don't catch many steelhead.
For anglers that know what they are doing, it's possible to have days of landing over 20 steelheads during the winter. I discuss my best methods, tactics, best baits, water temps, and how to dress to stay warm on my page Winter Steelhead Fishing In Ohio.
Best Methods for Catching Steelhead Ohio
There are a variety of techniques that anglers can choose from when fishing for steelhead in the winter. Below are a few of these techniques:
Drift Fishing For Ohio Steelhead
Drift fishing is a very effective and popular way to catch Steelhead. This technique involves casting out a bait with enough weight so the bait sinks to the bottom and bounces along with the current. The goal is for the steelhead to pick up the bait as it bounces along.
I use long rods and only enough weight to get the baits down. For more info on this method, check my page Drift Fishing For Steelhead.
For the most effective steelhead baits for drift fishing and for the below methods, checkout my page Best Baits For Steelhead In Rivers
Bottom Bouncing For Ohio Steelhead
Ohio steelhead streams are often shallow with smaller spots and lots of pocket water which makes bottom bouncing one of the better methods for steelhead fishing Ohio.
Bottom bouncing is very similar to Drift fishing however when I think of drift fishing I think of bigger rivers and bigger spots. Bottom bouncing is a method I use on smaller rivers, smaller spots, and it excels in pocket water, behind rocks or logs, and in shallower water.
I have some advanced bottom bouncing methods that I teach my clients and these methods have proven far more effective than the old way of bottom bouncing.
For these advanced methods, I use the most effective methods used by top tournament anglers combined with the traditional methods of bottom bouncing and it works unbelievably well for trout, steelhead, and salmon in the rivers.
Centerpin Fishing For Ohio Steelhead
If I had to choose the most effective method for steelhead fishing Ohio, it would be Centerpin fishing.
The Centerpin fishing method is gradually becoming popular and for good reason. Centerpin fishing is considered one of the most productive ways to catch Ohio steelhead thanks to the Centerpin reel and the extra-long rod which give you tons of control and a great presentation.  
The Centerpin reel is a large rounded spool reel sitting on a single pin in the center of the base of the reel. The reel is usually between 4″ and 5.5 inches in diameter. This reel and the long rod which is often 12 to 14 feet long, allow for a more controlled and smoother presentation and much longer drifts.
The Centerpin reel allows the angler to drift bait under a float smoothly for very long distances. This method is hard to beat.
Float Fishing For Ohio Steelhead
Float fishing is one of the most effective ways of fishing steelhead in Ohio.
Float fishing means that you are using a float to present and suspend your bait off the bottom. It is a very effective method that can be done with spinning reels or with a Centerpin reel.
If you want to get better at this, check out my page Float Fishing: Tips From A Pro River Guide For More Trout.
Some anglers are also using a method known as Bobber Doggon, which is where you drag your bait along the bottom with the float. This is the opposite of a good float fishing presentation, but as I explain in my Bobber Doggin article, in some cases, this drag method has some advantages.
Lure Fishing For Ohio Steelhead
Lure fishing is a popular and effective method for Ohio steelhead and the steelhead rivers of Ohio are perfectly suited for lure fishing.
Anglers using the right lures for Ohio steelhead and that cover the water well with them will do best. You can also make your lure more effective by trying different retrieves.
Fly Fishing For Ohio Steelhead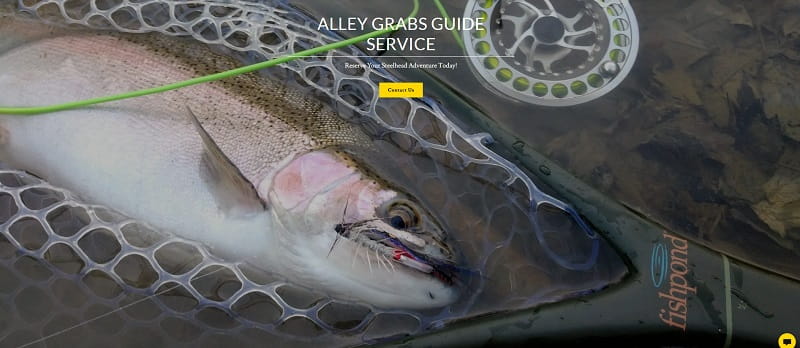 Steelhead fishing in Ohio is often done by fly fishing. Fly fishing is a very rewarding technique for targeting Ohio steelhead, however, somewhat it can be somewhat challenging for new anglers to fly fishing.
This fish catching technique involves the use of single or double-handed rods for nymphing or swinging flies. Most anglers make use of an indicator rig for drifting a nymph or egg pattern near the bottom.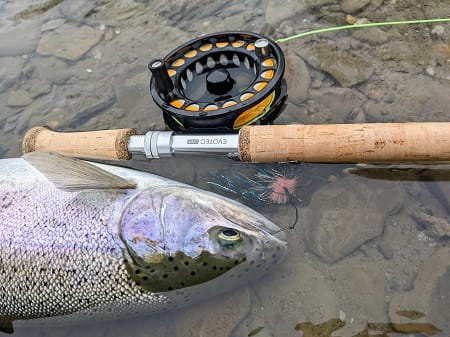 Head guide Gareth from Alley Grabs Guide Service teaches anglers how to use both methods and says that both Nymphing and swinging flies can be equally effective for steelhead in the Ohio rivers that he guides.
The key is learning how to do it properly, and that is where this website can help or where a good guide can really help. See Fly Fishing For Ohio Steelhead
One of my most effective methods, when fly fishing for Ohio steelhead, is Euro nymphing in the pockets and shallow runs commonly found on a lot of Ohio rivers.
When discussing fly fishing, it's good to know that there are also some good steelhead rivers in Ohio that are suitable for anglers that like to Spey fish and swing flies. See more about this method at Spey Fishing For Steelhead: Best Setup And Tactics For Great Lakes.
Best Flies For Ohio Steelhead
There are many great flies that you can use when fly fishing for steelhead. I will also use flies when float fishing for steelhead. In fact, there are times when a well-presented fly will outfish great baits like worms and spawn bags.
If you are looking for some of the most effective flies for Ohio and great lakes steelhead, check out my page 17 Best Flies For Ohio Steelhead.
Wrapping Up Steelhead Fishing In Ohio
Ohio no doubt has some great, world-class steelhead fishing opportunities – thanks to the generous miles of river flowing into Lake Erie. It is gradually becoming the premiere Steelhead destination in the Great Lakes region.
For information on how to get started, steelhead fishing requirements, regulations, and more tips, visit the Ohio Department of Natural Resources official website.
I hope you enjoyed and got some value from the information on steelhead fishing in Ohio. If you have any questions to ask or contributions to make, kindly drop them in the comment section below. I'll be happy to respond as soon as possible. 
Tight Lines
Graham