A Complete List Of Gear For Steelhead Fishing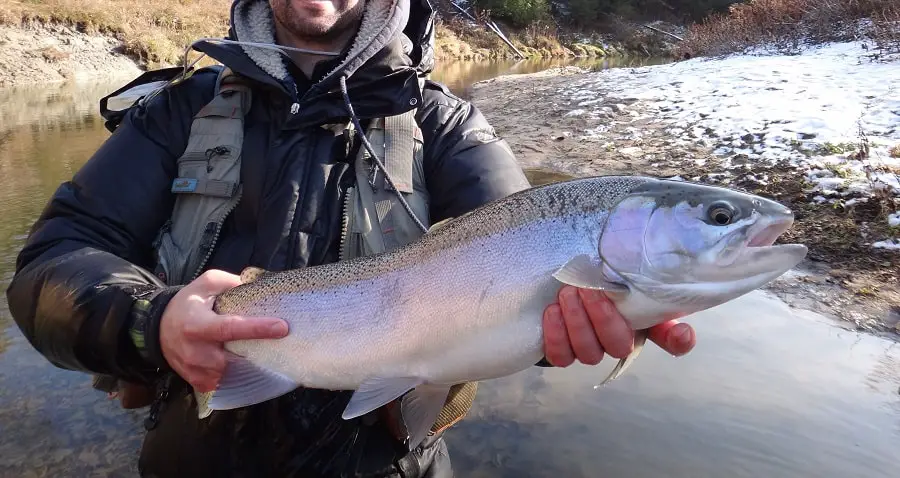 I've been fishing for steelhead for over 37 years and have been guiding 22 years, and during this time, I've tried just about all the gear for steelhead fishing an angler would need.
The essential gear for steelhead fishing includes a rod, reel, line, and either a lure or a hook and some sort of bait. Other gear would depend on if you fish the banks of a river or from a boat. Gear like waders and boots, a fishing vest or pack, bait container or fly box, as well as catch and release tools.
1. Essential Steelhead Fishing Gear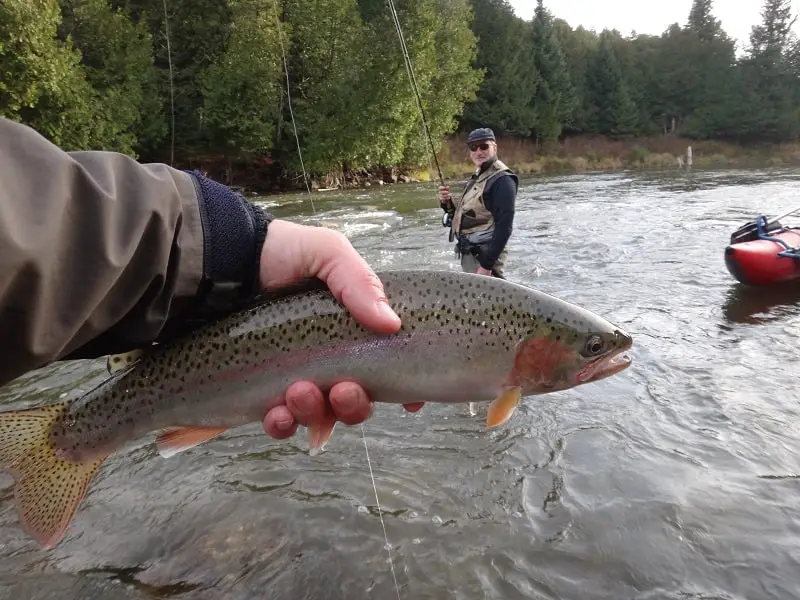 Steelhead are powerful swimmers and average about 8 pounds when caught during their annual fall runs in rivers and streams in parts of North America. The largest can top 40 pounds, but those are rare catches.
Because they can be so big and powerful, you'll need fishing gear that can handle fighting summer and winter steelhead and then allow you to bring them to your net.
You also need gear that is suitable for the steelhead fishing methods you want to use.
Here's a quick look at the essential steelhead fishing gear you should consider.
Rods For Steelhead Fishing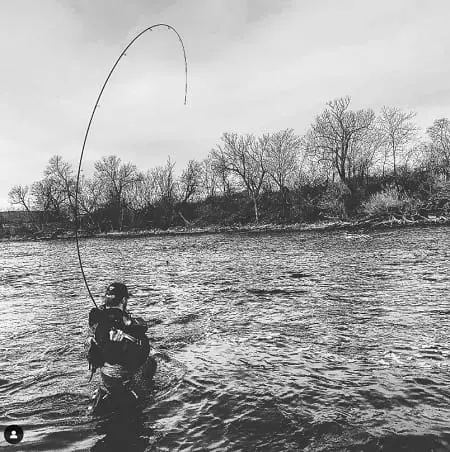 Spinning Rods: Spinning rods are terrific for catching steelhead with lures or bait, and they are very popular on most rivers.
You can use them while wading or drift fishing on rivers known for their annual fall steelhead runs or boat fishing on the Great Lakes or the ocean.
A good spinning rod should be between 7 and 10 feet in length and is medium-heavy with a fast action so you can feel when a steelhead strikes.
Casting Rods: You could also use a medium-heavy casting rod with a baitcasting reel. Many anglers prefer a baitcasting rod for methods like back trolling, back bouncing, and casting lures and jigs. They are also used when trolling in deeper waters.
Float Rods: Float Fishing Rods are designed to allow the angler to present a bait below a float. Float rods are longer and whippy. They are usually 11 to 14 feet long and rated for line between 6 and 12 pounds. Float rods can be used with spinning reels or Centerpin reels. See Best Float Rods article.
Reels For Steelhead Fishing
Spinning Reel: An excellent spinning reel with a good drag is important steelhead fishing gear and should be a size 30 or 40.
It should have a quality drag of at least 15 pounds to help you tire out an especially big steelhead that you might hook while wading or drift fishing. See Best Spinning Reels For Steelhead article.
Baitcasting Reel: A baitcasting reel that can hold plenty of line and with a good drag also will work and is preferred for some methods of fishing such as back trolling, back bouncing, trolling, and maybe for casting lures.
Centerpin Reel: A centerpin reel is the best for float fishing rivers. It allows anglers to have very long and controlled presentations.
Line For Steelhead Fishing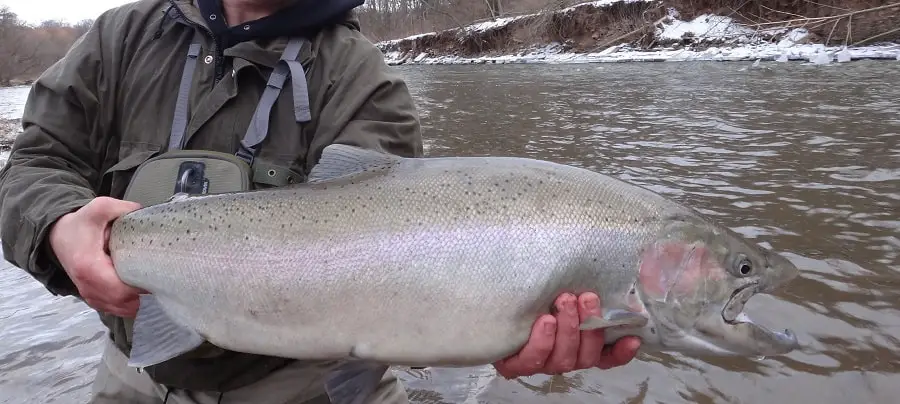 You'll need a sturdy line that will hold up against particularly big steelhead, which have sharp teeth and are strong fighters. Mono line, braided line, and fluoro lines are popular.
I like to use braid fishing lines that is 20-pound test. I'll put a swivel on the end so that I can attach the leader made from fluorocarbon or monofilament lines, which are more abrasion-resistant than braid.
I do use different mainlines for different methods, but braid seems to be good for all methods. In very cold weather below freezing, mono is often better than braid.
Leader Material
The leader should be 8 to 14-pound test for the average steelhead. Fluorocarbon is great because it is virtually invisible while submerged in clear water and resists abrasion caused by sharp teeth, rocks, and sunken trees.
Fluorocarbon also has very little stretch, which makes it more effective for setting the hook.
- Small to Medium / Under 60 feet wide

- Small to Medium / Under 60 feet wide

- Drift Fishing and Bottom Bouncing

- Larger Great Lakes Rivers and faster currents

- Small West Coast Rivers

Great Lakes and West Coast

- Lure Fishing Great Lakes

- Float Fishing West Coast

- Drift Fishing West Coast

- Large Great Lakes Rivers

- Small to Medium West Coast Rivers

Great Lake and West Coast

- Float Fishing on West Coast

- Drift Fishing on West Coast
2. Best Lures and Bait
Most lures are useful for catching steelhead while they are in lakes or the ocean and in the river. Once they enter the rivers and streams to spawn steelhead will prefer certain lures, however, most won't eat while spawning.
Lures
There are many lures that work for steelhead, and some lures are preferred over others based on the method of fishing. Anglers casting from shoreline out into open water prefer spoons, while anglers casting in the river love spinners. When back trolling, its hard to beat a crankbait or plug like a Kwickfish or Maglip.
Spinners – Spinners create a lot of flash and vibration, which helps to trigger a strike while they are feeding.
Spoons – Spoons are also good at catching the attention of steelhead with their bright flashes when retrieved, and some are heavy so they cast a mile out into the ocean or wide river. You'll need to check local laws regarding the use of treble hooks. Some locales require single hooks only.
Crankbaits and Plugs – Crankbaits could entice a strike from a steelhead or another fish that might mistake it for small bait fish.
Jigs – Jigs are great for float fishing or casting for steelhead, in deeper parts of the river, lakes, and the ocean.
Soft Plastics – Artificial lures and shad jigs might include specially formulated scents that make them especially attractive for a hungry steelhead.
Live and Organic Baits
It's hard to beat bait when steelhead fishing. There are some baits that are particularly good and some better for certain methods or certain river conditions.
Worms – Worms are a proven bait for catching just about any fish, including steelhead. Live worms aren't allowed on some rivers, though. So you'll have to look up the fishing rules for a particular body of water. However, I prefer 3″ and 4″ plastic steelhead worms in pink, red, and brown.
Spawn – Tied spawn is my preference for steelhead because it is easy to see in the water and works when fished right. Spawn is salmon or trout eggs often tied into a mesh sac or bag. Spawn can also include mature egg clusters known as skein.
Live Baits – Minnows are another great option, but some anglers also might use crawfish when fishing in rivers and streams.
Artificial Baits – Different types of artificial baits, such as soft beads, hard beads, plastic eggs, PowerBaits, and plastic grubs, are useful while fishing for steelhead during their annual spawning runs in rivers and streams.
Flies – Artificial flies are a good choice for steelhead fishing.
Shrimp – Anglers will use different types of shrimp for bait.
3. Terminal Tackle
Hooks – I and many other guides prefer short shank wide-gap hooks like an Octopus hook. Your hook is a key component of catching more fish. Not all hooks are good hooks for steelhead but some are very good hooks.
My hooks tend to be on the smaller side because I think they are more subtle and I get more bites. However, I always advise that you adjust your hook based on the size of your bait.
You'll need to research the types of hooks that are allowed on particular bodies of water as well since many places ban treble hooks and might require barbless single hooks to minimize the potential damage to steelhead and other fish.
Weights – A good egg weight of about a half ounce or an ounce will help to keep your presentation low in the water of a moving river, especially when using methods like back bouncing or plunking. Pencil lead is often preferred for methods like drift fishing, side drifting, and bobber doggin.
Split shots are the best weights for your float fishing leader setup. See 5 Best Steelhead Rigs to see which weights for different methods and how to set them up properly.
Swivels – inline swivels or three-way swivels are especially important when using leaders to catch steelhead using methods like back bouncing, plunking, or some drift fishing rigs. One swivel connects to your line, the middle one on the bottom connects to a weight suspended about 6 inches beneath it, and the third to the spawn sac at the very end of your terminal tackle.
Snap Swivels – Snap swivels are great for tying to the end of your main line and making it easier and faster to switch your lures.
4. Waders and Boots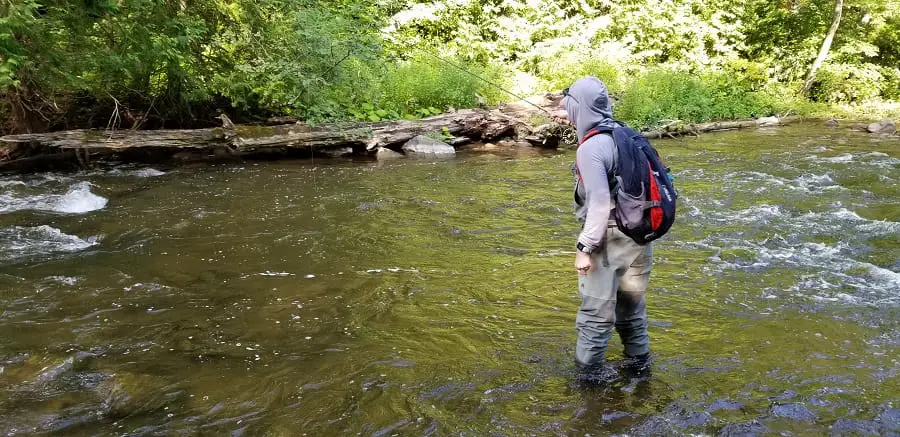 A good pair of chest waders are essential parts of the steelhead fishing gear list. Chest waders help to protect your legs and upper body against the cold fall waters in which steelhead runs occur each fall.
A pair with integrated boots will work fine too, but stocking foot waders combined with a quality pair of wading boots give you more support and comfort and in my opinion, are much safer when wading and crossing rocky rivers.
If you have stockingfoot waders, you'll want some gravel guards to keep gravel out of your boots. However, most waders now come with built-in gravel guards.
5. Vests and Packs
Vests can help you organize your gear while you are wading and make it easy to grab a pair of forceps or pliers for removing hooks or switching leaders.
Packs also can help hold your fishing gear while targeting winter steelhead. Vest and packs allow the angler to keep all their gear on them at all times so you don't need to carry around a tackle box that you need to leave behind you on the shore when wading out into the river.
6. Wading Jackets
A rain jacket or wading jacket helps keep you dry and warm by blocking wind and precipitation that often occur during the spring and fall spawning runs, and they can even keep you warmer while you are targeting winter steelhead.
Good wading jackets will even have handwarmer pockets and enable you to layer your clothing beneath for the best protection against the cold.
7. Hats, Sunglasses, and Outerwear
Hats – A good fishing hat with a wide brim works great for keeping the sun and rain out of your eyes and face. A wool hat is good to keep among your fishing gear for colder weather to stay warm. I always recommend my clients wear some sort of hat when they come out for a guide trip with me.
Sunglasses – Quality polarized sunglasses are important to help you spot where steelhead are spawning. They protect your eyes from harmful sun rays and even from stray hooks and branches. While many anglers do not consider polarized sunglasses as essential fishing gear, I think they are. They help me see into the water to see fish holding spots and allow me to read the water. I guarantee that my glasses have helped me catch 25% more fish.
Outerwear – You aren't likely to need sunshirts while fishing for steelhead, especially during the summer months. Sun Gaiters are useful during just about any weather conditions, and wool gloves stay warm even when wet. In cooler weather, a nice thick hoodie makes a huge difference in keeping me warm.
Base Layer Underwear – A base layer should include long underwear and a pair of midweight pants that insulate your lower body against the cold river water during the steelhead runs. A base layer pants and shirt should also be made from wicking material to keep the dampness away while keeping your warmer and dryer.
8. Fly Fishing and Fly Fishing Gear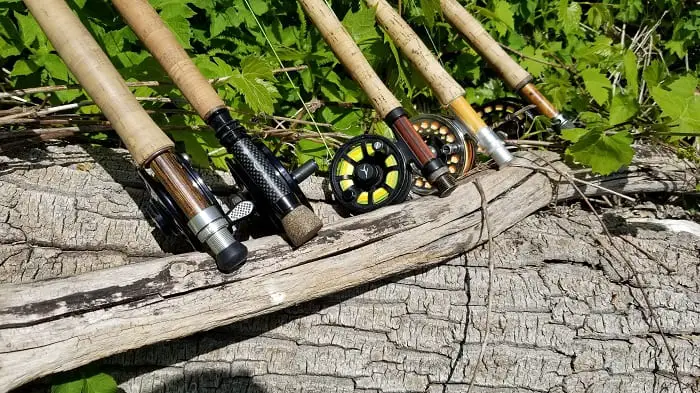 There are a number of things you need to include as part of your fly fishing gear.
Fly Rods – Either a two-handed fly fishing rod known as a spey rod or switch rod that is #8 or #9 weight will work fine, or a single hand 10 foot #8 weight fly rod for nymph fishing and streamer fishing methods.
Fly Reels – You'll want a fly reel with a good arbor that holds a lot of line so that you can battle the fish. A quality drag is a must.
Fly Lines – Skagit head fly lines are ideal when fly fishing for steelhead with switch rods or spey rods. Single hand floating fly lines are best when nymphing or streamer fishing. Adding a sink tip leader may be required for certain methods or river conditions.
Leaders – A tapered leader of 9 to 11 feet is used to keep your fly line away from your fly and out of sight from the steelhead. You're leader setup will depend on the methods and conditions,
Tippets – Your fly fishing gear should include at least one tippet in your pack that you can use to quickly change your flies while trying to catch steelhead.
Tippet length is usually around 16 to 24 inches and size 3X for smaller streams and clear water and 2x, 1x, or 0x for bigger rivers and bigger fish.
Fly Boxes and Flies – You'll need to store your steelhead flies in a secure fly box while you are on the water.
Flies – You will need fly patterns based on your preferred fly fishing method. If you prefer to spey fish and swing flies or cast streamers patterns, you will need spey and streamer patterns. But, you may prefer to nymph fish with egg patterns, nymphs, or warm patterns. See the 19 Best Flies For Steelhead.
Strike Indicators – Strike indicators are used by many anglers that nymph fish. An indicator aids in strike detections and allows you to suspend or drift your fly down the river.
9. Catch And Release Gear For Steelhead Fishing
Nets – A good landing net makes it easier to hold onto your catch while removing the hook. A good net should be easy to hang from your vest or waders so you can reach it when needed. If you fish from a boat, you will need a bigger long-handled net similar to the Salmon Nets most anglers use.
Forceps – Virtually all anglers should have forceps with them to remove hooks quickly and safely.
Creel – A creel basket commonly used by fly fishing anglers will hold smaller steelhead and rainbow trout.
Stringer – Most steelhead anglers will need a stringer to handle larger fish that are too big for a creel basket.
Fishing Knife – If you are going to keep and eat your fish, be sure you have a good fillet knife, and even an electric fillet knife are great for cleaning a lot of fish. I also have a good pocket fishing knife in case I run into a wild animal like a bear, mountain line, or wolf.
Miscellaneous Steelhead Fishing Gear
Wading Staff – You might consider adding a wading staff to help check the river bottom while wading and provide you more stability and safety when crossing or wading out into the river.
Floats and Bobbers: You might want to keep some floats handy to drift your baits or a jig through holes that might contain steelhead. Some floats just suck for river and lake fishing, while others are very good and will help you catch more fish. Learn how to use a float properly and be sure you know the best ones and you will catch more fish.
Nippers and Scissors: I use nippers every day to cut the tag end off my knots. I also use them when tying up new leaders. Scissors are handy to have as well for bigger cut jobs like cutting your roe bag off the hook.
Bait Container – I use pill containers or bait containers for my spawn sacs. You can by special ones for this purpose.
Small Towel – I always have a small dry towel that I hang off my waist belt. I use it to dry my hands after releasing steelhead or after washing my hands after touching roe bags or skein.
Guide Tip: In cold weather, I put my towel in the top part of my chest waders between my chest and waders, or even inside my wading jacket. This way, after getting my hands wet and cold from the cold water, I have a nice warm towel to dry my hands. It's much better than a cold wet towel.
The Complete Steelhead Fishing Gear List – Q&A
If you have a question or something you think I should add to the steelhead fishing gear list, let me know in the comments section below.
Tight Lines
Graham