Best Salmon Nets: For Boat, Bank And River Fishing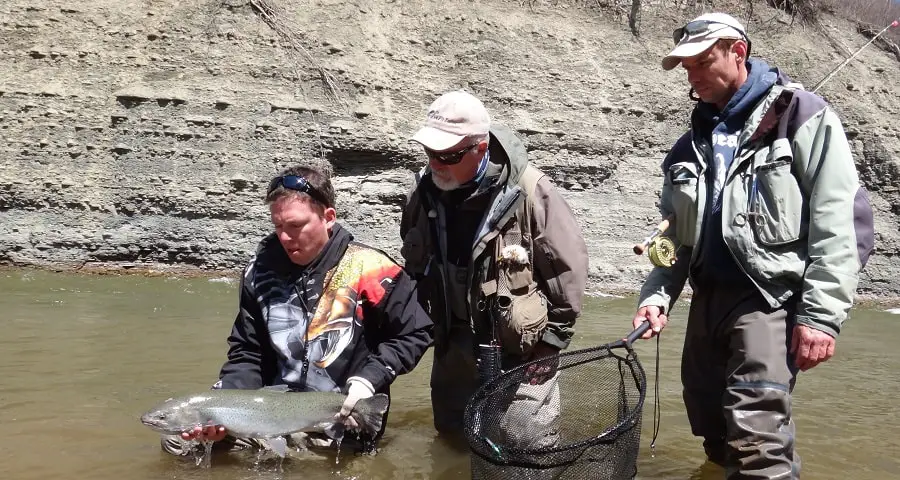 Salmon are big and hard-fighting fish, so if you are going to fish for them, you will need a good salmon net to help you land them. These are the best salmon nets that I and other guides and anglers use.
There are plenty of nets to choose from, and I discuss what to look for in a good salmon net and how to choose the best salmon nets below.
Our Quick-Pick List
Best Salmon Nets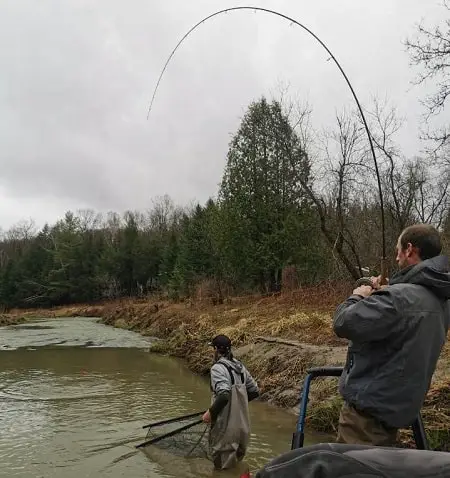 The nets I'll list below are recommended and used by anglers, charter boats, and fishing guides. I'm sure there are other nets that will work, but these are the ones that are proven winners.
Even a fish cradle like the one my guide is using in this image can work as a net for salmon.
Choose the net that best suits your needs.
1. Promar ProFloat Landing Net: For River Wading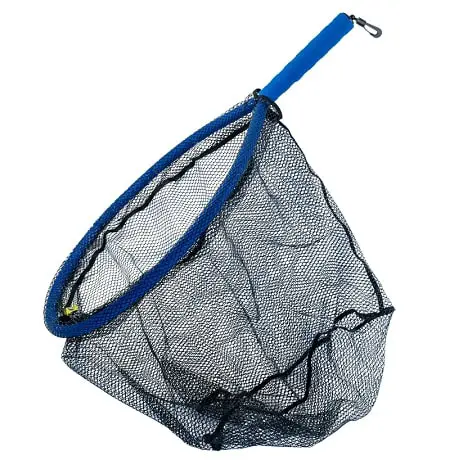 It is my belief a good wading net is one you can carry on your back. However, finding one that you can carry on your back and that is large enough for big salmon is nearly impossible.
Most salmon nets are made for boat fishing or shore fishing and are too big and heavy to strap to your back.
You do not want to be wading twenty feet out into the river, then hook a 40-pound salmon that bolts 300 feet down the river, and you can't chase it because your giant salmon net is on the shore behind you.
You want your salmon net on you!
The Promar ProFloat Landing Net is the best salmon fishing net for use on rivers because it floats, is light, and is compact for easy transport on the back of a wading jacket or fishing vest.
It features hoop sizes that are suitable for landing salmon and steelhead, and is even good for trout fishing.
The best size handle is the 18″ or 30″ handle, with the 18.5″ x 20.5″ hoop size.
The ProFloat fishing net has a handle and frame that are wrapped in floating material that also helps to give you a strong and comfortable grip.
The fishing net is coated with rubber and flat on the bottom so that the fishing net can cradle bitter fish without injuring them.
The net is also hook-resistant and does not tangle when you are landing salmon or other popular fish.
NOTE: Guys, this is not a big net!! You cannot get a 30-plus-pound salmon completely in this net and then carry it out of the river.
The mesh bag is deep enough to allow you to get the head and part of the body of even a 45-pound salmon in the net, which enables you to control the salmon in the water for hook removal and release, or to control the salmon so that you can grab the tail and drag the salmon up on the bank by the tail with the head in the net.
I've landed hundreds of salmon up to 40 pounds in nets of this size by utilizing this method. If you try to lift the salmon out of the water, you can break the net or rip the mesh.
With proper technique and rational expectations, its handle length, hoop size, and floating material make the ProFloat Landing Net the best river-wading net for salmon.
2. Beckman Coated Net: Most Popular For Boat Or Shore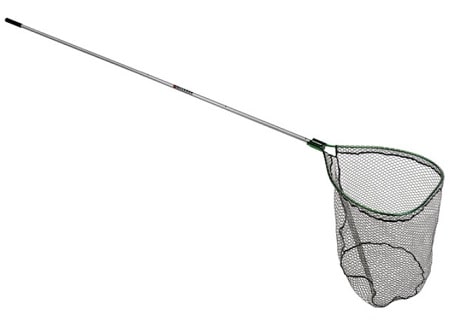 The Beckman Coated Fishing Net is the most popular salmon net for use in a boat or from shore. It has a wide oval frame that holds a flat-bottomed net with a coating that protects the gills, fins, and tails of the salmon you catch.
The best size is the 26 x 34 x 32 inch or the 31 x 36 x 40-inch hoop and net.
The hoop has a Y-bar design that makes the fishing net very strong, rigid, and more stable.
The handle disconnects from the yoke while the salmon net is not in use but goes together quickly when you need it in a hurry. It works equally well for freshwater and saltwater fishing and is the perfect landing net for large fish.
3. Beckman BN3543S Landing Net: Best Non-Coated Boat Net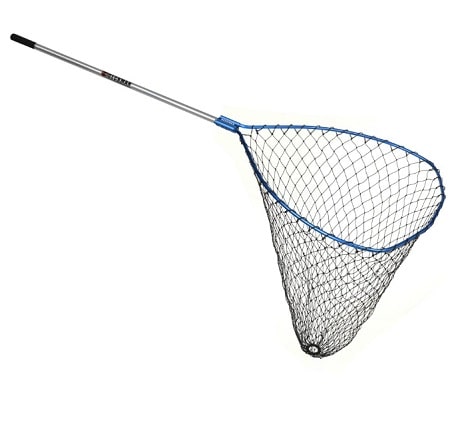 The Beckman Standard Landing Net is the best non-coated boat net and helps you to land fish with nylon netting that measures 35x43x48 inches.
The fishing net hoop tapers instead of having a flat bottom and is the perfect net size for landing the largest fish that you might target or the occasional big fish that comes along.
It's great for landing salmon, steelhead, musky, pike, catfish, and other large popular species.
The fishing net uses uncoated nylon netting fitted to a sturdy frame and anchored with a one-piece aluminum yoke made with Y-bar construction. A quick-connect channel firmly affixes the handle to the hoop, and you get your choice of handles, including a telescoping model.
4. StowMaster Net: Best Foldable Net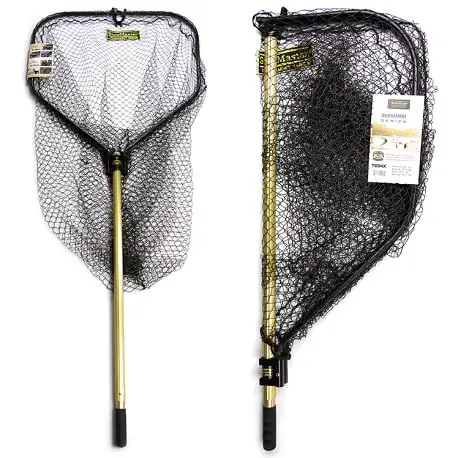 The StowMasterTS94X – Salmon & Pike Net, 94″, and the bigger TS120X – Salmon & Pike Net, 120″, are plenty big for landing salmon and just about any other potentially large fish.
I used the larger musky version of this net for over ten years when I used to guide musky out of a 21-foot lund boat. Most guys did not even notice the net folded up beside my chair until I pulled it out, and they realized it was massive. I loved this net!
Its telescopic handle is made from aluminum and has two stages that make it easy to collapse the long and sturdy handle when not in use.
This is the best foldable salmon fishing net which features coated nylon netting that protects fish with one of the largest nets on the market.
When folded and with the handle retracted, it folds up nicely for easy storage.
5. Promar Grande Hook Resistant Net: 37″ x 40″ — Best Multi-Species Net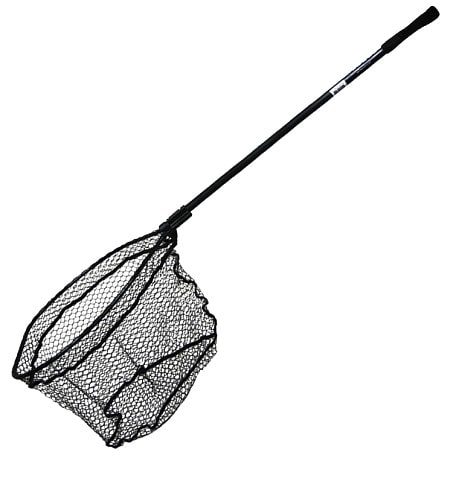 Not everyone wants a net that is exclusive for salmon. Some anglers want a net that can be used for salmon and other species.
If this is you, the Promar Grande fishing net is the best multi-species net due to its many size variations and the telescoping handle made of aluminum that adjusts to the perfect size for any fishing outing.
You can use it as a salmon landing net while fly fishing, shore fishing, and when you are out on a boat.
They have a special anti-snag netting that resists hooks and has a flat bottom to make it safer on fish. Five sizes are available to ensure you have exactly the right fishing net whenever you go fishing.
6. Frabill Floating Trout Wading Net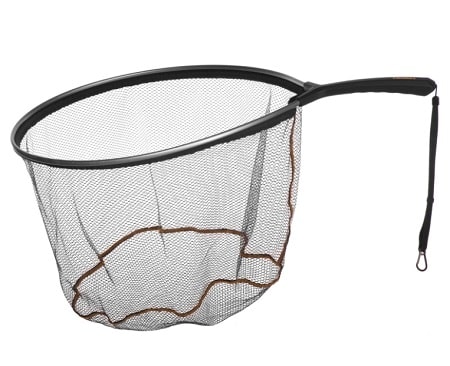 It's called a trout net, so you might think I'm crazy, but I've put hundreds of steelhead and salmon in this net, and I see other anglers on the rivers using it.
The Frabill Wading Trout Net is a lightweight wading net option for smaller rivers when fishing for salmon, trout, steelhead, and other popular river species.
The Frabill Wading Net has a short fixed handle that is just 7.5 inches in length and has a wrist loop and clip that helps you keep the fishing net secured to your body.
A teardrop-shaped hoop measures 19 inches by 25 inches and is 15 inches deep.
The netting is coated and makes it easier to handle fish that might be fairly large or even just little fish that you might hook and land. Its convenient size makes the Frabill Floating Trout Net one of the best fishing nets for fly fishing and for wading for salmon.
NOTE: Guys, this is meant to be a small portable wading net, and if used properly, you can use it for salmon. It's not a giant net that you're going to put a 20-plus pound salmon into and carry it away. With this net, I've netted and controlled hundreds of salmon over 20 and 30 pounds.
I simply control their head deep in the net while I leave them in the water for hook removal and release. It sure beats carrying a giant salmon-sized net up and down the river.
How to Choose the Best Fishing Net
It is important to consider the types of fishing that you do and which ones among all the nets available will best suit your purposes.
You might need more than one if you spend time wading, fishing from a boat, or using a fishing kayak.
Some things anglers will consider when buying a net are:
Carbon Fiber handle.
Extendable pole handle versus fixed handle.
Small boat net vs. a big boat net.
Mesh material and mesh size. Rubberized net or Rubber Coated?
Cheap materials Vs quality.
Fish-friendly tangle-free mesh to protect fish's scales, fins, and tail.
Net weight: A rubber net is often heavy with larger nets.
Here's a closer look at some of the factors to consider to help you choose the best landing net for your fishing excursions.
Handle Length
The handle length should be enough to give you leverage while using a landing net. If you are fishing from a boat, a longer handle will make it easier to get the fish in the water without leaning over the side or potentially tipping the boat too far.
When you are fly fishing, a shorter handle is fine because you will be able to bring the fish closer to your body. However, when dealing with large salmon, a typical fly fishing net won't do the job.
An extendable handle is often a good choice for storage and use.
Ease of Use
The size of the hoop on fishing nets and the handle length make a big difference in the success of your catch-and-release fishing. The best fishing nets will support your particular fishing method, so one that is easy on a boat won't necessarily be easy to use if you are wading or fishing from shore.
The same goes for the best fish landing nets for fly fishing, which usually have a shorter handle and smaller hoop. An oval net shape and flat bottom make it easier to catch and release fish of many sizes.
Hoop Size
The hoop size generally determines which salmon fishing nets are bitter for which species that you are going after. In general, larger fish require a larger hoop to make it easier for landing bigger fish. The smaller the catch, the smaller the ideal hoop size. The hoops should be oval or similarly oblong to enable the best landing nets to land a variety of fish.
Fish Care
The best fishing nets make it a lot easier to safely practice catch-and-release fishing. You already know about the hoop size and handle length and how they affect your ability to quickly land larger fish.
Another important consideration is how to safely catch larger fish without harming them. The best salmon nets and other fishing nets for larger fish have rubber-coated netting that helps to protect the heavier fish against injury while in the net. It also will have a flat net with a deep bag so that it won't harm fish.
Why is it recommended for the salmon landing net to be floatable?
It is very easy to drop a landing net and watch it sink to the bottom of a lake or river. A floating net makes retrieving your dropped net much easier so you can continue landing fish. When you net salmon, you are running a risk of losing your grip on the net and losing it as well as the salmon.
That is why a good salmon landing net floats so that you have a better chance of retrieving it.
The Best Salmon Net Reviews Q&A
Finding a good salmon landing net that is suitable for both river and ocean fishing is not possible. You usually need two nets. If you have a question or comment about the best salmon net recommendations or want to share your favorite net, let us know in the comments below.
Tight Lines
Graham